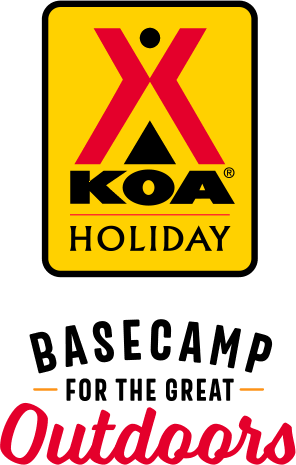 KOA Holiday Campgrounds
Whether you're exploring the local area or hanging out at the campground, KOA Holidays are an ideal place to relax and play. There's plenty to do, with amenities and services to make your stay memorable. Plus, you'll enjoy the outdoor experience with upgraded RV Sites with KOA Patio® and Deluxe Cabins with full baths for camping in comfort. Bring your family, bring your friends, or bring the whole group – there's plenty of ways to stay and explore.
KOA Holidays Feature:
RV Sites with a KOA Patio®
Deluxe Cabins with full baths
Premium Tent Sites
Group meeting facilities
Directions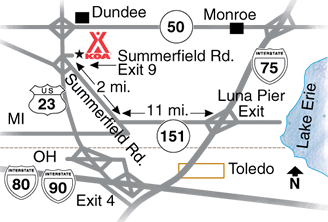 9 miles north of OH/MI line on US 23 at Exit 9 Summerfield Road NE corner. From 75 take Luna Pier Exit 6 West approximately 11 miles, then a right on Summerfield for about 2 miles.
Get Google Directions
Aug 31, 2021
One of my favorite places to stay!! Had a big storm roll in and the staff came out to check on me while tent camping!!! Love this KOA
Aug 30, 2021
We love this place and have stayed 3 times this summer! Bathrooms are always clean, store well stocked and plenty of fun, engaging activities.
Aug 25, 2021
It was wonderful! My son and I had a blast.. Only suggestion, The different types of cabins available is not that user friendly searching online. We tent camped, but wanted a cabin when I made reservations.
Aug 13, 2021
We stayed in a rustic tent campsite. Area was very clean. We came on the day of the storm that blew through in the afternoon so power was out for the majority of our stay. My son and friends did get to enjoy the swimming lake but not much else unfortunately because the unexpected power outage. They really enjoy the lake though.
Aug 09, 2021
Loved it, wish we had more time to stay.
Aug 09, 2021
20 members of our cross country team stayed for the weekend and had an activity filled time! We played volleyball, swam, ran, played Ultimate frisbee and more. Perfect cross country camp.
Aug 05, 2021
We stay as often as we can.. we all love it.. this weekend was probably thee best camping vacation our family has had, it was my birthday, and koa had a dance and music night, wet wagon ride. Just very fun. I always enjoy our time at koa
Jul 23, 2021
We have been coming here for 18 years and we love everything about this place the accommodations the staff the swimming the fishing everything!!! Safe family fun everyone should experience Monroe county KOA!!!
Jul 20, 2021
It's really very nice there with a lot to do especially for the kids and my husband and I each caught a bass! Just under 15 inches though unfortunately but we had a great time.
Jul 08, 2021
Had lots of fun, bathrooms very clean, park very clean, staff super friendly !
Jul 08, 2021
It was a wonderful weekend. My family will definitely be back. Hopefully stay a week or two. My only complaint is the port-a-potties were very nasty by the second evening. They need to be emptied more often.
Jul 05, 2021
We always have a blast! The staff is AMAZING and always friendly and helpful. The facilities are maintained well. We will be back soon!
Jun 21, 2021
Things were great! I stayed on what seemed to be a busy weekend. The staff were very friendly, they were all very helpful in helping me find what I needed.
Jun 18, 2021
Overall, it was very enjoyable. The sound of traffic is the rustic sites was a little annoying. Please work on the arcade. We spent $20 in there and were only able to utilize 3 machines. Multiple machines took our money and wouldn't work yet we couldn't be refunded. The kids had fun on the slide and the pond! Bathrooms were great! Staff was friendly! Thanks for free pancakes in the mornings!
Jun 10, 2021
Excellent stay. Great staff. Awesome activities We will return again.
Jun 09, 2021
One of my favorite places to camp!!! Whenever I'm in the area I always stop here.....love it
Jun 02, 2021
Been fun for 30 years
May 24, 2021
We love going to koa.. but we wanted a cabin, all were booked so i went and spent about 250 on tents and air mattresses. But when i called to check in there was a cabin available, but i had allready spent much money so we did thee tent site, which we always love as well.. but was alittle disapointed with swimming in lake as there was soooooo much seaweed that you really couldnt swim
May 18, 2021
Great weekend, lots of things for the kids to do. We plan on coming back later this summer and fall. You may want to think about getting some more rental "bikes" for the kids. They love them and there seems to always be a wait to rent
Oct 26, 2020
Came for the Halloween celebration, all of the kids had a blast. Will be back.
Sep 13, 2021
Alot of fun stuff to do
- Teisha keister on Google
Sep 11, 2021
Very nice clean place for camping
- Faygo Guy on Google
Sep 04, 2021
This Is the best campground hands down! So many activities for the kids and great store with everything you need. The snack shack is great too, but the staff is amazing! Toby and Stephen go above and beyond to always make us happy campers. We love all of them!
- Tony Cromwell on Google