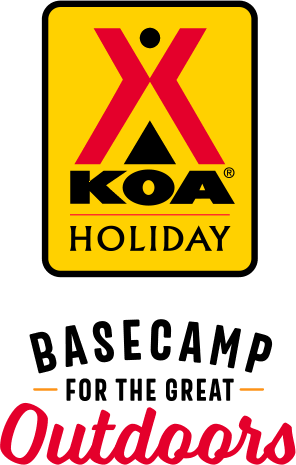 KOA Holiday Campgrounds
Whether you're exploring the local area or hanging out at the campground, KOA Holidays are an ideal place to relax and play. There's plenty to do, with amenities and services to make your stay memorable. Plus, you'll enjoy the outdoor experience with upgraded RV Sites with KOA Patio® and Deluxe Cabins with full baths for camping in comfort. Bring your family, bring your friends, or bring the whole group – there's plenty of ways to stay and explore.
KOA Holidays Feature:
RV Sites with a KOA Patio®
Deluxe Cabins with full baths
Premium Tent Sites
Group meeting facilities
Directions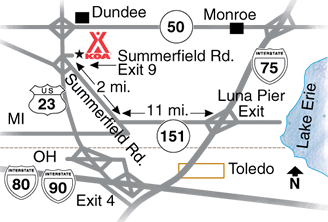 9 miles north of OH/MI line on US 23 at Exit 9 Summerfield Road NE corner. From 75 take Luna Pier Exit 6 West approximately 11 miles, then a right on Summerfield for about 2 miles.
Get Google Directions
May 06, 2021
The staff was amazing the cabin was very clean.
May 05, 2021
We came at a very quiet period (before the summer season started) and it was relaxing. The campgrounds as a whole do seem rather run down. We stayed at a cheaper rate due to a sale they were running and I'd stay at that rate again, but I wouldn't pay full price for the cabin we rented, as it was more than rustic. Overall, it's a good place to camp at for one night.
May 03, 2021
Out of all the KOA's we have visited, hands down this one has the most friendly and helpful staff!! Vicky is one of the best!! Thank you for the fantastic stay!
May 03, 2021
The campground is beautiful and the staff was welcoming and very friendly. Will be back.
May 03, 2021
Great location. Easy highway access, but it doesn't have that camping in the woods feel and their weekend rate is at an all time high vs weekday. We were next to just one other cabin, which was nice as we we were looking for somewhere that was not too conjested and had all the comforts of home - a/C, heat, fan, stove, bathroom with a shower and hot water. Very luxurious from the typical cabins.
May 03, 2021
Sites are very small and unlevel. Had to use wood so I didn't sink into the mud on the site. Asked for size of wood bundles so I knew how many to order and she said "well they're cheap so they're small". Come to find out that I paid $6/bundle and the bundles are 3-4 small splits and the bundles are a quarter of the size of the ones at any gas station. Playground and fishing pond were very nice
May 03, 2021
Great weekend getaway
May 03, 2021
Grounds were nice and all staff very friendly. Only concern was bathrooms. Several soap dispensers were empty and no toilet paper in 2 stalls. Maybe needs checked twice a day or at least before end of duty by staff ?
May 03, 2021
Very nice campground. Staff was wonderful. Only issue we had were people around us smoking marijuana after staff quit driving around checking on campers. It says on check in sheet it is not allowed. Still happened.
May 03, 2021
Sites are a little small but nice place
May 03, 2021
Staff was friendly and helpful!!!!
May 02, 2021
Everything was great except we had to go find someone for the WiFi password and there was no channel guide for the tv.
Apr 29, 2021
First time visit to see about future use with family members. Not everything was open yet but got a lot of information from a very friendly worker, Vickie. Seems to offer quite a bit for children once they get going. Had to get used to the freeway noise.
Apr 29, 2021
It was a nice park. The people were great. The sites are too close together.
Apr 29, 2021
The staff was friendly, the cabin was nice and spacious. Facilities clean and well maintained
Apr 27, 2021
Nice campground and friendly staff
Apr 26, 2021
Friendly service, Store is well stocked.
Apr 26, 2021
Campgrounds was fairly full for April and except for some rain late Saturday the weekend was cool, but nice. Friendly people in the campgrounds and the staff is very friendly.
Apr 26, 2021
Always pleasant! Frombthebstore and grounds staff to the cleanliness. You feel outdoors while camping on the upscale. This is a popular campground and fillsbup fast. We are there one tontwo times a year forbfamily gathering and or a quick getaway. Thank you Monroe KOA staff for always making it pleasant
Apr 26, 2021
Very very small space for pull through campsite.
Apr 24, 2021
Wonderful place to stay!
Apr 23, 2021
It was a little colder than expected and the staff upgraded my stay and put me and my entire family in cabins so that we would not freeze...the facilities were extremely clean and all staff was amazing and friendly...also very beautiful area and lake
Apr 23, 2021
We had a wonderful time! It was our first time there and everyone we encountered that worked there was great!! My kids loved the putt putt, park and bike rental. We will def be back!!
Apr 22, 2021
Everyone was so pleasant. Never stayed at a KOA before. Everything was clean and very well organized. We can't wait to stay again. Thank you for the experience.
Apr 20, 2021
Staff and campsites awesome! The staff was very on top of there game very helpful and courteous Toby and Steven the employees answered every need or question that was asked of them security was also very helpful camp sites where clean and cleaning staff kept things spotless!
Apr 19, 2021
I love staying here. The staff are very friendly and the accommodations are nice. The camp store has so many things!
Apr 19, 2021
Some of the employees children were bullying other kids. Talk the other children they could do what they want because they would be believed over them. Other than that a great visit.
Apr 18, 2021
Every single employee we came in contact with were extremely friendly. Clean rest rooms. Clean Cabins. The grounds were clean. I definitely will recommend!!
Nov 04, 2020
Staff is amazing. Snack shack is great. The Halloween displays is outstanding and the kids activities are always great ideas.
Nov 04, 2020
I really enjoyed my stay, the store staff was very friendly. The new activities were really neat, management has done a great job. The weather wasn't the greatest all weekend, despite that the kids had fun.
Apr 21, 2021
Stephen the park Manager was Awesome at answering 🤔questions and I had alot😉. Also the head of Cleaning crew🧚🧹🧽🚿🛁🛏️ 🧽and I had a great connection she was awesome too🤘.... I am a bit OCD and the 2 cabins 🏕️🏡we had were even up to my standards. 😊Witch says alot we enjoyed every minute we were there!😁 Thank you to every crew member there. You are all very special🤗... We stayed from Friday 4/16/21till yesterday Sunday 4/20/21 because of snow🌬️🌨️❄️.......🥰🥰🥰🥰 The Kelley Family!
- ube on Google
Apr 18, 2021
Every single employee went above and beyond for all of us. Super friendly, super clean! Excellent place to stay!! Numerous things for kids to do.
- Amanda Michael on Google