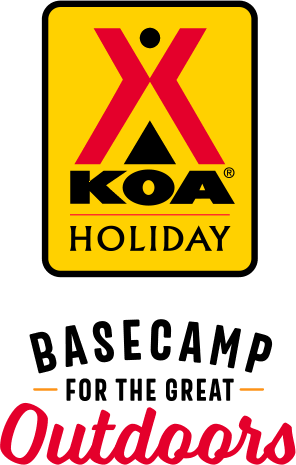 KOA Holiday Campgrounds
Whether you're exploring the local area or hanging out at the campground, KOA Holidays are an ideal place to relax and play. There's plenty to do, with amenities and services to make your stay memorable. Plus, you'll enjoy the outdoor experience with upgraded RV Sites with KOA Patio® and Deluxe Cabins with full baths for camping in comfort. Bring your family, bring your friends, or bring the whole group – there's plenty of ways to stay and explore.
KOA Holidays Feature:
RV Sites with a KOA Patio®
Deluxe Cabins with full baths
Premium Tent Sites
Group meeting facilities
Directions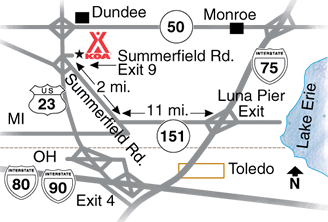 9 miles north of OH/MI line on US 23 at Exit 9 Summerfield Road NE corner. From 75 take Luna Pier Exit 6 West approximately 11 miles, then a right on Summerfield for about 2 miles.
Get Google Directions
Jul 22, 2021
Everything was good but the mattresses in the cabins aren't very comfortable I would recommend getting some new mattresses otherwise everything else was great
Jul 22, 2021
The air conditioning in the cabin was broken along with no shelves in the fridge. Very hot inside the cabin especially on a 80 degree day. I notified management and they did nothing to fix the issue or even give me a discount. KOA needs some improvement.. major improvement and the manager needs to quit his job because he was TERRIBLE.
Jul 22, 2021
Me and My Family absolutely enjoyed our stay we have gone camping here the past 3 years this is our family tradition to go here every year and we are never disappointed!!! Cant wait till next year
Jul 22, 2021
Overall our first day was nice. We enjoyed the lake, and the other activities, but we ended up spending alot of money on food, and all of the things to do, like bikes, and padde boat, too high priced. We got a small cabin, and the room was very clean, but I should have selected one with a bathroom and shower, as the restrooms were kind of dirty. Undecided on if I would return.staff were very nice
Jul 22, 2021
1st time camping at koa and my family n I loved it. We will be back
Jul 22, 2021
I go to koa every summer (sometimes more than once) and have never had a bad experience �
Jul 22, 2021
It was our first time for our small family and I couldn't imagine it be in another location. We loved the atmosphere, the amenities, and had a wonderful short stay.
Jul 21, 2021
need to start filling in some of the pot holes at campsites level out the sites too many trip and fall situations come around with gravel start filling in it would make for better safer more water resistant areas around each site On a + note cleanup crew was awesome did a wonderful job very friendly personnel have been staying at KOA since the early 80's our parents our kids now our grandkids
Jul 21, 2021
We loved the carnival weekend! The staff members are terrific!
Jul 21, 2021
Laundry area very basic and poorly lit.
Jul 20, 2021
We had a lot of rain and so the stay was not as good as usual but we love the koa and enjoy it every summer. It would be nice if our spot had more grass and less dirt. Once the rain started, we had a total mud fest on site 20.
Jul 20, 2021
We had a great time. The only negative things I will say are that there were sunglasses and sun tan lotion left in our cabin from the previous occupants which made me question how well they cleaned the cabin before we arrived. Also the air conditioning unit in the bedroom was extremely loud. I had the TV turned up high and still could barely hear it over the air.
Jul 20, 2021
The first night was great. The next one not so much. The "tree house" across from us had a dog they left unattended and barked his head off. We reached out to the front desk, they said they would send security, who never came. We listened to a dog that wasn't even supposed to be in the rental for 5 hours straight. So that list of rules you get at check in, they don't in force or care about
Jul 20, 2021
Had a great time and staff were very friendly. Site numbers could be marked better though; and the bathrooms were very gross and smelly and needs a complete overhaul (new industrial/commercial type toilets that won't overflow) and better ventilation/sewer system.
Jul 20, 2021
The streets were very narrow and there was a persistent weed smell. But are stay was good. Haven't been there in 15+ years, coming back in September and we met some nice people.
Jul 20, 2021
The staff was friendly as always, our site was clean and our family had a blast. This is our favorite campground!
Jul 20, 2021
Every staff member we encountered was kind, enthusiastic, and kind to my kids. AND the amount of diligence for picking up trash and cleaning bathrooms was certainly noticed. Shout out to Laura for when I called and booked last minute, Larry (?) at check in for helping my sanity, and the guy working the bike rentals Sunday night who made my kid's day with a last minute ride before he packed up the
Jul 20, 2021
It's really very nice there with a lot to do especially for the kids and my husband and I each caught a bass! Just under 15 inches though unfortunately but we had a great time.
Jul 19, 2021
They could of planned better events for their carnival theme and should always plan just in case the weather doesn't cooperate.
Jul 19, 2021
The sites are right on top of each other. People are there to party and drink. The lake and playground are nice and the best part of the campground. People let their dogs run loose. Our dog was attacked inside the Kamp K9 area.
Jul 19, 2021
We rented a deluxe cabin. The size of the cabin was nice, and had a full fridge, toaster, 2 burner cooktop, and coffee maker. There were no dishes or utensils in the cabin, like advertised. The cabin itself was dirty. The shower head was clogged, my husband had to clean it. The hot water went out. We found something shoved in the air conditioner and growing mold... Not worth the $$$ we paid
Jul 19, 2021
Loud music and barking dogs until almost midnight!!!! Years ago we would get scolded for talking too loudly around the campfire after quiet hours. I have no problem with a little music but come on!
Jul 19, 2021
We had an excellent weekend. We had 2 children ages 10 & 11 and it was everything they could dream of wanting to experience camping and more. The swimming pond was beautiful, the waterslide was very fun asking with all the scheduled activities. The pancake breakfast was a welcome treat and the location so very well maintained by friendly staff. We will be back
Jul 19, 2021
No explanation when we arrived, no idea about free pancakes until later heard from another camper, said no activities during week, mid week we heard they did have crafts, did not know that the inflatables weren't available during the week, only 1 adult banana bike, only 1 kayak, only 1 paddle boat that worked, didn't tell us about extra car fee, grill had food on it in trays from previous guest...
Jul 19, 2021
We were given the wrong cabin. It was across the park from our tent site. Why would we book that. When I called the morning of I was told the sites we wanted but that was what we got. The people in office tried to work with us
Jul 19, 2021
We had a great time. My kids loved all the activities and the staff was helpful and kind. I would rate this 5 stars except the dryers were nearly all out of service which was an issue because it was a very rainy weekend.
Jul 19, 2021
We had a fun time and enjoyed our campsite. For how many activities and things to do they didn't seem to invest in amount of toilets and showers. Noise at the campground supposed to stop at 11 but there was loud music and people partying till 2am! Didn't seem like they had people making sure rule was followed. The worker at the bottom of the slide didn't help my kid.
Jul 19, 2021
The campground was kept clean especially the bathrooms ! All employees were kind. Activities were set up each day some were rain or shine for families . We will definitely be coming back to visit hoping to stay in a cabin. The only downfall are the amount of showers that they had available where you didn't have to keep pushing a button and the shower would turn off after a minute
Jul 19, 2021
Our stay was great. Enjoyed all of the activities available. The only thing I would like to see changed is the putt putt course cleaned up.
Jul 19, 2021
Staying another weekend. Enjoy the kids activities
Jul 19, 2021
We love KOA and always have a great time. Negatives to this trip. -Weed smell -Loud cursing music at beach (one group) -Tree maintenance is needed, a lot of dead branches/trees -Put Put needs TLC, lots of weeds and run downed More family activities would be great.
Jul 19, 2021
We had so much fun we booked for this upcoming weekend too!!
Jul 19, 2021
Always a good time!! Thank you!
Jul 19, 2021
Staff was very friendly and they had a lot of things planned! my girls absolutely loved it! we will be back!
Jul 19, 2021
Loved it very kid friendly and great staff. Had awesome camping Neighbors too.
Jul 19, 2021
The campground was excellent. The bathrooms were incredibly clean the grounds were incredibly clean and our family had an excellent stay.
Jul 18, 2021
Great staff. Clean bathrooms, lots to do
Jul 15, 2021
This was a great time for myself and family! We will be back! My girls couldn't stay off the water slide. And the beach was very clean. Staff was great aswell. Thanks for the experience.
- Lila Louu on Google
Jul 13, 2021
Great sites best place to go and just float on a raft and forget your worries
- D Nice on Google
Jul 13, 2021
Some of the best day's of my life.
- Karri Kelly on Google