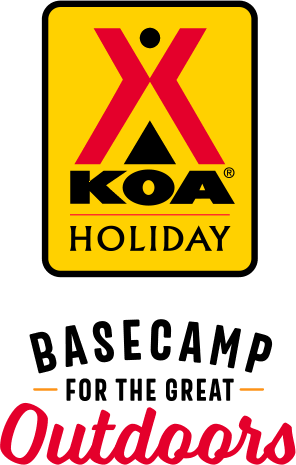 KOA Holiday Campgrounds
Whether you're exploring the local area or hanging out at the campground, KOA Holidays are an ideal place to relax and play. There's plenty to do, with amenities and services to make your stay memorable. Plus, you'll enjoy the outdoor experience with upgraded RV Sites with KOA Patio® and Deluxe Cabins with full baths for camping in comfort. Bring your family, bring your friends, or bring the whole group – there's plenty of ways to stay and explore.
KOA Holidays Feature:
RV Sites with a KOA Patio®
Deluxe Cabins with full baths
Premium Tent Sites
Group meeting facilities
Directions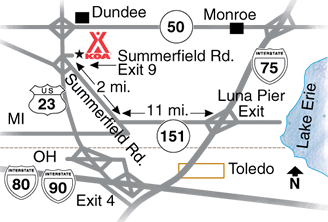 9 miles north of OH/MI line on US 23 at Exit 9 Summerfield Road NE corner. From 75 take Luna Pier Exit 6 West approximately 11 miles, then a right on Summerfield for about 2 miles.
Get Google Directions
Nov 04, 2020
Staff is amazing. Snack shack is great. The Halloween displays is outstanding and the kids activities are always great ideas.
Nov 04, 2020
I really enjoyed my stay, the store staff was very friendly. The new activities were really neat, management has done a great job. The weather wasn't the greatest all weekend, despite that the kids had fun.
Nov 03, 2020
We rented the loft suite for a weekend. The website states we only needed to bring bedding and linnens. Due to the pandemic all kitchen ware was removed from the cabin and we were unaware until we arrived. We had to go back home and bring it all. The main reason I like the cabin was so we did not have to bring everything with us. I feel we should have been informed. atleast given a discount
Nov 03, 2020
You have the best Halloween weekends but I still feel that it is outrageously overpriced. I do tell others about the campground but always put in the disclaimer of how expensive it is. Staff is always friendly and helpful.
Nov 03, 2020
Our stay was well enjoyed by us all. A suggestion is that the cleaning of the cabins is performed closer to the arrival time of the guests. We found a little dust,in bathroom and kitchen area, but nothing concerning enough to prevent our returning or recommending KOA-Monroe to others. (The Staff made us feel welcome and appreciated.)
Nov 03, 2020
The stay was great with tons of fun activities for all ages!!
Nov 03, 2020
My grandson had the best Halloween 2020 THANKS
Nov 03, 2020
It was amazing!! Many activities for the kids to do. Friendly and helpful staff!! We love it here�ϋ�
Nov 03, 2020
You should have hot water in bathroom and keep bathroom door to the outside closed. Great place for kids. Lots of activities.
Nov 03, 2020
The kids loved everything but I would say the dodge ball event was awesome. We will see you next year !
Nov 03, 2020
First time there and loved it. The only real gripe we had was with our site. A tree right in the middle of it requiring us to need to get an extension for our power cord as well as a longer water hose.
Nov 01, 2020
We had to change our plans 3 times due to Covid at our destination. Monroe County KOA accommodated our changes without any questions. Since we simply needed a place to sleep and use the restroom we pulled in after dark, slept, and pulled out before the sun rose. The camp ground was quiet, the camp ground was clean, and the restroom was immaculate. We felt safe and secure and got a quick rest.
Nov 01, 2020
It is such a nice family friendly campgrounds!
Nov 01, 2020
Didn't get to stay. The road took me a different direction and I had to cancel my reservation. GPS messed up. And I lost almost $70 for the reservation. So I won't be doing that again. I so wish I could get my money back.
Oct 31, 2020
We come every year for Halloween and plan to do so for as long as possible �� thank you for still doing your absolute best especially during the time of the pandemic !
Oct 31, 2020
very disappointed called security because others playing bad music during trick or treat and got a recording, left a message and security showed up around 11:00 knocking on MY camper while I was sleeping. This was our second stay and dont know if I will come back
Oct 31, 2020
The team at KOA where veeu friendly and helpful. It was nice stay
Oct 30, 2020
They needed to have more things to do for smaller kids ...but the staff there is outstanding
Oct 30, 2020
We enjoyed our stay!
Oct 27, 2020
Bathroom was sub standard . Events were great
Oct 27, 2020
Everything was great! So many great activities for my 6 year old to do.
Oct 27, 2020
Fun and peaceful. Everyone we're so friendly! Plan on staying again!
Oct 26, 2020
Cabins were dirty and so was the single bathroom by our cabins. Wishing there were more bigger bathrooms and shower facilities. But you did a great job with all the Halloween activities. All of our kids had a blast with dance, the dye, dodge ball , golf challenge.and haunted house.
Oct 26, 2020
Stayed in a cabin, was clean, workers always friendly. Only down part, we were in the 1st cabin, like a wind tunnel. Blew all our stuff from wind. I'll make sure not to stay in that one lol couldnt even sit by firepit it was so bad. great time otherwise.
Oct 26, 2020
The staff were friendly and helpful, and the activities for the kids were well done, taking into account all the Covid-19 restrictions. We will be back next year!
Oct 26, 2020
As always very clean. Staff very friendly and helpful.
Oct 26, 2020
Very expensive for a muddy site that was very cramped and not level. Cable didn't work correctly, will not return.
Oct 26, 2020
This campground is just "ok". In my opinion it is not even close to being worthy of the price you pay. We came for a Halloween weekend and a large amount of the activities cost additional money. I arrived after my husband because of work and had to pay an additional $10 to park my car on the tiny site I already was paying $140 for. Grounds were not well kept. Sites are TINY. Not worth it in fa
Oct 26, 2020
Fun times as always.
Oct 26, 2020
We had a wonderful time for Halloween Camping!!
Oct 26, 2020
Beautiful campground, lots of activities, fun for the family. We would recommend less loud speaker announcements, however - and perhaps a little more monitoring about noise and outside activities after the curfew.
Oct 26, 2020
Great place, lots of activities. Site was a little muddy. Wish you had more full hook ups or more dump stations
Oct 26, 2020
i think you should be able to use your KOA discount each and every time you camp. we paid for the membership. BUT yet you can only use one. so i had to pick the KOA discount or the halloween discount. i think that is wrong. Also my child won a free bike ride, we could never get a bike. so he did'nt get to use it. I think it should be good at least a year.
Oct 26, 2020
We stayed for a Halloween weekend, as we do every year. Had a great time despite the cold evenings, makes a great time for a camp fire. We miss the hayrides and costume contests of years past but KOA did an excellent job with other activities in its place. Dodgeball was a huge hit with my 10 yr old. Would love to see the tie dye made better. The ink fades really quick after first wash. We love it!
Oct 26, 2020
It was extremely crowded for trick or treat camping in Oct. So crowded that I couldn't back in my site due to pickup trucks crowding the road. Plus they started trick or treating at night which wasn't as enjoyable since you can't see people's costumes or campsite decorations.
Oct 26, 2020
Nice atmosphere and had a good time. Except for the fact that it was freezing in the tent all night, which we had prepared for. We brought a heater to keep warm but the fuse kept blowing so it wouldn't stay on longer than 30 minutes resulting in me having to get out into the cold over and over to flip the switch. Very frustrating. Won't be staying in a tent again.
Oct 26, 2020
Always enjoy coming here such a great place for me and my family never disappointed all of the activities for the kids and adults are amazing can't wait for next year
Oct 26, 2020
Park has a lot of amenities for kids but the sites are very small and small firepits and the bundle of wood they sell for $6 is a rip off, you literally get like one decent size piece of wood!!!!!
Oct 26, 2020
Came for the Halloween celebration, all of the kids had a blast. Will be back.
Oct 20, 2020
Loft heat was broke when we got there. They did fix it. Loft was very dirty and could use a deep cleaning especially all the bugs in the light fixtures. I dont think anyone has ever moved the couches to mop the floors properly. Trash behind a dresser in one room. Toilet ran unless you jiggled the handle. Had to duct tape the railing so no one leaned into a screw. Expensive for condition.
Oct 19, 2020
GREAT SECOND YEAR ALREADY BOOKED 3RD FOR HOLLOWEEN WEEK END GREAT FOR GROUPS
Oct 19, 2020
Nice site, only issue was the waste dump cap was cross threaded, which upon request was corrected.
Oct 19, 2020
we have have a large group that goes every year and we love the people there and good times had by all
Oct 19, 2020
We rented a camper at this location and it was very run down with many things broken. Hot water was not on stove didn't work. Fridge door broken off. Door Jams broken. Not well taken care of. There was no supplies at all in camper like pots pans, soap garbage bags. Bought fire wood and got 4 sticks basically 1 log split on 4 for $8 not even enough to start fire. Rip off.
Mar 12, 2020
Memories....memories... memories. I have been going here for over 18 years and EVERY SINGLE TIME HAS BEEN AMAZING!! The general store is convenient, the banana bike rentals are a blast, canoe rentals are peaceful, the fishing is fun, and the water slide is packed with family fun!!!! I highly recommend visiting this campground!!!
- NG on Google