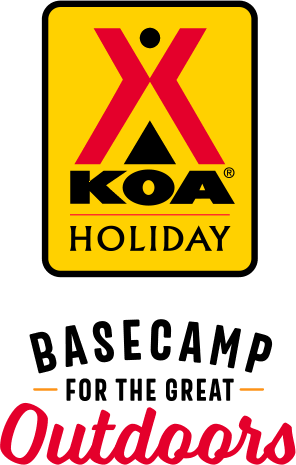 KOA Holiday Campgrounds
Whether you're exploring the local area or hanging out at the campground, KOA Holidays are an ideal place to relax and play. There's plenty to do, with amenities and services to make your stay memorable. Plus, you'll enjoy the outdoor experience with upgraded RV Sites with KOA Patio® and Deluxe Cabins with full baths for camping in comfort. Bring your family, bring your friends, or bring the whole group – there's plenty of ways to stay and explore.
KOA Holidays Feature:
RV Sites with a KOA Patio®
Deluxe Cabins with full baths
Premium Tent Sites
Group meeting facilities
Directions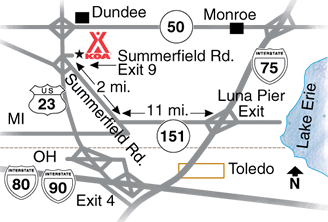 9 miles north of OH/MI line on US 23 at Exit 9 Summerfield Road NE corner. From 75 take Luna Pier Exit 6 West approximately 11 miles, then a right on Summerfield for about 2 miles.
Get Google Directions
Sep 14, 2021
The people were great. Everyone was very nice. However the campground mostly dirt and seemed to get dust everywhere. Also the spots seamed very close together. If your ok with those two things then it was a great place.
Sep 14, 2021
We Lost water for five hours and when camping with a baby it made it difficult because I couldn't wash bottles. Also the lots were smaller than ourselves and others thought! A lot of people struggled pulling in to their campsites with trailers. The activities going on were a good time! With a little money put into it, it could be a really nice campground.
Sep 14, 2021
Love your campground, beautiful place lots of fun family activities we will DEFINITELY return...
Sep 13, 2021
You had us all packed in one area like sardines while other areas were wide open with plenty of space. Why could we not have been spread out more
Sep 13, 2021
We had a awesome time
Sep 13, 2021
Campsites were a bit small and very sandy not much grass also all their big bike's were broken which was what my boyfriend and son had been looking forward to get to do
Sep 13, 2021
Not many events. Never heard them announce anything over the loud speaker. Said almost all sites were booked so we got a site where we could and got there and the entire campground was empty all weekend and we had a bad spot.
Sep 13, 2021
Way more then I expected and was pleasantly pleased I wasn't expecting the amount of activities they had and the store had everything I needed
Sep 09, 2021
We enjoy this campground, but I would like to point out that, when doing a music dance party glow party etc hosted by Koa that this should be a family friendly event, music included. Though I enjoy the top music I do not appreciate the unedited versions when my 5 year old are around. I do not listen to that music when my kids are present and this issue would make us consider not attending
Sep 08, 2021
Was assigned spot 69A which is too small for a 25 ft camper no where to park on the site ,that spot should have nothing bigger then a pop up on it .and too noise after 11 pm ,your employee Shawn was very helpful
Sep 07, 2021
Had some possessions stolen with an employee being aware that my items were in danger of being taken. Management said they would contact the people responsible, but if they did, they never got back to me. Very very tight spots. Not very level. Did not enforce their quiet hours or guest policy.
Sep 07, 2021
This is my 3rd year in a row taking my family to this KOA. The staff is very friendly and helpful. They make every effort to keep the campground and facilities clean despite some campers being disgusting and disrespectful. I did have an issue (twice) where I ordered firewood to be delivered to my site and was forgotten about. Second time I called and felt as though I was made out to be dishonest.
Sep 07, 2021
Lots of stuff to do for kids. Bathroom/showers there needs to be more. Had to wait almost a hr to take a shower.
Sep 07, 2021
We had a lot of fun with all the activities!!!
Sep 07, 2021
Everything was wonderful. I haven't been since I was child and everything was just liked I remembered. Thank you for a great last summer vacation!
Sep 07, 2021
It was amazing as always. The staff were helpful and the location was kept beyond clean.
Sep 07, 2021
Kids had a blast tons of family stuff to do wish lots were a little bigger you lose alittle space if your neighbor has slideouts but all in all would definately come back
Sep 07, 2021
Labor Day weekend, super crowded, but fun.
Sep 07, 2021
Loved everything will be coming back!
Sep 07, 2021
We had a wonderful time! Just wish that they had a dog run! And for bigger dogs! But we have been coming for years and will keep coming back! Thank you
Sep 07, 2021
This is by far the worst Koa ive stayed at! No rules were enforced, drinking everywhere, drug use, kids screaming bloody murder late at night and early am. The restrooms were appalling! The smell of sewer was coming up, the water not only smelled like fish but tasted like fish. People are cramming 4 tents per site and allowing there off leash dogs to run up to my on leash dogs. Terrible place.
Sep 05, 2021
They had most everything we needed to entertain the kids. The site was clean, everything worked as it should, all was great. Thank you!
Sep 05, 2021
It would be nice if they could update the mini golf.
Sep 03, 2021
We had a nice patio site with excellent WiFi and a nice swimming lake to exercise in. The grounds are spacious and filled with beautiful tall trees. Staff was very friendly.
Sep 03, 2021
Nice KOA, with great trees and shade. I do resent the fact that they advertise a price on the KOA reservation site and then add a "resort fee" at checkout. Seems to me that it would be considerably more honest to just quote the price up front.
Sep 03, 2021
Easy reservation and site selection process. Park is well managed and maintained! Lots to do in a beautiful tree-filled landscape. Once again, a great weekend!
Sep 02, 2021
Spot had NO trees, on a curve so has traffic on three sides of us, two street lights, hardly any grass and mostly ash from fire ring being moved a lot. Flying ants came out of ground by the hundreds after rain. Showers were GROSSLY DIRTY, used tampon, hair, dirt which I understand but there so much to the point couldn't get out of shower without getting dirty, bathroom stahl doors VERY GROSS!!!
Sep 02, 2021
Well landscaped, plenty of friendly staff, awesome waterslide although could use a good pressure washing. downsides were muddy uneven terrain coming in, and a few out of order laundry machines, also snack shack was closed. The store does not have beer just a heads up for those looking to book. Overall my family had a great time! We enjoyed the waterslide and the swimming lake!
Aug 31, 2021
Put us next to exit even though several spaces available
Aug 31, 2021
Highway noise kept us up at night. Tight campsites - couldn't let my dog off on a 20' leash because the neighbors kept complaining she was encroaching. Paying $3 extra per night because I have two young kids instead one of is ridiculous. No pool; only lake with questionable-smelling warm water. Game room was musty & had air hockey table that had an out of order sign that looked older than my kids.
Aug 31, 2021
Really appreciated the storm warning they gave.Saving a canopy from wind damage is always nice.
Aug 31, 2021
Very pleased,great staff.In all a very pleasant stay.Would stay at koa any time.Thanks for the fine service.
Sep 13, 2021
Alot of fun stuff to do
- Teisha keister on Google
Sep 11, 2021
Very nice clean place for camping
- Faygo Guy on Google
Sep 04, 2021
This Is the best campground hands down! So many activities for the kids and great store with everything you need. The snack shack is great too, but the staff is amazing! Toby and Stephen go above and beyond to always make us happy campers. We love all of them!
- Tony Cromwell on Google