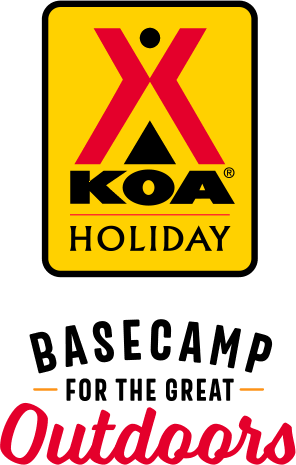 KOA Holiday Campgrounds
Whether you're exploring the local area or hanging out at the campground, KOA Holidays are an ideal place to relax and play. There's plenty to do, with amenities and services to make your stay memorable. Plus, you'll enjoy the outdoor experience with upgraded RV Sites with KOA Patio® and Deluxe Cabins with full baths for camping in comfort. Bring your family, bring your friends, or bring the whole group – there's plenty of ways to stay and explore.
KOA Holidays Feature:
RV Sites with a KOA Patio®
Deluxe Cabins with full baths
Premium Tent Sites
Group meeting facilities
Directions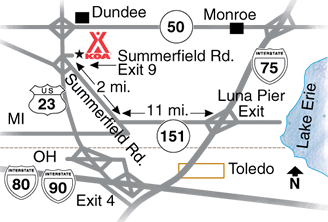 9 miles north of OH/MI line on US 23 at Exit 9 Summerfield Road NE corner. From 75 take Luna Pier Exit 6 West approximately 11 miles, then a right on Summerfield for about 2 miles.
Get Google Directions
Sep 13, 2021
Our stay was fantastic, great weather & all of the staff was friendly!
Sep 13, 2021
Clean, organized, lots of activities for adults and kids. Love staying at this KOA
Sep 13, 2021
Cabins, facilities were nice and clean. Having a dog there is very confusing. My cabin had signs that said absolutely no pets on deck or near cabin. At the check in area, I was told it was ok because I paid the pet deposit. My friends cabins said $100 fine for pets in or near cabin. Our food, drinks were in a cabin my dog was not allowed. This could have been explained better when I called before.
Sep 13, 2021
Great had a blast people were friendly and helpful
Sep 13, 2021
Very clean campground. Staff is very friendly. Public bathroom and showers were very clean as well. If you have a question, you can find a staff person readily available riding around the campground on the carts. Our original reservation was far from bathrooms and we were moved to a cabin right across the bathroom/showers. Very convenient since there was no cabins with bathroom/shower available.
Sep 11, 2021
Me and my kids had a wonderful time! The only thing I would change about our stay is that the bikes and boats weren't able to be rented,and the snack shack wasn't open,which disappointed my kids. But it's our fault for coming after Labor Day, I suppose. Everything else was wonderful. The cabin was well maintained,and the staff was very friendly.
Sep 10, 2021
It was nice and peaceful.Had a GREAT time there.T.Y.
Sep 10, 2021
My family and I really enjoyed our stay. Third year in a row for us. Always very accommodating. The children of the weekends with all the activities.
Sep 09, 2021
We had a good time. We stayed in the treehouse cabin. I just think it was a bit expensive. We stayed on a Monday there was no activities could not rent a bike or boat because the rental shop was not open. Really nothing at all to do other than swim and putt putt golf. I guess I would feel better about that price if there were some activities.
Sep 07, 2021
We had a great time. Cabin was nice. Fun things to do all weekend.
Sep 07, 2021
Love staying at this campground. However the bed this time in the cabin was not as comfortable as the last 2 times we've stayed, It was like laying on a board. We always use a foam topper too. Other than that the stay was awesome as always. We will be back.
Sep 04, 2021
First time visiting over night and it was great! Adorable and clean little cabins and kind and courteous staff. We will be back for sure
Sep 02, 2021
Everyone was very helpful and kind.
Sep 02, 2021
This was our second stay with this KOA, this campground is well maintained and the perfect affordable family getaway. I also recommend the beach for a day visit. We will be back again in 2022.
Sep 01, 2021
The activities and amenities were unavailable there was no bounce house, no tie dye, no excitement the lake and the water slide was nice
Sep 01, 2021
Nothing was open, not even the bike and boat rental. They inflated the bounce house for 30 min and that was it. Worst stay EVER.
Aug 31, 2021
The walls in the bathroom needed to be cleaned......The bunkbeds had nice mattresses, but the full bed was really bad. I looked under the bed on my way out, and the bed frame wasn't even put together, and the mattress was in bad shape! No utensils in the room, like it said. Otherwise, our stay was awesome, had a great time with all the activities!
Aug 31, 2021
The wet n wild wagon ride was amazing! Your fire wood we purchased not so good as we used 3 of our own starters plus bought 4 from your store and we're still not able to start it��
Aug 30, 2021
We rented a "deluxe " cabin. We had family and friends staying there. When I told them the cabin has mold, water damage and the "shim" under the toilet is not keeping the toilet from rocking they said they could put me in a small cabin no bath or get a refund. I was stuck between a rock and a hard place, I live 4 hrs from this koa. I made my reservations in February. There is no excuse for this
Aug 28, 2021
We had a great time at this campground, beautiful weather and a peaceful nights. Staff was friendly and helpful. Campground was very clean. We will be back again for sure.
Aug 28, 2021
Friendly staff and lots of fun. The only change I would suggest is make sure the hot water works in cabin 218.
Aug 27, 2021
Had a nice time except many of the amenities advertise were not available. Pricing also was miss leading, had to pay almost 40 dollars more due to additional costs I was not aware of.
Aug 26, 2021
first of all the check in service was exceptional. The cabin was beautiful and very clean. The staff was very nice and helpful. I look forward to next years stay. Keep up the good work.
Aug 26, 2021
we had a great time, everything was clean and the store was wonderful, people were very helpful and kind, lots of fun things to do, we will be back, thankyou
Aug 25, 2021
We stayed in L219. The propane grill was filthy, out of propane, needed a grill brush to clean it. Bedroom door knob was broken. There was no stove-top burners or some pans and dishes. Our lodge didn't have these items. The hot plate was dirty. Area outside was very cramped, especially trailer behind us. The fire pit was close to lodge. Hope to get a better lodge next year.
Aug 25, 2021
Stephen Mathias was professional and extremely courteous checking me in. The entire weekend was awesome and I received much needed rest and relaxation from an extremely busy and stressful job and life I currently have. It was great to just get away and de-stress for a few days. My family and I had an amazing time. The kids enjoyed all the family focused events especially tie dying shirts! Thanks!
Aug 24, 2021
I stayed in the loft, and it was TERRIBLE! You should be ashamed to offer a cabin like that at hotel rates! The window air didn't reach the bedrooms. There was no screens to open the windows in the bedrooms! The whole cabin was DIRTY! Walls, floors, side of the fridge, etc…. and the couch was duct taped! Pitiful! I'm NEVER using the cabins again
Aug 23, 2021
We love this kOA we have been coming for the last 8/9 years. We have even told our family and they now come. But this last visit had a hiccup. Our smoke detector in our cabin K99C went off at 230am and woke us all up. It took a few minutes to go off and then did it again at 5am and 8am. We told the front desk but they didn't say much. We asked to spray for bees but no one ever showed up. �
Aug 21, 2021
I stayed in one of the model campers and unfortunately the AC was not working and portable ones were placed. It helped but in the main bedroom it stayed pretty hot while the people in the living room were cold. The park models definitely need upgraded all together but they are still decent with a nice bathroom and regular size fridge. I will be back next year though! The park was very clean also.
Aug 21, 2021
It had been 10+ years since I had last stayed at KOA as a little girl. This week, my husband and our two kids decided to stay out there. At first we had shower problems, but with the help from Gary and Tobi it was fixed immediately! We had an absolute blast and can't wait to return next year. (Only recommendation is having more bikes fixed at the boat/bike shop) Thank you all for everything
Aug 21, 2021
We had a wonderful stay! Cabin was clean and cozy. The kids loved the waterslide and the free pancakes were a hit! Plenty of beach area, staff was friendly and helpful! Have already recommended this place to friends and can't wait to plan more stays here!
Aug 21, 2021
Awesome experience staff was friendly
Aug 21, 2021
Had a great time. The bees were especially bad this year though, two of us got stung separately, but not sure how much you can do about that. Only recommendations I'd make is to update the putt-putt area. Can't imagine it would cost much, even a good cleaning. Other than that, we had a great time.
Aug 21, 2021
Very friendly staff..Super clean.. Tons of activities for the whole family! Great food. It was one of the best vacation. We are certainly coming back and telling everyone about our great adventure.. Thank you for making our stay so pleasant.
Aug 20, 2021
It was ok. I understand the time we're living in that staff is limited. But was looking forward to the snack shack being available. Longer hours for bikes /boats and slide. I paid $300 for 2 nights just expected a little more.
Aug 17, 2021
Excellent and super friendly.
Aug 17, 2021
We pulled in as the power went out. Kinda made our stay in a deluxe cabin difficult , we had no air , stove , and no way to cook breakfast on a grill , I had to go buy a grill griddle to cook , my husband just got out of the hospital as a covid survivor after 208 days and he wanted to go camping , all in all the next day we had power and made the best of it , we will be back !!!
Aug 16, 2021
Love love love the whole staff!!
Sep 13, 2021
Alot of fun stuff to do
- Teisha keister on Google
Sep 11, 2021
Very nice clean place for camping
- Faygo Guy on Google
Sep 04, 2021
This Is the best campground hands down! So many activities for the kids and great store with everything you need. The snack shack is great too, but the staff is amazing! Toby and Stephen go above and beyond to always make us happy campers. We love all of them!
- Tony Cromwell on Google