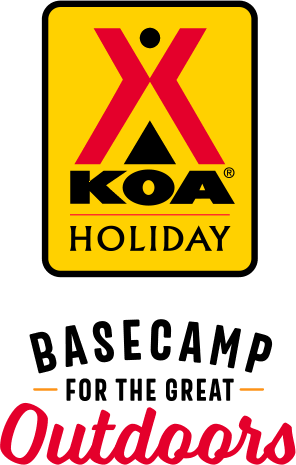 KOA Holiday Campgrounds
Whether you're exploring the local area or hanging out at the campground, KOA Holidays are an ideal place to relax and play. There's plenty to do, with amenities and services to make your stay memorable. Plus, you'll enjoy the outdoor experience with upgraded RV Sites with KOA Patio® and Deluxe Cabins with full baths for camping in comfort. Bring your family, bring your friends, or bring the whole group – there's plenty of ways to stay and explore.
KOA Holidays Feature:
RV Sites with a KOA Patio®
Deluxe Cabins with full baths
Premium Tent Sites
Group meeting facilities
Directions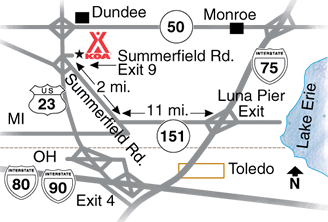 9 miles north of OH/MI line on US 23 at Exit 9 Summerfield Road NE corner. From 75 take Luna Pier Exit 6 West approximately 11 miles, then a right on Summerfield for about 2 miles.
Get Google Directions
Nov 04, 2020
I really enjoyed my stay, the store staff was very friendly. The new activities were really neat, management has done a great job. The weather wasn't the greatest all weekend, despite that the kids had fun.
Nov 03, 2020
We rented the loft suite for a weekend. The website states we only needed to bring bedding and linnens. Due to the pandemic all kitchen ware was removed from the cabin and we were unaware until we arrived. We had to go back home and bring it all. The main reason I like the cabin was so we did not have to bring everything with us. I feel we should have been informed. atleast given a discount
Nov 03, 2020
Our stay was well enjoyed by us all. A suggestion is that the cleaning of the cabins is performed closer to the arrival time of the guests. We found a little dust,in bathroom and kitchen area, but nothing concerning enough to prevent our returning or recommending KOA-Monroe to others. (The Staff made us feel welcome and appreciated.)
Nov 03, 2020
My grandson had the best Halloween 2020 THANKS
Nov 03, 2020
It was amazing!! Many activities for the kids to do. Friendly and helpful staff!! We love it here�ϋ�
Nov 03, 2020
The kids loved everything but I would say the dodge ball event was awesome. We will see you next year !
Oct 31, 2020
We come every year for Halloween and plan to do so for as long as possible �� thank you for still doing your absolute best especially during the time of the pandemic !
Oct 30, 2020
We enjoyed our stay!
Oct 27, 2020
Bathroom was sub standard . Events were great
Oct 27, 2020
Everything was great! So many great activities for my 6 year old to do.
Oct 26, 2020
Cabins were dirty and so was the single bathroom by our cabins. Wishing there were more bigger bathrooms and shower facilities. But you did a great job with all the Halloween activities. All of our kids had a blast with dance, the dye, dodge ball , golf challenge.and haunted house.
Oct 26, 2020
Stayed in a cabin, was clean, workers always friendly. Only down part, we were in the 1st cabin, like a wind tunnel. Blew all our stuff from wind. I'll make sure not to stay in that one lol couldnt even sit by firepit it was so bad. great time otherwise.
Oct 20, 2020
Loft heat was broke when we got there. They did fix it. Loft was very dirty and could use a deep cleaning especially all the bugs in the light fixtures. I dont think anyone has ever moved the couches to mop the floors properly. Trash behind a dresser in one room. Toilet ran unless you jiggled the handle. Had to duct tape the railing so no one leaned into a screw. Expensive for condition.
Oct 19, 2020
we have have a large group that goes every year and we love the people there and good times had by all
Oct 19, 2020
We rented a camper at this location and it was very run down with many things broken. Hot water was not on stove didn't work. Fridge door broken off. Door Jams broken. Not well taken care of. There was no supplies at all in camper like pots pans, soap garbage bags. Bought fire wood and got 4 sticks basically 1 log split on 4 for $8 not even enough to start fire. Rip off.
Oct 19, 2020
Halloween camping is always so much fun!! Thank you for a great weekend!! The new activities to accommodate social distancing were well done and well thought out. See you next year!!
Oct 19, 2020
Great place to spend our weekend. Halloween festivities were very nice. We will be back soon.
Oct 19, 2020
Staff are easy to find and very helpful. More than enough events to keep you entertained the entire weekend. I've been visiting this KOA for 8 years and I plan on many more.
Oct 15, 2020
The Cabins were clean and the staff was friendly and helpful.
Oct 12, 2020
Clean cabin, kind staff, clean campground, and fun events.
Oct 12, 2020
I was so disappointed, we camp here every October and this was disgusting. Thermostat was at 90 degrees when we checked in! Cabin was filthy, nothing was wiped down, no toaster (I specifically asked if there would be one) grease all over the grill causing massive flames when we turned it on. Outdoor patio set missing cushions and arms broken off 2 chairs. We will not be returning next year.
Oct 06, 2020
Had a great time with family and friends ��� grandkids love Halloween camping here���� Staff is very helpful & friendly. We'll be back next year �
Oct 04, 2020
We reserved the cabin that slept 6 with no bathroom and were downgraded to a tree house with no notice. The campground was full, so we could not move. The treehouse did not fit my family and we were forced to leave after one night. We have been coming to Halloween camping for 8 years. We are very disappointed.
Sep 28, 2020
Extremely disappointing that the koa advertised they would have rules in place for protection during Halloween weekends, NONE were enforced. It was disappointing to see several sites w/15 people. People visiting campers for the day who were not staying at the koa. Worst of all 1 of the sites w/15 people had KOA employees at it! Trick or treat was supposed to require masks but maybe 20% wore them.
Sep 28, 2020
Cabin could have been cleaner. The sink and shower didn't look like it had been cleaned prior to us staying there. Floor was dirty. Community bathrooms smelled gross.
Sep 27, 2020
The people are very nice and friendly but the cabin (217) is in dire need of a updates.
Sep 23, 2020
We stayed in the deluxe cabin and it was absolutely awesome. We all had a great time. We love this campground and will definitely be coming back.
Sep 22, 2020
We had a great time.
Sep 22, 2020
The gentleman that booked my stay and I interacted numerous times before my arrival and during my stay. I have never had such a wonderful experience. His kindness, caring, professional, insightful and all out amazing attitude absolutely made this stay the best one, yet! Thank you! The employees that are around the grounds during my numerous stays this season have been above and beyond great too.
Sep 21, 2020
Even with the pandemic, there were plenty of activities and we felt safe. Grandkids had a great time!!
Sep 21, 2020
We stayed in cabin L216 and the only thing we were unhappy about is there is NO mirror. Also, this was our favorite year camping out of the last 5 years. The activities they had for the kids were awesome and my boys loved them.
Sep 19, 2020
Cabin L217, slept 4. Much smaller than expected.but we managed. Staff was 100 percent in helping and friendliness. Went out of there way. Can't remember all named , special thanks to Tony, Sean and maintenance man testing my memory is Chris. My three Young Men all have some forms of Handicap. Really appreciate how employees went out of there way for us. God Bless You All.
Sep 18, 2020
I really love this place. My kids enjoy the nature and they really had fun! The only problem was the cabin was very filthy. For the price I paid, the bathroom was very dirty, there was mold on the sink and tub, there was dust everywhere, and the floor was very dirty like no one swept or mopped the floor. I think this place makes enough money to ensure that the guest are sleeping in a CLEAN CABIN!
Sep 14, 2020
The room was too too small
Sep 14, 2020
My husband and 4 kids stayed for the weekend and had a great time. The cabin was clean and fresh for our stay. It was well maintained the entire campground was well maintained. We are already looking forward to going back next summer.
Sep 14, 2020
Our cabin was cozy and all the staff was wonderful. Loved the activities including the glow bike ride!
Sep 14, 2020
Can't believe I haven't stayed here sooner! Everything was wonderful
Sep 14, 2020
Would be nice if this KOA would take you to your site and help with any questions you may have when pulling in. All other KOAs have always taken us to our sites and helped get parked.
Sep 14, 2020
We love coming here. Just wish they had the dj both nights and for it to be longer then an hour. That hour goes way to fast. Just when u start getting into it. Its over
Sep 14, 2020
* It wasn't like the pictures you have on your website, bathrooms need to be clean all the time, the back restrooms were smell so bad. * The wood bundle is smaller than the other KOA, also not to make deliver unless I buy 3 bundles at least was inconvenient for me. * The store is very poor, you will need to fill those shelves with some souvenirs and some other camp supplies.
Sep 14, 2020
Our stay was absolutely fantastic!! So much for kids of ALL ages to do! Very clean!! We liked it so much were coming back in October 11-13 for my daughters 15th birthday!! You are ALL awesome!!
Apr 18, 2021
Every single employee went above and beyond for all of us. Super friendly, super clean! Excellent place to stay!! Numerous things for kids to do.
- Amanda Michael on Google