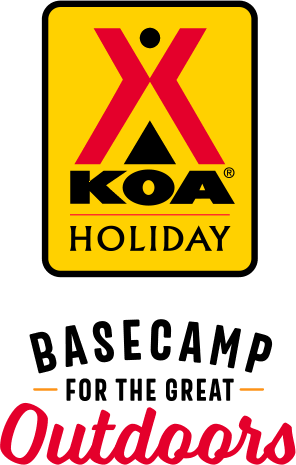 KOA Holiday Campgrounds
Whether you're exploring the local area or hanging out at the campground, KOA Holidays are an ideal place to relax and play. There's plenty to do, with amenities and services to make your stay memorable. Plus, you'll enjoy the outdoor experience with upgraded RV Sites with KOA Patio® and Deluxe Cabins with full baths for camping in comfort. Bring your family, bring your friends, or bring the whole group – there's plenty of ways to stay and explore.
KOA Holidays Feature:
RV Sites with a KOA Patio®
Deluxe Cabins with full baths
Premium Tent Sites
Group meeting facilities
Directions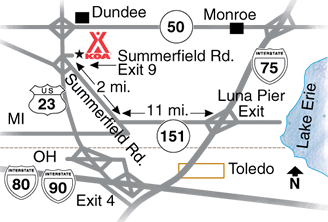 9 miles north of OH/MI line on US 23 at Exit 9 Summerfield Road NE corner. From 75 take Luna Pier Exit 6 West approximately 11 miles, then a right on Summerfield for about 2 miles.
Get Google Directions
Sep 05, 2021
They had most everything we needed to entertain the kids. The site was clean, everything worked as it should, all was great. Thank you!
Sep 05, 2021
It would be nice if they could update the mini golf.
Sep 04, 2021
First time visiting over night and it was great! Adorable and clean little cabins and kind and courteous staff. We will be back for sure
Sep 03, 2021
We had a nice patio site with excellent WiFi and a nice swimming lake to exercise in. The grounds are spacious and filled with beautiful tall trees. Staff was very friendly.
Sep 03, 2021
Nice KOA, with great trees and shade. I do resent the fact that they advertise a price on the KOA reservation site and then add a "resort fee" at checkout. Seems to me that it would be considerably more honest to just quote the price up front.
Sep 03, 2021
Easy reservation and site selection process. Park is well managed and maintained! Lots to do in a beautiful tree-filled landscape. Once again, a great weekend!
Sep 02, 2021
Everyone was very helpful and kind.
Sep 02, 2021
Spot had NO trees, on a curve so has traffic on three sides of us, two street lights, hardly any grass and mostly ash from fire ring being moved a lot. Flying ants came out of ground by the hundreds after rain. Showers were GROSSLY DIRTY, used tampon, hair, dirt which I understand but there so much to the point couldn't get out of shower without getting dirty, bathroom stahl doors VERY GROSS!!!
Sep 02, 2021
This was our second stay with this KOA, this campground is well maintained and the perfect affordable family getaway. I also recommend the beach for a day visit. We will be back again in 2022.
Sep 02, 2021
Well landscaped, plenty of friendly staff, awesome waterslide although could use a good pressure washing. downsides were muddy uneven terrain coming in, and a few out of order laundry machines, also snack shack was closed. The store does not have beer just a heads up for those looking to book. Overall my family had a great time! We enjoyed the waterslide and the swimming lake!
Sep 01, 2021
The activities and amenities were unavailable there was no bounce house, no tie dye, no excitement the lake and the water slide was nice
Sep 01, 2021
Nothing was open, not even the bike and boat rental. They inflated the bounce house for 30 min and that was it. Worst stay EVER.
Aug 31, 2021
Put us next to exit even though several spaces available
Aug 31, 2021
Highway noise kept us up at night. Tight campsites - couldn't let my dog off on a 20' leash because the neighbors kept complaining she was encroaching. Paying $3 extra per night because I have two young kids instead one of is ridiculous. No pool; only lake with questionable-smelling warm water. Game room was musty & had air hockey table that had an out of order sign that looked older than my kids.
Aug 31, 2021
Really appreciated the storm warning they gave.Saving a canopy from wind damage is always nice.
Aug 31, 2021
Very pleased,great staff.In all a very pleasant stay.Would stay at koa any time.Thanks for the fine service.
Aug 31, 2021
The walls in the bathroom needed to be cleaned......The bunkbeds had nice mattresses, but the full bed was really bad. I looked under the bed on my way out, and the bed frame wasn't even put together, and the mattress was in bad shape! No utensils in the room, like it said. Otherwise, our stay was awesome, had a great time with all the activities!
Aug 31, 2021
The wet n wild wagon ride was amazing! Your fire wood we purchased not so good as we used 3 of our own starters plus bought 4 from your store and we're still not able to start it��
Aug 31, 2021
The staff was beyond great. They were helpful and very friendly. I stayed at site 194 which was very unlevel other than that everything was great.
Aug 31, 2021
Everyone is so nice live it there
Aug 31, 2021
We stayed there for a local soccer tournament so we did not use the facility as we would have liked to. Only negative is that some of the sites were muddy and lacked grass, but overall the staff was nice, location was easy to get to, and lots for the kids to do.
Aug 31, 2021
One of my favorite places to stay!! Had a big storm roll in and the staff came out to check on me while tent camping!!! Love this KOA
Aug 30, 2021
We rented a "deluxe " cabin. We had family and friends staying there. When I told them the cabin has mold, water damage and the "shim" under the toilet is not keeping the toilet from rocking they said they could put me in a small cabin no bath or get a refund. I was stuck between a rock and a hard place, I live 4 hrs from this koa. I made my reservations in February. There is no excuse for this
Aug 30, 2021
Great atmosphere. Awesome staff. Mrs. Vicki is one of the nicest people I met on any campground. Lake was so warm. Many activities for everybody.
Aug 30, 2021
Great place and always something going on. Just wish sites weren't so close
Aug 30, 2021
Great, the cost is higher than what I was used to but wow. Kids activities every 3 hours, lake, fishing, water slide, boats to rent, glow dance party, tie dye, water gun fun, Disney princesses, plus easy access to water and electricity. Plenty of employees and great store.
Aug 30, 2021
The campground is very clean with lots of sites. The store is very well stocked and has all of your traditional camping needs and more! The lake has beach access all the way around and was very enjoyable. Our site had water electric sewer and cable with over 80 channels. Partially shaded but with some sand.
Aug 30, 2021
Staff was very friendly and did a great job. Site we had was very tight to neighbors and fire rings are too close to vehicles but it was a pull through site and worked out well. I've always had a good experience at KOAs
Aug 30, 2021
We love this place and have stayed 3 times this summer! Bathrooms are always clean, store well stocked and plenty of fun, engaging activities.
Aug 30, 2021
Had a blast camping with friends and family. Plenty of activities bike riding, fishing, boats, swimming, water slide and tie dye to name some. Camp store was great. Clean bathrooms and showers. Will definitely return. Kids loved it.
Aug 30, 2021
We had an amazing time!
Aug 28, 2021
We had a great time at this campground, beautiful weather and a peaceful nights. Staff was friendly and helpful. Campground was very clean. We will be back again for sure.
Aug 28, 2021
My grandson loved the water slide and the pond. He enjoyed the basketball & soccer field too. Loved going to the the store for ice cream too.
Aug 28, 2021
We had a wonderful time and all the staff there answered any of our questions and were very polite and curtious.
Aug 28, 2021
The campsite was one of the nicest campsites we've had. Ordered wood for a bonfire and purchased several fire starters however there was either something in the wood or in the fire pit that would allow the wood to lit so we were unable to have a bonfire. Overall campground was very nice and we will be back for Halloween weekend. Already booked our site.
Aug 28, 2021
Friendly staff and lots of fun. The only change I would suggest is make sure the hot water works in cabin 218.
Aug 28, 2021
Fantastic campground!!! Toby and Steve really know what they are doing here! Can't wait to be back for the Halloween weekend we have booked!
Aug 27, 2021
Had a nice time except many of the amenities advertise were not available. Pricing also was miss leading, had to pay almost 40 dollars more due to additional costs I was not aware of.
Aug 27, 2021
It was fantastic! Lots of activities, very well kept grounds. Staff and campers were sooo friendly! Can't wait to come again!
Sep 13, 2021
Alot of fun stuff to do
- Teisha keister on Google
Sep 11, 2021
Very nice clean place for camping
- Faygo Guy on Google
Sep 04, 2021
This Is the best campground hands down! So many activities for the kids and great store with everything you need. The snack shack is great too, but the staff is amazing! Toby and Stephen go above and beyond to always make us happy campers. We love all of them!
- Tony Cromwell on Google