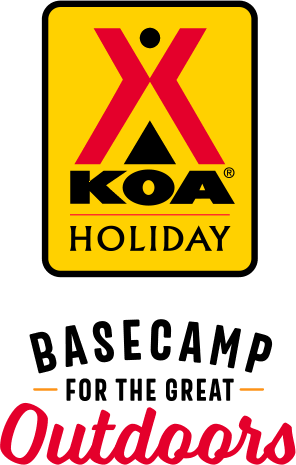 KOA Holiday Campgrounds
Whether you're exploring the local area or hanging out at the campground, KOA Holidays are an ideal place to relax and play. There's plenty to do, with amenities and services to make your stay memorable. Plus, you'll enjoy the outdoor experience with upgraded RV Sites with KOA Patio® and Deluxe Cabins with full baths for camping in comfort. Bring your family, bring your friends, or bring the whole group – there's plenty of ways to stay and explore.
KOA Holidays Feature:
RV Sites with a KOA Patio®
Deluxe Cabins with full baths
Premium Tent Sites
Group meeting facilities
Directions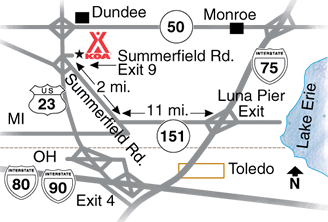 9 miles north of OH/MI line on US 23 at Exit 9 Summerfield Road NE corner. From 75 take Luna Pier Exit 6 West approximately 11 miles, then a right on Summerfield for about 2 miles.
Get Google Directions
Oct 19, 2020
We stayed for our annual Halloween camping trip, The new additions of the dodgeball game and the golf club Drive were very welcome to see, I'm glad you're doing more activities for the older teenage kids as well.... Thank you
Oct 19, 2020
Very accommodating and tons of activities for our children we will be back. Thankful for the koa.���
Oct 19, 2020
Lots of things for the kids to do
Oct 19, 2020
This was such a fun Halloween weekend. The park really makes it fun for the kids. We barley saw our kids all weekend due to all the activities. Very clean. Had a awesome time! Will be returning
Oct 19, 2020
We had a lot of fun for the Halloween weekend, the grounds were clean and staff was nice
Oct 19, 2020
Worst campsite ever site 93
Oct 19, 2020
Halloween camping is always so much fun!! Thank you for a great weekend!! The new activities to accommodate social distancing were well done and well thought out. See you next year!!
Oct 19, 2020
Fun , Friendly, Nice sites
Oct 19, 2020
Great place to spend our weekend. Halloween festivities were very nice. We will be back soon.
Oct 19, 2020
We had a great time at KOA this weekend. The kids enjoyed it so much. The facilities were clean. Campground employees are friendly and helpful. Great time!
Oct 19, 2020
Staff are easy to find and very helpful. More than enough events to keep you entertained the entire weekend. I've been visiting this KOA for 8 years and I plan on many more.
Oct 19, 2020
We had so much fun! Thanks for such a great campground!
Oct 17, 2020
Pull thru site was not level. When staying just overnight we prefer not to unhook our 5th wheel. In this case we had too as Site was Very unlevel. Otherwise seems like a nice park.
Oct 15, 2020
The Cabins were clean and the staff was friendly and helpful.
Oct 14, 2020
Had a great time Staff was very attentive
Oct 13, 2020
Another wonderful Halloween camping experience with our family. We always get several sites together so we have our own space to enjoy our time with family & friends. The staff is always helpful, kind and a pleasure to see!
Oct 13, 2020
Halloween weekend October 7th-12th had such a great time!!! Appreciated the staff taking the time to make sure everyone was social distancing and wearing masks when needed. Superb job with the new activities for the kids!!!! Loved the part that no outsiders could come in, only those who registered with a camp site...great idea.!!!!..hopefully that will continue every year, site 89
Oct 13, 2020
We have been going there for over 20 years for the Halloween camping. This year we had issues with the quiet time. Both Saturday and Sunday night there were other campers partying till 3 am. We go as a family and at one point my 7 year old said she wanted to yell shut up. This is a family campground and there needs to be enforcement of the quiet time. They were also yelling and using swear words.
Oct 13, 2020
Enjoyed the weekend, so much for the kids to do we will definitely be back next year
Oct 13, 2020
Stay only Overnight and left early the next morning.
Oct 12, 2020
We had a great time as always !!!
Oct 12, 2020
great weekend as usual staff is friendly and very accommodating to you needs
Oct 12, 2020
Clean cabin, kind staff, clean campground, and fun events.
Oct 12, 2020
I was so disappointed, we camp here every October and this was disgusting. Thermostat was at 90 degrees when we checked in! Cabin was filthy, nothing was wiped down, no toaster (I specifically asked if there would be one) grease all over the grill causing massive flames when we turned it on. Outdoor patio set missing cushions and arms broken off 2 chairs. We will not be returning next year.
Oct 12, 2020
We have coming for Halloween Weekends for 24 years. I really enjoyed the activities were set up this year. The only complaint I have that the road going to rustic was horrible.
Oct 12, 2020
It was a lot of fun
Oct 12, 2020
Love the staff and it's always clean!!!!!
Oct 12, 2020
Had a wonderful weekend the campground looks great your staff was very friendly I appreciate the extra discount offers to me do to being a military veteran! Thank you again I will pass this along to fellow campers and look forward to next year. Your Halloween weekend was awesome. Thanks Dennis Auten
Oct 12, 2020
The sites are really close together, this being said I liked our site as it backed up to an open field. The loudspeaker at 9:00 am we could do without. This is a great campground for families with put-put, a waterslide and beach area. The Halloween weekend was fun! We really enjoyed the kids bike and costume parade. We handed out candy and dressed up and went to the haunted houses.
Oct 12, 2020
Had a great time Steve is the best. Good to hear upgrades are coming
Oct 12, 2020
Always a great time here! Plenty of events/activities and they are organized!
Apr 18, 2021
Every single employee went above and beyond for all of us. Super friendly, super clean! Excellent place to stay!! Numerous things for kids to do.
- Amanda Michael on Google