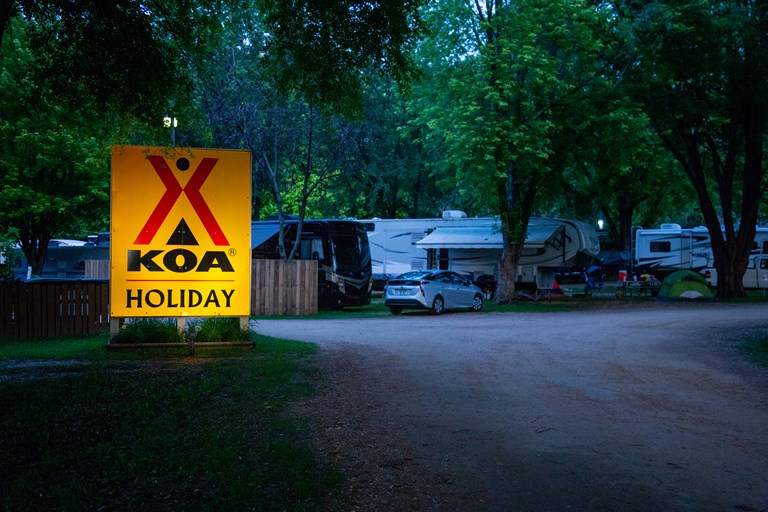 We're Sorry!
Internet reservations are currently not available for this KOA: Minneapolis Southwest KOA
Please call the campground directly to make your reservations at 800-562-6317. Thank you.
Summary
Effective June 1, 2020, Minnesota campgrounds are open to all site types with some restrictions on activities and amenities.
More Details
COVID- 19 6/17/2020:
MN Governor Walz has issued an executive order which allows all site types, but limiting some amenities and activities. This order was effective June 1, 2020.  This includes all RV, tent, and cabin sites.          

Restrooms/showers will be open for use, however, only by 1 person or family at a time.  Only 2 of the 4 restrooms will be open at a time. We will switch the restrooms available every two days, allowing one day for the room to "rest" and a day to clean. The number of cabins and tent sites will be limited, decreasing the number of campers without self-contained restrooms. We have also closed approximately half of the tent sites, so there will be additional parking. The site fees include your RV and one car.  We are implementing an additional car fee of $5.00 per day. Tent sites available for parking will be the odd numbered sites.  

All campers are safest using their own self-contained RV facilities and should avoid use of the restrooms as much as possible. 

Many camp activities are open, including the pool, crafts (on weekends 6/19/2020 - 7/12/2020), and playground. 

Ga Ga ball, basketball courts, and rental bikes remain closed, due to the proximity to other individuals and sanitizing challenges. The mini-golf course is undergoing reconstruction for most of the 2020 season. 

Firewood is available for use in the fire ring at your site.

The campground store will be open with a limited food selection. Please let the cashiers know if there are items that you believe to be essential in the store.

[list]

Masks are required to enter the store. 

Campers are asked to refrain from examining items and then returning the item to the shelf.

No children, under the age 16, may be in the store without a parent, who is responsible for the child not touching and holding any item. 

Registration (especially Friday afternoon): Please drive to furthermost space in the parking lot and stay in your vehicle until a KOA staff member gives further instruction.

A single family member may enter the store to complete the registration process.

Following registration, KOA staff will escort you to your site. Be sure to ask any questions you may have.  We are all learning and trying to follow best practices, but want to be flexible as much as possible.

Sites are cleaned following use. However, you are welcome to further sanitize any pedestal, table, or chair on your site. 

Campers are encouraged to wear facial coverings for added safety when walking about the campground and entering the store and restrooms.

Please remember to use safe, social distancing practices at your campsite, and limit the number of people to less than 10 in any group. If you are having a larger group, please talk with store/registration staff about possibilities for larger gathering sites that may be available.

We also need to limit the number of visitors to the campground.  Please no more that 1 car of visitors per campsite. There is a $5.00 fee per car and parking tags are available in the store.

[/list]