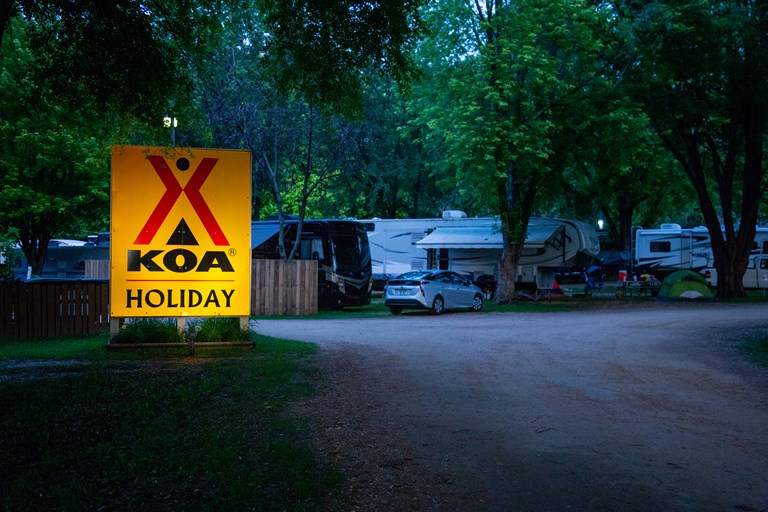 We're Sorry!
Internet reservations are currently not available for this KOA: Minneapolis Southwest KOA
Please call the campground directly to make your reservations at 800-562-6317. Thank you.
General Campground Information
Quiet Hours
Quiet Hours are from 10 pm - 8 am. All guests are expected to follow these quiet hours to make for the most enjoyable camping experience for all.
Playground is available from 8 am to Dusk. For the safety of our younger guests, no one should be on the playground equipment in the dark.
If you have a concern about noise or safety, please call 952-492-6440 at anytime. If the issue is deemed an an emergency, please call 911.
Office and Store Hours
SPRING & FALL HOURS (until Memorial Day AND after Labor Day): Monday - Thursday 9 AM - 7 PM, Friday - 9 AM - 9 PM, Saturday - 8 AM - 9 PM, Sunday - 8 AM - 7 PM, SUMMER HOURS (Memorial Day to Labor Day): Monday - Thursday 9 AM - 8 PM, Friday 9 AM - 9 PM, Saturday 8 AM - 9 PM, Sunday 8 AM - 8 PM. Need help outside of our business hours? Our KOA staff will be happy to assist you after-hours by calling: 952-492-6440
Reservation Policy
A deposit for your first night will be charged to your credit card when you make a reservation. You will receive a confirmation via email once the reservation has been completed. Guests must be 21 to make a reservation, and someone 21 or older must be on site.
Cancellation Policy
A deposit of one night is required for advance reservations. Cancellations are subject to a $10 fee, however we do allow you to reschedule a reservation once without incurring the cancellation fee. Guests canceling an RV/TENT reservation within 48 hours of the arrival date, or a CABIN reservation within 7 days of the arrival date,
will forfeit the full deposit
, so if you must cancel, please be sure to CALL us ahead of those cancellation periods.
Check-In/Check-Out
Check-in time is 2 PM and Check-out time is 12 PM (noon). Early arrivals and late check-outs are subject to a small fee at our discretion. Please check with us ahead of time if you will need to arrive early or leave late, to be sure that it is an option.
Registration Policy
All guests and visitors must register in the office. MAXIMUM: 1 vehicle per site, 8 people per RV site, 6 people per TENT site and no more than one unit (RV or TENT) per site, without prior approval. We sometimes have limited overflow parking, but we do reserve the right to charge for extra vehicles, trailers and boats, so please check with us ahead of time if you will exceed the maximum allowed on a site.
Cabin Information
We provide a picnic table, fire pit, and parking space for one vehicle at every cabin. NO SMOKING in any of the cabins! We provide bath towels and bed linens in the Deluxe Cabins, as well as a gas grill. If you are staying in the Camping Cabins, you will need to bring your own bedding, use our central restrooms and showers, and bring your own grill. There is NO COOKING allowed in any of the cabins. but the Deluxe Cabins do have a microwave, Keurig coffee maker, and mini fridge, as well as a full bathroom. Please see the cabin details for information regarding maximum number of people allowed, and the pet policies specific to each cabin.
Pet Policy
We are a pet-friendly campground with a fenced in Pet Park and an open, grassy area to exercise your dogs. Ask about our pet policy when you make your reservation, as our pet fees vary depending on whether you are in a campsite or a cabin. There are no pets allowed in the Deluxe cabins.  All dog breeds are permitted at the campground. However, the behavior of the dog(s) must be appropriate for a campground.  Any aggressive behavior of the dog toward a person or excessive barking may result in the dog and it's owner being asked to leave the campground with refund of any registration fees. 
All pets must be on a leash when outside of your camper and must not disturb other guests.
Pool Hours and Rules
Our pool is open from 9 AM - 9 PM daily.  All children age 14 and under must be accompanied by an adult to be in the pool area for their safety. Please, no glass in the pool or patio area.
Campfires
We sell bundles of firewood - 1 for $7 or 2 for $12 - delivered to your site without additional charge. Please keep campfires contained within the provided fire ring at all times and do not move the fire ring. Fires should be extinguished when not attended. Our firewood is certified and should be the only wood that is burned at the campground to avoid spreading diseases.
Quiet Hours
For the comfort of all guests, our quiet hours are from 10 PM - 8 AM and will be enforced by our night security.
Speed Limit
For the safety of pedestrians and children, please maintain a speed of 5 mph throughout the campground at all times.
Fireworks
For the safety of all guests fireworks are strictly prohibited, including sparklers.
Meet Your Hosts
We think you will love Minnesota as much as we do!
Enjoy your stay at our campground and let us know if you need anything during your stay. 
YOUR HOSTS, Tom and Carol Brown