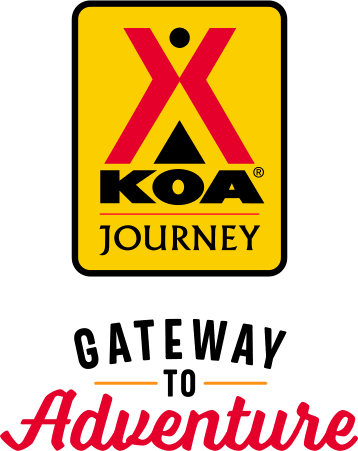 KOA Journey Campgrounds
KOA Journey campgrounds are the perfect oases after a day on the road. Whether it's along the way or a quick getaway, they've got you covered. Located near the highways and byways of North America with long Pull-thru RV Sites, they deliver convenience to the traveling camper. Pull in, ease back and take a load off.
KOA Journeys Feature:
Pull-through RV Sites with 50-amp service
Premium Tent Sites
Well lit after hours check-in service
Directions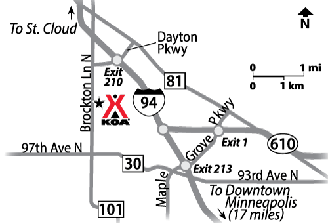 17 miles NW of Minneapolis. I-94, take Exit 213 (CR 30), turn left (from both directions), after McDonald's turn right to CR 30W, 2 miles, turn right to CR 101, 1 mile, on the right side. 
GPS: N45.14474, W93.52097
Get Google Directions
Aug 22, 2021
convenient location.
Aug 22, 2021
Too close to busy road & construction site right across the road ….. lots of noise. Site seemed to be an 'afterthought' as water & electric hookups on opposite side of camp site.
Aug 22, 2021
Spent two nights at this camp! Aside from the storm with thunder and lightning, we had a pleasant stay!
Aug 22, 2021
Short and sweet, in at 11PM out before 9AM. Like most KOA maps it was difficult to navigate, particularly at night. Guess that is why most places use guides to the sites during store hours.
Aug 21, 2021
THE ONLY ISSUE WOULD BE THE LACK OF DOG POOP DISPOSAL OR BAGS FOR SUCH. OTHER THAN THAT A VERY NICE STAY.
Aug 19, 2021
Park was beautiful and sites were green and well taken care of. Only negative is that there is nothing close by.
Aug 19, 2021
My husband n I were lucky to stay next door to our friends as we tented. The ladies were very accommodating since our friends have been there many times. We loved the grounds n enjoyed walking around to c the other RVs that were there.
Aug 19, 2021
Staff were very friendly and helpful!
Aug 19, 2021
We enjoyed staying at your campground. Very quiet. The staff was very pleasant and helpful.
Aug 18, 2021
Owners were extremely kind and helpful when we checked in to make sure we could get set up without problems.
Aug 18, 2021
Nice. Highly recommend it.
Aug 17, 2021
Awesome staff and campground!!
Aug 17, 2021
Tent camp site was pretty good roomy. RV campsites are pretty tight spaced.
Aug 16, 2021
Kind helpful staff
Aug 16, 2021
Vintage campground with utilities shared by 2 sites. Very well maintained. Located near Minneapolis/St Paul, Minnesota. There are very few campgrounds in this area. It's pricey but hosts are nice and campground is quiet at night until weekend. There is a lot of construction going on around this park and it's loud. Not the hosts fault, of course. We'll return.
Aug 16, 2021
Great staff, very accommodating. Pool was clean tho the cement work around it in need of repairs. Bathroom vet clean
Aug 16, 2021
Everyone is super friendly, very clean
Aug 16, 2021
Have camped here before. Pleasant campground. Staff is very friendly and accomodating!
Aug 16, 2021
The people at the office were very friendly and helpful. We stayed in a camping cabin. The only complaint we have is the a/c did not cool it down inside overnight. By morning it was cooler outside than inside.
Aug 16, 2021
Nice well maintained facility. Could use a few more trash receptacles' but over all a nice place.
Aug 15, 2021
Very nice, cozy campground. Staff are helpful. We did reserve a pull-thru site and when we arrived they tried to give us a back-in. Explained the need to stay hooked up and was given a "tight" pull thru. We couldn't open our awning! Overall very nice. Would reserve again.
Aug 14, 2021
Beautiful park. Friendly staff. Great shower facilities.
Aug 14, 2021
We had a huge, private tent site. The campground was well maintained. Bathrooms were clean, shirts were hot, and the staff was friendly.
Aug 13, 2021
We enjoyed our short stay, you had a good facility, clean, spacious and friendly staff. We did not get a full hook spot so that was a bummer especially when your bathroom facilities is quite a walk away. And you need more garbage dumpsters around the park than just the one by the dump station. Other than that, it is a nice facility.
Aug 12, 2021
Amazing stay. The staff, team and ownership went out of their way to accommodate us!! Thank you!!!
Aug 12, 2021
Owners were wonderful!
Aug 12, 2021
Love this campground. Always greeted with a smile and a warm hello.
Aug 12, 2021
Very accomodating. Had truck trouble and they allowed us to stay extra nighrs in the same place! Large pull thru sites.
Aug 12, 2021
What a great staff! The property is clean and spacious. Adding another must stay on my list of camping sites when traveling.
Aug 11, 2021
Very nice and mature RV park. Lots of shade.
Aug 10, 2021
Everything was great! We will definitely be back! Very clean and excellent service. Thank you!
Aug 10, 2021
BEAUTIFUL WELL KEPT CAMPGROUND - BEST CAMPGROUND WE HAVE BEEN TOO SO FAR IN THE LAST 3 WEEKS OF OUR RV TRIP.
Aug 10, 2021
Nice campground, very nice and helpful people in the office. Would gladly stay there again if we ever travel this way again.
Aug 10, 2021
Really enjoyed our stay and would go back to Mpls NW KOA in Maple Grove, MN! Easy check in, friendly staff, spacious campsites, easy hookups, great amenities, dog friendly, very secluded and park-like! It would've been helpful to get a map of the KOA at check-in.
Aug 09, 2021
Great location near the Twin Cities. Wonderful hosts. Play equipment is a bit dated. How about making mini-golf free?
Aug 09, 2021
We would stay again
Aug 09, 2021
I used to go there with my family when I was a kid I haven't been there in over 30 years and was very amazed as to how well it has been kept up over the years it is as amazing now as it was then.
Aug 09, 2021
Very nice campground! I will definitely be back!!
Aug 09, 2021
Clean, quiet campground. Really enjoyed the stay.
Oct 14, 2021
Great staff and the park is lovely
- Jon Cook on Google
Oct 11, 2021
Had a great time camping. Beautiful weather and nothing to complain about!
- Lois Christiansen on Google
Oct 04, 2021
Great campground.Good rates. Nice friendly people run it.
- Jim Brown on Google