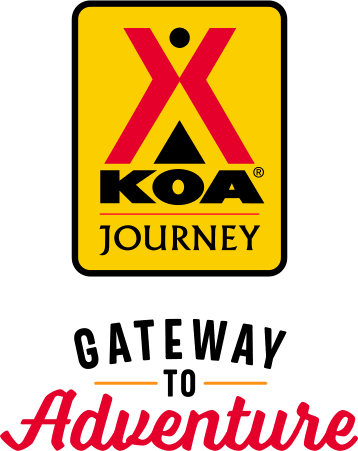 KOA Journey Campgrounds
KOA Journey campgrounds are the perfect oases after a day on the road. Whether it's along the way or a quick getaway, they've got you covered. Located near the highways and byways of North America with long Pull-thru RV Sites, they deliver convenience to the traveling camper. Pull in, ease back and take a load off.
KOA Journeys Feature:
Pull-through RV Sites with 50-amp service
Premium Tent Sites
Well lit after hours check-in service
Directions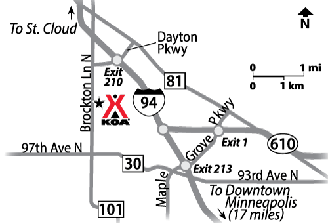 17 miles NW of Minneapolis. I-94, take Exit 213 (CR 30), turn left (from both directions), after McDonald's turn right to CR 30W, 2 miles, turn right to CR 101, 1 mile, on the right side. 
GPS: N45.14474, W93.52097
Get Google Directions
Oct 24, 2021
I didn't use the showers(self contained) but laundry room well maintained. Minimal items avail in store but it's late in the season. Nice play area. Store area is ready for a facelift. Great location for me. I will stay again. Friendly staff.
Oct 17, 2021
This is one of our top 5 KOAs that we have been to so far. Easy access to many attractions. Beautiful walking area through the woods. The staff are wonderful. We will be back, over and over
Oct 16, 2021
Uneventful in that everything went great.
Oct 15, 2021
Very nice camp site.
Oct 15, 2021
Wanted to Charge me $2 for Put Put after spending $120 for 2 days. Had my own putter and golf balls. What!!
Oct 13, 2021
Extremely friendly owners and staff.. I really like this KOA
Oct 12, 2021
It was the perfect location for us to visit our son who lives in Maple Grove. The campground was clean and the staff was very friendly. We will return for another stay.
Oct 12, 2021
Well kept KOA. Nice spot and good service.
Oct 12, 2021
Staff is awesome. Always helpful.
Oct 11, 2021
Unlevel site with the electric and water post on the wrong side of rv. Sewer dump almost 20' away from unit. Dirt parking area on a very narrow site.. Ok for a one night stop.
Oct 11, 2021
Stayed for a week while visiting family. The Hou family were very hospitable and accommodating. Very clean restrooms and laundry.
Oct 11, 2021
The staff was very friendly and helpful. The camp was nice and quiet.
Oct 10, 2021
We just parked and slept there, went to the city and visited family during our time in MN. Our site was not level for the camper and very muddy with rocks/gravel not in the right places. Shower/bathrooms clean, could use updating. Used dump station and worked fine
Oct 09, 2021
The location was ideal to meet our needs and the staff was friendly and helpful during pull up and set up. Water, waste and electric worked well and the site we had was very level and a pull through. Country like setting with moderate traffic noise from the nearby highway. Very well satisfied.
Oct 07, 2021
Need to improve WiFi and cable
Oct 07, 2021
Very nice country camping near the big city. Had a wonderful stay. Would stay again.
Oct 07, 2021
Great campground. Beautiful, scenic. Office staff was nice and helpful. I'll return next year!
Oct 06, 2021
Pretty location, staff friendly and helpful. WiFi needs to be updated.
Oct 06, 2021
Spent enjoyable 5 days getting our RV readyfor heading south for winter, and enjoying visiting with friends in the area
Oct 06, 2021
It sufficed. Very clean bathrooms. If you don't mind lack of privacy (site 52) it would be an excellent stay. Definitely will do in a pinch.
Oct 06, 2021
This is the best campground I've stayed in. I've been traveling for several years and stay many places in many states. The owners are exemplary! Highly recommended!
Oct 05, 2021
Great campground! The Hou family is very nice!
Oct 05, 2021
A Great place to camp!!!
Oct 05, 2021
Great people
Oct 05, 2021
Very quiet. Great stay. Thank you.
Oct 05, 2021
thank you Joyce and Dan for a wonderful summer of camping! Can't wait for next year!
Oct 05, 2021
The site we had was on grass. With the recent rains, our levelers sunk into the ground, causing us to need to adjust leveling multiple times. With the addition of some gravel, we wouldn't need to worry about that.
Oct 04, 2021
We had a great time there very friendly and nice.
Oct 04, 2021
We were in the area for a tournament. We enjoyed our stay. We look forward to coming back during summer months to enjoy the pool.
Oct 04, 2021
Well kept KOA, would stay here again, close to Minneapolis
Oct 04, 2021
Kind and helpful campground hosts.
Oct 03, 2021
It was great stay...
Oct 02, 2021
Very nice campground.
Sep 30, 2021
Great hosts, comfortable Campground! Lots of construction going on in the area.
Sep 29, 2021
The WiFi at this KOA very weak. Most of the time I could not get on the net. Otherwise the camp is clean and nice.
Sep 29, 2021
Anytime we travel to Minneapolis, we always stay here.
Sep 29, 2021
3-day stay … 5 minutes of Wi-Fi. This is 2021 and our lives are dependent on connectivity. In addition, your marketing material indicates Wi-Fi is provided in our fee.
Sep 29, 2021
Appreciated the friendly staff. Even tried to help with a problem we were having with the RV. Blessings!
Sep 28, 2021
Quite and well kept camping sites in a great location.
Sep 28, 2021
Very good campground. Easy access and very friendly and welcoming staff. Very good camping nei ghbors too!
Oct 14, 2021
Great staff and the park is lovely
- Jon Cook on Google
Oct 11, 2021
Had a great time camping. Beautiful weather and nothing to complain about!
- Lois Christiansen on Google
Oct 04, 2021
Great campground.Good rates. Nice friendly people run it.
- Jim Brown on Google