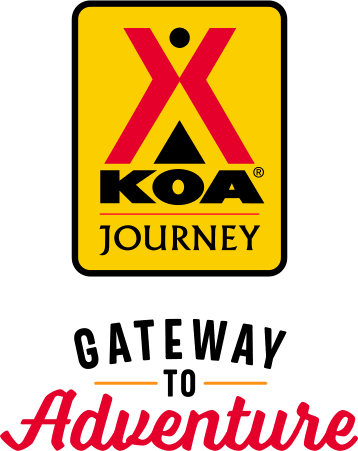 KOA Journey Campgrounds
KOA Journey campgrounds are the perfect oases after a day on the road. Whether it's along the way or a quick getaway, they've got you covered. Located near the highways and byways of North America with long Pull-thru RV Sites, they deliver convenience to the traveling camper. Pull in, ease back and take a load off.
KOA Journeys Feature:
Pull-through RV Sites with 50-amp service
Premium Tent Sites
Well lit after hours check-in service
Directions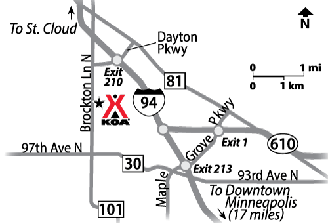 17 miles NW of Minneapolis. I-94, take Exit 213 (CR 30), turn left (from both directions), after McDonald's turn right to CR 30W, 2 miles, turn right to CR 101, 1 mile, on the right side. 
GPS: N45.14474, W93.52097
Get Google Directions
Sep 19, 2021
Excellent flat grass surface for tents. Great shade from the morning sun. Good showers.
Sep 18, 2021
Super nice staff! Very nice campground!
Sep 15, 2021
This facility was extremely clean and the location was close to local businesses. The owner was extremely nice. He stopped by my site and conversed about life.
Sep 12, 2021
Very spacious and woodsy tent areas. Enjoyed privacy. Women's bathhouse very well kept. Not so much the men's. Mini golf was fun. Nice owners.
Sep 03, 2021
Nicer than any of the hotels we stayed at! Very friendly and helpful staff! The pool was nice after the long drive.
Aug 24, 2021
Aside from fact tent sites are too far away from the bathrooms (very long walk in the middle of the night) place was great. Friendly staff, pretty sites. The "distance from bathroom" problem is very widespread in KOAs.
Aug 19, 2021
We enjoyed staying at your campground. Very quiet. The staff was very pleasant and helpful.
Aug 17, 2021
Tent camp site was pretty good roomy. RV campsites are pretty tight spaced.
Aug 14, 2021
We had a huge, private tent site. The campground was well maintained. Bathrooms were clean, shirts were hot, and the staff was friendly.
Aug 09, 2021
Very nice campground! I will definitely be back!!
Aug 06, 2021
Camp hosts were friendly, sociable, very accommodating, open for feedback. I felt the tent site quite plus safe to leave my items durning the day. Campers respected the noise curfew.
Aug 06, 2021
The pool was not heated as advertised. The water was freezing. After driving 7 hours and my back killing me, I was really looking forward to some relaxing in the pool. The water was way too cold for that. It definitely didn't even come close to comparing to KOA Mount Rushmore. It was clean. Had decent showers.
Jul 27, 2021
Super clean, accomodations were great and staff is so amazing. It was so fun and will come again and refer ur koa
Jul 23, 2021
The office ladies we WONDERFUL!!!! So pleasant and delightful. Fire pits need to be moved out a bit and sound fence, trees, wall by very busy road. Toilet seat covers and moving tp dispenser up higher (to avoid the wrist bend, under reach) would be nice.
Jul 20, 2021
A very nice park. The staff was helpful and welcoming and friendly. Nice pool. Nice little store. Fun little 9hole mini golf.
Jul 19, 2021
Loud ariel fireworks going off from 1030pm until 130am, could not get any sleep
Jul 19, 2021
I had an AMAZING stay at Maple Grove KOA! The grounds were clean, staff were so pleasant and nice! Will definitely stay here again! Marcus
Jul 18, 2021
Great location, 10 years ago. The development and noise of all around it makes me want to rethink coming back without noise isolation camper.
Jul 08, 2021
Clean, friendly and accommodating.
Jul 06, 2021
Had a wonderful experience. I know space is limited, but shower stalls and toilet stalls were small.
Jun 30, 2021
Enjoyed my stay!
Jun 29, 2021
Everything was great and a nice stay. Bathrooms were clean and nice but so far away from our campsite and then they both close at 1pm for an hour which is hard when you have little kids and no other bathroom option when tenting. The pool was not heated but nice. The concrete around it needs a lot do repair though. Great customer service!
Jun 28, 2021
Great campground, clean facilities, and friendly staff made me feel at home
Jun 21, 2021
Relaxing, family friendly, clean, and quite enjoyable! Best camping trip we've had in years! Thank you.
Jun 11, 2021
it was amazing. I would recommend this place!!!! Clean and friendly!!!!
Jun 06, 2021
The owners were really nice! One of the workers who live on the property came over and introduced themselves and gave me helpful tips on RV living in the future! I will definitely come back!
Jun 01, 2021
We love this campground. It's quiet and secluded but still so many fun things near by to see and do. The only down fall is only having one bathroom facility. We had small kids with us and running up to the bathroom to prevent accidents while we were camping was not fun. A porta potty near the far away tent camping spots would of been very helpful!
Oct 14, 2021
Great staff and the park is lovely
- Jon Cook on Google
Oct 11, 2021
Had a great time camping. Beautiful weather and nothing to complain about!
- Lois Christiansen on Google
Oct 04, 2021
Great campground.Good rates. Nice friendly people run it.
- Jim Brown on Google