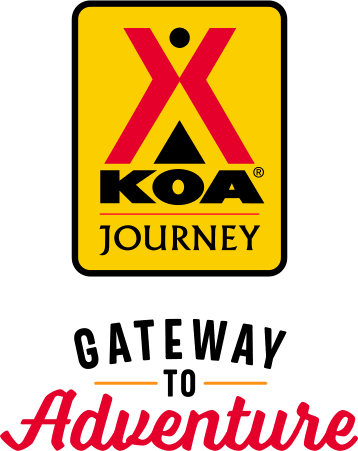 KOA Journey Campgrounds
KOA Journey campgrounds are the perfect oases after a day on the road. Whether it's along the way or a quick getaway, they've got you covered. Located near the highways and byways of North America with long Pull-thru RV Sites, they deliver convenience to the traveling camper. Pull in, ease back and take a load off.
KOA Journeys Feature:
Pull-through RV Sites with 50-amp service
Premium Tent Sites
Well lit after hours check-in service
Directions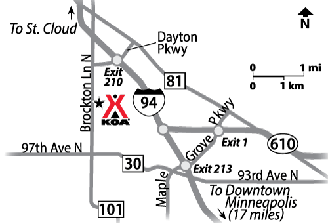 17 miles NW of Minneapolis. I-94, take Exit 213 (CR 30), turn left (from both directions), after McDonald's turn right to CR 30W, 2 miles, turn right to CR 101, 1 mile, on the right side. 
GPS: N45.14474, W93.52097
Get Google Directions
Nov 08, 2020
It was an ok campground. The dumping station is awful and it had me running almost 2 hours behind after everything went everywhere. I was wondering the day before why people seemed to spend an hour over there. I got the unfortunate answer the hard way. Otherwise it's fine for a night or two.
Oct 17, 2020
Restroom and park very clean. Showers were not available due to under staffing. Price per night seem high for what amenities that were available.
Oct 16, 2020
One day layover but nice park. Water has some iron issues but not horrific
Oct 14, 2020
This review has been removed by KOA due to profanity.
Oct 14, 2020
Another great stay at the Maple Grove, MN KOA. The owners are very friendly. The grounds are well kept. They have a nice dog run and play sets for the kids. I have stayed here for years, as it is conveniently located for me to winterize in the fall and to open up my camper in the spring. The local police and sheriff regularly patrol the campground. I always feel very safe camping here.
Oct 12, 2020
Amazing hosts and amazing place
Oct 12, 2020
This was the first time we camped at Minneapolis Northwest KOA, beautiful campground with many sites to choose, full hook ups to pitching a tent. We have a 35 foot Motohome and the pull through sites with full hook ups were great! Check in process was quick, the staff were wonderful to work with! Many stores and restaurants within a five to ten minute drive is also advantage!
Oct 12, 2020
This is our 2nd visit to this KOA and it was great!
Oct 10, 2020
Too much road noise
Oct 10, 2020
Camp host was so very kind!
Oct 09, 2020
Everyone I interacted with who worked at this KOA was so kind and helpful. Only wish is that there would have been high speed internet.
Oct 07, 2020
Great quiet stay and they handled the covid-19 issues perfectly
Oct 07, 2020
It was a last minute, unplanned stay. They were very accommodating.
Oct 06, 2020
We stayed at the Minneapolis Northwest KOA for almost 3 weeks in September. We loved it. The campground is very well maintained with beautiful trees and a rural feel. Yet, we were close to all kinds of grocery stores, restaurants and services. The COVID policies are excellent with special processes and accommodations. We asked not to be in a "buddy site" and were given a lone site - no problem
Oct 06, 2020
It was really wonderful. We had a great time, our KOA hosts were friendly and very helpful. Thank you for making our stay fun!
Oct 06, 2020
It was very nice! Thanks! Everything was very clean, especially the bathrooms! : )
Oct 06, 2020
The site we were in was very small. There was a tiny patch of grass and it had utility poles in the center of it (on the wrong side of our camper for hookups) making the site unusable for anything other than sitting around the bonfire. The bonfire pit was so close to the concrete slab for the picnic table that it was hard to sit on that side of the bonfire. Otherwise appeared well-kept.
Oct 05, 2020
We had a great fire and met friends and quiet place clean place. And grandkids loves the play ground.
Oct 05, 2020
Always accommodating and friendly. Wonderful, safe place to stay.
Oct 05, 2020
Our second time staying there and both times were fantastic.
Oct 05, 2020
Staff were friendly, everything was clean. Kids were bummed that we couldn't mini golf, but there was lots of green grass for them to run around on!
Oct 05, 2020
This was our first time to a KOA and it was so great! Our kids really loved our camping adventure and hope to get back one more time before the season is over!
Oct 05, 2020
Very quiet and clean
Oct 04, 2020
Staff was very helpful in moving us to a site with a dumpsite that we could access with our middle of the vehicle dumping hose. Thanks for the clean bathroom.
Oct 03, 2020
During the last 2 summers, I have stayed at this Minneapolis Northwest campgrounds for 10 months. It has been a wonderful experience. You could not ask for better hosts than Joyce, Dan and Jim Hou. Thank you.
Oct 03, 2020
Always a nice place to stay and the COVID protocols were absolutely perfect.
Oct 03, 2020
Easy checkin, quiet and met our expectations
Oct 02, 2020
Nice facilities. Great welcoming to the park.
Sep 30, 2020
Clean - good size, level sites. The campground is very well maintained. Staff is very friendly and accommodating. It is quite a large park, great place to get out and walk in the early morning. Very convenient to freeway and shopping, but very quiet - country setting.
Sep 30, 2020
The lady host was very helpful and polite. We needed a site change to get satellite. She was very accommodating. Campground was very clean. Restroom was also. Sorry that showers were down ( COVID) but that couldn't be helped. Water is not the best quality. ( I believe some rust / iron). We stayed four nights . Would return.
Sep 29, 2020
Delightful setting summer or fall. The owners and staff are always friendly, happy and helpful. We've been there several times and will continue to visit regularly.
Sep 29, 2020
Easy check-in! Appreciated the personal attention by taking me to my site!! Good rate! Secure & quiet. Thank you!
Sep 29, 2020
Was surprised when we arrived that we did not have full hook ups. The app did not make that clear.
Sep 28, 2020
Great campground, friendly staff, very nice spots and very quiet!! We are arrived on Friday afternoon and stayed through Sunday morning. Bathrooms were very clean, sites nice and tidy, easy to get in and out of. The location is awesome, right off a major highway, all ammenities of the citie, but that campground is completely isolated from all of that. You really feel like you are up north.
Sep 28, 2020
It's my second stay at the Mpls NW KOA this summer... I was disappointed that the putt-putt golf was closed, as well as the pool and showers. Ostensibly, all are closed because of COVID, but there is no evidence yet of fomite-only transmission of COVID. The cost is high compared to state and county campgrounds... which is probably why I could find a vacancy at the KOA!
Sep 28, 2020
Great place and close to family. Why can't we pick our spot?????? Gosh it would have been nice to be in the back. They were all open this last weekend.
Sep 27, 2020
short and sweet.no complaints
Sep 26, 2020
Lovely campground, wonderful owners/staff. Moved me to a different site that my electric cord could reach. Very nice quiet overnight. Think my dog made the most noise�����‍���
Sep 24, 2020
Followed guidance for masking and forced compliance for use of facilities. Unusual times needed strong compliance and they were delicate in explaining what was necessary. Good job by good people.