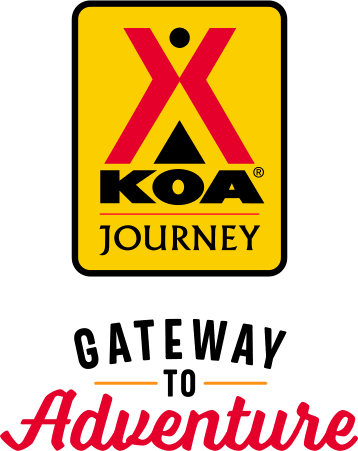 KOA Journey Campgrounds
KOA Journey campgrounds are the perfect oases after a day on the road. Whether it's along the way or a quick getaway, they've got you covered. Located near the highways and byways of North America with long Pull-thru RV Sites, they deliver convenience to the traveling camper. Pull in, ease back and take a load off.
KOA Journeys Feature:
Pull-through RV Sites with 50-amp service
Premium Tent Sites
Well lit after hours check-in service
Directions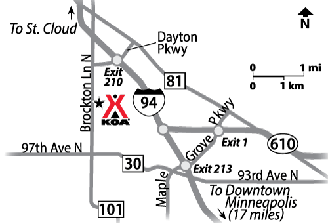 17 miles NW of Minneapolis. I-94, take Exit 213 (CR 30), turn left (from both directions), after McDonald's turn right to CR 30W, 2 miles, turn right to CR 101, 1 mile, on the right side. 
GPS: N45.14474, W93.52097
Get Google Directions
Jun 16, 2021
It would be great if there were more full hook ups available.
Jun 15, 2021
Liked the escort to site, how clean it was. Wish we had more shade.
Jun 15, 2021
Wonderful, clean, shaded,and nice staff
Jun 15, 2021
Nice people. Could use some up grades. Nice size spaces and mature trees.
Jun 15, 2021
Thank you for providing such a beautiful Kampground!! We felt very safe and were well received!!!
Jun 14, 2021
I would have gave it a 5, but the facilities were very outdated. Maybe they could clean up the mini golf course and fix the pool a bit. Also a new playground would be great, as this one was very small and was super high off the ground for little kids.
Jun 14, 2021
Very clean well maintained campground. Helpful staff, very friendly. Would definitely stay again if visiting the area.
Jun 14, 2021
Management was very friendly, site was well-kept and provided shade during our stay (weather was pretty hot, 90+ degrees).
Jun 14, 2021
very accommodating and friendly staff, facilities very clean
Jun 14, 2021
Overall a disappointing experience. When we arrived, the staff was brisk and seemed frustrated to have us there. Not our usual experience at KOAs, it made us feel unwelcome. They start off telling you not to use WiFi, which is no problem since it's insufficient to even check email. The grounds were clean, but sparse. There is not a trash can anywhere except the dumpster. We probably won't return.
Jun 14, 2021
It was my very first time camping... in my new RV. I was there to try to 'learn' the ropes! The staff was kind and friendly. The campground was very nice and clean! I would highly recommend
Jun 13, 2021
We arrived late and someone still met us to take us to our spot. We walked the campground with our dogs and it seemed very nice. We were up and gone early, but would not hesitate to come back again for a longer stay
Jun 13, 2021
Second time we've been here, and almost certainly not the last.
Jun 13, 2021
We were there almost a week. It was convenient to my nephews. Only downside was the noise from the road but other than that we enjoyed our stay.
Jun 12, 2021
We stayed 5 nights. Owners were very nice and made check in easy. No problems during our stay. The grounds were very well kept. Clean showers and washrooms. The pool was clean . There is even a fenced in area so your dog could run some. Free internet but could not get it to work at our rv site. So Just took a evening walk to the swing by the building and checked my mail. Would use this KOA again
Jun 12, 2021
Our Favorite KOA! Friendly faces greet us, smiling and helpful. Our pooch enjoyed the freshly cut grass at out site and in the K9 park. Thanks for another great stay KOA!
Jun 12, 2021
The crew at KOA in Maple Grove were friendly and helpful! Far enough from town to feel like you're "away", but close enough for supplies in a pinch.
Jun 11, 2021
Need to upgrade WiFi (purchase more broadband) for your customers that rely on internet and WiFi. This is a small amortized fee for RV's considering return or staying longer. Staff is outstanding as is ownership.
Jun 11, 2021
it was amazing. I would recommend this place!!!! Clean and friendly!!!!
Jun 11, 2021
Very pleasant and helpful staff.
Jun 11, 2021
Very nice stay - The owners took us in on very short notice and gave us a pull-through site because when asked, I stated I had a problem backing into a camp site (We have had our camper less than a year). Great service!
Jun 10, 2021
We camped during the extreme heat & when checking in requested shade of some kind. We are a 40 ft motor coach + tow & know we don't fit everywhere. We were there only 1 night & prefer pull thru. Mr. Hu was so nice & accommodating trying to find shade & a spot we fit in. Beautiful grass & trees, park was nicely kept. We didn't use any amenities so can't comment on those. Overall nice park/owners
Jun 10, 2021
Great place to stay while visiting family in Minneapolis. Quiet place. Friendly staff.
Jun 10, 2021
Stayed one night, it was fine, alittle disappointed that the pool didn't open til 10am. When check out is at 11 & you have little ones with who want to swim before we leave it doesn't leave much time.
Jun 09, 2021
Friendly, helpful staff Shady camp site Quiet, away from highways
Jun 09, 2021
Owners and staff were super helpful. The whole campground was very clean. We loved the pool and the nice wooded sites. We will be back.
Jun 08, 2021
Clean park with a lot of shade trees. Gravel sites with lots of grass all around. We had a little trouble following the directions to get there and ended up going through a residential area because we missed a turn. Not sure if the town would allow better signage as I'm sure the shopping area and local residents don't want RV or trailers going through the wrong places.
Jun 08, 2021
It was great except pool was way to cold. Invest in a heater
Jun 08, 2021
Pretty nice, great employees. Surprised at the charge for mini golf. It wasn't too much, but it was a surprise.
Jun 08, 2021
In our three-week stay, we didn't spend much time at the campground, but the facilities were exactly what we needed.
Jun 08, 2021
Perfect location. Close to everything and yet far enough out of the way that we weren't right next to a busy road. The scenery was absolutely perfect. The only thing I could complain about is all the tree stumps where trees have died I hope to see them plant some new ones and get the growing again.
Jun 08, 2021
We loved the greenery, trees and spacious campsites at the KOA in Maple Grove, it was a pleasant surprise from some of the other campgrounds we've stayed at. The staff was so friendly and accommodating, and the location was great for visiting our family nearby. We will definitely be back!
Jun 08, 2021
Was a quick overnight stay. We were impressed with the nice level sites and plush grass. Had a nice area for the dogs to run around. Check in went very smooth, an employee even led us to our site.
Jun 08, 2021
Record heat the day of check in, I have a cat and dog. Asked if there was a shady area I could wait till my noon check in and they said no. Stayed one night, campground was about 1/2 full, and there was space off just the road near the entrance. Nice wooded campground, unfriendly, not accommodating owner. Early check in availability for 1/2 day fee, other KOA's charge less.
Jun 07, 2021
Good experience. This was my first time at a KOA, so it was slightly different than what I'm used to staying at state parks. I'm used to being able to select my own site. It was really hard during this heatwave sitting on a site with absolutely no shade, while also having several empty sites throughout the camp that were heavily shaded. Would have been nice if the hosts would have offered shade.
Jun 07, 2021
The staff is super friendly & helpful. Very well kept campground and very nice pool.
Jun 07, 2021
We were new to the whole RV camping and the staff was very helpful, we even came in late and they were still willing to show us around. They also kept the place VERY clean! Will definitely stay here again.