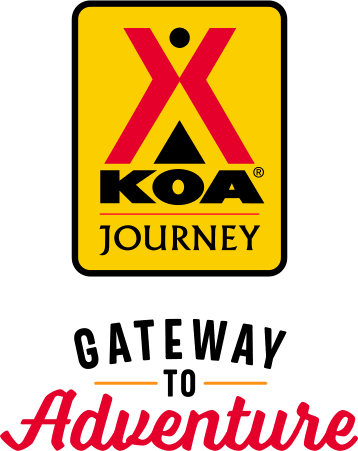 KOA Journey Campgrounds
KOA Journey campgrounds are the perfect oases after a day on the road. Whether it's along the way or a quick getaway, they've got you covered. Located near the highways and byways of North America with long Pull-thru RV Sites, they deliver convenience to the traveling camper. Pull in, ease back and take a load off.
KOA Journeys Feature:
Pull-through RV Sites with 50-amp service
Premium Tent Sites
Well lit after hours check-in service
Directions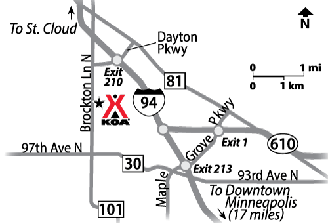 17 miles NW of Minneapolis. I-94, take Exit 213 (CR 30), turn left (from both directions), after McDonald's turn right to CR 30W, 2 miles, turn right to CR 101, 1 mile, on the right side. 
GPS: N45.14474, W93.52097
Get Google Directions
Sep 03, 2021
Clean quiet, and well maintained.
Sep 03, 2021
Great place guests hosts were fantastic very quiet place to stay
Sep 03, 2021
Gracious hosts, beautiful spacious campground! Convenient to all we wanted to do in Milwaukee area. Highly recommending this park.
Sep 03, 2021
Nicer than any of the hotels we stayed at! Very friendly and helpful staff! The pool was nice after the long drive.
Sep 02, 2021
Convenient location to the Twin Cities. Just off Interstate I-94 but far enough away so the traffic noise is not an issue. Big rig friendly. Staff was very friendly and accommodating. Our site was the perfect size for us. Small camp store with RV necessities. Playground and pool. Pet friendly. We will definitely stay here again when in the area.
Sep 02, 2021
just one night on the way north and west, but it is a lovely campground with shade trees and grass and friendly staff
Sep 02, 2021
Great for our travel. We arrived later in the evening and the office lady was so kind and was just going to leave but helped us get in our site. Very grateful Nice pull through great in and out. Nice Large trees. For our short stay, it was very nice.
Sep 02, 2021
We had just upgraded our camper so we went from a 21 foot to a 35-foot camper, called that the next morning to tell them of the change, and within an hour had our campsite changed. Then we needed a ladder because our air conditioner was plugged. Also had to leave camper there after checkout and they told us where to park. AWESOME Service and experience
Sep 02, 2021
Just an overnight stay, but quiet and has a lovely dig park which is important small camper travelers with three large dogs!!
Sep 01, 2021
Very friendly and very helpful Staff.
Sep 01, 2021
We loved our stay here.
Sep 01, 2021
Very friendly staff, clean campground and bathrooms! Only stopped for the night but would highly recommend it.
Aug 31, 2021
Such a wonderful quiet campground close to everything- only downfall for us are the poor quality mattresses in the cabins- so uncomfortable. We stay in KOAS all over the country- and the light blue flimsy mattresses are the most uncomfortable. Would be a perfect stay with upgraded mattresses.
Aug 31, 2021
Friendly and helpful staff. Site layouts are all slightly different so this review is for site 4. Site spacing overall is close. Water and electric pedestals were in the middle of our green space and on wrong side of our trailer. We shared water spickets so your neighbors hose is in your site. Our neighbors hose leaked alot. No afternoon shade. Close to busy road. 2 of 4 washers broke.
Aug 31, 2021
The staff was very friendly and helpful. We had a problem with our 5th wheel and they wete able to rearrage things so we cpuld stay until it was fixed. Also very clean and well maintained
Aug 31, 2021
We loved our spot because it had plenty of grass on one side but the chiggers bug bites got so bad. The staff takes good care of the grounds and bathrooms. The owner worked with us on our stay as much as he could. Nice area to walk dogs but should have trash cans and recycling bins all around campground like most other KOA grounds do. The front RV sites are tight but the back sites have room.
Aug 30, 2021
The Minneapolis NW KOA is one of my favorite places to camp. The sites are spacious, the setting is a great combination of urban and rural, and the staff are always friendly and welcoming.
Aug 30, 2021
Always so kind and helpful!!!
Aug 30, 2021
Great place to stay!
Aug 30, 2021
We were there to visit family. The location was good for us as it wasn't hard to get into the City to see a baseball game, great dining, and parks and St. Paul. The sites needed pavement, but maybe another year or so. Always saw kids in the pool and on the playground, which was great. We would stay there again in the summer.
Aug 29, 2021
There were LOTS of open spaces they were only about 1/3 full. We were placed right on top of 2 other very large campers (we have a 19') right along the outside edge of the property. There was a fence behind us, on the other side of the fence was very busy 2 lane highway. All night we could hear the cars and see the headlights from the cars. However they did offer a military discount.
Aug 27, 2021
Well maintained. Clean bathhouse
Aug 27, 2021
Staff are very friendly. It was so nice to be taken to our site. The store is good—had what we needed. The park is clean and well maintained.
Aug 25, 2021
2 police cars at site across from ours....Welcome to Minneapolis !! Bathrooms need updating. Rather depressing. Site was large.
Aug 25, 2021
Loved our stay!
Aug 25, 2021
It was fine. No problems. Site was small for our 40 foot motorhome pulling a car. Would have liked a longer site.
Aug 24, 2021
Office staff extremely friendly and helpful.
Aug 24, 2021
The people were very friendly, maintained very well. the only draw back was the water was very strong with IRON and ruined some very good clothes in the laundry
Aug 24, 2021
Everything about this park is top notch! Phenomenal customer service, spotless restrooms and showers, excellent management team, just to name a few. If you are in the area, this is a must stay!!
Aug 24, 2021
It was a good experience. There was an odd smell in the men's bathroom, and maybe add a coat of paint on the mini-golf. Otherwise things were near perfect! Thanks.
Aug 24, 2021
The staff was friendly and very helpful during our stay. Our site was very nice and campers has a nice amount of room in between sites. A lovely experience. We will definitely stay here again.
Aug 24, 2021
Fantastic - facilities were great and the site was very good for us.
Aug 24, 2021
Aside from fact tent sites are too far away from the bathrooms (very long walk in the middle of the night) place was great. Friendly staff, pretty sites. The "distance from bathroom" problem is very widespread in KOAs.
Oct 14, 2021
Great staff and the park is lovely
- Jon Cook on Google
Oct 11, 2021
Had a great time camping. Beautiful weather and nothing to complain about!
- Lois Christiansen on Google
Oct 04, 2021
Great campground.Good rates. Nice friendly people run it.
- Jim Brown on Google