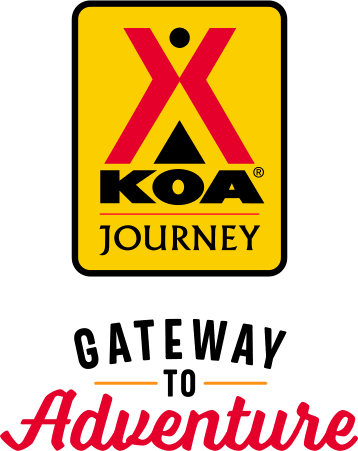 KOA Journey Campgrounds
KOA Journey campgrounds are the perfect oases after a day on the road. Whether it's along the way or a quick getaway, they've got you covered. Located near the highways and byways of North America with long Pull-thru RV Sites, they deliver convenience to the traveling camper. Pull in, ease back and take a load off.
KOA Journeys Feature:
Pull-through RV Sites with 50-amp service
Premium Tent Sites
Well lit after hours check-in service
Directions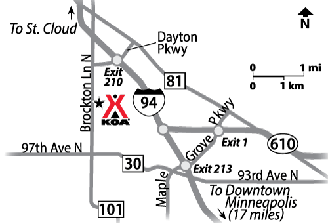 17 miles NW of Minneapolis. I-94, take Exit 213 (CR 30), turn left (from both directions), after McDonald's turn right to CR 30W, 2 miles, turn right to CR 101, 1 mile, on the right side. 
GPS: N45.14474, W93.52097
Get Google Directions
Sep 17, 2021
Upon arrival, we were greeted by friendly staff and escorted to our site. Unfortunately it didn't work as the sewer was on one side and water and electric on other. Finally we were suited with an appropriate site for our RV needs. The place is clean and well maintained. I highly recommend!
Sep 16, 2021
Nicely run campground. Great staff, beautiful grounds, wifi worked well, would come back for sure!
Sep 15, 2021
Came to go to see our grandson play football for the university of Minnesota
Sep 15, 2021
Always welcoming and friendly. Love staying here when we can!
Sep 15, 2021
This facility was extremely clean and the location was close to local businesses. The owner was extremely nice. He stopped by my site and conversed about life.
Sep 14, 2021
We loved staying at this KOA. Everyone was so kind and helpful! It's beautiful and kept up well! We would recommend this place.
Sep 14, 2021
Clean cami but lots of traffic noise from the nearby road.
Sep 14, 2021
Pool was closed; dog park was just a super small, empty (except for poop) fenced area; golf was a joke. Positive notes: the had a decent playground, and the staff was very nice.
Sep 14, 2021
Was fine. Nice clean facilities and friendly , helpful staff
Sep 14, 2021
I think I was treated as a 2nd class camper by where they stuck me. Many other beautiful sites empty while I was stuck way out in back. Also the WiFi sucks.
Sep 13, 2021
Basic out of date KOA. Registration staff is friendly, helpful. One outside staff courteous. Remainder would not even speak. Poor hospitality. Outdated facility. Dusty. Muddy when rain. Definitely needs updating and maintenance. Location is good.
Sep 13, 2021
Very nice. Staff was welcoming.
Sep 13, 2021
Nicer stay, as there was more space between rigs. However, our door faced the neighbors door and that was not comfortable. Every time I stepped out of my trailer, the neighbors dogs growled at me. Made it so that I didn't want to step out of my rig.
Sep 13, 2021
they are always fantastic people very friendly they keep the grounds in great shape and are willing to help with anything if needed.
Sep 13, 2021
Cordial and clean KOA. Bathrooms clean. Stayed while waiting to move into home.
Sep 13, 2021
Very nice park. Plenty of room between sites, great location. Super nice and friendly customer service! Our 2nd time here.. Thank you for a wonderful stay!!
Sep 13, 2021
Friendly staff, clean facilities.
Sep 13, 2021
Staff was very helpful. Place was very clean and well run. Just wish they had recycling bins. Hate throwing bottles and cans in the landfill.
Sep 12, 2021
Very spacious and woodsy tent areas. Enjoyed privacy. Women's bathhouse very well kept. Not so much the men's. Mini golf was fun. Nice owners.
Sep 11, 2021
Finally a KOA without small site and road noise. The campground was kept clean, good sized site, good amenities and facilities. The sites are large enough to open slides and put out awnings without imposing on your neighbor - loved this KOA.
Sep 11, 2021
Love this campground most of the time. However, when it became more crowded on the weekend, there were screaming kids until midnight without any attempt to enforce quiet time. Other than that, great place!
Sep 11, 2021
Nice people nice park but the grass was so inadequate it is like a sand pit
Sep 11, 2021
Hosts were as gracious as ever. We have stayed here a number of times and they are very accommodating.
Sep 11, 2021
Very willing to find a spot for us on short notice. Even moved us away from a large group partying outside so it would be quieter for us.
Sep 10, 2021
Huge beautiful campground. Loved the site and services.
Sep 10, 2021
The staff was very friendly, However the facility as far as bathroom horrible. My wife is partial disabled not a single ADA accessible anything. The concrete around the bathroom looked like it was in a ear.thquake. Having tight showers horrible instead of having 3 showers tight maybe 2 reasonable showers might have been better. I excepted better facility with a KOA name on it
Sep 09, 2021
Very nice campground conveniently located for attractions and local shop I will definitely stay here again
Sep 09, 2021
One night stay very pleasant
Sep 08, 2021
Best KOA we've stayed in. The staff was great and the campground was clean and green. The pool was also clean. We stayed for 5 nights and had a good time. I highly recommend this RV Park.
Sep 08, 2021
Nice place to stay.
Sep 08, 2021
Sites are not maintained very well. Wifi is bad. No sewer at spot. Management wanted to put us in a tent spot in an RV even though they had free RV spots. Bathrooms okay but run down could use an update.
Sep 07, 2021
Way to many bugs, should be spraying more, no reason going home and scratching for a few days.
Sep 07, 2021
Really great stay. Everyone was nice and helped out when needed.
Sep 07, 2021
Enjoyed staying there, clean sites, clean bathrooms and well maintained park. Only issue is their internet. We were fairly close to the office and still had connection and speed issues.
Sep 07, 2021
We really enjoyed the spacious area we camped in and everything was nice and easy. My only criticism is that our picnic table, and a few at other sites around us, was really bad. The wood was rotting and there was almost no paint left on the tables and seats. We sat on towels so we didn't get peeling paint on our clothes. Wish we'd have had a newer one, like we saw at some sites that were vacant.
Sep 07, 2021
We had a nice stay, very friendly staff and clean facilities! We would stay again, altho next time we would try to get a spot a little further back from the main road.
Sep 07, 2021
We very much enjoyed our holiday weekend stay at this KOA. The owners and team are wonderful, friendly and always helpful. The grounds are clean and well-maintained.
Sep 07, 2021
A very nice and clean campground and the owners are awesome very nice place I highly recommend this campground
Sep 06, 2021
In general was a nice place. Internet was not working well and was useless.
Oct 14, 2021
Great staff and the park is lovely
- Jon Cook on Google
Oct 11, 2021
Had a great time camping. Beautiful weather and nothing to complain about!
- Lois Christiansen on Google
Oct 04, 2021
Great campground.Good rates. Nice friendly people run it.
- Jim Brown on Google