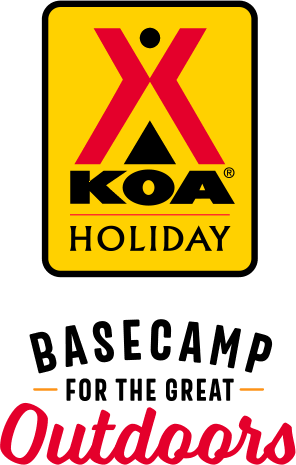 KOA Holiday Campgrounds
Whether you're exploring the local area or hanging out at the campground, KOA Holidays are an ideal place to relax and play. There's plenty to do, with amenities and services to make your stay memorable. Plus, you'll enjoy the outdoor experience with upgraded RV Sites with KOA Patio® and Deluxe Cabins with full baths for camping in comfort. Bring your family, bring your friends, or bring the whole group – there's plenty of ways to stay and explore.
KOA Holidays Feature:
RV Sites with a KOA Patio®
Deluxe Cabins with full baths
Premium Tent Sites
Group meeting facilities
Oct 18, 2021
Great place, been going there for years. This time the bathroom on the hill by the back row of full hookups was not as clean as it has always been. Shower stalls were not very clean and there is lots of mold above each shower. Toilets were ok but hadn't been cleaned.
Oct 18, 2021
Great for an overnight stop while traveling cross country. Great welcoming staff. Clean grounds
Oct 16, 2021
the cleanest, best taken care of campground we stay at.
Oct 14, 2021
Stay was great, would suggest management make sure that campers are in the correct sites, we arrived and someone else was all set up in our site and had been there since the day before.
Oct 14, 2021
Employees very friendly and helpful. Amenities were plentiful. Park was clean and quiet. Love the park
Oct 13, 2021
Halloween weekend again. Always have fun with our party of 20 plus people.
Oct 13, 2021
Been staying here for years and years. We just purchased a permant site here and are gonna love it !!! Great job KOA OF MILTON !!!
Oct 13, 2021
It was too humid in the bath/shower rooms. I did like that the clubhouse ones were renovated.
Oct 13, 2021
Clearly customer service is a priority here. We stayed twice, on our way to the east coast and on our return trip home. Friendly staff who go out of their way to make your stay a good one.
Oct 13, 2021
Lovely property.
Oct 12, 2021
Was a lot of fun. It is VERY expensive and this keeps us from coming back more often. Should consider this.
Oct 12, 2021
We really enjoy camping here especially at Halloween time, unfortunately we had to end our trip early due to a death in our family, but looking forward to next season.
Oct 12, 2021
Annual Halloween camping trip! We have done this for at least 10 yrs. Always a great experience!! Clean bathrooms, friendly and helpful staff, and nice campsites!
Oct 12, 2021
We love staying at the Milton KOA twice a year. You guys do a great job considering you're short handed. I would have given 5 stars if you had some sort of water activities, like boating, canoeing, kayaking, etc on the premises.
Oct 12, 2021
Rented a golf cart fri. and sat. they wouldn't let me rent it early she said check in was 3pm for campers and golf carts I sat at my site and watched at least 10 campers check in early I even told the woman my wife had a bad knee and needed the cart to help her get around she was having none of that. Very unprofessional. Also the store didn't open till 10 on Sunday making it an inconvenience
Oct 12, 2021
Never seen a Halloween celebration like this one! It was SO FUN! I also LOVED that you had the pool open! Thank you! Everything was great, we cannot wait to come back again!
Oct 12, 2021
The stay was overall awesome!! But some staff members in the clubhouse had a very poor attitud and while paying for items (golf cart rental, drinks condiments....) I witnessed inconsistent prices. I am a paying rewards member but yet friends of mine got different cheaper prices?? I'm confused as to how this happened?
Oct 12, 2021
Clean and take care of you
Oct 12, 2021
The campground is always clean and we'll kept. All the employees are friendly and helpful. Halloween weekend was a blast going to do it again next year
Oct 12, 2021
Everything is always amazing! Staff is so friendly and great with kids! They had so much fun doing the Halloween activities!!
Oct 11, 2021
Great campground, nice facilities, good location, wonderful staff
Oct 11, 2021
It was perfect. I needed a place to lay my head in the evening after all day travel. Very warm staff check in was quick and easy.
Oct 11, 2021
Very relaxing. Well maintained property.
Oct 10, 2021
Very nice campground. Nice people. We will definitely go back!
Oct 09, 2021
Loved the Halloween theme and execution of the event. I observed staff treating all visitors in the same way. This is only one small reason that everyone seemed to be having fun.
Oct 09, 2021
WE JUST OVERNITED HERE AND DID NOT AVAIL OURSELVES OF ALL THE FACILITIES, BUT THE CHECK IN PROCESS WAS BY FAR THE QUICKEST, EASIEST, AND INFORMATIVE OF ANY I HAVE EXPERIENCED. THE STAFF WAS VERY FRIENDLY, THE OFFICE/CAMP STORE, ETC. IS AN IMPRESSIVE FACILITY. THE CAMPGROUND AS A WHOLE, THE COMMON AREAS, AND THE CAMPSITES APPEARED ALL TO BE WELL MAINTAINED. THE SNACK ATTACK SHUTTLE IS A FIRST &A+
Oct 08, 2021
This is such a great campground, nice and clean, quiet and spacious campsites. Very friendly staff, we will make this an annual stay from now on.
Oct 07, 2021
Bathrooms are always clean staff is friendly
Oct 07, 2021
Beautiful, clean, well run campground.
Oct 06, 2021
Everyone was soooo accommodating! I had to modify my reservations a few times and your staff was so kind and courteous and understanding. I love this place and have the next two years already booked!
Oct 06, 2021
Always a quality stay!
Oct 06, 2021
First time back in 25 years! Still has good as it was back then. People very friendly and the campground is clean and well maintained. Halloween weekends are a lot of fun. Only thing I wish they would do is add another pool. For as large as the campground is another pool would be great! Will be going back next year.
Oct 06, 2021
Favorite place to go. Been going since i was a kid. 10/10
Oct 06, 2021
VERY nice place. I have had a bad taste for KOAs in the past, this beautiful place has helped change my mind.
Oct 06, 2021
Everything was great!…. except when a KOA employee was using some equipment to gather leaves and created so much dust we had to leave our site for 3 hours later to find all of our equipment covered in dust and dirt. This was very inconsiderate and really stupid. We were located in a monthly site(113) by the seasonal sites, so my assumption was that this was a seasonal service offered by KOA
Oct 06, 2021
Halloween weekend fun for grandkids with lots of activities all day and swimming pool still open. Great time!
Oct 05, 2021
Stayed in the KOA when we were headed to the New England states and will be staying there again on our way home.
Oct 05, 2021
Beautiful grounds and great place for family to relax!! Large sites, nice picnic tables. So many options for family to participate in all weekend.
Oct 05, 2021
A superb campground that would recommend to anybody. Facilities were great, campsites neat and clean. Staff was very efficient in working with us on a short notice reservation. I was on a two week trip to five states and it was the best campground we stayed in on the trip.
Oct 04, 2021
They have a great staff, and always a terrific stay
Oct 04, 2021
Very comfortable surroundings. Very clean and organized. Staff were friendly and accomodating.
Jul 21, 2021
This campground is very far home but we would LOVE to come back! Pulling in feels like pulling I to a really nice resort. Our spot was clean and Very peaceful. The playgrounds are up to date and have a big variety of toys for kids. We have been on the road three weeks and hands down their bathroom and shower facility was the cleanest and nicest! We did have a mid week stay so it was very quiet and calm. There is a ton to do here and I wish we had more time to stay! We hope to visit again in the future!
- ambers0814 on Trip Advisor
Jun 02, 2021
We have stayed at other campgrounds, but the Milton KOA is by far our favorite. Everything is always perfect. Very friendly staff, impeccably clean restrooms, showers, grounds, and pool area. Great theme weekends! Sites are for the most part shaded and very level. Stay at the Milton KOA and you will not be disappointed.
- Wisconsintraveler1 on Trip Advisor
May 28, 2020
Gigantic, well maintained, loaded with amenities, campground. The entire time we were there, there was staff moving through (but not interfering at all) & cleaning, fixing, checking all aspects of the grounds. I believe it was the owners & their young son, that I saw, cleaning the shower & laundry facility. Can't wait to go back!
- danadH9089ON on Trip Advisor