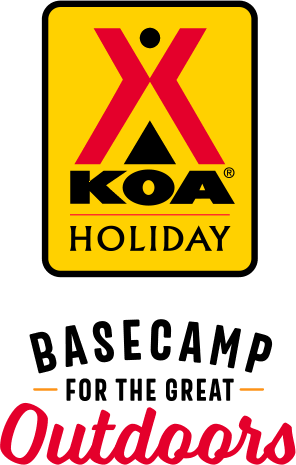 KOA Holiday Campgrounds
Whether you're exploring the local area or hanging out at the campground, KOA Holidays are an ideal place to relax and play. There's plenty to do, with amenities and services to make your stay memorable. Plus, you'll enjoy the outdoor experience with upgraded RV Sites with KOA Patio® and Deluxe Cabins with full baths for camping in comfort. Bring your family, bring your friends, or bring the whole group – there's plenty of ways to stay and explore.
KOA Holidays Feature:
RV Sites with a KOA Patio®
Deluxe Cabins with full baths
Premium Tent Sites
Group meeting facilities
Jul 24, 2021
Love love loved our stay! Everything and everyone was 5 star!
Jul 24, 2021
Convenient to highway. Staff very nice. Restaurants nearby. Tight inner roads for big rigs. Take off pull car.
Jul 24, 2021
Suggest that tables should be cleaned daily. Went to pool in morning and tables did not seemed to be wiped down.
Jul 24, 2021
Easy Location to get into. Extremely dusty if you rent a golf cart! Rented one with friends for 2 days, they would not let us turn in before 1st 24 hours was over for a refund of 2nd day, hmmm! Really gross to drive around and eat dust as you talk. Funny, the day we were leaving they were watering down the roads, so they know dust is a problem. Would not stay again.
Jul 24, 2021
One of the nicest KOAs we have stayed at
Jul 24, 2021
Great campground, bit of a bummer laser tag wasn't working and pool is too small for kids to really swim, but overall very nice place and staff were very helpful.
Jul 24, 2021
We stayed two nights and wish it could have been longer. Very clean, plenty of friendly staff!
Jul 24, 2021
Nice, clean sites and facilities. The pool was very nice.
Jul 23, 2021
We always enjoy our stay here. Grounds well kept and bathrooms very clean. Your staff is very friendly.
Jul 23, 2021
Clean, friendly staff, easy in and out, no negatives.
Jul 22, 2021
This is what a KOA used to mean. I nearly gave up staying at KOAs but Milton showed me there are still some good ones. The terrain is hilly, but these sites are perfectly level. the snack shack with free delivery was a nice touch.
Jul 22, 2021
Great place, we always stop here on our way to Oshkosh
Jul 22, 2021
This is a great campground however, we had two issues. We checked in an hour early just because we made better time traveling then we thought. We were charged $5 as an early check in fee. I thought that was a little petty, since we were spending $400 for the days spent there, along with the cost of a golf cart rental. Also, the WIFI at that campground is still horrible after two years..
Jul 22, 2021
Very nice stay as usual. Staff if very nice and personable and the facilities are always clean.
Jul 22, 2021
Prettiest campground we've ever stayed at- and we've stayed at a lot of campgrounds! Pool, bathrooms clean, had a good lunch at snack bar.
Jul 21, 2021
We had a wonderful time what I like about KOA in Milton is their bathrooms are really clean the park is clean we really do enjoy when we're there
Jul 21, 2021
Absolutely nothing but positive things to say about the site, our space to set up, and the KOA staff! We've already booked another stay this year for a Halloween weekend, and will be back again next year!
Jul 21, 2021
We were very impressed with the facilities, especially for children. The young staff was super friendly and helpful!
Jul 21, 2021
It was very good everyone was friendly and very helpful
Jul 21, 2021
Very fist time. Clean well organized and a lot of fun
Jul 21, 2021
Only complaint is that we would ask to be on the other side of the new sites next time as kids kept cutting through our site to get to playground and athletic field
Jul 20, 2021
Awesome campground, we'll maintained, very organized at check in and lots of kid friendly activities!
Jul 20, 2021
ALL GOOD except the previous people didn't clean up their dog poop very well.
Jul 20, 2021
It was very relaxing and the people that work there are very friendly. It is a little too busy for me but I will camp there again.
Jul 20, 2021
Love the corn roast, everything was perfect!
Jul 20, 2021
We liked it, but the pool and hot tub are way too small for the amount of sites. The bathrooms and showers were phenomenal.
Jul 20, 2021
We had a phenomenal time at KOA Milton! The staff was very courteous and attentive, although it seemed as if they were understaffed for the amount of guests. That did not determine how our stay was though. The staff that was there was great. The DJ that was there at the pool made for a fun time for our 5 yr old. Will stay again for sure!
Jul 20, 2021
Exceptionally clean campsite and great facilities.
Jul 20, 2021
This is our favorite KOA. Our site #206 was perfect. Thanks
Jul 20, 2021
Nice park. Lots of activities to do. Enjoyed the stay.
Jul 20, 2021
Had a great time. Very clean
Jul 20, 2021
Very nice campground. Well maintained. We stayed in the back lots Which we're a nice size but there wasn't an easy way to get to the playgrounds or the pools unless you cut through open lots. During the weekend we were unable to do they because it was full. Pool area is nice but very small. Overall nice place and would stay again.
Jul 20, 2021
The campground is very nice. Campsites are a little small but offer some privacy. Our stay was great. However, the staff in the store couldn't have been less interested in there work, or with helping patrons. In fact I feel it was a real bother us being there. (Several visits) Too bad. It took away from a really nice stay. If we stay again we'll make sure not to use the store and put them out.
Jul 20, 2021
Only negative was a barking dog across from us. Barked when anyone walked by or when we moved on our site.
Jul 20, 2021
Only stayed for a quick overnight stop but loved this campground!
Jul 20, 2021
we had a great time as always at your campground. Only thing this time, we wanted to use hot tub but it was filthy. Pool was clean but someone dropped the ball on the hot tub.
Jul 20, 2021
Very nice place. Pool was very cold. Lots of food choices l. Clean
Jul 20, 2021
Very nice well-kept campground
Jul 20, 2021
while we weren't there much (the stay was NOT for recreational reasons) .. the campground and facilities were awesome. we would gladly stay at this KOA again. IT has trees, many KOAs I remember have none
Jul 20, 2021
very nice campground. loved that they delivered food to the campsite.
Jul 20, 2021
Didn't have the amenities they advertised
Jul 20, 2021
The stay was short but comfortable. Check in was easy, quick and friendly. Rest room was clean and near to sight. We purchased dinner, it was quickly prepared, fresh and delicious. Le
Jul 21, 2021
This campground is very far home but we would LOVE to come back! Pulling in feels like pulling I to a really nice resort. Our spot was clean and Very peaceful. The playgrounds are up to date and have a big variety of toys for kids. We have been on the road three weeks and hands down their bathroom and shower facility was the cleanest and nicest! We did have a mid week stay so it was very quiet and calm. There is a ton to do here and I wish we had more time to stay! We hope to visit again in the future!
- ambers0814 on Trip Advisor
Jun 02, 2021
We have stayed at other campgrounds, but the Milton KOA is by far our favorite. Everything is always perfect. Very friendly staff, impeccably clean restrooms, showers, grounds, and pool area. Great theme weekends! Sites are for the most part shaded and very level. Stay at the Milton KOA and you will not be disappointed.
- Wisconsintraveler1 on Trip Advisor
May 28, 2020
Gigantic, well maintained, loaded with amenities, campground. The entire time we were there, there was staff moving through (but not interfering at all) & cleaning, fixing, checking all aspects of the grounds. I believe it was the owners & their young son, that I saw, cleaning the shower & laundry facility. Can't wait to go back!
- danadH9089ON on Trip Advisor