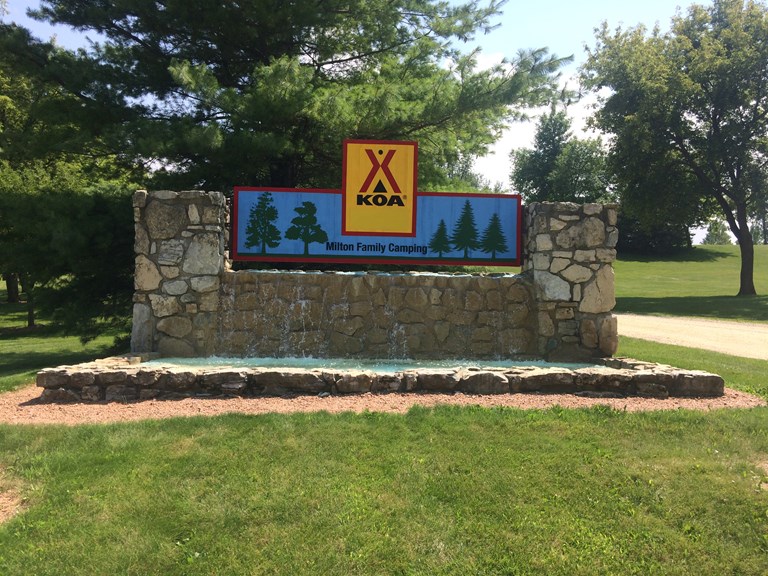 Milton KOA Reviews
Sep 15, 2020
Love the walking/cart trail. Friendly staff. Also like there r local businesses near buy to visit
Sep 15, 2020
Well kept grounds. Clean bathrooms. Friendly staff
Sep 15, 2020
We have been camping at this location for years and as always we loved it!!!
Sep 15, 2020
Very helpful can't wait to stay there again
Sep 15, 2020
Staff very friendly
Sep 13, 2020
Enjoyed the stay.
Sep 13, 2020
Beautiful campground and very clean. the staff was super friendly!
Sep 12, 2020
Very enjoyable stay, clean campground and bathrooms. Prices are quite high this year!
Sep 12, 2020
Very good campground, friendly staff, everyone was abiding the covid-19 restrictions.
Sep 11, 2020
Always have a great time staying here with our Grandkids. Staff is wonderful, grounds are kept up and bathrooms are very clean. We enjoy our nightly walks admiring all the campers decorations and how peaceful it is. Everyone here is friendly, helpful and respectful of each other's property. This is our favorite place to go. A little camper's paradise off the beaten path yet so close to home!
Sep 11, 2020
Great! Love staying there!
Sep 11, 2020
Very nice and clean
Sep 11, 2020
No masks required. Camp fires everywhere. It was one big COVID party.
Sep 10, 2020
Nice park but rates for 2021 have increased
Sep 10, 2020
The stay was fine. Campsites are expensive for what you get. They try to nickle and dime you cor many things like trying to charge me an extra $5 for early check-in. Check in time is 3pm and I arrived at 2:20pm. Please, 40 minutes its not like I showed up at 10am on sites that are $75 a night.
Sep 10, 2020
We had a great stay! The only complaint is the pool didn't feel heated and it was a little dirty.
Sep 10, 2020
We really enjoy the sites by the new cabins in the back. Spacious and quiet.
Sep 10, 2020
Very impressed with this property. Well planned out, very clean and quiet. The restaurant is a huge bonus. Employees were very nice, would definitely return here!
Sep 09, 2020
my husband and i have been staying at hidden valley, milton koa for 26 years we will never stay there again,,,there are 12 of us that go from wed to mondays....went to make reservation for 2022 and they said the price was $86.00 plus 10.00 if we want to be all together.... we could go to a hotel for that price and get a free breckfast thank you for the memories janet
Sep 09, 2020
charged us ten dollars so we can have a paticular site number .Is this something all koa's are going to do . Also arrived at 230 charged us $5 because we were 30 minutes early. Not paying $93.00 for first night then $83 for the rest of the stay. Will go somewhere else.Also the roads are very dusty need to put water down to control dust.
Sep 09, 2020
Beautiful campground! We had so much fun. We will be back!
Sep 09, 2020
Very clean. Friendly staff. Spacious campsites. We will be back!
Sep 09, 2020
A little too crowded for us.
Sep 09, 2020
by far my favorite campground. So much to do, clean, friendly staff, nice sites.
Sep 09, 2020
We came on pretty late and did not get to check out all the amenities. The grounds were extremely well kept. The bathroom was very clean and spacious. The pool was very warm and inviting. One of the best KOAs we've ever been to.
Sep 05, 2020
We had such a great summer staying here! I'd highly recommend your campground facility !
Sep 05, 2020
We just stopped overnight on our way from Minnesota to Indiana in a motorcoach. We had a pull through site which was plenty long. Check in was easy and they gave us cookies and free poop bags. Campground was very clean and not too tight. There was a fenced in dog playground which had incredibly nice grass and a stand with poop bags and trash bin. A nice kid delivered firewood to our campsite.
Sep 04, 2020
Love this campground. Staff are very friendly, helpful, polite and caring. This is by far the best campground we have ever stayed at.
Sep 03, 2020
Welcoming, clean,well organized, top marks.
Sep 03, 2020
Love being able to pick my site. Very clean. Helpful staff. Only change I would like to see is a late check out option if site is available little disappointing that you would have to pay for another night for extra 3 hours. Can't wait to go back though.
Sep 03, 2020
Somewhat disappointed that the hot tub was not working but understand that things need maintenance every now and then. Staff was very friendly
Sep 02, 2020
We stayed one night on our way home. The sites were nice. The pool was amazing with the waterfall and a hot tube. Nice dog park. Would definitely stay here again!
Sep 02, 2020
Very clean and well maintained campground...
Sep 02, 2020
The staff was very friendly and the grounds were well maintained. There's lots to do there so the price was worth it.
Sep 01, 2020
We had a very enjoyable stay at your campground! Thank you.
May 28, 2020
Gigantic, well maintained, loaded with amenities, campground. The entire time we were there, there was staff moving through (but not interfering at all) & cleaning, fixing, checking all aspects of the grounds. I believe it was the owners & their young son, that I saw, cleaning the shower & laundry facility. Can't wait to go back!
- danadH9089ON on Trip Advisor
Aug 07, 2019
This is one of the best KOA Campgrounds that we have stayed in. The grounds are beautifully maintained with shaded large spots! Great spots for tent camping too. We were backed in, up on a knoll with a large field behind us, letting us catch a wonderful Summer breeze. Met the Owner, Jim. Such a nice guy! You could tell he has worked hard and it shows. Easy pull through spots for those that are towing. Fun activities for kids or for the kid in us older folks.
- crosscountrytraveler on Trip Advisor
Jul 06, 2019
This campgrounds is well maintained. Two nice playgrounds an inground pool and nice clubhouse. The sites are larger than others we have visited and there are plenty of large trees. We have already booked a second visit!
- margaretlM2115WU on Trip Advisor

Milton KOA
Open April 24 - October 18
872 E State Rd 59
Milton, WI 53563
Check-In/Check-Out Times
RV Sites, Tent Sites
Check-in: 3:00 pm, Check-out: 1:00 pm
Cabins
Check-in: 3:00 pm, Check-out: 11:00 am
Get Google Directions

© 2020 Kampgrounds of America, Inc.