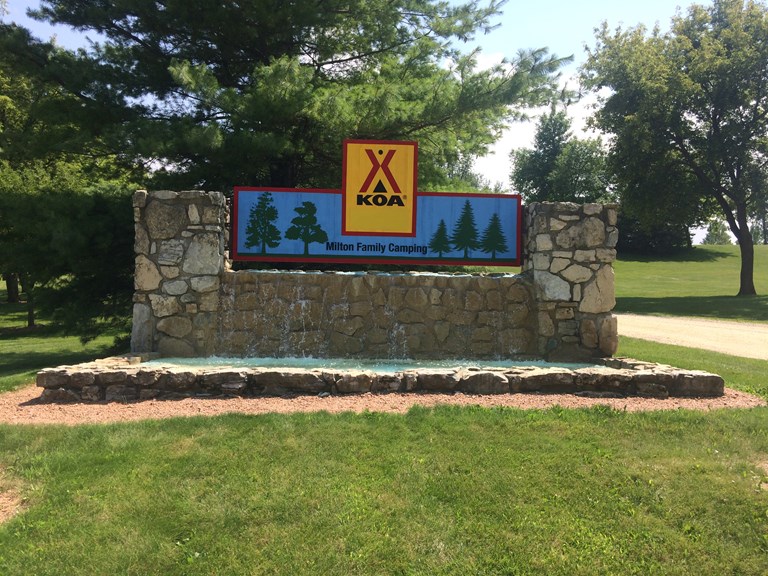 Milton KOA Reviews
Jul 10, 2020
Campground was nice but site was dirty
Jul 09, 2020
It's a pretty good park for kids and weekenders. For travelers, it's not very friendly. We have averaged 3+ months for 8 years and this is first time charged for being an hour early. For the rates they charge you'd think they could run a water truck once in a while to keep the dust down from all the golf carts. Way too many spaces without sewer and way to high of rates for no sewer.
Jul 09, 2020
We have been coming to Hidden Valley for over 20 years. This is the first time we stayed in the back row (site 155). The site needs to be regraded for the sewer line to work properly. The ground sewer pipe/cap is higher out of the ground making it impossible to get the correct drain pitch from my 36ft travel trailer. With 90 degree temperatures - it wasn't what I expected for a full hookup si
Jul 09, 2020
Picked this location based on other reviews and was not disappointed. Hope to return this summer.
Jul 09, 2020
The campground was super clean. We are glad we were there during the week. We would have felt very crowded if we had campers on either side of ours. We would have liked a larger pool or maybe a pond with inflatables like some other campgrounds have. Overall it was a fun, relaxing stay and we will definitely come back for week day camping.
Jul 09, 2020
Clearly with the current boarder closure and the fact that we live on opposite sides... We were not the ones you should be asking about the stay. I'm more concerned as to why this confusion is happening and if I will trust your system in the future.
Jul 08, 2020
We had a great time. Only suggestion is they need a bigger pool or a second pool out back. Always too crowded to keep your distance from others.
Jul 08, 2020
I would give Milton KOA 5 stars if they had another pool. With Covid 19 going around there was no social distancing, in their pool. Its a little too small for the amount of guests that were there on our stay. They need a pool for kids. Maybe the kid's parents need to do some actual parenting. The kids were jumping in the pool almost on top of you at times. Kids need to learn to social distan
Jul 08, 2020
We always enjoy this campground, especially since this is our 18th year camping here. But since KOA took it over, it's clear they don't appreciate the people who are loyal, wanting to charge extra to hold your reservation to hold a specific site, as well as a deposit, even a year in advance.
Jul 08, 2020
Everyone one is so helpful and polite. The grounds and buildings are clean and well kept.
Jul 08, 2020
Nice place, do wish that you have more pavement and a bigger pool.
Jul 08, 2020
We were there on the 4th of July weekend. Maybe it was the holiday weekend.... there was some extremely loud adults drinking and swearing loud enough to be heard in our rv across the street. There was f bombs and mfing bombs blasted non stop. Mean while there were loads of kids in the area All in all we love the place... but if this occurred again we would re think a return trip
Jul 08, 2020
This campground is always clean and had a lit of fun things to do. I always enjoy visiting it.
Jul 08, 2020
Very clean and friendly place. Lots of activity's for kids and adults to do. The sites were nice and spacious. We will definitely be back!!
Jul 08, 2020
Very pleasant stay
Jul 07, 2020
I think your campgrounds is great but do feel that as large as the campground is it could use a bigger pool. The existing pool is very nice but could be bigger.
Jul 07, 2020
too many golf carts. Also adult swim was taken over by very load (f- word used constantly)smoking and drinking in the pool when staff asked them to stop the people in pool did not listen. She gave up and said there is nothing I can do. This is the first year we did not make reservations for next year's camping trip we are contemplating whether or not to come back
Jul 07, 2020
We've been camping here for almost 20 years. But it had become so expensive and they nickel and dime ya to death with all of their fees. I'm going to cancel our next stay next month. Just can't justify spending that much money camping!!!!
Jul 07, 2020
We have always had wonderful times here, but the 4th of July stay was kinda disappointing. Most events were canceled and I know it's not due to covid 19 or it should of not been scheduled in the first place. When I voiced my opinion I was told in a nasty way that "atleast the campground is even open" well I do agree but as much money I've spent to stay here, I expect to do some activities.
Jul 07, 2020
Not a lot to do on grounds. We had to go off site quite frequently. Pool is way too small for the amount of people staying there. Front desk people were somewhat unfriendly.
Jul 07, 2020
I love this camp ground. Only 1.5 from home makes for nice weekend get always. Only concern was the lack social distancing at the pool which is on the people.
Jul 07, 2020
Very nice stay... The only thing to improve is size of pool. Otherwise great place clean and very friendly staff
Jul 04, 2020
Beautiful well maintained grounds. The bathrooms are the cleanest of any campground we've been to. The staff goes above and beyond to make sure you are taken care of.
Jul 04, 2020
Beautiful campground with excellent facilities and helpful staff .
Jul 04, 2020
Love this campground!!! Been coming here since 1997 I believe! �����
Jul 04, 2020
Enjoyed our mid week stay. Clean and quiet.
Jul 04, 2020
Our very 1st over nite stay in our new to us motor home. Milton KOA was a good start for us. Great hookups and very clean bathrooms. We would not hesitate to stay here again.
Jul 03, 2020
We stayed early week to avoid any crowds. The sites are well kept. It has a beautiful pool and hot tub. The bathrooms and showers are clean.
Jul 03, 2020
It was short but a nice stay ! Bathrooms and showers very clean
Jul 02, 2020
Good sites, nice pool. It was very hot and humid, our breaker blew quite a few times. Luckily we were there or closeby to quickly fix it. That was the only unfortunate thing that happened during our stay.
Jul 02, 2020
This is my first KOA I ever stayed at this year, NOW it is our new home. It has plenty for the kids to do & adult swim time. Food was good and convenient when you just want to relax & not cook yourself. The grounds are keeped up amazingly. All the workers that we came incontact with were fantastic. Kathy was super kind to my daughter & family along with Jan and the knowledge of the baby hawks.
Jul 01, 2020
We loved it and plan to return.
Jul 01, 2020
The pool was open and felt great after a full day of traveling. The shower house was very clean. We had a late supper delivered to our campsite from the Camp Kitchen, and when we added another item after their posted "closing" time, they graciously fulfilled the whole order. This campground was so great that we switched our return trip around to stay here again on the way back home.
Jul 01, 2020
Very nice KOA,
Jun 30, 2020
Campground and facilities were immaculate! Spacious sites make for a great stay. Newly added sites look fantastic and can't wait to check them out in the future.
Jun 30, 2020
The staff at the Milton KOA is very friendly and helpful. The grounds are kept clean and supervised.
Jun 30, 2020
The grandkids loved it! Lots to do!
Jun 30, 2020
We had a great time. Very clean campground. We were disappointed in the 2 bundles of firewood That we purchased. It was so green that we couldn't even keep it going on Saturday night. You really need to have some seasoned wood. My kids said they liked the campground and would like to go again.
Jun 30, 2020
very nice campground, well maintained.
Jun 30, 2020
Very clean place and it was a very relaxing time. Cant wait to go back.
Jun 30, 2020
Clean wonderful site with excellent amenities.
Jun 30, 2020
Clean campground, friendly staff, well maintained amenities and great food/donuts available for purchase. One of the best campgrounds we've visited.
May 28, 2020
Gigantic, well maintained, loaded with amenities, campground. The entire time we were there, there was staff moving through (but not interfering at all) & cleaning, fixing, checking all aspects of the grounds. I believe it was the owners & their young son, that I saw, cleaning the shower & laundry facility. Can't wait to go back!
- danadH9089ON on Trip Advisor
Aug 07, 2019
This is one of the best KOA Campgrounds that we have stayed in. The grounds are beautifully maintained with shaded large spots! Great spots for tent camping too. We were backed in, up on a knoll with a large field behind us, letting us catch a wonderful Summer breeze. Met the Owner, Jim. Such a nice guy! You could tell he has worked hard and it shows. Easy pull through spots for those that are towing. Fun activities for kids or for the kid in us older folks.
- crosscountrytraveler on Trip Advisor
Jul 06, 2019
This campgrounds is well maintained. Two nice playgrounds an inground pool and nice clubhouse. The sites are larger than others we have visited and there are plenty of large trees. We have already booked a second visit!
- margaretlM2115WU on Trip Advisor

Milton KOA
Open April 24 - October 18
872 E State Rd 59
Milton, WI 53563
Check-In/Check-Out Times
RV Sites, Tent Sites
Check-in: 3:00 pm, Check-out: 1:00 pm
Cabins
Check-in: 3:00 pm, Check-out: 11:00 am
Get Google Directions

© 2020 Kampgrounds of America, Inc.