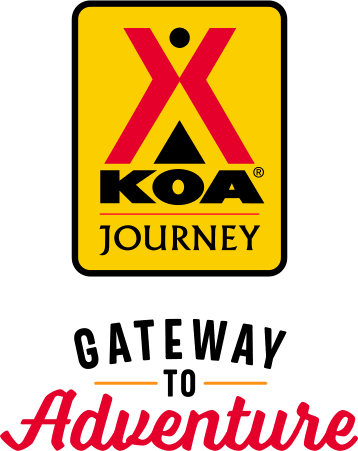 KOA Journey Campgrounds
KOA Journey campgrounds are the perfect oases after a day on the road. Whether it's along the way or a quick getaway, they've got you covered. Located near the highways and byways of North America with long Pull-thru RV Sites, they deliver convenience to the traveling camper. Pull in, ease back and take a load off.
KOA Journeys Feature:
Pull-through RV Sites with 50-amp service
Premium Tent Sites
Well lit after hours check-in service
Directions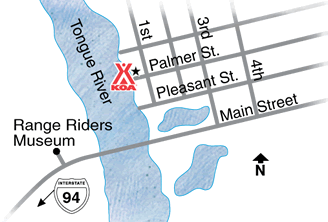 From I-94   Take Exit 135.  Go 2 miles.  Turn left at the CONOCO gas station and follow the street around the lake. Turn right on 1st Street.  Then turn left on Palmer.  The campground is on the right.
Hwy 59 Southbound  Turn right (west) on Palmer Street.  Continue 7 blocks to KOA.  The campground is on the right.
Hwy 59 Northbound  Take I-94 West to Exit 135.  Go 2 miles.  Turn left at the CONOCO gas station and follow the street around the lake. Turn right on 1st Street.  Turn left on Palmer.  The campground is on the right.
LOW CLEARANCE IN TOWN!!!   PLEASE USE EXIT 135 ON I-94!!!
PLEASE FOLLOW OUR DIRECTIONS AND NOT YOUR GPS!!!
WINTER MONTHS (OCT 16- APR 15) WE ARE CLOSED.  WE OPEN ON APR 15TH WEATHER PERMITTING.  PLEASE CALL (406)232-3991 TO CONFIRM OPEN STATUS.
Get Google Directions
Sep 13, 2020
A nice friendly and helpful KOA.
Sep 12, 2020
Even though this KOA was in the process of changing owners we were well cared for. There was the occasional train but orher than that it was a pleasant stay.
Sep 12, 2020
needs some work. Know i has new ownership so hopefully they will do some upgrades. for some reason, the flys were terrible.
Sep 11, 2020
Very accomadating hosts. Beautiful setting. Close to trains but a very enjoyable stay. Thank you!
Sep 10, 2020
We were there all summer. We had a great time
Sep 09, 2020
New owners were very nice, friendly and helpful.Bath house was very clean and sanitary. Bike riding along the Yellowstone was beautiful.
Sep 08, 2020
One night stay while traveling. Very friendly staff. Sites were appropriate for a one night stay. Very close to your neighbors site. Very Clean.
Sep 08, 2020
We have stayed at Miles City KOA cabins many times, twice this summer. 1st time all employees wore masks inside. This time inside the office/store a manager type/owner was not wearing a mask, and encouraged other near him not to as well. This shows great disrespect to your employees, customers, and community. If you don't follow this simple MT law, what other corners do you cut?
Sep 08, 2020
The bathroom/showers need an update. Very old and worn out. Nice staff. Good hookups for water, electronic and sewer.
Sep 08, 2020
So this was the 3rd KOA we stayed at as we are new campers.. and this was our favorite. The staff was helpful and friendly.. even escorting us to our space to ensure the least amount of confusion possible! The prk its self was clean and well maintained and in such a beautiful location. We live about 3 hours away and will absolutely be back and recommend this camp to anyone!
Sep 08, 2020
I did not stay at KOA !
Sep 07, 2020
Easy in and out
Sep 05, 2020
People were very nice. Spot was nice and level. A lot of trains go thru this town.
Sep 05, 2020
Very hospitable, clean bathrooms, friendly staff!
Sep 04, 2020
The young ladies working the day we were there went above and beyond. They were very helpful and friendly. The facilities were clean and in good working order. The man working in the morning helped us by recommending Tire Rama for our flat tire that we woke up to. All in all, we had a wonderful overnight stay at the Miles City KOA.
Sep 04, 2020
We were very happy to find this KOA after a disastrous first stop in Terry, Montana at the Oasis Campground, without question the worst RV spot we have ever encountered. And, we travel over 6,000 miles a year so we have visited many. Friendly staff, level site, and if the wind has not been blowing so hard we might have experienced more of the park.
Sep 03, 2020
All was good
Sep 02, 2020
A very average KOA featuring the usual aging facilities and rest rooms. Nice enough to stay for a night. Staff was nice.
Sep 02, 2020
We stayed in one of the cabins. After watching the staff clean the cabin next door I wouldn't hesitate to recommend the cabins. The young gal wiped down everything - including the porch railings! Staff was friendly and efficient. Bathrooms were clean and odor free. Great place and great city!!
Sep 02, 2020
Do not stay here if you are not a Trump supporter. It isn't safe.
Sep 01, 2020
Fun, friendly place, close to downtown
Aug 31, 2020
Nice campground with large trees. Clean and level sites. People were friendly. Would stay at this campground again if ever we are in Montana again.
Aug 31, 2020
The cabins were adorable and equipped with air conditioner, heater, mini fridge and fan! The bathrooms were nice and close and the bed was comfortable. If I am ever in Miles City and need a place to stay, I would stay there again! Thank you.
Aug 31, 2020
Excellent! So much history, great location- trains and cottonwood trees and the Yellowstone river nearby. The owner had great stories of Custer, the Sioux and Miles City- should have stayed longer. Thanks so much!
Aug 31, 2020
Great location!
Aug 30, 2020
It was such a lovely experience! The cabin was cozy & air conditioned, the facilities were always clean and stocked, the firewood was affordable and the camp store had everything we could need. Unfortunately due to the pandemic we couldn't use the loaner grills, but that was the only downside. Highly recommend looking for Montana moss agates on the Yellowstone River, too.
Aug 29, 2020
Quiet, shady, peaceful place. They did a good job with COVID separations, etc. I felt safe and comfortable.
Aug 28, 2020
Sites a little too close. But stil quite a nice park. (Lots of trees).
Aug 28, 2020
Very disappointed in the "premium" patio spot. Next to a highly traveled gravel/dirt road. Couldn't enjoy the patio swing for all the dust being kicked up. Felt very insecure overnight with all the traffic right next to us and no fence or any separation. The staff was very nice, this park is back in what appeared to be a mixed residential/commercial area. Left a day early and didn't ask for $
CAMPGROUND RESPONSE / COMMENTS:
We refunded your money without you saying a word. Yes, it is a bit dusty in the West at times. Please feel free to contact us with concerns anytime.
Aug 27, 2020
Plenty of space to spread out and they crammed us in between 2 existing trailers
CAMPGROUND RESPONSE / COMMENTS:
We goofed. Please let us know while you are here so we can fix it or offer your money back. We absolutely care and want to do our best.
Aug 26, 2020
The campground has junk parts sitting around: old car parts, truck beds, dilapidated moblile homes. For some reason I was in a buddy site. I had no privacy and I got to watch my neighbor smoke. The sewer hookup was more than the 50 feet of hose away from me. Additionally other campers used the area as a pass thru. A very bad experience and VERY overpriced.
CAMPGROUND RESPONSE / COMMENTS:
We are glad you stopped by. We do not have junk car parts/truck beds/mobile homes here. We have bigger sites however, they were sold out when you called that evening and told you so. We offered a full refund in the first hour. Yes, we were full and it was the last spot open for the night which you were told.
Aug 25, 2020
Nice campground, enjoyed our stay.
Aug 24, 2020
Always a great stay! Thank you!
Aug 23, 2020
Older campground with great shade. Nice pool. Good location in a scenic small old west town. Great place to spend a night or two.
Jun 18, 2021
We stayed one night while traveling through. It was incredibly hot that evening, so the shady park was welcome. The park is walking distance from a restaurant and bar. They have a pool, but they are also walking distance from a cute, public swimming pond.
- Christina Martinez-Patterson on Google
Jun 13, 2021
Most peaceful stay ever. Woke up to no car, city or people noises. Just birds.
- Liz Oen on Google
Jun 04, 2021
We are full time RVer's who have seen a lot of campgrounds and we loved this place. It's charming and clean and the staff is so nice. It felt very safe and I liked that i could see the entire campground from our site. There is a pretty loud train nearby and you need to take the truck route to avoid the low clearence railroad crossing to get to the KOA. Overall loved it!
- Paige Dunn on Google