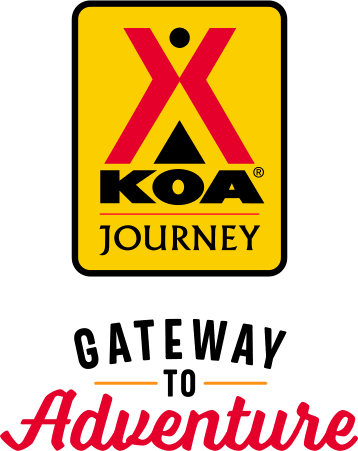 KOA Journey Campgrounds
KOA Journey campgrounds are the perfect oases after a day on the road. Whether it's along the way or a quick getaway, they've got you covered. Located near the highways and byways of North America with long Pull-thru RV Sites, they deliver convenience to the traveling camper. Pull in, ease back and take a load off.
KOA Journeys Feature:
Pull-through RV Sites with 50-amp service
Premium Tent Sites
Well lit after hours check-in service
Directions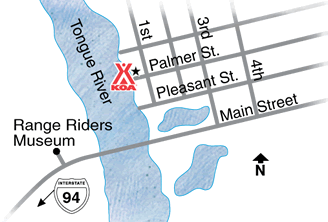 From I-94   Take Exit 135.  Go 2 miles.  Turn left at the CONOCO gas station and follow the street around the lake. Turn right on 1st Street.  Then turn left on Palmer.  The campground is on the right.
Hwy 59 Southbound  Turn right (west) on Palmer Street.  Continue 7 blocks to KOA.  The campground is on the right.
Hwy 59 Northbound  Take I-94 West to Exit 135.  Go 2 miles.  Turn left at the CONOCO gas station and follow the street around the lake. Turn right on 1st Street.  Turn left on Palmer.  The campground is on the right.
LOW CLEARANCE IN TOWN!!!   PLEASE USE EXIT 135 ON I-94!!!
PLEASE FOLLOW OUR DIRECTIONS AND NOT YOUR GPS!!!
WINTER MONTHS (OCT 16- APR 15) WE ARE CLOSED.  WE OPEN ON APR 15TH WEATHER PERMITTING.  PLEASE CALL (406)232-3991 TO CONFIRM OPEN STATUS.
Get Google Directions
Jun 11, 2021
Nice small friendly place.
Jun 06, 2021
Nice campground. Facilities were clean and the town was quaint. The only issue we found was the quiet time was not enforced.
Jun 03, 2021
Extremely nice guy and staff! Beautiful and clean campground. Plenty of beautiful green grass and lots of shade! Also clean bathrooms and showers! I absolutely will be staying here in future �
May 17, 2021
Great friendly staff who made sure all of your needs were met. Bathrooms were always clean!
Apr 21, 2021
Staff did not wear masks at any point, only a mens bathroom no womens, and no notice that the womens was unavailable. No obvious place for trash. Dish washing area did not have running water.
Apr 20, 2021
Owner was extremely accommodating and friendly. Would definitely recommend this place!
Oct 12, 2020
Quick check in. Quiet camp. Next to walking/bike path.Great city downtown to visit within walking distance.
Oct 05, 2020
Friendly people. Lots of interesting history in the area. Beautiful old trees and walking access to the Yellowstone River.
Sep 05, 2020
Very hospitable, clean bathrooms, friendly staff!
Aug 23, 2020
We have mixed feelings about this KOA. The older woman who check us in was a bit crabby but the other employees were quite friendly. The property was clean but rather run down and dated. Late into the night a couple cars with tent campers came in and were making quite a bit of loud noises whooping and hollering etc. Adjacent to the property is a road that apparently Is used by locals to party.
Aug 21, 2020
The camp grounds were very nice and the staff very friendly
Aug 21, 2020
Very loud. Between the trains and the cars/sort bikes/quads racing by on the roads that surround the campground we got no sleep. Even if we had been able to sleep we wouldnt have felt safe enough to do so. Not a very secure campground. The people working there were nice enough it's just a horrible location for a campground.
CAMPGROUND RESPONSE / COMMENTS:
We love this place. Hope you find a nice site on your journey.
Aug 17, 2020
The park staff were very friendly and very welcoming... We are planning on making it a permanent annual trip.
Aug 15, 2020
Quick stop overnight stay, passing through, East bound.
Aug 14, 2020
Staff was friendly, facilities were clean, mosquitos were horrible, tent site was so dry it was hard to drive stakes into the ground.
Aug 13, 2020
Really appreciate how seriously this particular KOA is taking COVID-19. 30-min reservations for using the pool, 1 family at a time. Masks required indoors. Friendly, hospitable staff.
Aug 11, 2020
Wonderful welcome. The couple at intake were so gracious and helpful. Everything worked well. Nice spot, but a bit noisy right next to a busy road. Bathrooms and showers excellent condition. Would stay again.
Aug 08, 2020
Was a quick walk to the Yellowstone River, which was beautiful. The shower didn't get hot so I had a refreshing cold shower in the morning, ended up waking me up nicely. I was tent camping and there was great social distancing between tents for the ongoing covid crisis.
Aug 06, 2020
Great hosts and nicely kept campsite. Clean facilities. Lots of history to that location (Chief Two Moons)
CAMPGROUND RESPONSE / COMMENTS:
Great to meet you! Yes, we love this place!
Aug 04, 2020
The property could have used with a bit of a better location and some bug treatment. I spent the first 10 minutes of our allotted 30 minutes of pool time cleaning it.
Aug 04, 2020
Location is great right by the river. Tent sites were nothing special and there was too much light shining on the tent sites so forget about stargazing.
Aug 01, 2020
I don't remember the name of the host but his knowledge about the history of the campground is commendable. Booking and arriving at this KOA was all routine and chosen due to it's location on our trip back home. But when he came around and told me the history of the location? Wow, we were very impressed and gained a whole new appreciation of our stay. Would definitely stay again!
CAMPGROUND RESPONSE / COMMENTS:
Thank you very much. Glad to have you stay here.
Jul 31, 2020
Easy, friendly checkin, clear and practical covid-19 policies, quiet campers, happy families. Last year we sampled Miles City's town life and historic context by visiting the Miles City Saddlery. This year we branched out by walking along the Yellowstone River just 500 yards away from the campground. We look forward to our next visit.
Jul 26, 2020
Very friendly staff, horrible camping condition. Train comes through, at all hours and blares the horn, several times. The locals, drive right next to campsites and some acted very shady. I was awake, all night. Most KOA's are perfect for us, this one was not.
CAMPGROUND RESPONSE / COMMENTS:
Sorry you did not like your short site. Yes the train is 3/4 mile from here and you will hear it. Yes, the site near you did stay up talking and staff did talk to them. We ask them to shut down at 11:30 but did not find them loud. It is always best to call us if you have concerns. We respond.
Jul 22, 2020
We loved Miles City KOA! Best one we have stayed at so far. Friendly, helpful and such sweet people
Jul 22, 2020
Needed a place to stay for the night and called ahead. Office staff was great at making the reservation and had our info available after hours. It would have been nice if they told us that a truck spraying bug spray out the back would be coming along the road at night. We were cooking dinner in our campsite and we got sprayed with the poison. It smelled terrible. There was also train noise all nig
Jul 13, 2020
The campground itself was fantastic, it was super clean and nice. The bathrooms were great. Unfortunately, my husband and I maybe slept a half-hour all night. There was a street light that shined right into our tent the entire night, a heads up from the staff would have been very appreciated. There is also a train that comes through maybe every half hour that blows its horn very loudly all night.
Jul 08, 2020
Friendly hosts,everything was clean and neat. The night I stayed there was a lot of road noise and fireworks. The sight was close to bathrooms and store, also nice and shaded by big cottonwood trees. Easy to find, the signs were very helpful. Recommend.
Jul 06, 2020
Loved this place. Owner was very kind and helpful. The place was very clean. Was very comfortable.
Jun 29, 2020
The managers were very friendly and accommodating to our needs. We really enjoyed our stay! Well except for the raining cotton trees were a little annoying. Otherwise everything was fine.
Jun 23, 2020
My stay was wonderful. I came in late and my info packet was available to me. Hosts were friendly and nice when I saw them in the morning. Nice location in quiet area.
Jun 17, 2020
This is such a gem for our community!! My kids are already asking to go back because they had so much fun! The grounds and facilities are immaculately kept, and the staff is so helpful and friendly. You cannot go wrong staying at the Miles City KOA!!
Jun 14, 2020
Nice spot with fine service. No issues with the campground or staff. It is very convenient for walking to a bar or restaurant in town. But the repeat trains hooting in the middle of the night were a bit much for me in a tent. In an RV with closed windows and a fan or white noise machine I might not have noticed.
Jun 07, 2020
They were professional and compassionate. With the COVID-19 they gave use all the information and everything was amazing.
May 26, 2020
Friendly caretaker/owner; clean bathroom; cozy environment; has everything you need
Apr 27, 2020
We always have a wonderful time at this KOA and plan to keep coming back!
Aug 24, 2019
Very nice people. They accommodated me well as a Motorcycle Camper.
Aug 07, 2019
Great place to stay in a quaint little town
Jul 28, 2019
Always friendly great place, it's a Midway stopping point for me. Love it
Jun 18, 2021
We stayed one night while traveling through. It was incredibly hot that evening, so the shady park was welcome. The park is walking distance from a restaurant and bar. They have a pool, but they are also walking distance from a cute, public swimming pond.
- Christina Martinez-Patterson on Google
Jun 13, 2021
Most peaceful stay ever. Woke up to no car, city or people noises. Just birds.
- Liz Oen on Google
Jun 04, 2021
We are full time RVer's who have seen a lot of campgrounds and we loved this place. It's charming and clean and the staff is so nice. It felt very safe and I liked that i could see the entire campground from our site. There is a pretty loud train nearby and you need to take the truck route to avoid the low clearence railroad crossing to get to the KOA. Overall loved it!
- Paige Dunn on Google