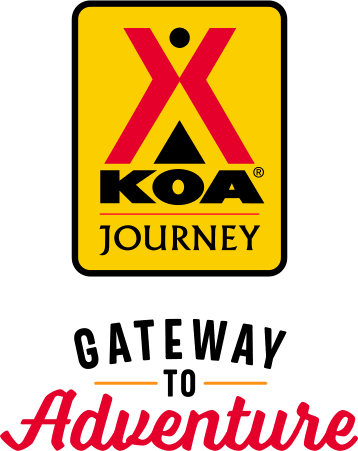 KOA Journey Campgrounds
KOA Journey campgrounds are the perfect oases after a day on the road. Whether it's along the way or a quick getaway, they've got you covered. Located near the highways and byways of North America with long Pull-thru RV Sites, they deliver convenience to the traveling camper. Pull in, ease back and take a load off.
KOA Journeys Feature:
Pull-through RV Sites with 50-amp service
Premium Tent Sites
Well lit after hours check-in service
Directions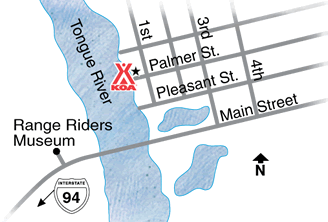 From I-94   Take Exit 135.  Go 2 miles.  Turn left at the CONOCO gas station and follow the street around the lake. Turn right on 1st Street.  Then turn left on Palmer.  The campground is on the right.
Hwy 59 Southbound  Turn right (west) on Palmer Street.  Continue 7 blocks to KOA.  The campground is on the right.
Hwy 59 Northbound  Take I-94 West to Exit 135.  Go 2 miles.  Turn left at the CONOCO gas station and follow the street around the lake. Turn right on 1st Street.  Turn left on Palmer.  The campground is on the right.
LOW CLEARANCE IN TOWN!!!   PLEASE USE EXIT 135 ON I-94!!!
PLEASE FOLLOW OUR DIRECTIONS AND NOT YOUR GPS!!!
WINTER MONTHS (OCT 16- APR 15) WE ARE CLOSED.  WE OPEN ON APR 15TH WEATHER PERMITTING.  PLEASE CALL (406)232-3991 TO CONFIRM OPEN STATUS.
Get Google Directions
Jun 18, 2021
Unlikely to recommend a cabin. Air conditioner terrible. Was loud & while it pushed some cool air, it did nothing to bring down the temp in the cabin. Had ceiling fan on but not enough to move the little cool air around. Very stuffy & uncomfortable. Cancelled rest of KOA cabin reservations & lost all of our deposits. Drove straight home 24 hours as we didn't want another hot, sleepless night.
Jun 09, 2021
Clean bathrooms, camper cabin was spotless. Easy and friendly check-in. I only stayed 1 night and will definitely stay here again when passing thru the area.
Jun 08, 2021
Always love staying there, if you have time walk the trails along the tongue river up to the Yellowstone confluence
Oct 15, 2020
Having stayed at this KOA several times previously, I knew what to expect. This visit met my expectations.
Sep 28, 2020
Exceptionally clean.
Sep 16, 2020
Great location, friendly staff.
Sep 08, 2020
We have stayed at Miles City KOA cabins many times, twice this summer. 1st time all employees wore masks inside. This time inside the office/store a manager type/owner was not wearing a mask, and encouraged other near him not to as well. This shows great disrespect to your employees, customers, and community. If you don't follow this simple MT law, what other corners do you cut?
Sep 02, 2020
We stayed in one of the cabins. After watching the staff clean the cabin next door I wouldn't hesitate to recommend the cabins. The young gal wiped down everything - including the porch railings! Staff was friendly and efficient. Bathrooms were clean and odor free. Great place and great city!!
Aug 31, 2020
The cabins were adorable and equipped with air conditioner, heater, mini fridge and fan! The bathrooms were nice and close and the bed was comfortable. If I am ever in Miles City and need a place to stay, I would stay there again! Thank you.
Aug 30, 2020
It was such a lovely experience! The cabin was cozy & air conditioned, the facilities were always clean and stocked, the firewood was affordable and the camp store had everything we could need. Unfortunately due to the pandemic we couldn't use the loaner grills, but that was the only downside. Highly recommend looking for Montana moss agates on the Yellowstone River, too.
Aug 18, 2020
I loved my stay here. The campground has beautiful trees and is very quiet. The bathrooms were kept very clean as was the cabin. The location is fantastic... there's a great walk to rivers and in the morning it was a 7 minute walk to a gas station for my morning coffee. I highly recommend this KOA!
Aug 18, 2020
Train noise all night!!! Another wise nice for passing through. Not much to do.
CAMPGROUND RESPONSE / COMMENTS:
Thank you for stopping by. Sure wish you had talked to us as there are a lot of things to explore while you visit.
Aug 12, 2020
Over night stay good but the A/C did not work in the cabin. Staff was friendly
Aug 09, 2020
Nice stop on a stretch of hiway without many options. Clean cabins, clean bathrooms, friendly staff, fair price. Those cabin mattresses could be thicker though...
Aug 05, 2020
The campsite is between the river, the railway and a trailer park in a run down area. The whole place was shabby and can use a deep clean.
Aug 05, 2020
The cabin mattress threw my husband's back out for a week, it was TERRIBLE, like a prison matt! The bathrooms were FILTHY, they claimed to clean after each use but I know this wasn't happening. I dropped the top of my deodorant after showering and forgot to throw it away...it was still there the next morning and it had the sign that it had been cleaned and sanitized for COVID....nope...gross.
CAMPGROUND RESPONSE / COMMENTS:
Sorry to hear this. You stayed two days ago, how could that throw your husbands back out for a week? Bathrooms were cleaned at 9pm and again at 8 am and each hour afterwards. Don't know what a prison mattress looks like, but ours is foam with rubber that is cleaned both sides after each stay. Maybe another campground?
Aug 01, 2020
They had a sink outside the building where one could wash dishes. Very much appreciated!
Jul 26, 2020
Always my favorite half way point to stay, take the small hike down the tongue river until you get to the confluence of the Yellowstone. Showers and facilities are always clean. Great job.
Jul 13, 2020
Very clean, and very diligent about preventing the spread of COVID-19. Definitely recommend!
Jul 11, 2020
Good internet, nice to have clean showers
Jul 07, 2020
We love this KOA! Very friendly and helpful staff. Very clean and well sanitized due to Covid.
Jun 27, 2020
The cottonwoods were in full bloom, looked like it had snowed! There is a great brewery within walking distance, and the coffee shop downtown had the best just made bagels! We will be back!!
Jun 23, 2020
friendly, helpful staff.
Jun 09, 2020
Very nice place to stay
May 25, 2020
We stayed over the holiday weekend in a cabin. The staff was friendly and helpful. The bathrooms were emasculate.
May 14, 2020
Staff was so friendly and helpful! The campground was very clean and well maintained. Was such a joy to stay and Will be back for more fun!
Oct 17, 2019
Kevin is most accommodating. Twice during my stay, I needed to extend the visit. He cheerfully accommodated my request. During the stay, he asked me if there was anything I needed, taking an interest in my happiness. I will continue to stay at this KOA.
Sep 26, 2019
Small, very clean, very, very nice knowledgeable workers and safe!
Sep 02, 2019
excellent staff and pleasant surroundings. thank you.
Sep 02, 2019
Wonderful family owned campground. Loved the little cabin I stayed in.
Aug 27, 2019
I love this KOA!
Aug 25, 2019
A decent stop if you are l. The way to Selene here and are in a bind for a place to stay. The facilities were in good shape. The grounds had a yellow jacket issue and the pool was needed cleaning. Staff was professional and efficient.
Aug 24, 2019
Very friendly and helpful and cabin was clean fresh and showers were very clean and will be back
Aug 12, 2019
Overall it was fine, and the staff members were really nice. The campground is very crowded - not a great place for tents.
Jun 27, 2019
Bathrooms are spotless, campsites clean and the owners are awesome!
Jun 24, 2019
We always stay in the cabins they are very clean and nice the campground itself is beautiful the bathrooms are always clean I loved staying at this place
Jun 24, 2019
Three hours to clean Restrooms what if people have to go to bathroom, keycards are not necessary. Difficult to find the KOA in dingy part of town. The staff except for young man were less than caring, he helped with our ac. Thank you.
CAMPGROUND RESPONSE / COMMENTS:
We cleaned the restrooms in under an hour after you checked out. You were at Miles City KOA only one night a month ago and you may have your review mixed up with another camp, Using exit 135 avoids the road construction.
Jun 04, 2019
Bridge over stream was falling in and the roosters wandering around our cabin drove our dogs crazy
CAMPGROUND RESPONSE / COMMENTS:
Wrong campground. We do not have a stream behind the cabins. We do not have chickens here. There is a set of wild pheasants, 7 pairs of wood ducks, and a bald eagle that live nearby. It is Montana you realize. We do not have a creek here either. There are a few bridges that our great State of Montana is repairing during the summer. Pretty sure they are not falling into the rivers.....
May 25, 2019
Everyone was friendly and nice. Accommodations were great!
May 13, 2019
Very pleasant campground with huge cottonwood trees providing shade and greenery. Very well maintained and everything is clean. Owners are super-friendly.
Oct 09, 2018
As usual, the staff was friendly and efficient. The Kabin was clean and comfortable. My only recommendation is that the website should mention that there is a refrigerator.
Oct 01, 2018
Very friendly and helpful.
Sep 05, 2018
The staff was really friendly. We enjoyed our stay and will stay again in the future.
Jun 18, 2021
We stayed one night while traveling through. It was incredibly hot that evening, so the shady park was welcome. The park is walking distance from a restaurant and bar. They have a pool, but they are also walking distance from a cute, public swimming pond.
- Christina Martinez-Patterson on Google
Jun 13, 2021
Most peaceful stay ever. Woke up to no car, city or people noises. Just birds.
- Liz Oen on Google
Jun 04, 2021
We are full time RVer's who have seen a lot of campgrounds and we loved this place. It's charming and clean and the staff is so nice. It felt very safe and I liked that i could see the entire campground from our site. There is a pretty loud train nearby and you need to take the truck route to avoid the low clearence railroad crossing to get to the KOA. Overall loved it!
- Paige Dunn on Google