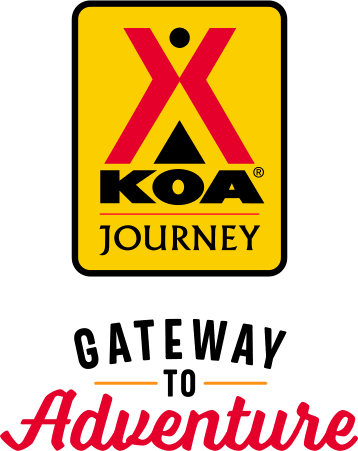 KOA Journey Campgrounds
KOA Journey campgrounds are the perfect oases after a day on the road. Whether it's along the way or a quick getaway, they've got you covered. Located near the highways and byways of North America with long Pull-thru RV Sites, they deliver convenience to the traveling camper. Pull in, ease back and take a load off.
KOA Journeys Feature:
Pull-through RV Sites with 50-amp service
Premium Tent Sites
Well lit after hours check-in service
Directions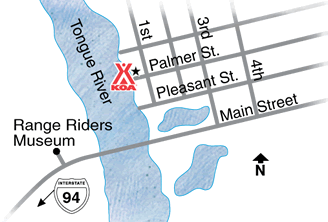 From I-94   Take Exit 135.  Go 2 miles.  Turn left at the CONOCO gas station and follow the street around the lake. Turn right on 1st Street.  Then turn left on Palmer.  The campground is on the right.
Hwy 59 Southbound  Turn right (west) on Palmer Street.  Continue 7 blocks to KOA.  The campground is on the right.
Hwy 59 Northbound  Take I-94 West to Exit 135.  Go 2 miles.  Turn left at the CONOCO gas station and follow the street around the lake. Turn right on 1st Street.  Turn left on Palmer.  The campground is on the right.
LOW CLEARANCE IN TOWN!!!   PLEASE USE EXIT 135 ON I-94!!!
PLEASE FOLLOW OUR DIRECTIONS AND NOT YOUR GPS!!!
WINTER MONTHS (OCT 16- APR 15) WE ARE CLOSED.  WE OPEN ON APR 15TH WEATHER PERMITTING.  PLEASE CALL (406)232-3991 TO CONFIRM OPEN STATUS.
Get Google Directions
Sep 20, 2021
Office personnel were very nice, but Campground very unkept, worker brot us in pull through incorrect way, making it very difficult to exit.
Sep 19, 2021
Only there for one night and left early in the am. I only connected to electric. People there were friendly and helpfull.
Sep 19, 2021
There was human waste from campers before us on the ground in our site. Everything was good.
Sep 19, 2021
Our arrival was delayed, and we received a voice mail from Terry reassuring us of our reservation and providing instructions for our late registration. We departed prior to the office opening and missed saying thank you to Tammy in person!
Sep 18, 2021
Nice bathrooms very nice staff. Easy to negotiate camping area!
Sep 18, 2021
We like the setting with all the tall trees. It's set back away from the highway. The staff is friendly. It's clean and well taken care of. The town is a nice size to visit.
Sep 18, 2021
Nice KOA tucked back away from main roads. Hosts were very nice and checked in as we were driving in to see if they needed to stay in the office for us. Only minor thing was the showers, they were a bit older and needed a bit of a clean but otherwise it was a very nice KOA
Sep 17, 2021
Ok KOA. Rail line runs very close to park, but was not a big distraction. You have to drive through a shabby industrial area to get to the park, but no problem. Sites were just gravel and level. No frills Park.
Sep 17, 2021
Beautiful old growth trees. Within walking distance to the Yellowstone River. Fun shops in downtown. The ladies restroom is in need of updating perhaps the new owners can do something….. One of my favorite campgrounds and we love Miles City.
Sep 16, 2021
Quiet and peaceful. enjoyed our stay.
Sep 16, 2021
Nice facility. Personnel are great. Restrooms could use upgrading.
Sep 16, 2021
For me, one nite utilizing nothing but a little 30A electricity makes $50.+ fairly expensive. Nice place though, it was my 3rd or 4th visit and I'll go back.
Sep 15, 2021
Small park, well kept, friendly staff. Good over night stopping point. The tall trees were perfect for just enough shade & sun mix. Only one issue. Park needs to advise when you make your reservation GPS tries to take you on a road that has a very low RR underpass. There is a truck route a block away to bypass & go over the tracks.
Sep 15, 2021
The KOA was located under a beautiful canopy of trees. It was very clean and the staff was friendly and inviting. I would highly recommend this KOA.
Sep 14, 2021
Very friendly staff and site we used had lots of room. Enjoyed walking the dike road to the Yellowstone river.
Sep 14, 2021
Gorgeous cottonwood trees, close to downtown & staff were friendly and helpful.
Sep 14, 2021
Have passed through and stayed a good number of times. The camping cabin was in excellent shape!
Sep 13, 2021
We had no reservation but the host put us in a nice pull thru site #6 in back section of park. Lots of shade trees,level site. Nice reasonably priced laundry. Large clean bathroom with showers. Good T-mobile service, some OTA TV channels. Nice store in office with reasonably priced items. Fenced dog park area was ok. It was a little confusing getting to park. Better than some KOA Holidays.
Sep 13, 2021
New management/staff was friendly and knowledgeable. I'm very happy about their decision to keep the pool open through the KOA Rewards members appreciation weekend this year instead of always closing it immediately after Labor Day, regardless of the weather. Good call new owners! Everything else was good as well, just like always! I've stayed there many times.
Sep 12, 2021
Great staff. Loved being under the trees.
Sep 12, 2021
Super helpful, very friendly and the stay was quiet and the camp was ideal.
Sep 12, 2021
Just in for one night people were very friendly and professional nice area to walk our German Shepard would stay again
Sep 12, 2021
Great wonderful people quiet
Sep 11, 2021
Great staff. Very helpful in giving us information about the area. Loved the big trees. It was great to have a place for our group to hang out.
Sep 11, 2021
Outstanding people and location.
Sep 11, 2021
Nice place to stay
Sep 10, 2021
A stop along the way. But really nice park with great trees. Management was very good, park clean, good location. Pay attention to warning about low bridge. Big mistake to get caught in a bad spot.
Sep 10, 2021
Nice campground. Running late & they called to make sure we were coming and directions for after hours arrival. That was nice. We pulled in after dark (about 9pm). The bathroom was out of toilet paper, one of the 3 toilets didn't flush, the showers were a little gross. So there is room for improvement. Would probably stay again, but used to KOA bathrooms being in better shape.
Sep 09, 2021
Quiet friendly park.
Sep 09, 2021
We had a very enjoyable stay and KOA Staff were exceptionally helpful.
Sep 08, 2021
Nice park. Very helpful and polite staff.
Sep 08, 2021
As usual, everybody was very friendly and accommodating. The campground is clean as well as all the facilities.
Sep 07, 2021
Just one night so, real quick visit. Nice people though!
Sep 04, 2021
Friendly staff you could think of as old friends the way your treated there from the moment you arrive until time of departure. Readily available to listen to your needs and go above and beyond to make sure your stay is a good one in hopes that you'll come again
- Jeremy on Google
Sep 02, 2021
Really nice park. Office staff was very accommodating and got our site read to go..
- Michael Bates Sr on Google
Aug 29, 2021
YouTube Body Lice Demo
- Justice Aguirre on Google