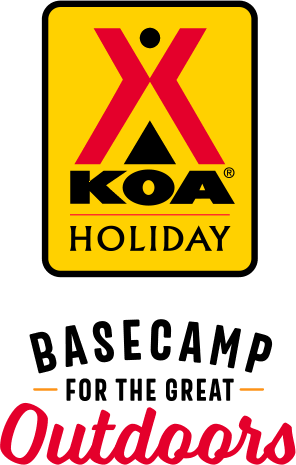 KOA Holiday Campgrounds
Whether you're exploring the local area or hanging out at the campground, KOA Holidays are an ideal place to relax and play. There's plenty to do, with amenities and services to make your stay memorable. Plus, you'll enjoy the outdoor experience with upgraded RV Sites with KOA Patio® and Deluxe Cabins with full baths for camping in comfort. Bring your family, bring your friends, or bring the whole group – there's plenty of ways to stay and explore.
KOA Holidays Feature:
RV Sites with a KOA Patio®
Deluxe Cabins with full baths
Premium Tent Sites
Group meeting facilities
Directions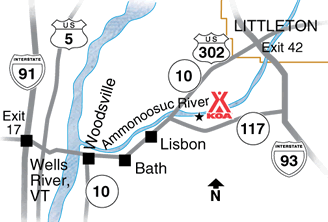 Exit 42 from I-93: Go west on US 302 5 miles.
Exit 17 from I-91: Go east on US 302 18 miles.
Use GPS system at your own risk! Please refer to a road map or call the campground.
Get Google Directions
Aug 30, 2021
Friendliest staff. So kind and helpful. It made me feel so safe and happy. Deluxe lodge was well stocked and very clean as well as the other facilities.
Aug 30, 2021
Was wonderful super friendly staff , very helpful with any needs . Tie dye shirt was a lot of fun
Aug 30, 2021
The river was beautiful and the sites on the river were slightly quieter, but the entire campground sits close to the main road and traffic was loud. They were able to accommodate us moving to a river site our first night, but we cancelled our second night (no refund). I typically don't mind these inconveniences for just a night, but we planned to spend 3 full days and had hoped for quiet.
CAMPGROUND RESPONSE / COMMENTS:
You made your reservation online at the last minute. You took our last spot. You weren't happy so we moved you to a river site. When you decided to leave you knew there was no refund. We did everything we could to make sure you had a positive visit.
Aug 29, 2021
Very nice, clean campground on the river. KOA employee guides you to and onto your site. Trash is picked up daily from your site. Firewood and propane can be ordered and delivered to your site. Laundry facility is very clean.. Many nice little decorations and touches around the campground. New bathrooms recently installed.
Aug 29, 2021
We camped near the river which was wonderful. The pool is small and the wifi iffy. The campground was quiet. Nice dog park.
Aug 28, 2021
Extremely nice KOA. Very clean, well maintained and sites are level with plenty of shade
Aug 28, 2021
Beautiful site, friendly employees, would definitely stay here again when traveling up north.
Aug 28, 2021
Always a pleasure. The new owners have made many improvements.
Aug 28, 2021
We enjoyed our stay at your campground this past weeks. All the employees were very kind and courteous while we were there. We were in a 36' Class A MH and had plenty room. Our site was gravel but level. Several access points to the river. We would definitely stay again if in the area. Thank you, Donna
Aug 28, 2021
Perfect overnight stay, exceeded expectations! This KOA recently received a overhaul w/new owner and it shows as new! Everything updated. Warmly greeted with our name on a welcome board (amazing!) & staff that couldn't be nicer! Awesome site by the River, plenty of room between sites. Immaculate landscaping & great signage. Suggestion: move or hide the dumpsters and you will be perfect!
Aug 27, 2021
Great site, clean and staff are extra helpful and accomodating!
Aug 24, 2021
We were only there for a quick overnight, arriving after the office closed and departing before they opened; however, the front desk people were onsite very early and came right out to help us. They were very friendly and welcoming. Would return based on our interactions with them! Great location, bathrooms were modern & clean, cabin clean, pool clean, grounds well kept. Would stay again.
Aug 23, 2021
We recently stayed 9 nights and I believe we had the biggest site. The site was perfect for us and our 3 dogs. We had a nice view of the river. The one downside is the road noise from Rte 302, not a deal breaker though, we will definitely stay here again.
Aug 23, 2021
Our stay was amazing. Only issue was the motion light at the bathrooms kept going on and off while we were trying to enjoy a fire.
Aug 23, 2021
Absolutely beautiful. Very clean, staff was so friendly and amazing. Made us feel right at home. It's a smaller KOA but don't let that fool you. There still is plenty of activities for the kids to do from the pool, the river to tie dye! We had a blast and will be returning!
Aug 23, 2021
Great campground for a smaller campground. Being on the river was awesome. Friendly staff and super clean everything!
Aug 23, 2021
Great staff. Friendly and accommodating. The campground is impeccably kept. Great location.
Aug 23, 2021
The stay was excellent and the staff was extremely friendly and helpful. My only recommendation would be to upgrade the WiFi for better service. It worked, but was slow
Aug 23, 2021
The hosts were amazing the grounds were beautiful always something to do. Excellent site we will be back.
Aug 23, 2021
Biggest issue is that the pull through sites are near RT302 and you hear a lot of road noise. Cell service it little to none. There are a few area's that you can get one bar. If in your camper or it raining you lose cell service. Campground WiFi didn't work or was very slow at times. Otherwise sites are large and campground is clean. Staff was friendly.
CAMPGROUND RESPONSE / COMMENTS:
Thank you for staying with us. We are in the mountains of New Hampshire and cell service is hard, however if you put your phone on wifi calling most can call out.
Aug 22, 2021
We had a lovely stay…many upgrades this season…staff very conscientious and friendly. Facilities very very clean. One of our favorites!
Aug 22, 2021
It's a small campground but it's well maintained and clean. The pull through sites are good size, hook-ups are new, staff is wonderful, good water pressure and access to river is great. Wi-Fi is spotty and at times not working (no Verizon signal either), road noise is loud from 5am to about 8am then quiets down. A noise barrier by the road might improve noise levels. Worth a short visit.
Aug 22, 2021
Always very peaceful and clean
Aug 22, 2021
Was told over the phone that this was a secluded tent site away from everyone else that couldn't be further from the truth as the dog path and path that leads to the river had constant foot traffic and golf carts going by next to our tent site if you want to make these secluded sites then I suggest you move them to be right on the river and make the dog path a loop in the wooded area and not a ten
CAMPGROUND RESPONSE / COMMENTS:
When you make your reservation at the last minute and want to stay for a week, we did our best to put you in an area that was away from the busyness of the campground. You were given the option to move across the bridge for more privacy, you didn't want to move.
Aug 21, 2021
Beautiful site with river behind us. Eagles, ospreys and more. Owners and staff very nice and helpful! Great base for exploring the Notch area!
Aug 21, 2021
We have stayed at a number of KOA's across the country but this one stands out. Super friendly and polite staff greeted us and went out of their way to be helpful. It has a fun family vibe with cheery outside decor, including nice flower beds and an attractive small water fountain. Large pavillion and a pool. It has a clean well maintained dog park too ! Two thumbs up for this location !
CAMPGROUND RESPONSE / COMMENTS:
Thank you for your kind words. We hope you will come back and see us again.
Aug 20, 2021
The bathroom near our hut was always occupied. I had a 3 and 6 year old with me. There needs to be outhouses installed
CAMPGROUND RESPONSE / COMMENTS:
Thank you for staying with us. We have two different locations for the bathrooms, if the family restroom was filled you could have used the others.
Aug 20, 2021
Staff was super friendly and helpful. We will definitely be back. My kids LOVED it and can't stop talking about it.
CAMPGROUND RESPONSE / COMMENTS:
Thanks for staying with us. We are glad that your children can't stop talking about us, I hope that means you will be back.
Aug 19, 2021
Loved the location and everyone was super nice. Cabins where really comfortable and clean. Just not enough bathrooms due to the really large family style bathrooms.
Aug 19, 2021
Great Campground! Beautiful and well maintained with many new features. Staff was very friendly and helpful. We would highly recommend and look forward to returning.
Aug 18, 2021
The campground was lovely very welcoming and attention to all details. The access to the river was not easy the steps ended and then it was mud or grass very uneven and hard to get down. Our site was facing the road (my fault for booking i thought it was a little road) it was very loud all day and started again at about 4 in the a.m. we live in a very quiet area in VT. The staff was excellent!
Aug 17, 2021
Very nice facilities. Staff excellent, very friendly, helpful and diligent in being available throughout the day.
Aug 17, 2021
The campground is very well kept and location is fantastic. We'll be back,
Oct 13, 2021
Stayed for Columbus Day weekend, three nights, tent site 9, by the river. Spacious, grassy, wonderful river views, good picnic table and fire pit and shade. Immaculate campground, excellent bathrooms, dishwashing area. Friendly and helpful staff, fun little activities - bingo, Halloween tick or treating for kids. Quiet neighbors. Camped with three people: two adults, one 11 year-old. Good location, a few miles from grocery, walmart, home depot, fast food, gas. but the campground is quiet and serene and natural, no hint of commerce.
- rickl395 on Trip Advisor
Oct 08, 2021
We were lucky to have 3 nights stay there during the peak foliage of White Mountain National Forest. With fall colors everywhere, the campground was very beautiful. The site overall was very clean and well managed. The staffs were friendly. The only concern I would say was the missing of the cell signal. Lucky that the campground provided WiFi was working just fine, even though it was sometime on and off. It will be appreciated if the host can improve the WiFi signal strength a little bit.
- A L on Google
Oct 07, 2021
Very nice only 5 miles off I-93 on rt-302 and close to Littleton and many services close by Very nice sites
- Richard Smith on Google