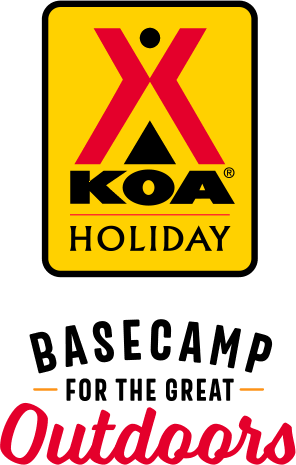 KOA Holiday Campgrounds
Whether you're exploring the local area or hanging out at the campground, KOA Holidays are an ideal place to relax and play. There's plenty to do, with amenities and services to make your stay memorable. Plus, you'll enjoy the outdoor experience with upgraded RV Sites with KOA Patio® and Deluxe Cabins with full baths for camping in comfort. Bring your family, bring your friends, or bring the whole group – there's plenty of ways to stay and explore.
KOA Holidays Feature:
RV Sites with a KOA Patio®
Deluxe Cabins with full baths
Premium Tent Sites
Group meeting facilities
Directions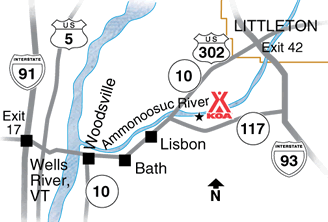 Exit 42 from I-93: Go west on US 302 5 miles.
Exit 17 from I-91: Go east on US 302 18 miles.
Use GPS system at your own risk! Please refer to a road map or call the campground.
Get Google Directions
Oct 13, 2021
Great people, great space, great service
Oct 04, 2021
Our stay was amazing! Every staff member we interacted with was so nice and helpful. They even delivered firewood to our campsite! The welcome board with the names of guests checking in was such a nice touch as well as the Halloween weekend activities. I can tell so much hard work and thoughtfulness goes into running into this KOA. I can't wait to come back next summer!
Sep 17, 2021
Fantastic! Smaller venue, just my style.
CAMPGROUND RESPONSE / COMMENTS:
Thanks for staying with us. We hope you come back and stay with us again.
Sep 13, 2021
Fantastic Staff, clean facilities, great riverside sites. However the proximity of Route 302 really spoils the opportunity for a tranquil atmosphere.
Sep 13, 2021
We biked in and stayed at a tent site...beautiful site right be the river. The bathrooms were immaculate and showers were hot with great pressure. The owners were very nice and diligent about service...I ordered wood when I checked in and it was delivered to our site before we could ride our bikes around the short curve to get there! All good and highly recommend!
Sep 07, 2021
My friends and I stayed for Labor Day weekend and were pleasantly surprised by how well managed the camp ground was, the helpfulness and kindness of the staff and, the close proximity to town.
Sep 07, 2021
we have now stayed at this particular KOA twice and it is definitely a favorite. The location is beatiful, the campground is always very clean, and the staff are SO friendly each year. We love staying at this location and can't wait to come back.
Sep 07, 2021
Great campground that is very clean. Love the sites right next to the river.
Sep 07, 2021
The staff was so friendly. I can't say enough great things about this campground. I can't wait to go back with my family!
Sep 05, 2021
This KOA is probably the best one in the KOA family. If the other KOA Kampgrounds are at least 30% this one, I will only stay at KOA's.
Sep 01, 2021
Everything at this campground is very clean and well maintained. Every staff member we interacted with was very pleasant and helpful and we will definitely come back.
Aug 30, 2021
One of the best campgrounds we have stayed at. The people that run it were very accommodating and friendly. It was nice that they delivered wood and had activities for the children to do. The whole place was neat and clean and at an excellent location. We would definitely stay there or happily recommend this koa again.
Aug 30, 2021
It was great! The facilities were kept impeccable and they had a well oiled machine! We will definitely be returning :)
Aug 30, 2021
Was wonderful super friendly staff , very helpful with any needs . Tie dye shirt was a lot of fun
Aug 23, 2021
The hosts were amazing the grounds were beautiful always something to do. Excellent site we will be back.
Aug 22, 2021
Was told over the phone that this was a secluded tent site away from everyone else that couldn't be further from the truth as the dog path and path that leads to the river had constant foot traffic and golf carts going by next to our tent site if you want to make these secluded sites then I suggest you move them to be right on the river and make the dog path a loop in the wooded area and not a ten
CAMPGROUND RESPONSE / COMMENTS:
When you make your reservation at the last minute and want to stay for a week, we did our best to put you in an area that was away from the busyness of the campground. You were given the option to move across the bridge for more privacy, you didn't want to move.
Aug 12, 2021
Such a wonderful campground. Staff was amazing and couldn't ask for a more perfect location.
Aug 09, 2021
We had a great stay! The campground had everything we needed and the staff was very friendly and helpful. Would definitely come back!
Aug 06, 2021
The location is great. However, the $20 extra tent she seemed very unfair because it's not mentioned anywhere on the website. Also, the bathrooms, while new and well-maintained, were not very clean.
CAMPGROUND RESPONSE / COMMENTS:
Thank you for staying with us. Your reservation was made online. Under information, the first thing you read is that 1 tent per site, extra tent is $20.00. Our bathrooms are clean often during the day. Its very hard to keep the floors clean with the rain and mud, however our bathrooms are spotles
Aug 03, 2021
Great campground, clean facilities, nice kids entertainment. We had the best camp site, private on the riverside.
CAMPGROUND RESPONSE / COMMENTS:
Thank you for staying with us. We are glad you enjoyed your stay. Please come and see us again.
Jul 26, 2021
Stay was good, campsite was in a great location, just a bit pricy. $10 per person for the extra 2 people we had on the site is very high, The stay (1 night) Was around $70 which is pretty ridiculous considering it was just to rent a grass patch and a picnic table for 1 night
Jul 25, 2021
Awesome place! Clean, friendly staff . Def be back
Jul 25, 2021
Awesome staff! Very clean.
Jul 25, 2021
Beautiful site, excellent facilities.
Jul 21, 2021
Staff was awesome! There was a mix up with my tent sites and they fixed it right away. We will definitely be coming back for many more seasons.
CAMPGROUND RESPONSE / COMMENTS:
Thank you for staying with us. We are so glad that we could get the mistake fixed quickly. It is a beautiful site and so glad that you enjoyed it.
Jul 14, 2021
The staff were very friendly and accommodating, facilities were spotless. I'll be back soon!
CAMPGROUND RESPONSE / COMMENTS:
Thank you for staying with us. We look forward to seeing you again.
Jul 09, 2021
I was very impressed with the campground however we left a night early due to the 3am party that took place the night before in one of the cabins, cranky kids the next day due to this I chose to leave rather then deal with another night of it!
Jul 08, 2021
Nice place, but $42.00 for the thrill of setting up my own tent is a bit overpriced.
CAMPGROUND RESPONSE / COMMENTS:
Thanks for staying with us. I hope you enjoyed the water front site. When you made your reservation you paid for your one night fee.
Jul 04, 2021
Cathy and crew that works there were absolutely fantastic! They were top notch and extremely friendly and helpful. We will definitely be going back!
CAMPGROUND RESPONSE / COMMENTS:
Thank you for staying with us. We do have a fantastic crew this year. We look forward to seeing you again.
Jun 27, 2021
It was great
Jun 25, 2021
Friendly staff, clean campsites and grounds. Bathrooms cleaned daily and are very modern and doesn't have the feel of a "campground" bathroom. When we checked in we were told of a severe weather warning that we were under. We were given options, but we still chose to tent! Nice and quiet spot. Tenting spots are on brook that is soothing. We found several of our friends have stayed here!
CAMPGROUND RESPONSE / COMMENTS:
Thank you for staying with us. So glad that you enjoyed your stay with us. The sounds of the water are truly relaxing. Please come and stay with us again.
Jun 14, 2021
Extremely clean facility and friendly staff!
Jun 07, 2021
I made Littleton KOA a test run for my daughter and I to try motorcycle camping. We had a great time. She is 7 and had so much fun. The staff is excellent and went out of their way for us. Thank you so much. Dan and Ryker
CAMPGROUND RESPONSE / COMMENTS:
Thank you for coming and staying with us. Your daughter is such a sweet young lady. We hope you will bring her back.
Oct 13, 2021
Stayed for Columbus Day weekend, three nights, tent site 9, by the river. Spacious, grassy, wonderful river views, good picnic table and fire pit and shade. Immaculate campground, excellent bathrooms, dishwashing area. Friendly and helpful staff, fun little activities - bingo, Halloween tick or treating for kids. Quiet neighbors. Camped with three people: two adults, one 11 year-old. Good location, a few miles from grocery, walmart, home depot, fast food, gas. but the campground is quiet and serene and natural, no hint of commerce.
- rickl395 on Trip Advisor
Oct 08, 2021
We were lucky to have 3 nights stay there during the peak foliage of White Mountain National Forest. With fall colors everywhere, the campground was very beautiful. The site overall was very clean and well managed. The staffs were friendly. The only concern I would say was the missing of the cell signal. Lucky that the campground provided WiFi was working just fine, even though it was sometime on and off. It will be appreciated if the host can improve the WiFi signal strength a little bit.
- A L on Google
Oct 07, 2021
Very nice only 5 miles off I-93 on rt-302 and close to Littleton and many services close by Very nice sites
- Richard Smith on Google