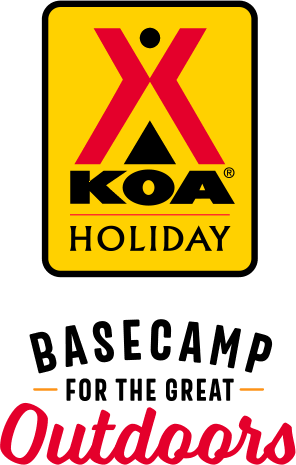 KOA Holiday Campgrounds
Whether you're exploring the local area or hanging out at the campground, KOA Holidays are an ideal place to relax and play. There's plenty to do, with amenities and services to make your stay memorable. Plus, you'll enjoy the outdoor experience with upgraded RV Sites with KOA Patio® and Deluxe Cabins with full baths for camping in comfort. Bring your family, bring your friends, or bring the whole group – there's plenty of ways to stay and explore.
KOA Holidays Feature:
RV Sites with a KOA Patio®
Deluxe Cabins with full baths
Premium Tent Sites
Group meeting facilities
Directions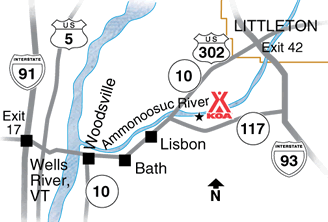 Exit 42 from I-93: Go west on US 302 5 miles.
Exit 17 from I-91: Go east on US 302 18 miles.
Use GPS system at your own risk! Please refer to a road map or call the campground.
Get Google Directions
Oct 14, 2021
It was a wonderful weekend. The folks were very friendly and reviewed all they had to offer for the closing weekend. We really enjoyed our stay and the campground. We are making plans to return next year!
Oct 13, 2021
It was wonderful. The campground is so clean and management does a fantastic job job with everything.
Oct 13, 2021
Grounds were immaculate and picturesque. Staff was warm, friendly and had fun activities planned throughout our stay. Absolutely coming back!
Oct 13, 2021
We had an awesome time at the KOA in Littleton! The kids had a blast with all of the Halloween events and activities for the weekend. Everyone that worked there was incredibly awesome. The location is amazing and beautiful as well.
Oct 13, 2021
We really enjoyed our long weekend stay at Littleton KOA. The grounds were beautiful and nicely maintained. Staff were nice and friendly. My only concern was the site I was on was directly in earshot to the main road which was very noisy. All in all we will be back and will ask to have a site overlooking the beautiful river!
Oct 13, 2021
Very nice campground. Everyone is so helpful and nice. Love this place.
Oct 13, 2021
We love this KOA. Lots of activities and the staff is amazing. This is our go to camping spot.
Oct 13, 2021
We love the staff at this KOA! They have so many activities and make it such a fun family friendly environment. The campground is super clean and taken care of. We cannot wait to go back next year!
Oct 13, 2021
Everyone associated with this location where wonderful. The decorations and activities specifically set up for Halloween where delightful.
Oct 13, 2021
Excellent Staff, outstanding people.
Oct 10, 2021
We stayed 2 nights this October and visited the VINS, Quechee Gorge and Calvin Coolidge Historic Site. It was a perfect location for all 3! Showers were close by and clean. The campground looked very well maintained!
Oct 10, 2021
Very nice park
Oct 09, 2021
Beautiful, clean campground. It was nicely decorated for Halloween. We had a great site on the river. Everyone was very friendly. We would definitely return if in the area
Oct 09, 2021
Wonderful RV pad on the river-best campsite we have ever had so far!
Oct 07, 2021
Perfectly clean, friendly guests and staff, made this a campsite you could all home.
Oct 07, 2021
Very nice Campground with some back ins along the river and long pull throughs.
Oct 07, 2021
Upon arrival which was at 12 noon, we were informed by very unfriendly staff that we would have to pay a $25 early arrival fee. We had already paid a $10 fee to select our sites. We paid the extra fee and were escorted to our site by another unfriendly escort. Our site was extremely muddy, it was raining, and never dried up. The pads have not seen new gravel in years and were mud. Worst KOA.
CAMPGROUND RESPONSE / COMMENTS:
I think your watches were a bit off. You showed up at 11:15 Wanted to be on site and hooked up before your game started at noon. Yes if you arrive before noon we do charge an early check in fee. We had over an inch of rain that evening and yes we did have mud!
Oct 05, 2021
Sadly it rained almost the entire time so we didn't get to do much. Retiring next year hopefully better weather
Oct 04, 2021
Nice campground. Well taken care of. Spent 4 nights and were pleased.
Oct 04, 2021
Rained all weekend but we still had a great time. Staff was friendly and lots of activities planned and executed well.
Oct 04, 2021
Had a nice stay. Very relaxing week. Just whis the weather had been a little nicer. Know you have no control over that. Lol. May go back again at some point.
Oct 04, 2021
Great stay, Super clean! Only negative was the road noise from RT302.
Oct 04, 2021
It was a rainy weekend and yet we had a fantastic experience. The sites are spacious, very well maintained, have high end amenities, and beautiful views. This campground is very family-focused and even though it was the end of the season, the activities were endless. The staff is incredibly warm and inviting and genuinely enjoy what they do.
Oct 03, 2021
Campground was clean and staff friendly. Our only issue was constant traffic noise on sites close to 302. Sites along river were better.
Oct 03, 2021
Everyone was very nice, facility was super clean, love the area. Only minus was the road noise but that was far outweighed by the pluses.
Oct 02, 2021
Beautiful site on the river. Small campground is a good location for visits to Franconia Notch and Littleton.
Oct 02, 2021
Loved this campground. Well maintained & superb staff!!
Oct 02, 2021
A wonderful campground. We really enjoyed our site right by the river. The grounds and facilities were in great shape and the staff was very friendly.
Oct 02, 2021
Great camp, nice people, clean bathrooms. We will be back!
Oct 02, 2021
We had lot 31 and it was awesome great fire pit and river view
Sep 30, 2021
Friendly staff. Nice campground, exceptionally clean. Probably one of the nicer KOA we've stayed in.
Sep 29, 2021
Small sites, close together. My cable hookup didn't work, the man from that worked there looked at my tv, told me to rescan it and left, I hooked in to the site next to me till someone moved into it and a different staff person got a splitter so we could share it ( the Ryder Cup was on :) )
Sep 28, 2021
Great staff great location
Sep 28, 2021
very well maintained and clean campground and facilities; WiFi is weak
Sep 27, 2021
Our weekend stay 9/24/2021 was extremely enjoyable at the Littleton, NH KOA. Lisa my wife and I both agree the facilities are A++ as are the KOA staff we encountered. Restrooms are appointed on another level and were spotless. IF you are able to reserve one of the riverside back-in sites, you will not regret it. Camping R&R at its BEST! Crum Bum Bakery is a must also.
Sep 27, 2021
This was our second stay there this year, will definitly not be our last. Quiet clean campground with friendly helpful staff. We had the same site both times #17 and really enjoyed ourselves.
Sep 27, 2021
Great site, friendly staff. Will be back
Sep 27, 2021
Great place loved the Hospitality, view was great of the river. Was not noise and wood was dry made for a great fire. Would highly recommend camping there.
Sep 27, 2021
This was one of the nicest KOAs we've ever stayed in, it was clean, well tended, classy, and full of amazing activities for the kids. The river was gorgeous, very dog friendly. Both cabins and RV sites were excellent. Only two minor complaints - WiFi was spotty, and, while most employees were super friendly, one woman (the owner I think) was very prone to shouting at the kids.
Sep 26, 2021
Beautiful location on a river. We only stayed one night, but the staff was friendly and helpful and the atmosphere was great.
Sep 25, 2021
Beautiful site by the river! It was quiet and friendly. Clean bathrooms and showers.
Sep 24, 2021
Outstanding, the park is really cleaned up and has great people. We will be back.
Oct 13, 2021
Stayed for Columbus Day weekend, three nights, tent site 9, by the river. Spacious, grassy, wonderful river views, good picnic table and fire pit and shade. Immaculate campground, excellent bathrooms, dishwashing area. Friendly and helpful staff, fun little activities - bingo, Halloween tick or treating for kids. Quiet neighbors. Camped with three people: two adults, one 11 year-old. Good location, a few miles from grocery, walmart, home depot, fast food, gas. but the campground is quiet and serene and natural, no hint of commerce.
- rickl395 on Trip Advisor
Oct 08, 2021
We were lucky to have 3 nights stay there during the peak foliage of White Mountain National Forest. With fall colors everywhere, the campground was very beautiful. The site overall was very clean and well managed. The staffs were friendly. The only concern I would say was the missing of the cell signal. Lucky that the campground provided WiFi was working just fine, even though it was sometime on and off. It will be appreciated if the host can improve the WiFi signal strength a little bit.
- A L on Google
Oct 07, 2021
Very nice only 5 miles off I-93 on rt-302 and close to Littleton and many services close by Very nice sites
- Richard Smith on Google