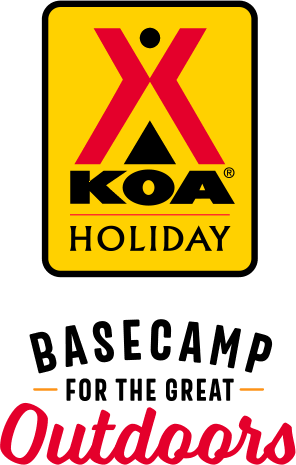 KOA Holiday Campgrounds
Whether you're exploring the local area or hanging out at the campground, KOA Holidays are an ideal place to relax and play. There's plenty to do, with amenities and services to make your stay memorable. Plus, you'll enjoy the outdoor experience with upgraded RV Sites with KOA Patio® and Deluxe Cabins with full baths for camping in comfort. Bring your family, bring your friends, or bring the whole group – there's plenty of ways to stay and explore.
KOA Holidays Feature:
RV Sites with a KOA Patio®
Deluxe Cabins with full baths
Premium Tent Sites
Group meeting facilities
Directions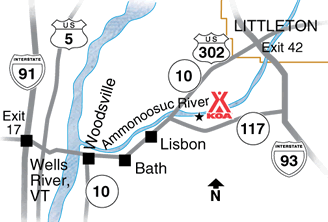 Exit 42 from I-93: Go west on US 302 5 miles.
Exit 17 from I-91: Go east on US 302 18 miles.
Use GPS system at your own risk! Please refer to a road map or call the campground.
Get Google Directions
Nov 13, 2020
Loved our site looking out over the river. So peaceful.
Oct 15, 2020
very friendly staff and welcoming atmosphere
Oct 12, 2020
Beautiful campground. Very clean bathhouse and facility. Gorgeous creek views. We will return for sure!! Thank you for a wonderful place to camp.
Oct 10, 2020
We had problems with the 30 app circuit in our site it was heating up and going off. I changed to the 50 app with a dog one and everything worked fine. Site 59 the left 30 app circuit.
Oct 10, 2020
The park was very well maintained. The bathrooms and laundry were spotless! We enjoyed our site near the river. There were a number of things for kids to do. One small improvement would be to have the laundry open later than 5 pm...but perhaps those are reduced hours as the camping season is coming to a close. Would definitely recommend!
Oct 10, 2020
Nice campground. Clean and simple. Very friendly staff. Our only complaint is it is on a very busy and loud road.
Oct 09, 2020
Clean and the staff were really friendly, we enjoyed it very much.
Oct 07, 2020
I loved the location along the river, not too far from town. The staff was very friendly and helpful. I loved the size of the campgrounds too. My only complaint is the showers could've been bigger/better. Oh, also I was expecting a hot tub from the map online but when I got there, they said they'd gotten rid of the hot tub and it was an old map online. Nooooo!!!
Oct 07, 2020

Loved the location on the river. Grounds were well kept and amenities were clean and easy. My only critiques would be the mattresses in the cabin were incredibly uncomfortable and we had to buy a $50 sleeping pad to make it tolerable. Also lack of bathroom in our cabin was tough with people who need to go to the bathroom during the night when it's cold and a bit of a walk to the public bathroom.
Oct 07, 2020
Very cleaning and friendly.
Oct 07, 2020
The staff was extremely friendly and helpful. They allowed me recharge my heated socks batteries overnight.
Oct 06, 2020
It was relaxing, friendly people, and close to alot of things.
Oct 06, 2020
It was great. Clean, and nice area. Those in our group that rented cabins slept terrible on those mattresses, hope they'll be replaced. Overall we want to return next year! Thank you.
Oct 06, 2020
It was perfect! No complaints really. Staff was kind and helpful and quick to respond to any questions or concerns. My only critique would be that my partner, my family, and I all had trouble finding all the info we needed about our stay when we booked. We didn't even know which cabin we were staying in until we arrived or what type of resources were provided like electricity in the cabins.
Oct 06, 2020

Lovely staff, plenty of amenities, very clean, and pretty location!
Oct 05, 2020
Everyone is so friendly and helpful!!
Oct 05, 2020
Very pleasant. Hope to be able to go back next season. Thank you.
Oct 04, 2020
Nice campground and the staff was very friendly. The traffic noise from 302 is a deal breaker for me though. Hope they can find a way to make it a little quieter.
Oct 04, 2020
Very clean, pretty, small campground with a friendly checking staff. Located on a small rushing River, the view was nice. I dont think this a good place for swimming or kayaking, but probably Good for fishing. I rated this a 4 because the only bathrooms were behind the checkin/store which were sparkling clean. However, they were building a new bathroom in the camping section.
Oct 02, 2020
Campground is lovely , the river view beautiful. A little noisy being right by the road but the staff was very friendly and helpful. We will definitely be back .
Oct 01, 2020
The staff at this location is fantastic! They go out of their way to make sure your stay is perfect. The location is clean and inviting. We will definitely be back again.
Oct 01, 2020

Perfect stay. Very clean. Emoyees very very nice. We will be back next season. Thanks for a nice stay.
Sep 30, 2020
People were friendly, and the grounds were immaculate
Sep 30, 2020
Loved the Patio with table chairs and fire ring so nice and clean!!
Sep 30, 2020
We had a lovely stay on a river front site, a prime site! We really enjoyed the peacefulness if this small campground and the fall foliage in the river was stunning. A big thank you to Kathy the owner for helping us out during our stay. We would definitely camp here again. Only 20-30 minute drive to the beautiful Franconia Notch State Park and lots to do in the area of the white mountains.
Sep 30, 2020
We really enjoyed our stay . We planned to stay for 4 days but because campground is really beautiful and staffs are friendly , we extended our stay for another 2 days . Bathroom is really clean . Cleanest I've ever been to a campground . Also a good base camp for hiking Franconia area . Thank you for the lovely accommodation ! We will surely be back . - 2 ladies
Sep 30, 2020
We had a great stay. I was so impressed by the cleanliness & thoughtful touches at this campsite. We had a tent site along the river & I especially enjoyed hearing the water during the night.
Sep 29, 2020
Awesome friendly staff..... showers and services were great...... I didn't see any "recycling" bins.
Sep 29, 2020
It was very family friendly and well maintained sites. We have enjoyed thoroughly.
Sep 29, 2020
Excellent people skills from all staff makes a huge difference. Place was neat and clean good value
Sep 28, 2020
Very relaxing and all campers very friendly and it was nice and quiet
Sep 28, 2020
Quiet. Clean. Small. Beautiful natural features.
Sep 28, 2020
We had a wonderful stay! Staff were friendly and helpful.
Sep 28, 2020
Bathrooms were very clean & the staff were all really friendly. They had a movie night and everyone was respectful.
Sep 28, 2020
We had a wonderful time. Hosts were very friendly and the grounds were very well kept!
Sep 27, 2020
We truly enjoy this campground beside the Amonoosuc River. The campground has new owners who have wonderful plans to make it even more pleasant. It's fairly quiet, but the 302 traffic can be heard. It does not detract from the ambiance fortunately. The staff are helpful and readily available.
Sep 27, 2020
Cable system was difficult to set up and use requiring more than just connecting and letting your TV scan for channels. Wi-Fi signal was medium at best. Otherwise the campground was nice and the hosts were very helpful.
Sep 27, 2020
Very clean. Beautiful setting. Awesome staff- friendly& helpful. Will definitely be back! Thank you.
Sep 26, 2020
Very enjoyable stay. Very quiet, nice long walks with our Dobie along the river. Very clean. Staff Doris and Kathy are so sweet. Wi-Fi and cable worked well. No problems with all of the hookups. Look forward to returning someday in the future.
Oct 07, 2020
Our little teardrop trailer backed right up to the beautiful Ammonoosuc River. Such a beautiful sight with the river and all the beautiful foliage! Lovely to hear the water running through the window. Even lovelier to be sitting out there in our chairs enjoying the water and eventually a campfire into the evening. We have thoroughly enjoyed our stay here in plan on returning. The host are very friendly and accommodating. Even had our wood delivered right to our sight! They have a great little Camp store with Essentials and gifts. They have great bathroom and shower facilities that are being kept extremely clean following covid-19 protocol. They have a very nice laundromat and an outdoor dish washing station too. If you want to stay in a really nice campground that's close to beautiful hiking spots as well as historic towns this is the place to come!
- Diane Shaw Sawyer on Google
Oct 05, 2020
Clean sites, nice owners and great view of the river.
- Sheila Quick on Google
Oct 03, 2020
Had a space right by the river! Very clean, beautiful park.
- Dianne Joseph on Google