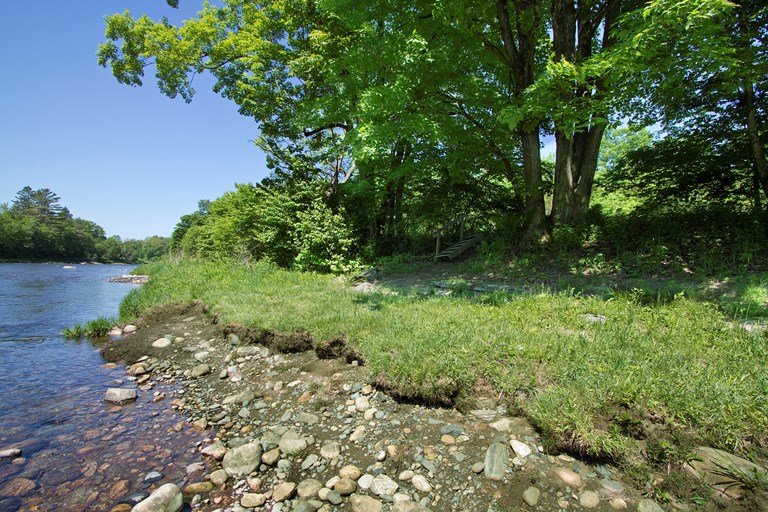 Littleton / Franconia Notch KOA Reviews
Directions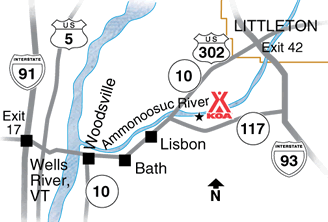 Exit 42 from I-93: Go west on US 302 5 miles. Exit 17 from I-91: Go east on US 302 18 miles. Use GPS system at your own risk! Please refer to a road map or call the campground.
Get Google Directions
Aug 09, 2020
We enjoyed our stay here! It is clear the owners are working very hard to maintain and beautify the grounds. The bathrooms were very clean! We loved our spot along the river and had plenty of space to spread out. We do wish you offered recycling, we ended up bringing ours home, but others may not have that option. Thanks so much! We'll be back!!!
Aug 09, 2020
Everything was very nice, but I suggest extending the WiFi signal, putting a walkway in between the two cabins in the center for easier access to bathrooms from the back loop, and perhaps dumping some sand upstream and creating a bit of a beach in the river. Also, I do wish masks were required for the office and the bathrooms.
CAMPGROUND RESPONSE / COMMENTS:
Thank you for your comment. We are still at this point looking into the wifi, to see what we will do to upgrade it. We do have plans to put in a walkway between Cabin 9+10. Some of the office staff choose to wear mask, others do not. We are however behind the plexi glass.
Aug 09, 2020
Superb camp run by friendly and competent people. Beautiful setting. Quiet times were generally observed. Facilities clearly taken care of . Bathrooms (including showers) spotless! Downsides: No cell reception (AT&T) and no WiFi (Kabin 01). This put a major crimp in terms of planning (weather) and maintaining our professional lives. Digital access is a major factor in deciding our next campsite
CAMPGROUND RESPONSE / COMMENTS:
Thank you for your comments. We can not change the fact that there is no cell service here in the mountains of New Hampshire. We are looking into seeing what can be done about the wifi at the campground.
Aug 08, 2020
Having been coming here for years I must say the new owners have done a great job in a short time. Loved the patio set-up, new river access and all the work done on the overall park. Only thing missing from our site was a 50 amp power hook-up. I look forward to our next visit!
Aug 08, 2020
Beautiful campground with river access! Very clean. Staff is always doing work to make improvements. Would definitely stay again.
Aug 08, 2020
Great people working Very friendly
Aug 07, 2020
It was a wonderful stay! My family and I enjoyed everything. The cabin was extremely clean, as was the porch and deck. Love that furniture and a grill were provided. Can't wait to go back next summer!
Aug 07, 2020
I really liked the facility, but the cabin we stayed in was very smoky. Seems like maybe a previous visitor was smoking cigarettes in there.
Aug 07, 2020
We were assured on the phone two days prior to our visit that there would be sufficient WIFI as well as a lounge area to take a phone call in. However this was not the case and that was our main reason for choosing this KOA over a different campsite - not the best experience at the end of it all.
CAMPGROUND RESPONSE / COMMENTS:
Thank you for your comment. We are sorry that you were not able connect, as our wifi is spotty when the campground is full. Phone service here in the mountains is near impossible. People can connect while near the office. I'm sorry you were misinformed.
Aug 06, 2020
Love this place. 2nd time there. But this time put next to highway. Was very noisy. Maybe think about putting more trees in or really a fence to deflect sound. Was distracting & others around me say the same. But the new owners are doing a great job with upgrades, directions for cable need to be better. Had to face time son who's a sound engineer to get it going. Internet great!
Aug 05, 2020
Nice sites , great staff. We're coming back later this month. One of the best KOA We've stayed at!
Aug 05, 2020
Very pleased with all aspects.
Aug 05, 2020
We enjoyed our stay. The scenery is very nice with the river running by next to ou camp sight #35, very relaxing. The staff were very helpful and friendly. Thank you very much for a good time. We will be back. JDWebster
Aug 04, 2020
We loved our stay at this KOA. A few suggestions: Install 30 amp at sites and not just 20; dog park gate was difficult to use. Other than those issues, this KOA is wonderful, especially with the river running along the campground. We loved floating down the river and with easy access to it! Had a terrific time and will return.
Aug 04, 2020
Nice and quiet. Beautiful camp ground. Loved how it was not crowded and very relaxed. Would definitely stay again.
Aug 04, 2020
We always have an amazing time staying here! The grounds are beautiful and we love having a campsite by the river. The staff is incredible. Everyone is so welcoming. One of our favorite places to stay!
Aug 04, 2020
Very clean and quiet. Bathrooms were continously kept clean, staff was friendly!
Aug 03, 2020
1st KOA membe/lodger.1st time happy koa member.Not happy w/lodger/mask use.Women's showers/bathrooms so quick to pull mask down like it is a freedom to breath room instead of pulling mask down to brush teeth or to shower.Very scary brought my own wet wipes&lysol wipes&hand sanitizer.So many don't take it seriously.Ground beautiful.Only "noise complaint" was A/C from RV units too close to cabins!
Aug 03, 2020
cute little campground, well-maintained, friendly staff. loved swimming in the river. road is kind of close, so a little noise, but not too bad. Would stay again when in the area.
Aug 03, 2020
It was a nice campground but very small and close the main road. Beautiful tent sites right on the river. Sites are pretty close together. You can go in and swim but I would recommend buying water shoes. Within close distance to waterfalls and hiking.
CAMPGROUND RESPONSE / COMMENTS:
Thank you for your comment. Yes, we are a small campground, but that is part of its charm. We have beautiful campsites along the river, and I'm glad you enjoyed it. We did get our water shoe shipment just yesterday, and they are on the shelves ready to sell.
Aug 03, 2020
More 50amp sites and better WiFi
CAMPGROUND RESPONSE / COMMENTS:
Most of our weekends are sold out early in the season, and most people want a full hook up 50 amp site. I'm sorry that you didn't get a full hookup site, I am glad that we were able to accommodate you with only 2 days notice in a W/E site. Our wifi is spotty when the campground is full. Most connect
Aug 02, 2020
Marygrace and I found your campground to be very clean and well laid out. The staff was outstanding in their communications with the campers. We were very impressed with their attention to the campers. There were some distractions, however, that occured which was of little fault of the campground.
Aug 01, 2020
Quiet, clean, employees are helpful and friendly
Aug 01, 2020
Wicked nice and relaxing. Spotless facilities and friendly aide as usual. Our second time back and not our last.
Jul 31, 2020
Nice location, friendly staff
Jul 31, 2020
Everything was very nice; clean bathrooms, well maintained grounds, and especially nice staff. It is located on a lovely river with several access points. There was usually a nice breeze too. The only negative, a big one, was the road noise. If you are a very light sleeper you may have a problem.
Jul 31, 2020

We enjoyed it. Great cabin. Very clean. Bathhouse was updated and very clean. We loved tubing on the river. Thanks for being pet friendly ����
Jul 31, 2020
We enjoyed our stay!
Jul 31, 2020

Jul 31, 2020
The whole area was very well maintained. This a really nice layover spot for families as well as full timers. Excellent Wi-Fi. US 302 is very close so traffic is audible, but not annoying. We'll be back!
Jul 31, 2020
We had a riverfront site and it was so relaxing. The KOA staff were so helpful. We had a small issue after the camp store closed and we called and the manager came right down to help us. We loved our stay and even booked two extra days. Well done!!!!
Jul 31, 2020
Great staff ,clean amenities, cant say enough good things.
Jul 29, 2020
Great place. Everyone that worked there was so nice. Firewood was delivered to site upon request. It's a small campground which was nice because it wasn't overwhelming with people everywhere.
Jul 29, 2020
We had a relaxing weekend. Only problem we had was the cable. Couldn't get it to work.
Jul 28, 2020
We loved our site!! Met a lot of nice people there! We did float down the river a little shallow. The campground was very clean and everyone was very friendly. We would definitely go back!!!
Jul 28, 2020
Very friendly personal, camp grounds are kept very clean and organized. Great access to River for tubing and or fishing. Camper, tents or cabins are available. Had a fabulous weekend.
Jul 28, 2020
We had a great weekend, the Park was very clean and well maintained and the staff was very friendly and helpful, we really enjoyed floating down the river
Jul 28, 2020
Our stay was great! Everyone was very kind and helpful and the campsite was beautiful!
Jul 28, 2020
The whole support staff at this KOA was great. Clean, and well groomed campground. WIFI and cable worked as advertised. No complaints. Hats off to managers Cathy and Bob. They are doing a wonderful job.
CAMPGROUND RESPONSE / COMMENTS:
Thank you for your kind words. We are all working very had to make this campground a truly great place to be.
Jul 28, 2020
Nice well maintained campground. Liked all the thoughtful amenities ie dog walk dog park dishwashing sink kids playground fountain etc. I wish there were recycling bins not simply trash bins.
CAMPGROUND RESPONSE / COMMENTS:
Thank you for your feedback. We too wish that the town would recycle, however they do not. With that being said, if the town ever changes, we will be on board and ready to make the changes that would need to be done.
Jul 27, 2020
Nice small campground not really kid friendly no daily activities for them to do the play ground is outdated and the pool is small and falling apart not heated need a new pool
Aug 12, 2020
This is a great little KOA in beautiful northern NH. We were on site 34: grassy, right on the river, and right next to a river access point. One set of bathrooms located in the main building (a little bit of a walk, in case having bathrooms right next to your site is important). Clean and quiet. We will stay there again and recommend the campground and the site on which we stayed.
- Terri B on Google
Aug 03, 2020
great place, next to a river, which is maybe was high in some places, otherwise knee high, perfect for a slow river fun.. place has cabins, rv sites and tent sites, staff is friendly, bathrooms are clean and cleaned all the time, little store is supplied with most of your needs, after putting out tent up, we went out hiking , we found 4 bundles of fire wood next to the pit, complimentary from KOA, which was a pleasant surprise.. waking up to birds, and ducks and other animals in area was a pleasure. highly recommend for camp stay..
- Jaroslaw G on Trip Advisor
Aug 02, 2020
July 2020 was awesome.I thank the staff for the great trip. They went above and beyond with everyone not just us. They were very friendly and attentive. It is extremely clean and roomy. Close to attractions. Very peacefully with lots of river for everyone (shallow and deep). I think my dog had more fun than us. Campers and dogs alike were very well behaved. The best run campground we have been to. A++. Looking forward to a return visit.
- cminogue130 on Trip Advisor

Littleton / Franconia Notch KOA
Open May 8 - October 13
2154 Route 302
Lisbon, NH 03585
Check-In/Check-Out Times
RV Sites, Tent Sites
Check-in: 1:00 pm, Check-out: 11:00 am
Accommodations
Check-in: 2:00 pm, Check-out: 11:00 am
Operating Hours
Sunday: Open 8:00 AM to 2:00 PM
Monday: Open 8:00 AM to 5:00 PM
Tuesday: Open 8:00 AM to 5:00 PM
Wednesday: Open 8:00 AM to 5:00 PM
Thursday: Open 8:00 AM to 6:00 PM
Friday: Open 8:00 AM to 6:00 PM
Saturday: Open 8:00 AM to 6:00 PM
Littleton / Franconia Notch KOA
Get Google Directions

© 2020 Kampgrounds of America, Inc.