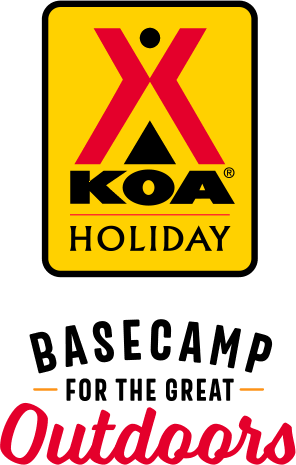 KOA Holiday Campgrounds
Whether you're exploring the local area or hanging out at the campground, KOA Holidays are an ideal place to relax and play. There's plenty to do, with amenities and services to make your stay memorable. Plus, you'll enjoy the outdoor experience with upgraded RV Sites with KOA Patio® and Deluxe Cabins with full baths for camping in comfort. Bring your family, bring your friends, or bring the whole group – there's plenty of ways to stay and explore.
KOA Holidays Feature:
RV Sites with a KOA Patio®
Deluxe Cabins with full baths
Premium Tent Sites
Group meeting facilities
Directions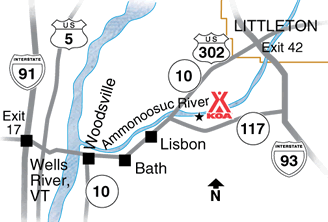 Exit 42 from I-93: Go west on US 302 5 miles.
Exit 17 from I-91: Go east on US 302 18 miles.
Use GPS system at your own risk! Please refer to a road map or call the campground.
Get Google Directions
Sep 23, 2021
Beautiful site on the river Attentive staff! We would definitely come back again!
Sep 23, 2021
Wow what improvements. So glad new owner is investing in this gem as he has in his other location!!
Sep 23, 2021
Great staff, well maintained, sites large and shaded.Easy access to river Recommend to all traveling through the area
Sep 22, 2021
This was our first trip in our camper and all the KOA staff were very helpful and extremely friendly. The campground and facilities are immaculate and we look forward to staying there again in the very near future. Thank you for making it such an enjoyable first-time experience.
Sep 21, 2021
One of the best Campgrounds we have been to in years. Very clean. Very friendly. You can tell these people take pride in their campground .
Sep 21, 2021
Very clean and family oriented. All of the workers are kind and very courtesy. I love it there. Can't wait to go back. The new bathroom is nice but needs more toilet stalls
Sep 21, 2021
My extended family needed a place to stay for my dads funeral. Every hotel was booked in the area due to the Highland games. Last ditch effort I reached out to KOA and they had just the exact number of campsites and cabins needed to house my extended family! They also recognized visiting family to share in the celebration of life and did not make them coming and going difficult! Thank you
Sep 20, 2021
Beautiful decorations for fall. Extremely friendly staff. Nice park that sits on a river. The only negative thing to say, Wifi is not good.
Sep 20, 2021
Great campground! Clean! Quiet!
Sep 20, 2021
Service was excellent, campground very clean. Very well organized and run well
Sep 20, 2021
This park is absolutely gorgeous...river sites have all the glory!!....nice size slips, immaculate grounds....the ladies running the show are super super friendly and helpful........our one comment and this in no way can reflect on the campground and is for future camper information is cell and internet service is very very weak......
Sep 20, 2021
Fantastic campground. Quiet as could be. I never did see the bear, or a moose.
Sep 20, 2021
We were very pleased with the accommodations. Cabin was clean, with very few webs. Bath houses were well tended as well as the property. All the staff were very pleasant.
Sep 20, 2021
We went up for a funeral. The campground was clean, the bathrooms were very nice, check in/out was super easy. Some people had trouble with the wifi but I didn't notice any issues (I was also not on my phone a lot). The family activities were fun.
Sep 20, 2021
Nice location, good facilities.
Sep 19, 2021
The stay went well. The only 2 problems we had was the placement of the propane tank to fill our propane tank and the cable was not coming in well at all. Very fuzzy reception.
Sep 18, 2021
Very impressed with the friendliness of the staff, the cleanliness of the KOA, and the site amenities.
Sep 18, 2021
Pluses were that sites and facilities are clean and attractive. Negatives are- sites are near the somewhat busy road, and areas for walking are limited. Poison ivy along trails should be removed.
Sep 17, 2021
Loved our site by the water. Quiet park, great staff, cute store, lots to do nearby.
Sep 17, 2021
Fantastic! Smaller venue, just my style.
CAMPGROUND RESPONSE / COMMENTS:
Thanks for staying with us. We hope you come back and stay with us again.
Sep 17, 2021
A wonderful camp ground...staff was excellent,friendly,,the grounds are immaculate and nicely decorated for fall. Had a river site that was beautiful.
CAMPGROUND RESPONSE / COMMENTS:
Thank you for staying with us. We try to keep everything neat and clean here, thank you for noticing all of the hard work.
Sep 16, 2021
Everyone was so nice, place was extremely clean and the activities were fun. We will be back!
Sep 16, 2021
Nicest KOA we have ever stayed at! Beautifully decorated, very clean and friendly staff. The person that decorated the office, laundry, restrooms and showers should be commended, a real artistic feel!
CAMPGROUND RESPONSE / COMMENTS:
Thank you for staying with us. We do love our Doris, she is a gift, that could never be replaced.
Sep 15, 2021
Clean resort with lots of cover rather than wide open spaces. Great location in the White Mountains recreation area. Activities available for those that are interested.
Sep 15, 2021
always have a great time when we stay there. we are looking forward to our next stay.we are checking out dates now.will see you next season.
Sep 15, 2021
This is the second time this year we stayed at this KOA. So clean, welcoming and peaceful. Booked again for next year!.
Sep 14, 2021
Nice park on a stream. Close to Franconia Notch SP. Friendly and helpful staff. Clean restrooms and showers.
Sep 14, 2021
The campground was super clean, the sites were spacious, the view on the river was wonderful, the staff was very friendly, and there was a ton of activities for kids! We will definitely be back!
Sep 14, 2021
2nd time staying in L/F KOA. Very much enjoy the campground and exploring the area. Quiet and clean describes this KOA. Best bathrooms of any KOA locations we've stayed at. Only knock is the internet connection….spotty….but then most campgrounds don't do a very good job in this area. This was a mid- September stay so it was less crowded which accounts for the super quiet nights ; )
Sep 13, 2021
We liked this campground a lot! Right on the river with large, shady sites, it was a great base from which to explore the area. A short drive in any direction took us to hiking trails, lakes, great restaurants and charming little towns. The KOA itself has nice amenities and lots of family activities too.
Sep 13, 2021
it was great, staff were very friendly, park was very well kept. was a bit noisy being close to the rd out front but all in all it was great.
Sep 13, 2021
Very nice staff, clean campground.
Sep 13, 2021
Road noise was loud and took away from the stay. Hosts we great .clean bathrooms and overall nice. We would be back but only if we had a site down by the river.
Sep 13, 2021
Fantastic Staff, clean facilities, great riverside sites. However the proximity of Route 302 really spoils the opportunity for a tranquil atmosphere.
Sep 13, 2021
We biked in and stayed at a tent site...beautiful site right be the river. The bathrooms were immaculate and showers were hot with great pressure. The owners were very nice and diligent about service...I ordered wood when I checked in and it was delivered to our site before we could ride our bikes around the short curve to get there! All good and highly recommend!
Sep 12, 2021
Very nice campground. Would stay there again. Recommend the sites that back up to the river. Friendly and helpful staff.
Sep 11, 2021
One of very best KOA's we've ever visited. We had a great site that backed up to the river which was plenty long and really good spacing between sites. Staff was great. Laundry facilities and WiFi were good. Only issue would be the showers are really small and could use updating. Would definitely stay here again if in the area.
Sep 11, 2021
Loved it, beautiful camp ground and lovely cabins
Sep 11, 2021
Very friendly people. Clean and comfortable.
Sep 11, 2021
Very pleasant stay, second time this year. Facilities are top notch and wonderful staff. We are planning to return next year.
Sep 10, 2021
Clean campground with lots of weekend activities. Camp site was not level. Bathrooms, showers and laundry very clean and well maintained. Very pleasant staff.
Sep 09, 2021
Campers are too close together and parking in either direction is allowed which caused me to be completely surrounded by smokers with a total lack of privacy. I could not leave my camper to sit outside and enjoy the fresh air.
Sep 05, 2021
First time at this particular KOA and we are very impressed. We arrived late and helpful staff guided us into our site in the dark. Lots of friendly staff constantly driving around and cleaning. New bathrooms are spacious with hot water and good pressure. Trees between sites which is also nice. Sites are nice and level. Extremely well maintained and well marked paths down to the river. Sitting on the river with a nice cup of coffee was great in the morning. Other campers were friendly and respectful. Only "complaint" was that the wifi was a bit spotty. This turned out to be a good thing. Instead of zoning out into our phones, we played card games, walked around, etc. Great time! We will definitely be back!
- Jennifer Warren-Dyment on Google
Aug 27, 2021
Arrived to see our name on a "welcome board" how amazing is that? First KOA I've seen this at-makes you feel special. Brad & Robin at the counter couldn't have been nicer! Site #32 easy level pull through, although not on the River, great view and directly across from it, highly recommend it. Nice spacing between sites. Got a NH fishing license online & spent some time by the River-no luck but staff said it's a little low and it's been unusually hot. Note: Get the license-staff advised that the TV show "Northwoods Law" frequently makes appearances-so don't risk it! Loved all the new signage, clear this KOA has put a lot of love and thought into everything. Children's area had the sweetest play sets! Great dog park area and plenty of room to walk. Didn't visit the pool but sounded like the kids that were there were having a ball. Yes you can hear the busy highway however, all the positives here greatly outweigh that. I ran back to the store just to check it out and Brad greeted me by my name-wow! Please teach other KOA's how customer service is done. Beautiful grounds-don't hesitate to stop here. Learned new owners purchased this campground last year (it's been there for almost 50 years!) and completely revamped it-great work, it shows!
- Tiggy's Travels on Google
Aug 26, 2021
Great KOA. Loved being on the river.
- Tina on Google