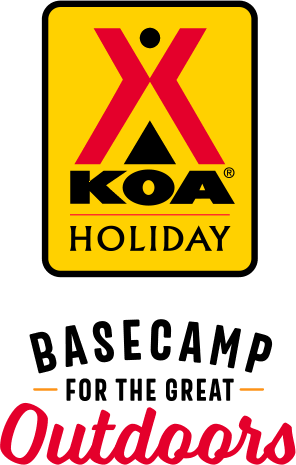 KOA Holiday Campgrounds
Whether you're exploring the local area or hanging out at the campground, KOA Holidays are an ideal place to relax and play. There's plenty to do, with amenities and services to make your stay memorable. Plus, you'll enjoy the outdoor experience with upgraded RV Sites with KOA Patio® and Deluxe Cabins with full baths for camping in comfort. Bring your family, bring your friends, or bring the whole group – there's plenty of ways to stay and explore.
KOA Holidays Feature:
RV Sites with a KOA Patio®
Deluxe Cabins with full baths
Premium Tent Sites
Group meeting facilities
Directions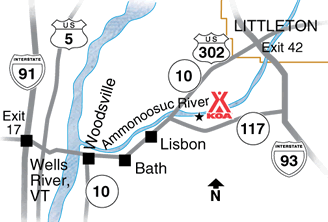 Exit 42 from I-93: Go west on US 302 5 miles.
Exit 17 from I-91: Go east on US 302 18 miles.
Use GPS system at your own risk! Please refer to a road map or call the campground.
Get Google Directions
Oct 14, 2021
Very friendly and helpful! Thank you for making us feel like we were home.
Oct 13, 2021
Perfect stay in Cabin 3 for a long fall weekend. We were there for their closing Halloween festivites over Columbus/Indigenous People's Day weekend. So many great activities for the kids. I would highly recommend if camping or wanting a cabin trip with the family. VERY kid friendly, amazing staff. The cabin was perfect - my husband may never want to tent camp again...
Oct 13, 2021
Wow! The whole crew was just awesome. We came and camped in a cabin with friends. Our kids were treated so well and the whole weekend was amazing. We camp all over New England all summer and this was by far the best stay of the year. Huge shout out to Bob, Doris and all the staff, they made us feel so welcome and their sense of humor was greatly enjoyed! Amy Harris, k04
Oct 06, 2021
It has been 18 years since I have stayed at this KOA and it was just as great as I remember (even better this time around!). The staff was so friendly, the grounds were well maintained, and the bathrooms so clean. There were many different activities planned for kids and adults over the weekend I was there. The next time I am in the area again I can't imagine staying anywhere else.
Oct 04, 2021
Very nice and easy to enjoy this campground ! Staff is wonderful !
Oct 04, 2021
This is a beautiful, well maintained campground. It's very scenic. I love that they have single bathrooms with showers, which were kept clean throughout the day. The staff was very friendly. We enjoyed the activities they offered for the kids. It is also nice that you have a grocery store just down the road. Wifi was hit or miss (mostly miss) but we were there to "get away" so it wasn't a big deal
Sep 28, 2021
Very clean cabin, clean bathrooms, many organized activities for kids.
Sep 27, 2021
Lots of great activities for the kids and the staff was so kind and helpful to my daughter (and us). Great location. We had a great stay.
Sep 27, 2021
Great stay, clean cabin and very clean bathroom facilities for an overnight stay before hiking the Franconia Ridge Loop the next morning (this KOA is about 20 mins N of the trail head). Littleton is a great little town, nice Main Street with restaurants, diners, country stores, etc. Great stay!
Sep 26, 2021
Clean and private
Sep 21, 2021
Very clean and family oriented. All of the workers are kind and very courtesy. I love it there. Can't wait to go back. The new bathroom is nice but needs more toilet stalls
Sep 20, 2021
We were very pleased with the accommodations. Cabin was clean, with very few webs. Bath houses were well tended as well as the property. All the staff were very pleasant.
Sep 16, 2021
Everyone was so nice, place was extremely clean and the activities were fun. We will be back!
Sep 13, 2021
We liked this campground a lot! Right on the river with large, shady sites, it was a great base from which to explore the area. A short drive in any direction took us to hiking trails, lakes, great restaurants and charming little towns. The KOA itself has nice amenities and lots of family activities too.
Sep 11, 2021
Loved it, beautiful camp ground and lovely cabins
Sep 02, 2021
Very friendly and pleasant staff. Felt right at home. Many upgrades since last visit 11 years ago. Very clean grounds and facilities. Highly recommend.
Aug 30, 2021
Nice place, close to shopping areas and tourist destinations. The staff are friendly and accommodating. Not enough bathrooms but is always clean.
Aug 30, 2021
Friendliest staff. So kind and helpful. It made me feel so safe and happy. Deluxe lodge was well stocked and very clean as well as the other facilities.
Aug 27, 2021
Great site, clean and staff are extra helpful and accomodating!
Aug 24, 2021
We were only there for a quick overnight, arriving after the office closed and departing before they opened; however, the front desk people were onsite very early and came right out to help us. They were very friendly and welcoming. Would return based on our interactions with them! Great location, bathrooms were modern & clean, cabin clean, pool clean, grounds well kept. Would stay again.
Aug 23, 2021
Our stay was amazing. Only issue was the motion light at the bathrooms kept going on and off while we were trying to enjoy a fire.
Aug 23, 2021
Absolutely beautiful. Very clean, staff was so friendly and amazing. Made us feel right at home. It's a smaller KOA but don't let that fool you. There still is plenty of activities for the kids to do from the pool, the river to tie dye! We had a blast and will be returning!
Aug 23, 2021
The stay was excellent and the staff was extremely friendly and helpful. My only recommendation would be to upgrade the WiFi for better service. It worked, but was slow
Aug 22, 2021
We had a lovely stay…many upgrades this season…staff very conscientious and friendly. Facilities very very clean. One of our favorites!
Aug 20, 2021
The bathroom near our hut was always occupied. I had a 3 and 6 year old with me. There needs to be outhouses installed
CAMPGROUND RESPONSE / COMMENTS:
Thank you for staying with us. We have two different locations for the bathrooms, if the family restroom was filled you could have used the others.
Aug 20, 2021
Staff was super friendly and helpful. We will definitely be back. My kids LOVED it and can't stop talking about it.
CAMPGROUND RESPONSE / COMMENTS:
Thanks for staying with us. We are glad that your children can't stop talking about us, I hope that means you will be back.
Aug 19, 2021
Loved the location and everyone was super nice. Cabins where really comfortable and clean. Just not enough bathrooms due to the really large family style bathrooms.
Aug 16, 2021
We stayed in one of the deluxe cabins, which was beautiful, clean, and equipped with everything we needed. The outdoor showers and bathrooms were also immaculate. The river was magnificent! The kids loved going in the water and floating on the "rapids." We had our morning coffee while overlooking the river. Downfalls: the pool, which was small and COLD; the playground could use updated equipment.
CAMPGROUND RESPONSE / COMMENTS:
Thank you for staying with us. The campground was purchased last year, and our priority is to upgrade all of the infrastructure. Everything takes time and we are working on a priority list.
Aug 14, 2021
We had a wonderful time everything was clean and the people was super nice. The highway was noisy though .
Aug 11, 2021
Staff was awesome !
Aug 10, 2021
Nice campground. Wifi didn't really work at all, even near the store. No phone reception either. Wish there were additional bathrooms near the tent/cabins.
CAMPGROUND RESPONSE / COMMENTS:
Thank you for staying with us. We did add new bathhouse this year. Perhaps next time you get a cabin with bathroom.
Aug 09, 2021
We stayed at this KOA for a week and we had an amazing time. We are a family of 5 and the cabin was just the right size for us. The kids loved being able to ride off on their bikes and play at the park or in the rec area. Doris is AMAZING and my 2 older children loved participating in all of the weekend activities with her, which were completely free! We plan on coming back next year.
Aug 09, 2021
We loved our stay and had a great time.
Aug 08, 2021
I loved everything about our cabin, *except* the mattresses. They are WAY too hard, which made everyone sore and cranky. I'm going to bring air mattresses next summer! Loved everything else! Location, cleanliness, and kindness of staff. The new bathrooms are absolutely beautiful!
CAMPGROUND RESPONSE / COMMENTS:
Thank you for staying with us. We are getting prices for new mattress next year. We look forward to your return.
Aug 07, 2021
The campground was beautiful, clean and peaceful. The staff were extremely helpful, we will be back!
CAMPGROUND RESPONSE / COMMENTS:
Thank you for staying with us. We look forward to your return visit.
Aug 02, 2021
Nice people, nice little spot. Will stay agin.
CAMPGROUND RESPONSE / COMMENTS:
Thanks for staying with us. Please come and see us again.
Aug 02, 2021
The staff was very friendly and helpful. Bathroom facilities were kept well stocked and clean. And the cabin we stayed in was great. We would definitely come back in the future!
CAMPGROUND RESPONSE / COMMENTS:
Thank you for staying with us. We are happy that you enjoyed your visit. Please come back and see us again.
Aug 02, 2021
Great location! Great facilities! Welcoming and friendly hosts! Have stayed here previously and will certainly stay here again!
CAMPGROUND RESPONSE / COMMENTS:
Thank you for your kind words, we so love hearing them. Thank you for choosing us to camp with.
Oct 13, 2021
Stayed for Columbus Day weekend, three nights, tent site 9, by the river. Spacious, grassy, wonderful river views, good picnic table and fire pit and shade. Immaculate campground, excellent bathrooms, dishwashing area. Friendly and helpful staff, fun little activities - bingo, Halloween tick or treating for kids. Quiet neighbors. Camped with three people: two adults, one 11 year-old. Good location, a few miles from grocery, walmart, home depot, fast food, gas. but the campground is quiet and serene and natural, no hint of commerce.
- rickl395 on Trip Advisor
Oct 08, 2021
We were lucky to have 3 nights stay there during the peak foliage of White Mountain National Forest. With fall colors everywhere, the campground was very beautiful. The site overall was very clean and well managed. The staffs were friendly. The only concern I would say was the missing of the cell signal. Lucky that the campground provided WiFi was working just fine, even though it was sometime on and off. It will be appreciated if the host can improve the WiFi signal strength a little bit.
- A L on Google
Oct 07, 2021
Very nice only 5 miles off I-93 on rt-302 and close to Littleton and many services close by Very nice sites
- Richard Smith on Google