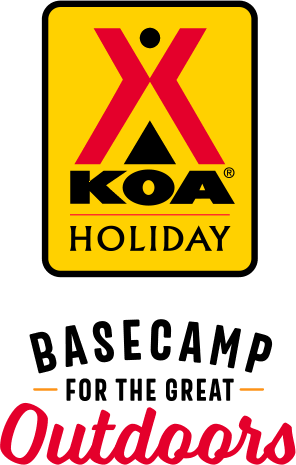 KOA Holiday Campgrounds
Whether you're exploring the local area or hanging out at the campground, KOA Holidays are an ideal place to relax and play. There's plenty to do, with amenities and services to make your stay memorable. Plus, you'll enjoy the outdoor experience with upgraded RV Sites with KOA Patio® and Deluxe Cabins with full baths for camping in comfort. Bring your family, bring your friends, or bring the whole group – there's plenty of ways to stay and explore.
KOA Holidays Feature:
RV Sites with a KOA Patio®
Deluxe Cabins with full baths
Premium Tent Sites
Group meeting facilities
Directions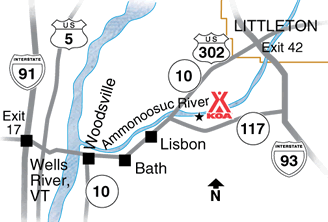 Exit 42 from I-93: Go west on US 302 5 miles.
Exit 17 from I-91: Go east on US 302 18 miles.
Use GPS system at your own risk! Please refer to a road map or call the campground.
Get Google Directions
Sep 28, 2021
very well maintained and clean campground and facilities; WiFi is weak
Sep 27, 2021
Our weekend stay 9/24/2021 was extremely enjoyable at the Littleton, NH KOA. Lisa my wife and I both agree the facilities are A++ as are the KOA staff we encountered. Restrooms are appointed on another level and were spotless. IF you are able to reserve one of the riverside back-in sites, you will not regret it. Camping R&R at its BEST! Crum Bum Bakery is a must also.
Sep 27, 2021
Lots of great activities for the kids and the staff was so kind and helpful to my daughter (and us). Great location. We had a great stay.
Sep 27, 2021
This was our second stay there this year, will definitly not be our last. Quiet clean campground with friendly helpful staff. We had the same site both times #17 and really enjoyed ourselves.
Sep 27, 2021
Great stay, clean cabin and very clean bathroom facilities for an overnight stay before hiking the Franconia Ridge Loop the next morning (this KOA is about 20 mins N of the trail head). Littleton is a great little town, nice Main Street with restaurants, diners, country stores, etc. Great stay!
Sep 27, 2021
Great site, friendly staff. Will be back
Sep 27, 2021
Great place loved the Hospitality, view was great of the river. Was not noise and wood was dry made for a great fire. Would highly recommend camping there.
Sep 27, 2021
This was one of the nicest KOAs we've ever stayed in, it was clean, well tended, classy, and full of amazing activities for the kids. The river was gorgeous, very dog friendly. Both cabins and RV sites were excellent. Only two minor complaints - WiFi was spotty, and, while most employees were super friendly, one woman (the owner I think) was very prone to shouting at the kids.
Sep 26, 2021
Beautiful location on a river. We only stayed one night, but the staff was friendly and helpful and the atmosphere was great.
Sep 26, 2021
Clean and private
Sep 25, 2021
Beautiful site by the river! It was quiet and friendly. Clean bathrooms and showers.
Sep 24, 2021
Outstanding, the park is really cleaned up and has great people. We will be back.
Sep 23, 2021
Beautiful site on the river Attentive staff! We would definitely come back again!
Sep 23, 2021
Wow what improvements. So glad new owner is investing in this gem as he has in his other location!!
Sep 23, 2021
Great staff, well maintained, sites large and shaded.Easy access to river Recommend to all traveling through the area
Sep 22, 2021
This was our first trip in our camper and all the KOA staff were very helpful and extremely friendly. The campground and facilities are immaculate and we look forward to staying there again in the very near future. Thank you for making it such an enjoyable first-time experience.
Sep 21, 2021
One of the best Campgrounds we have been to in years. Very clean. Very friendly. You can tell these people take pride in their campground .
Sep 21, 2021
Very clean and family oriented. All of the workers are kind and very courtesy. I love it there. Can't wait to go back. The new bathroom is nice but needs more toilet stalls
Sep 21, 2021
My extended family needed a place to stay for my dads funeral. Every hotel was booked in the area due to the Highland games. Last ditch effort I reached out to KOA and they had just the exact number of campsites and cabins needed to house my extended family! They also recognized visiting family to share in the celebration of life and did not make them coming and going difficult! Thank you
Sep 20, 2021
Beautiful decorations for fall. Extremely friendly staff. Nice park that sits on a river. The only negative thing to say, Wifi is not good.
Sep 20, 2021
Great campground! Clean! Quiet!
Sep 20, 2021
Service was excellent, campground very clean. Very well organized and run well
Sep 20, 2021
This park is absolutely gorgeous...river sites have all the glory!!....nice size slips, immaculate grounds....the ladies running the show are super super friendly and helpful........our one comment and this in no way can reflect on the campground and is for future camper information is cell and internet service is very very weak......
Sep 20, 2021
Fantastic campground. Quiet as could be. I never did see the bear, or a moose.
Sep 20, 2021
We were very pleased with the accommodations. Cabin was clean, with very few webs. Bath houses were well tended as well as the property. All the staff were very pleasant.
Sep 20, 2021
We went up for a funeral. The campground was clean, the bathrooms were very nice, check in/out was super easy. Some people had trouble with the wifi but I didn't notice any issues (I was also not on my phone a lot). The family activities were fun.
Sep 20, 2021
Nice location, good facilities.
Sep 19, 2021
The stay went well. The only 2 problems we had was the placement of the propane tank to fill our propane tank and the cable was not coming in well at all. Very fuzzy reception.
Sep 18, 2021
Very impressed with the friendliness of the staff, the cleanliness of the KOA, and the site amenities.
Sep 18, 2021
Pluses were that sites and facilities are clean and attractive. Negatives are- sites are near the somewhat busy road, and areas for walking are limited. Poison ivy along trails should be removed.
Sep 17, 2021
Loved our site by the water. Quiet park, great staff, cute store, lots to do nearby.
Sep 17, 2021
Fantastic! Smaller venue, just my style.
CAMPGROUND RESPONSE / COMMENTS:
Thanks for staying with us. We hope you come back and stay with us again.
Sep 17, 2021
A wonderful camp ground...staff was excellent,friendly,,the grounds are immaculate and nicely decorated for fall. Had a river site that was beautiful.
CAMPGROUND RESPONSE / COMMENTS:
Thank you for staying with us. We try to keep everything neat and clean here, thank you for noticing all of the hard work.
Sep 16, 2021
Everyone was so nice, place was extremely clean and the activities were fun. We will be back!
Sep 16, 2021
Nicest KOA we have ever stayed at! Beautifully decorated, very clean and friendly staff. The person that decorated the office, laundry, restrooms and showers should be commended, a real artistic feel!
CAMPGROUND RESPONSE / COMMENTS:
Thank you for staying with us. We do love our Doris, she is a gift, that could never be replaced.
Sep 15, 2021
Clean resort with lots of cover rather than wide open spaces. Great location in the White Mountains recreation area. Activities available for those that are interested.
Sep 15, 2021
always have a great time when we stay there. we are looking forward to our next stay.we are checking out dates now.will see you next season.
Sep 15, 2021
This is the second time this year we stayed at this KOA. So clean, welcoming and peaceful. Booked again for next year!.
Oct 13, 2021
Stayed for Columbus Day weekend, three nights, tent site 9, by the river. Spacious, grassy, wonderful river views, good picnic table and fire pit and shade. Immaculate campground, excellent bathrooms, dishwashing area. Friendly and helpful staff, fun little activities - bingo, Halloween tick or treating for kids. Quiet neighbors. Camped with three people: two adults, one 11 year-old. Good location, a few miles from grocery, walmart, home depot, fast food, gas. but the campground is quiet and serene and natural, no hint of commerce.
- rickl395 on Trip Advisor
Oct 08, 2021
We were lucky to have 3 nights stay there during the peak foliage of White Mountain National Forest. With fall colors everywhere, the campground was very beautiful. The site overall was very clean and well managed. The staffs were friendly. The only concern I would say was the missing of the cell signal. Lucky that the campground provided WiFi was working just fine, even though it was sometime on and off. It will be appreciated if the host can improve the WiFi signal strength a little bit.
- A L on Google
Oct 07, 2021
Very nice only 5 miles off I-93 on rt-302 and close to Littleton and many services close by Very nice sites
- Richard Smith on Google