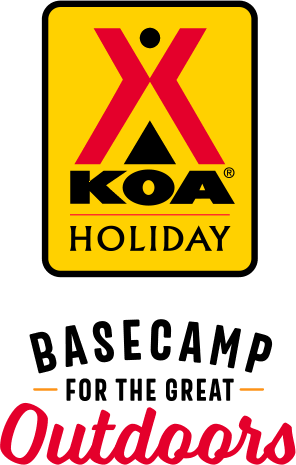 KOA Holiday Campgrounds
Whether you're exploring the local area or hanging out at the campground, KOA Holidays are an ideal place to relax and play. There's plenty to do, with amenities and services to make your stay memorable. Plus, you'll enjoy the outdoor experience with upgraded RV Sites with KOA Patio® and Deluxe Cabins with full baths for camping in comfort. Bring your family, bring your friends, or bring the whole group – there's plenty of ways to stay and explore.
KOA Holidays Feature:
RV Sites with a KOA Patio®
Deluxe Cabins with full baths
Premium Tent Sites
Group meeting facilities
Directions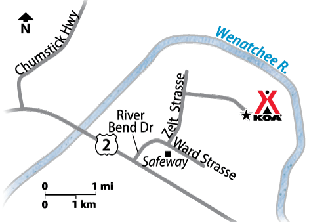 NOTICE!
The new road and entrance into Leavenworth KOA is NOW OPEN!
From Highway 2, turn onto River Bend Dr., follow straight; this road becomes Ward Strasse,
follow past the River Bend Dr. turn off (DO NOT TURN LEFT ONTO RIVER BEND) behind the Safeway,
make the first left after River Bend Dr. onto Zelt Strasse.
Campground entrance is on the right. Follow through campground to the A Frame office to register.
SEE SITE MAP FOR DIRECTIONS TO THE A FRAME OFFICE ONCE IN THE PARK.
Get Google Directions
Jul 26, 2021
Simplemente Excelente ���
Jul 26, 2021
I love the campground and amenities (although the pool was down again). The camp sites themselves are way to cramped. I understand you want as many people there as possible but I feel like I'm traveling coach in a full airplane. Other than that, the location, amenities, cleanliness and staff are excellent!!
Jul 26, 2021
I don't like that KOA literally tries to attach a fee to everything. Extra people, cars, having someone pick you up is an extra charge, etc... I otherwise like the place but not all of the fees.
Jul 26, 2021
2 nights with the family. Haven't stayed in a KOA for decades, but decided to try again. Loved all the offerings (ice cream, movie night, coffee, playground, store, etc.). Access to the Wenatchee River was awesome, and easy. Overall a great stay. One "con" was the nighttime quiet hours aren't enforced at all. Lots of loudness and bright lights abound as we were trying to call it a day. Bummer.
Jul 26, 2021
We were very pleased with our stay! Everyone was so friendly and helpful and the facilities were much better than we ever could have expected. We'll definitely be coming back and brining our friends!
Jul 26, 2021
Facility was great. It was our first time camping there. I did not like our neighbors as they had 4 tents 4 huge vehicles and more family in another section that would come over every evening and stay up till 1:30 am. Vet difficult to enjoy and sleep. There were also car alarms going off at 2-3am almost every night we stayed. Also our other neighbor smoked cigars all evening. River was great.
Jul 25, 2021
i cant say how professional and friendly the staff was. They made it fun. The only complaint i can come up with is that the coffee stand closed at random times. And didnt open till 8 am. Should be open earlier as i saw alot of people waiting. The coffee stand staff was nice but very slow. Anyways thank you we will be back.
Jul 25, 2021
We stayed in a basic cabin. The KOA was cute and clean but overcrowded and very noisy. We hardly could sleep at night with all the noise from surrounding campers and trailers! We like to come in the winter when there is way less people but I don't think we'll come back in the summer again. We could get a hotel for the same price and have a pool (there's was broken) and way less noise!
Jul 24, 2021
Super clean, well managed park w/ lots of host visibility. We saw someone cruising around on a cart multiple times a day, everyday, grooming sites, picking up curbside trash srvc, etc. A+ laundry, showers. Short walking distance to Safeway & bus stop; ride into downtown or into Wenanchee if you need. River access req. clamboring over med/large rocks, swift moving flow as well. We enjoyed v. much!
Jul 24, 2021
Stayed here every summer for years.For past serval years, the park was in serious disarray.We kept coming simply because we love the location on the river.It was obvious this summer that the park was under new management!Clean bathrooms all day, every day!Staff cleaning and assisting customers all day, more movie nights, more crafts, etc!! Excellent improvements! Can't wait to come back!Well don
Jul 24, 2021
My family and I love this campground! Facilities are very clean and everyone is friendly. The short walk to the river, the dogggy park, and the cafe were awesome amenities. We will be back here for sure!
Jul 24, 2021
Super clean cabin and Awesome staff! This KOA ROCKS!
Jul 24, 2021
Had a quiet relaxed time. Too bad the swimming pool was closed
Jul 23, 2021
Beautiful location along the river and close to town. Disappointed to find many of the amenities not currently included in the full price stay.
Jul 23, 2021
Cabin was clean and well-stocked. Two amenities were not available (pool and pancake breakfast) yet there was no reduction in price. Also I was not made aware the pancake breakfast was closed. I was counting on that.
Jul 23, 2021
The KOA is great. Friendly staff and very clean grounds and facilities.. The kids loved it. We had great neighbors. The daily activities and the nightly movie make this place a must return. When the pool is back up and running this place will be perfect for families.
Jul 23, 2021
The cabin was nice. The grounds clean. Quiet at nighttime. But way over-priced and no pool. Just a one-time stay for us.
Jul 23, 2021
Beautiful facility and nice location to town. Well run. Professional and friendly staff. A bit pricy for us to stay a long time but worth it for a short stay.
Jul 23, 2021
The park is very welcoming; it has several activities for the younger ones, the campers all abided by the park rules. The site is close enough to local stores so access is easy.
Jul 23, 2021
The campground was lovely and immaculate. It was very full. Our campsite #84 was too close to the staging center, and there was barely enough room to put out the awning on our tent trailer. The next time I will request a different spot. Lots of nice amenities, the comfort stations were clean and spacious with grouping of restrooms, showers, and laundry. It was a little pricey, but lovely.
Jul 23, 2021
Beautiful location and campsite.
Jul 22, 2021
Was very disappointed that the pool was closed for maintenance especially since the weather was so hot. Our site was narrow, no grass and no shade trees.
Jul 22, 2021
Great people. Clean showers.
Jul 22, 2021
Campground is very nice/ well maintained. For the price you pay… a little overboard. Most of the staff was great, but getting harassed about quiet hours when folks are speaking in a low voice, having a quiet conversation is a little ridiculous. Also charging for guests to just say hi is also out of control. We definitely will find other accommodations next time.
Jul 22, 2021
The grounds were clean, staff was friendly, and there were many fun activities offered. However, the sites were crammed right up next to each other and the tent site we were in was entirely gravel. The camp would do better to take in less people so there is more breathing room. But overall it was still a pleasant experience.
Jul 22, 2021
When we arrived to our camp site, the site was flooded with water from maintenance staff over watering. Hoses and sprinkler were spread across our site the entire stay. The gravel site was extremely muddy and and remained that way through our stay. The cost was $115 a night not counting the nickel and dime $2 dollar charge for our dog. Disappointed!
Jul 22, 2021
Stay was great however it was extremely disappointing that the pool was closed for remodel. How could the pool be closed in the middle of July with no warning?! �����‍���
Jul 22, 2021
I am disappointed in the way that KOA is heavily focused on special amenities instead of quality of kamp sites. I paid way too much for a crowded patch of gravel to sleep on. As usual the staff is friendly and the campground clean, but I am not impressed with the overall sacrifice of quality.
Jul 22, 2021
Very nice. Shame the pool couldn't be opened, as the weather was so hot.
Jul 22, 2021
The stay was just ok. The problem I had was the lady who checked us in. The first words out of her mouth was what do you want. We have stayed at a lot of k.o.a's and this was the worst welcome we ever received. We will never stay at this campground again. We will also not recommend it to anyone we know. Not only is it high priced to be welcomed with negativity was terrible. Sorry Bob
Jul 22, 2021
Very nice campground with all the amenities you could hope for.
Jul 21, 2021
While we stayed in a perfectly lovely cabin, we were less than impressed with the RV accomodations of other family members; cramped, dusty, no separation between sites. The pool was closed, no pancake breakfast, but full on holiday season pricing was in force. Won't do it again if we can help it.
Jul 21, 2021
Amazing variety of campsites/lodging. Enjoyed the Riverwalk. Superior garbage pickup. Appreciated that store was open late. Would have liked to see an area for people just wanting to purchase store items so they don't have to wait for registrations. Interesting that Office is at the back of the camp, but with waiting area for vehicles is far superior to other campgrounds.
Jul 21, 2021
Our family has been coming here for 4 years and they consistently provide a great time for family and friends. This is our go to place for a fun weekend get away from the city
Jul 21, 2021
Overall the campground is very nicely located an I really have nothing negative to stay about the campground overall. My specific campsite was okay, site 116. I will say that the passenger side area was unusable for us with a passenger side slide out given the slope of the area. There was room behind to use but not being able to use right outside the door was a bummer.
Jul 20, 2021
Everything was amazing! We will definitely be returning. Thank you for the great Stay ���
Jul 20, 2021
Had a great time, loved the deluxe sites.
Jul 20, 2021
Nice KOA. Pool was still out of commission, thus the 4 out of 5 rating. River walk is beautiful. Super close to downtown Leavenworth.
Jul 20, 2021
Very friendly staff, clean, well maintained, outstanding family activities!
Jul 21, 2021
Amazing! The office staff super friendly. The grounds very clean. Campsites spacious. Shower and laundry area The best we've seen! Lots of activities. Highly recommend this koa.
- Sandi Orner on Google
Jul 19, 2021
Absolutely loved it. Cleanest facilities, nice place. Definitely coming back
- Valeria Kaidanov on Google
Jul 18, 2021
This is an amazing KOA. Great place to stay to visit Leavenworth. Large spots, plenty to do, clean bathrooms and showers.
- Travis Orner on Google