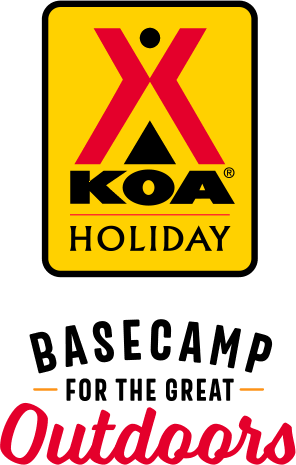 KOA Holiday Campgrounds
Whether you're exploring the local area or hanging out at the campground, KOA Holidays are an ideal place to relax and play. There's plenty to do, with amenities and services to make your stay memorable. Plus, you'll enjoy the outdoor experience with upgraded RV Sites with KOA Patio® and Deluxe Cabins with full baths for camping in comfort. Bring your family, bring your friends, or bring the whole group – there's plenty of ways to stay and explore.
KOA Holidays Feature:
RV Sites with a KOA Patio®
Deluxe Cabins with full baths
Premium Tent Sites
Group meeting facilities
Directions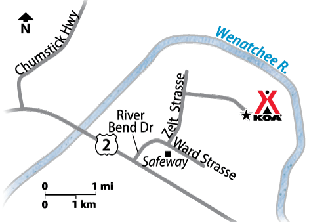 NOTICE!
The new road and entrance into Leavenworth KOA is NOW OPEN!
From Highway 2, turn onto River Bend Dr., follow straight; this road becomes Ward Strasse,
follow past the River Bend Dr. turn off (DO NOT TURN LEFT ONTO RIVER BEND) behind the Safeway,
make the first left after River Bend Dr. onto Zelt Strasse.
Campground entrance is on the right. Follow through campground to the A Frame office to register.
SEE SITE MAP FOR DIRECTIONS TO THE A FRAME OFFICE ONCE IN THE PARK.  Due to limited space at each site, a 2 vehicle maximum is in effect per site.
All extra vehicles exceeding the 2 vehicle maximum will need to park off of the campground.
Get Google Directions
Oct 18, 2021
Too expensive!
Oct 17, 2021
Had a great time for Oktoberfest this year even with the Covid precautions. Looking forward to next year. Campground was clean and staff was friendly. Wish you would update the bathrooms connected to the office. We did the scavenger hunt with our kids which was so great.
Oct 17, 2021
Great! Facilities were awesome, very expensive for our small family but great facilities.
Oct 15, 2021
My only complaint was that the restrooms were not heated. We were there when temperatures were 30 degrees in the evening and morning. Otherwise we enjoyed our stay very much.
Oct 13, 2021
Paying $30 for one extra car and one extra adult is too high. We asked if my son could simply leave his car at our site while we visited town and he was told no and that check out was @ 11:00. We were staying another day so leaving his car there for a couple of hours shouldn't have been a problem. You are far too greedy for me to ever come back.
Oct 12, 2021
Always love our visits to he Leavenworth KOA great staff clean facilities.
Oct 12, 2021
We will not be back, as we will be boycotting the town in the future because of Oktoberfest having to move out of Leavenworth. This has nothing to do with Leavenworth KOA, which is always perfect.
Oct 11, 2021
Simply overcharged for the weekend and the condition of the campground. Lawn was not mowed/ looked very shaggy. Someone needs to use a blower. We were charged a premium rate for the weekend - not a real Octoberfest plus the JAB of site confirmation fee. Friends charged same and had bbq/table/chairs, concrete. The doggy area was pitiful/ dirt,weeds/brush overtaking it/needs serious maintenance
Oct 11, 2021
We have been coming to Leavenworth KOA for the past 12 years for Oktoberfest. We have always had the same sights and they "were" considered premium sites. They are $110 a night. Our sites were terrible this year--the spots were filled with weeds and none of the grass was mowed. I was very disappointed how they have let the original sites fall apart and the new sites are kept up nicely.
Oct 11, 2021
I love your campground! However, Not having the shuttle into town was very disappointing. It is the one thing I tell people when I recommend it. The city shuttle has horrible hours since it ends at 7.
Oct 11, 2021
Clean, helpful, fun!
Oct 11, 2021
We visited during a busy weekend. The campground was in a great location for walking to downtown Leavenworth, the campground and sites were well maintained, and the staff was friendly and helpful. The campground was packed, but everyone seemed very respectful of their neighbors and friendly. The sites are a bit tighter than other KOAs we have stayed at but it was not a problem.
Oct 11, 2021
Only one night, very pleasant. All staff were exceptionally nice, polite and helpful. Map address (gps) lead to a no longer used entrance. Cable hook up didn't work (tho I suppose that could have been within my unit). Showers were clean, but getting a little old. Mats, of some sort, outside the actual stall would have helped provide a no slip feeling.
Oct 10, 2021
We used to come to the Leavenworth KOA for years. Then we sold our motorhome and only recently purchased another. Our visit to Leavenworth and to your KOA was one of our first priorities. We were amazed at all the changes. The campgrounds are clean, beautiful, and well kept up. The staff was knowledgeable and very helpful. We appreciated the guidelines that helped make our stay so enjoyable.
Oct 10, 2021
Stayed two nights last weekend at the tent site for my hikethrough trip, the check-in is very fast and the staff is very friendly. Their shower and bathrooms are the best and I would highly recommend friends this place
Oct 09, 2021
This was our 3rd annual visit to Leavenworth KOA to celebrate our anniversary. The grounds are very well kept and the staff is friendly and efficient and we will be back next year.
Oct 09, 2021
The campground was beautiful and nicely decorated for fall. Loved the River walk and all amenities available. The staff was very friendly and always helpful! We will definitely be back again!
Oct 09, 2021
It was very cold as we were in a tent. But we had a great time. And the comfort stations were great
Oct 09, 2021
This by far the most beautiful clean RV KOA we have stayed at. Very friendly. We will be back!
Oct 09, 2021
We enjoyed our overnight stay. Very clean and easy access.
Oct 09, 2021
We enjoyed our overnight stay. Very clean and easy access.
Oct 08, 2021
This is a very clean park and they were responsive to our needs.
Oct 08, 2021
This was our first experience at the KOA in Leavenworth, WA. The park was very clean and well maintained. It had accommodations that are not found in other state parks: WiFi, full hook ups, and cable tv. The park attendants were very helpful and available.
Oct 07, 2021
Excellent campground! Very friendly staff! If you own a big rig towing you have two choices. Close to the playground in the older section the sights are extremely close together. If you want space call and see if they can put you in the new section of the campground. Their river front area is a short walk but well worth the trip. Leavenworth itself is about a mile walk.
Oct 07, 2021
It was perfect except for a neighboring guest who was very loud til we'll past 10:09.
Oct 07, 2021
Clean and nice. Super quiet. Well organized. Easy access to Leavenworth, too.
Oct 07, 2021
Clean friendly, great amenities, right on the river!
Oct 06, 2021
Don't like that ring in the grass. Go back to a fire pit.
Oct 06, 2021
We love this location, however the add on pricing is a bit excessive. Especially since we are camping.
Oct 05, 2021
directions signs to the office check in are so small almost unable to read or understand them / office doses not open tell noon [ really ] / no US Mail drop off box / this has to be a corporation owned KOA because staff not very friendly , sometimes rude , unable yo answer questions about the area. ////// The camp ground is absolutely beautiful and well maintained / one of the nicest
Oct 05, 2021
Great location, great sites! Park is orderly, very well maintained, and clean! The staff is friendly, professional, and knowledgeable. I definitely recommend this park - we will be back!
Oct 04, 2021
Very tastefully remodeled. Short walk to town. We try to go there every year in October
Oct 04, 2021
The campground is very adequate and we love the proximity to downtown Leavenworth. We find that it offers a lot of fun and safe activity for children. My reaction to all the add on charges was quite upsetting. We rented your large deluxe cabin for 8 people at $700.00 for two nights and then had to pay per person plus $40.00 for a second car. Seems unreasonable. One staff member was very rude.
Oct 04, 2021
We visit every year, love this campground
Oct 04, 2021
Great, clean, nice staff
Oct 04, 2021
very easy to book from the internet and check-in is straightforward, the staff there is super friendly and helpful. One suggestion: please add an option from your website to cancel/change existing reservation, calling into your office number is really limited to 9-5 and sometimes it is not convenience to do so
Oct 04, 2021
Missing Pancake breakfast and Pool/Hot tub access. Please bring these back soon.
Oct 04, 2021
It's a clean KOA but NOT WORTH $95 a night and sites are on top of each other with not much breathing room. Reduce your prices please.
Oct 04, 2021
Great park, friendly staff, and nice new facilities!! Will definitely come back!!
- Chris Howard on Google
Sep 27, 2021
This place is beautiful, peaceful, fun and the staff is something I have never experienced in camping..The crew felt like family and I didn't want to leave...
- Donna Selig on Google
Sep 24, 2021
We had a great two nights, we received a free visit in a deluxe cabin because if a messed up with our reservation from earlier in the year. They definitely did delver on this visit. Thank you, we will be back.
- Patricia Sa on Google