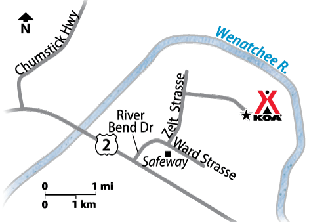 NOTICE!
The new road and entrance into Leavenworth KOA is NOW OPEN!
From highway 2, turn onto River Bend Dr., follow straight; this road becomes Ward Strasse,
follow past the River Bend Dr. turn off (DO NOT TURN LEFT ONTO RIVER BEND) behind the Safeway,
make the first left after River Bend Dr. onto Zelt Strasse.
Campground entrance is at the end of this road on the right. Follow through campground to the A Frame office to register.
SEE SITE MAP FOR DIRECTIONS TO THE A FRAME OFFICE ONCE IN THE PARK.
Get Google Directions