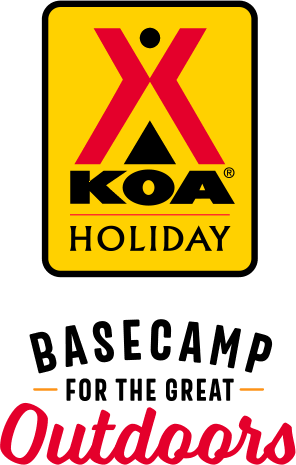 KOA Holiday Campgrounds
Whether you're exploring the local area or hanging out at the campground, KOA Holidays are an ideal place to relax and play. There's plenty to do, with amenities and services to make your stay memorable. Plus, you'll enjoy the outdoor experience with upgraded RV Sites with KOA Patio® and Deluxe Cabins with full baths for camping in comfort. Bring your family, bring your friends, or bring the whole group – there's plenty of ways to stay and explore.
KOA Holidays Feature:
RV Sites with a KOA Patio®
Deluxe Cabins with full baths
Premium Tent Sites
Group meeting facilities
Directions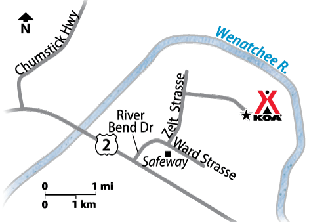 NOTICE!
The new road and entrance into Leavenworth KOA is NOW OPEN!
From Highway 2, turn onto River Bend Dr., follow straight; this road becomes Ward Strasse,
follow past the River Bend Dr. turn off (DO NOT TURN LEFT ONTO RIVER BEND) behind the Safeway,
make the first left after River Bend Dr. onto Zelt Strasse.
Campground entrance is on the right. Follow through campground to the A Frame office to register.
SEE SITE MAP FOR DIRECTIONS TO THE A FRAME OFFICE ONCE IN THE PARK.
Get Google Directions
Feb 28, 2021
Great place to get a cabin in the winter. But way to expensive in the summer.
Feb 23, 2021
We were impressed with how nice and clean the little cabin was. The price seemed a little high.
Feb 23, 2021
The cabin was adorable, we were nice and warm during our winter stay. The staff did a great job of maintaining the roadways. The woman in the office was so kind & helpful when we checked in. She helped us change from a tent site to a cabin, when we changed our minds. She always had a smile & a friendly conversation when we would go in.
Feb 22, 2021
Everything was great, check in was smooth and our host was very helpful.
Feb 22, 2021
Very comfortable, clean cabin, had everything we needed, greeted at office with a very professional staff member, very polite and informative close to town, free shuttle was awesome, We will be back!
Feb 20, 2021
Miss pool & hot tub darn covid. Manager(office lady) was very nice .I loved the cabin & the amenities. The only downside to my trip was it was my Anniversary & I got the cabin with a fireplace but wasnt working��they were waiting on a part. They main thing was the mattress wasn't comfortable. Hubby felt like we was upslope & I was downslop about to fall off. Otherwise awesome place & will go aga
Feb 20, 2021
Perfect spot. Easy in @ out. Great work plowing the snow.
Feb 17, 2021
Cabin was great! Staff were very welcoming! Campground road safety maintained during winter conditions.
Feb 17, 2021
The cabin was clean and it was nice to see the linens wrapped in plastic to show they are clean. The comforter was even removed after our stay with a new comforter.
Feb 17, 2021
Great service and a perfect getaway!
Feb 16, 2021
Cabin wasn't clean. The bed cover looked so old and dirty. I had to wash counters and dishes before use. With covid I expected a clean cabin. Also, no heat or hot water for hours after checking in. We have stayed several times- never had an experience like this.
Feb 16, 2021
We loved our start and cannot wait to return! The cabin was clean and stocked with everything we needed. The workers were friendly and took care of the property. We had a great time!
Feb 16, 2021
very clean and well organized customer service the campground is fun for families and well located near the town of leavenworth
Feb 16, 2021
Bathrooms and showers need maintenance.
Feb 15, 2021
It is always a joy to head to Leavenworth, and this KOA is so close to downtown. There is a grocery store just down the street, in case you forgot anything. The main roads in the KOA are plowed, so it was easy to travel through. They also plowed the sites that were going to be used. The staff was very friendly and helpful. Can't wait to go again!
Feb 15, 2021
We enjoyed our stay very much. Staff was welcoming and accommodating. Cabin was very nice, had everything we needed. They did a great job clearing the snow. We will definitely be back !
Feb 14, 2021
What a great tidy, cute RV park! Even in the darkest part of the winter it was festive and appealing. Very well maintained including plowing the roads first thing in the morning. Would highly recommend!
Feb 12, 2021
We love staying here. The prices are reasonable and it beats a hotel room by far. Our most current stay was in their new studio cabins and my only complaint is that there is no way it's a queen bed. It was a full and very uncomfortable. But we very much enjoyed the fire pit. We had a bathroom in our cabin but I decided to check out the other bathrooms and showers and they were very nice.
Feb 09, 2021
We have stayed at the leavenworth koa twice now both times were outstanding. The koa staff is super friendly. The cabin was clean and well stocked with everything we needed for a visit. We love that there's a dog park where our dogs can be off leash.
Feb 09, 2021
I think we had either a dead animal under our cabin, or maybe a skunk sprayed under there. The cabin stunk terribly, as did the area around it. We are still trying to get the smell out of our clothes, pillows, luggage, etc. We reported it to the desk, the maintenance man came out and said he could smell it, too. I guess the camp was full because they didn't even offer to move us. Otherwise good.
Feb 09, 2021
Just a wonderful experience. Not having to worry about being in a hotel, but having the luxury of a cabin large enough for 8 people. It is at a perfect location and quite for the time you need away.
Feb 08, 2021
Beautiful cabin. The view of the mountains is amazing! Very clean and peaceful. It was a wonderful first time experience for me, my wife and two year old girl. Thank you.
Feb 08, 2021
Our first KOA experience, and it was wonderful! Clean, well designed cabins. Beautiful grounds.
Feb 08, 2021
I was very impressed with the cleanliness of the cabin and the kitchen cookware.
Feb 06, 2021
Our stay in one of the studio deluxe cabins was very pleasant. It was a very cute and clean cabin. The staff was friendly and helpful. My only suggestion is maybe add a little shelving (perhaps on the wall under the tv) for clothes and other belongings. But that is minor, overall we loved it.
Feb 03, 2021
In general, a nice stay at your cabin. However, the shower was terrible - no water pressure and the shower head was so low, I had to take a shower on my knees (I am average height). Moreover, dated furniture - would not call it a deluxe, very misleading.
Feb 02, 2021
The delux cabin was perfect amount of space for my family. Next time I know to bring crock pot meals, electric skillet & griddle.
Feb 02, 2021
Staff is great there's plenty of activities to do and it's always relaxing
Feb 02, 2021
Staff is always friendly and accommodating. The campground is always clean, and I love the remodel of the upper sights, and the new entrance is so convenient! Great location, walk to Safeway for any last minute items. There is a bus transfer station now! And our favorite way to get into town, walking! It is so close to town.
Feb 02, 2021
All staff members were very helpful! We ended up down dead end behind KOA. Security found us and escorted us to our site. The front desk staff was friendly and resourceful. Staff answered text msgs promptly. Tight squeeze through the cabin area by propane and dump site especially with trailer in tow. Besides that, I loved this location. Retuning for sure!
Feb 01, 2021
Great place, excellent service, way better than a hotel, right in Leavenworth but felt like out in the mountains, great view, dog loved the walks in the snow, thank you- will definitely stay again.
Feb 01, 2021
Beautiful cozy cabin
Jan 27, 2021
Great cold weather stay over MLKing Jr weekend! Thanks for the hospitality. See you Presidents Day Weekend!
Jan 26, 2021
We had a wonderful trip and enjoyed our cabin stay. We do feel the main portion of the cabin could use another heater. It was chilly in that area otherwise everything was great!! We definitely will return!!
Jan 25, 2021
First time visiting in the winter and had a wonderful time.
Jan 25, 2021
We had an amazing stay! The cabin exceeded our expectations, and the setting was so relaxing that we barely left the campground our entire stay. Thanks for a great experience! We'll definitely be back.
Jan 25, 2021
Our favorite KOA so far! Love the beautiful setting, layout and the patio. Enjoyed the good quality patio furniture! The Christmas lights everywhere was such a nice touch.
Jan 25, 2021
We loved our short stay here! The cabin was super clean and comfy, and the gal in the store was fantastic! Very helpful and super kind. We will be back for sure.
Jan 24, 2021
Great stay. I so appreciate all of the staff. Lee keeps the grounds safe with his patrols. Amber is fabulous at the desk. Gary does it all. Units clean.
Jan 23, 2021
Awesome campground! Even in winter, plenty to do. Staff is Awesome!!! A must stay if you are in Leavenworth!
Feb 11, 2021
Me and my beautiful wife spent a couple days in a cabin, it was wonderful and we will be returning every year!
- michael goudsward on Google
Jan 15, 2021
Incredible place very nice people,a definitely place we will be going back to
- Will Chabot on Google
Jan 13, 2021
Perfect as always! This is our 3rd year here and we will definitely be back again
- Kat Vrooman on Google