Fishing in the Adirondacks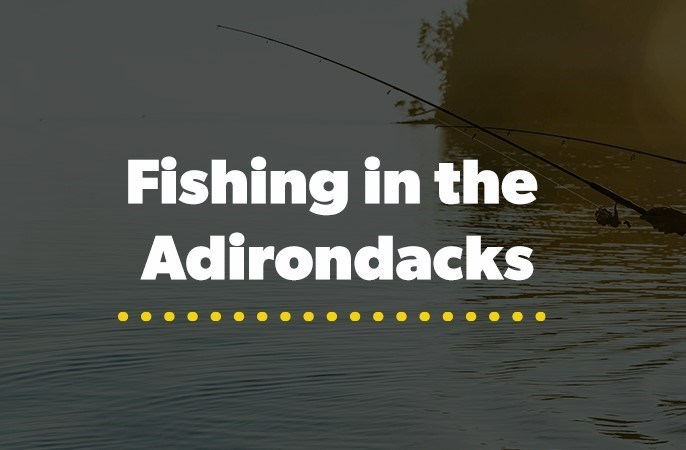 Fishing in the Whiteface region of the Adirondacks means your choice of any of the region's freshwater lakes, rivers, ponds or streams, each filled and primed for both bait angling and fly fishing. Visitors flock to the area each year for outdoor vacations and fishing adventures, with trout as the local catch of choice.
Learn more about fishing in Wilmington, NY, and the surrounding area and reserve a stay at Kampgrounds of America for front-row access to all the best spots.
Best Time to Fish in the Adirondacks
Winter is snowy and frozen in the Adirondacks, so unless you are ice fishing, the best time to plan your excursion is after the ice has thawed and warmer temperatures return in the spring. As waterways shift back to their moving state, fish become more active near the surface. If you visit in the summer, be mindful of the temperature — mornings and evenings are the safest for all-day outings.
Optimal fishing conditions depend on what you are hoping to catch and if that species is in season. For example:
Inland and lake trout fishing season runs from April 1 through October 15, with artificial lure catch and release permitted the rest of the year.
Landlocked Atlantic salmon season begins April 1 and lasts until October 15.
Walleye season begins the first Saturday in May through March 15.
Largemouth and smallmouth black bass season starts the third Saturday in June and lasts until December, with artificial lure catch and release permitted beginning December 1 through the third Saturday in June.
Check daily local fishing forecasts before leaving your campsite to get a better idea of how the weather, temperature and wind speed could impact your catch.
Types of Fish Near Whiteface
Trout and walleye are two of the most popular fish in the Wilmington and Whiteface regions. Rivers and lakes are stocked or stock-extended, with the exception of wild trout streams. The New York State Department of Environmental Conservation (DEC) preserves the wild trout streams to keep the native brook trout populations safe from alteration and to provide guests with an authentic wild trout fishing experience. Other trout here include rainbow, brown and lake trout.
DEC hatcheries stock and manage walleye populations in bodies of water across New York, producing hundreds of thousands of fingerlings in the fall and spring.
Aside from these two common catches, you could also hook:
Northern pike.
Atlantic landlocked salmon.
Smelt.
Sunfish.
Perch.
Bullhead.
Smallmouth and largemouth bass.
Tiger muskellunge.
Chain pickerel.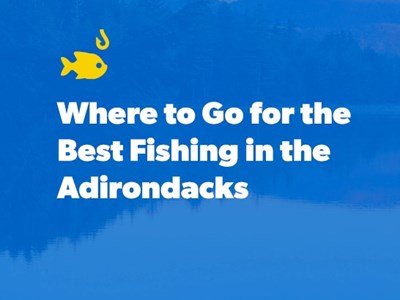 Where to Go for the Best Fishing in the Adirondacks
With so many places to choose from, the best way to narrow your options is to consider the type of fish you are seeking and researching which lakes or rivers you can find them. Some places — like Lost Pond in Ticonderoga or Lake Colby in Saranac Lake — are teeming with trout, while other places cater more toward those seeking walleye or salmon.
Locals and tourists alike praise the following places for their stocked, clean waters and scenic surroundings:
West Ausable River: If Ausable River fishing is on your vacation itinerary, the West Branch area is the go-to travel destination for trout anglers because of the amount of oxygen in the water that attracts brook, rainbow and brown trout and makes it a comfortable place to live and reproduce. Ample rocks and boulders provide plenty of hiding places, with surrounding shade trees to help you fish all day long. Access the river from Route 86, but please note that it is not accessible by boat in most places.
Taylor Pond: The 8.6-mile Taylor Pond is 95 feet deep and is filled with lake trout, landlocked Atlantic salmon, yellow perch, rainbow smelt and more. Aside from the variety of fish populations, the pond is blanketed by acres of forested state land, providing the picture-perfect backdrop to your day on the water. The best time to visit Taylor Pond is in the spring, summer or fall since ice fishing is not permitted here.
Cooper Kill Pond: You will find Cooper Kill Pond, also called Cooper Kiln Pond, between Stephenson and Wilmington Range, giving visitors a beautiful scenic view to enjoy while you wait for your next catch. It is a popular place for brook trout, with a self-sustaining population, and baitfish are not permitted. Keep in mind that the trails you must walk to reach the pond can be steep and eroded at times, so proceed with caution.
Lake Placid: If you visit Lake Placid, make time to stop by Mirror Lake, a 2.4-mile fishable shoreline with a variety of fish species including rainbow and lake trout, smallmouth bass, yellow perch and rock bass. Lake Placid fishing also means you are only a short drive away from other popular locations, including Ausable River.
Other well-known locales include Black River, Horseshoe Lake, Union Falls Flow and Delta Lake.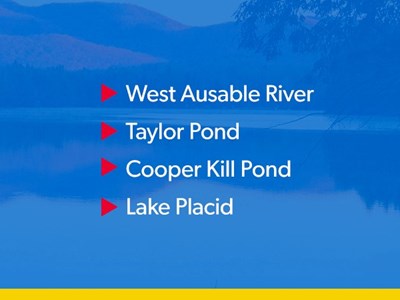 Fishing Tips, Tackle and Techniques
If you are a devoted angler, you probably already have the essentials, like your rod and reel, release hooks, sunglasses, fishing line or fly line, a tackle box, wading boots, sinkers and bait, as permitted. If you are fly fishing, stop by the local tackle shop and ask if they have a hatch chart or recommendations for the best fly to use.
Since fly fishing in Wilmington, NY, and the surrounding area is such a popular activity, be sure to familiarize yourself with space-saving techniques to use in crowded areas. For example, if you do not have room to backcast in a densely populated lake or an area with low-hanging branches, you will need to roll cast your pole by flicking the rod up, leaving the line hanging by the side in the shape of a capital "D."
Trout fishing in the Whiteface region is very popular in the warmer months, meaning some areas can become overcrowded quickly. Escape the crowds and find a new favorite spot by hiking a few minutes beyond common tourist destinations or setting up next to a feeder creek, spring or waterfall. If you are fishing a pond, focus your attention near logs, inlets and outlets or near steep underwater drop-offs. When in doubt, stop by the local hangout spot and talk to the locals to see which ponds and lakes they consider hidden gems.


New York Fishing Regulations
Everyone 16 and older must have a New York fishing license before casting in any public lake, pond, river or stream, except for special free fishing events, clinics and those at licensed fishing preserves. One-day, seven-day and annual licenses are available for a resident or non-resident fee, and proof of residency is required. You can purchase a freshwater license at an official License Issuing Agent and online through the DEC.
Each region has separate restrictions for species and catch limits and property regulations — check the DEC fishing guide and local postings to learn more. Never fish outside of the species' open season and only go ice fishing in areas where it is explicitly permitted.
Leave No Trace Ethics
Always abide by the seven Leave No Trace principles to minimize your outdoor impact, preserve nature and foster a welcoming environment for other anglers:
Plan ahead and prepare: Research your chosen fishing destination before arrival, so you are up-to-date on local regulations and restrictions. Familiarize yourself with local species to make them easier to identify as you catch them. If you are bringing your own boat, ensure it is free of invasive species that could infiltrate the water and damage ecosystems. Some regions may require boat inspections to help with this.
Travel and camp on durable surfaces: Never walk on land or water vegetation while fishing, and be careful not to disturb sensitive ground or structures. As far as camping goes, KOA makes it easy, with level, spacious sites for your tent or RV and furnished Camping Cabins for added comfort.
Dispose of waste properly: Litter, garbage and human waste can make local wildlife sick and take away from the Whiteface region's natural beauty. Use available bathrooms when possible and bring a bag to pack out all trash before leaving, including extra fishing line, bait and tackle.
Leave what you find: Only leave your fishing area with the same things you brought — plus your catch of the day — and never move fish from one body of water to another.
Minimize campfire impacts: Use locally provided firewood instead of bringing your own to protect campgrounds and local waters from invasive insects. Each Lake Placid/Whiteface Mountain KOA site has a provided fire ring and firewood available for purchase, making it easy to stay environmentally aware while roasting your day's catch.
Respect wildlife: Never harm fish if you are catching and releasing, and be sure to remove the entire hook before throwing the fish back in the water. Never waste your catch — if you do not want to keep it and fish for sport only, toss it back. Never feed surrounding wildlife, including ducks and birds.
Be considerate of other visitors: Follow all rules of land and water, including boat traffic guidelines and posted property restrictions. Be mindful of your noise level and how close you are to others when casting.
Escape the City at Lake Placid/Whiteface Mountain KOA Holiday
Whether you come to the Adirondacks for trout, walleye, salmon or just to get out of the city and relax by the water, KOA is here to help. Reserve a stay and make KOA your basecamp for your fishing adventure, complete with clean restrooms with hot water and fun on-site amenities like a pool, fishing and planned activities.
Learn more about available lodging options and plan your stay today!