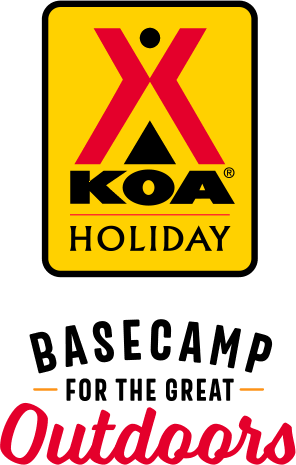 KOA Holiday Campgrounds
Whether you're exploring the local area or hanging out at the campground, KOA Holidays are an ideal place to relax and play. There's plenty to do, with amenities and services to make your stay memorable. Plus, you'll enjoy the outdoor experience with upgraded RV Sites with KOA Patio® and Deluxe Cabins with full baths for camping in comfort. Bring your family, bring your friends, or bring the whole group – there's plenty of ways to stay and explore.
KOA Holidays Feature:
RV Sites with a KOA Patio®
Deluxe Cabins with full baths
Premium Tent Sites
Group meeting facilities
Directions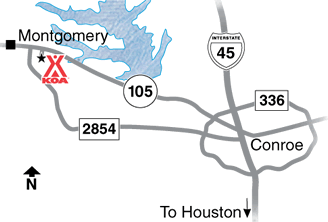 FROM HOUSTON
I- 45 N to  Exit 87(FM 2854/TX - 105 W/W Davis St).  40 miles
Merge onto North FWY Service Road. 1 mile
Left 3 lanes turn left onto 105 W/W Davis Street
13 miles to 19785 Hwy 105 W  LAKE CONROE/HOUSTON NORTH KOA will be on your left 
FROM US - 290
Take TX - 6 ramp Bryan/Hempstead .03 miles
Turn right onto FMR 2  4.2 miles
Turn left onto FM 362 N 5.8 miles
Turn right onto TX - 105 E  
in 21 miles 19785 HWY 105 W LAKE CONROE/HOUSTON NORTH KOA will be on your left
Get Google Directions
Jan 26, 2023
Very friendly and helpful staff. Our original slot had issues so we ended up moving twice. Great park.
Jan 26, 2023
Always a Great place to stay when we visit family in Conroe! Thanks for your hospitality - we Will be back.
Jan 25, 2023
We were visiting family in the area. We were not here to go to any venues etc. it served its purpose. Nice facilities. My family use your camp to prepare their coach for travel and recommended.
Jan 24, 2023
Huge park nice and clean. Camp K-9 needs work - great size but small and medium dogs could escape under the fence or through the gates. We were across from a bathroom and shower that was closed for "cleaning" our entire stay so that was frustrating. Overall a nice, quiet, and clean park.
Jan 24, 2023
Nice park, clean and maintained. This KOA is an older park and could benefit from some refresh and updates. Park has long term and daily camper sections that are separate. Wild life in the area, there are dear along the property line and Muskovee ducks that are residents of the pond area. Many stores and restaurants in the area. Sites are concrete and level. Utilities in good condition.
Jan 23, 2023
Very peaceful place to to stay.
Jan 23, 2023
very expensive but the nicest koa i have seen so far. roomy spots great employees
Jan 22, 2023
This KOA grew on us the longer we were here. It's very quiet and serene. The spaces are far enough away from each other that we didn't feel were sitting with our neighbors.The ducks were fun although our puppies didn't think so… Hot tub was out of order and several of washers and dryers were not in service. The bridge was very dirty with duck and bird poop. Maybe a bit more attention to d
Jan 21, 2023
Always love this campground
Jan 20, 2023
Very well kepted quiet park
Jan 19, 2023
Very relaxing/clean resort. Stayed in spot 235 waterfront premium patio & very happy with the view & location. Husband could fish in front of our trailer. Lots of wildlife from daylight to sunset was amazing. Walking trail & large dog park. (we didn't use the playground amenities, but hope to use it next time when bringing our granddaughter (4 yrs old). We will be coming back.
Jan 18, 2023
Very high priced, store had very few items, clerk was dour, lots of empty sites, yet we were put next to other rigs rather than spacing us out.
Jan 18, 2023
Sewer fitting set so deep in concrete that it was impossible to screw on hose fitting - site 54, all others I could see around me were raised. WiFi very limited, and that was mid-January with an empty campground. I can't imagine what it would be like in season.
Jan 15, 2023
Staff-kind of friendly. Campsites-nice and roomy. Bath room/shower near us was closed for? The one at the office only had one toilet for the entire campground. Our campsite-major water leak, site was a swamp. Should be a warning about the entrance, caused damage to the rear of our 5th wheel. Maint. guys admitted that others had tore up equipment. No propane sold there. Do not recommend this ko
Jan 15, 2023
1st spot got unloaded and hooked up. Went inside turned ac on. No ac. everything else worked. checked breakers & fuses. All ok. Tested shore power outlet. Open circuit in L-2. Called office, they sent a tech. He checked outlet and confirmed site had bad breaker. He stated I would have to move because he was not allowed to replace breakers. Be prepared to bottom out goin into/leaving entrance sucks
Jan 14, 2023
Didn't get to use many of the facilities but the staff was very helpful and friendly
Jan 13, 2023
Lake Conroe KOA was excellent. The staff were especially nice and friendly. The site and park or clean.
Jan 11, 2023
Everything was good, had a good site right on the pond, good view. Only drawback was way too many tame Ducks hanging around and pooping everywhere! Poop was all over the shoreline, Poop covered the walking bridge!, Poop on our Picnic Table! Duck Poop everywhere. These ducks are cute but you have got to relocate a few of them. They are not wild ducks so maybe you could rehome them.
Jan 08, 2023
Excellent location with great facilities. The staff was extremely friendly, and helped make our stay most enjoyable. Check-in was a breeze!
Jan 04, 2023
Friendly family atmosphere. We've stayed there before and are impressed with the upkeep of the park and the helpful staff. We will be staying there again in the future.
Jan 03, 2023
The site was good, but the entrance was less than desirable. Both coming into the park, & existing the park my RV drug the concrete/asphalt.
Jan 03, 2023
Very nice place to stay. Very nice staff. Good wifi.
Jan 01, 2023
Very clean and well maintained. Managers very helpful.
Jan 01, 2023
Great facility
Dec 31, 2022
We have been using this campground for years and are very pleased with everything. The only thing I can think of that would have improved our stay is an indoor play area for the kids, since some rain came through during our stay.
Dec 31, 2022
First experience with staying and we really enjoyed it!
Dec 31, 2022
Stayed in late Dec. Site level with concrete pad. Very quiet at night. Restrooms and showers were spotless. Accommodating staff texted me with late arrival info. Only complaint is that KOA Highway sign had bulbs out; our GPS was programmed for it or we would have missed the turn. Signage was minimal at entrance and lighting was poor after dark. Definitely would stay again.
Dec 30, 2022
Great staff very friendly. Would definitely recommend.
Dec 27, 2022
Even though it was very cold, we had a great stay. Cabin very clean and spacious. We had a great time.
Dec 27, 2022
Very nice facility close to all essential stores/resteraunts!
Dec 27, 2022
Needed a place to stay for the Christmas weekend and this worked out perfect. The staff was exceptional and very responsive to our needs. Great place to camp.
Dec 23, 2022
Very nice, quiet campground. The sites were large, the campground was well maintained.
Dec 23, 2022
It's a beautiful park. So much to see and do. The staff is AMAZING! All of them make you feel like family and feel right at home. If you have furr babies, the K-9 park is huge with plenty of room to run off that extra energy. I recommend this park 100%
Dec 22, 2022
The campground was well kept and clean however the spa was broken and has been awaiting repairs for months. The heated indoor pool as advertised on the site is no longer an indoor pool and is only modestly heated to 70 degrees. The inflatable bubble was only inflated the day we arrived and never again.
Dec 21, 2022
We stayed one night. It was clean and safe. Peaceful and we loved the lake.
Dec 21, 2022
We have stayed here many times. It is a great park..wonderful location
Dec 19, 2022
Nice and quiet love this park
Dec 19, 2022
Our campsite was level. The grass was mowed. Everyone was super nice and they recommended a wonderful restaurant right across the street. We would definitely stay here again.
Dec 19, 2022
Check in was easy and I requested a site next to my brother and didn't have a problem at all.
Jan 24, 2023
We were there for the marketplace and we had a wonderful time we bought some of the organic food there
- Arlene Pagan on Google
Jan 10, 2023
This place is PERFECT me and my family love this place! Great service and the surrounding area around the campground is really pretty!! Overall I give it 5 stars!
- paisley grace on Google
Jan 01, 2023
Great staff easy to get to Houston and other locations
- George Eckert on Google