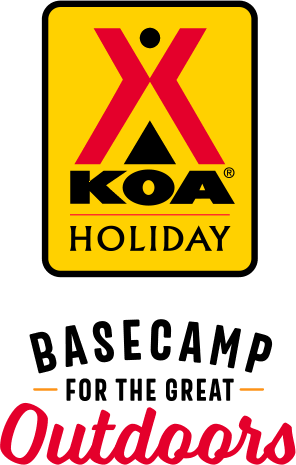 KOA Holiday Campgrounds
Whether you're exploring the local area or hanging out at the campground, KOA Holidays are an ideal place to relax and play. There's plenty to do, with amenities and services to make your stay memorable. Plus, you'll enjoy the outdoor experience with upgraded RV Sites with KOA Patio® and Deluxe Cabins with full baths for camping in comfort. Bring your family, bring your friends, or bring the whole group – there's plenty of ways to stay and explore.
KOA Holidays Feature:
RV Sites with a KOA Patio®
Deluxe Cabins with full baths
Premium Tent Sites
Group meeting facilities
Directions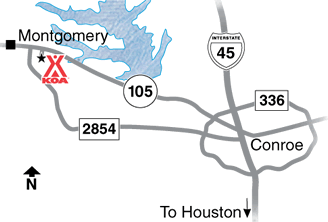 FROM HOUSTON
I- 45 N to  Exit 87(FM 2854/TX - 105 W/W Davis St).  40 miles
Merge onto North FWY Service Road. 1 mile
Left 3 lanes tuen left onto 105 W/W Davis Street
13 miles to 19785 Hwy 105 W  LAKE CONROE/HOUSTON NORTH KOA will be on your left 
FROM US - 290
Take TX - 6 ramp Bryan/Hempstead .03 miles
Turn right onto FMR 2  4.2 miles
Tuen left onto FM 362 N 5.8 miles
Turn right onto TX - 105 E  
in 21 miles 19785 HWY 105 W LAKE CONROE/HOUSTON NORTH KOA will be on your left
Get Google Directions
Apr 06, 2021
We loved our stay here. We showed up after office hours, but we were assigned an excellent campsite for our travel trailer. Campsites are well maintained. We will be staying here again.
Apr 05, 2021
It was our first time to have a site that wasn't on the water. We enjoyed our stay very much and look forward to returning soon.
Apr 05, 2021
Was mold in the pantry and the cabin smelled old and dirty.
Apr 04, 2021
The only bad thing I can say is the weather was a little cold to get out and do somethings but it was a beautiful place.
Apr 04, 2021
Enjoyed a quiet weekend with my husband and daughter. Enjoyed the fishing pond and the location of the RV park. Nice sites and amenities.
Apr 04, 2021
I could tell there were improvements made to the campground. I liked that there were activities available. Staff made sure to include kids and kids were considered. The cabin was clean. I appreciated this.
Apr 04, 2021
All the facilities and staff were great! We have already booked our next stay!
Apr 02, 2021
We always stay there when going to the Houston area. It is very clean and the pads are great. It is a hugh park. The people are always so nice to deal with. It is the best.
Apr 02, 2021
Stayed one night, passing through town. Wish we had stayed longer. Nice facilites, level concrete pads. Good location.
Apr 01, 2021
The park was very clean & we had plenty room . Our rv is 45' & trailer is 35'. There was a lot to do for all ages . We will be back. Thx Connie
Apr 01, 2021
Clean cabin. Should allow for some harvesting of the fish (brim/catfish). Put bigger bass in the ponds. Host events like karaoke night at the main building.
Apr 01, 2021
Disappointed the hot tub was not working. Store not adequately stocked. But other than that very nice. Plan on coming back.
Mar 31, 2021
Very nice facilities
Mar 31, 2021
Our spot backed up to the lake. It was well maintained and comfortable. The staff members were all friendly and helpful. The laundry room was very clean and accessible.
Mar 31, 2021
The folks at Lake Conroe/Houston North KOA are friendly, welcoming, and efficient. The grounds are meticulously kept, and the rules enforced gracefully. There was wonderful barbeque for sale on two of the weekends and live music appealing to all. I love this place and will be back!
Mar 31, 2021
We had a blast - first time in our Camper. Staff were all so polite and helpful
Mar 31, 2021
Very satisfied with services and staff. Everything was up kept and very comfortable. Friendly and fun place especially for my children. I will definitely revisit this site. Thanks for a well spent weekend.
Mar 31, 2021
We were there for only a short time, but staff was excellent and helpful. The grounds are very beautiful and clean. We will want to come back for a longer stay in the future.
Mar 31, 2021
Very nice site, clean and easy access. Friendly staff.
Mar 31, 2021
We enjoyed it great customer service.
Mar 31, 2021
We booked a two bedroom cabin this go around and it was very clean and peaceful. Had everything we needed, just had to bring the food. Staff was amazingly helpful and friendly as always.
Mar 28, 2021
We like staying here with all the local conveniences which make it a perfect place to stay. The Woodlands is convenient to get and only about 30 minutes away. Plenty of local places to eat within easy driving distances.
Mar 28, 2021
Excellent facility - very well maintained with obvious pride. We'd very definitely stay here again!
Mar 26, 2021
KOA sign needs light bulbs.
Mar 25, 2021
We were there while our house was in escrow and they were very accommodating with our extending our stay several times. Everyone was very friendly. The KOA is very clean and lots of things to do there.
Mar 25, 2021
kids loved fishing, pool and jump pad. Only thing that was annoying was worker turned off jump pad at 6 but sign says closes at dusk. Kids were disappointed.
Mar 25, 2021
This trip to Conroe KOA, we were greeted with a very friendly person. We were emptying and testing the RV for trade in and all went well.
Mar 24, 2021
Great level RV sites; wonderful jump pad and swing sets for kids; pool somewhat shallow but adequate for cooling off; offered BBQ and live music over the weekend and staff was always available to help out during office hours. Downside, the pool was locked before 9 am and that was our access to the restroom and showers. Bathrooms were clean but showers were really small . Will return!
Mar 23, 2021
We had a wonderful time. The staff was friendly and helpful. The campground was clean and had lots of amenities, catch and release pond, pool, playground, basketball court, tennis court and 2 dog parks. Restaurants on Lake Conroe for lunch/dinner, fishing, boating are an added bonus. For us relaxing and hanging out at our campsite was just perfect!
Mar 23, 2021
Love the Koa
Mar 22, 2021
It was a peaceful and great place to stay.
Mar 22, 2021
Very nice staff. Clean campground!
Mar 22, 2021
Great stay - facilities are very clean and well maintained. We will definitely return.
Mar 22, 2021
Great hospitality, clean and lots of fun things to do.
Mar 22, 2021
Pros: clean and fully stocked cabins and manicured grass. Very pet friendly! Great fishing(catch and release), curbside trash pickup, pool CONS: heated pool was too cold to swim for most, resort located in middle of town, no firepits at most cabins(will deliver for extra fee), bait not sold in store, expensive pet fees, no planned activities during our weekend stay during spring break.
Mar 22, 2021
Nice scenery
Mar 20, 2021
Cleanest campground I've ever stayed at and the staff is amazing.
Mar 20, 2021
Nice camp ground. Easy to get to.
Mar 20, 2021
Excellent staff, very knowledgeable and helpful. Nice layout easy and super clean
Apr 04, 2021
Facilities and staff were great. The cabin was clean and comfortable. Fishing was awesome. Already booked our next stay!
- Joe L on Google
Apr 01, 2021
Super attentive staff. Well laid out sites. Nicely kept and clean. Will stay again on my travels.
- David Cook on Google
Mar 20, 2021
Always a fun time.
- Season Davis on Google