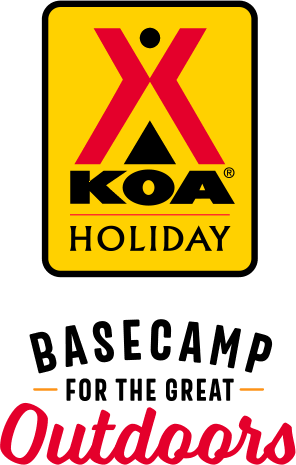 KOA Holiday Campgrounds
Whether you're exploring the local area or hanging out at the campground, KOA Holidays are an ideal place to relax and play. There's plenty to do, with amenities and services to make your stay memorable. Plus, you'll enjoy the outdoor experience with upgraded RV Sites with KOA Patio® and Deluxe Cabins with full baths for camping in comfort. Bring your family, bring your friends, or bring the whole group – there's plenty of ways to stay and explore.
KOA Holidays Feature:
RV Sites with a KOA Patio®
Deluxe Cabins with full baths
Premium Tent Sites
Group meeting facilities
Directions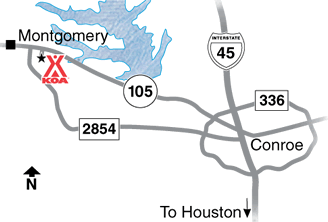 FROM HOUSTON
I- 45 N to  Exit 87(FM 2854/TX - 105 W/W Davis St).  40 miles
Merge onto North FWY Service Road. 1 mile
Left 3 lanes tuen left onto 105 W/W Davis Street
13 miles to 19785 Hwy 105 W  LAKE CONROE/HOUSTON NORTH KOA will be on your left 
FROM US - 290
Take TX - 6 ramp Bryan/Hempstead .03 miles
Turn right onto FMR 2  4.2 miles
Tuen left onto FM 362 N 5.8 miles
Turn right onto TX - 105 E  
in 21 miles 19785 HWY 105 W LAKE CONROE/HOUSTON NORTH KOA will be on your left
Get Google Directions
Jul 26, 2021
Everyone that works at the KOA were so friendly. We came up for a wedding and you didn't mind my niece and great niece stopping by my fifth wheel to get their hair done. The lady in the office gave her a parking pass. She was only at my camper for about an hour. Very nice campground. We also own a campground with 162 sites. Enjoyed staying with you guys. Would highly recommend.
Jul 26, 2021
We came up to celebrate my dads 60th birthday. The lady that took our reservation said that the whole park was full and there was no way to get us next to each other. We pulled in Friday and noticed only a few spots had been taken thought maybe more would roll in later that night or the next day. We watched maybe 2 or 3 more people come in rest of the weekend. Just disappointed.
Jul 25, 2021
All good .... thank you ...
Jul 23, 2021
Great clean cabin!
Jul 22, 2021
We were only there overnight, good experience, except water pressure measured about 29 psi.
Jul 21, 2021
It was all a smooth sailing!
Jul 21, 2021
Love this area and the people working here
Jul 21, 2021
Wonderful staff and very clean pretty area. The restroom and shower were exceptionally nice and clean
Jul 19, 2021
The stay was awesome and I appreciate all of the planned activities for the kids. We hosted our family reunion and everyone that stayed on property enjoyed their cabin and RV spot. We took advantage of all of the amenities- fishing, swimming, playground and ABSOLUTELY LOVED THE TRAIN RIDE!! Very friendly, attentive and hard working staff members- grounds were clean, fresh cut grass, LOVED IT!
Jul 19, 2021
Very relaxing. The staff was friendly and very accomadating.
Jul 19, 2021
My room was filthy!! Blinds were dusty with soider webs, the floor wasnt moped, the top of the stove still had food on it, furniture was full of dust and pet hair, dirty socks under the night stand. I complained about this at check out.I refused to stay two nights in a dirty cabin. I was not happy. The staff eas very sweet and friendly and professional
Jul 19, 2021
We enjoyed our stay at the koa.
Jul 19, 2021
My wife and I wanted a quiet place with water access. We found it here. Nice fishing pond. Very nice cabins with store onsite. This was our first time at KOA but will definitely not be our last. Looking for opportunities to visit again.
Jul 19, 2021
Great helpful staff!
Jul 19, 2021
2nd stay. Had neighbors, but hardly heard them. I like being on the lake. The office personnel are the most professional and helpful group I've ever seen. The guide-ons are very courteous and a big help if you need help backing in your site or anything related to the utilities.
Jul 19, 2021
We had a great time and everyone was so nice.
Jul 18, 2021
Ceiling fans have lots if dust and need a cleaning. Otherwise clean and comfortable.
Jul 14, 2021
Great staff, lots of activities.
Jul 13, 2021
It was hard to find our campsite- we didn't have a map with us when we entered and there are no signs indicating site numbers. Example: "site 1-20 this way" when you enter the KOA. Otherwise it was a great stay!
Jul 12, 2021
This is my 4th visit and as always we had a good time.
Jul 12, 2021
Thoroughly enjoyed our visit! The accommodations were well maintained-- I was so happy there was shower gel in the bathroom (I forgot mine!). Will definitely return!
Jul 12, 2021
Vey nice staff and informative. Thanks
Jul 07, 2021
Great place to stay
Jul 07, 2021
The only thing that keeps this from being a perfect campgrounds is the lack of attention/ maintenance to the grounds. It could be so pretty if the kept up the grounds. Other than that one my favorite campgrounds.
Jul 06, 2021
The park was definitely fun for what we could do (it rained most of the time, not their fault). My kids enjoyed fishing from our site and the dock. The ladies in the office were great with my 5 year old. He was a hit every time he came with me to the store. The two times I went without him, they asked about him. We left a day early because I ended up with Bronchitis, but we will be back for sure!
Jul 06, 2021
Some maintenance items could be addressed around facilities. Kudos to the friendly staff.
Jul 06, 2021
Great location. Park is ok. Not much privacy nor very visually appealing. The best thing it has going for it is the proximity to Lake Conroe.
Jul 06, 2021
Staff is kind and professional. Sites are sized nicely. Activities were fun and well managed. Pool area needs improvement. Overall good stay.
Jul 06, 2021
We went with the family in our travel trailer for the 4th of July weekend and the staff were great. Very helpful and friendly. Rain was in the forecast, but they still tried their best to do fun activities for the kids and family. Their pond was fun for fishing, my son got "hooked" on fishing.
Jul 05, 2021
What a fantastic park! Loved the staff, store, amenities and all the fun activities planned for July 4th. Even with the rain, the weekend was wonderful. I can't wait to return and upgrade to a deluxe pull through and longer stay so that we have more time to enjoy what Lake Conroe KOA has to offer. Thank you!
Jul 05, 2021
It is sad that this campground has been downgraded like this. It was a waste of a weekend despite the weather. I had to clean the cabin before I took my own belongings inside. Refrigerator was nasty. Very frustrating. The amenities online are from the old campground and not presently there. Only the jumping pad is new. There was no alternatives for the kids once the rain started. Never again.
Jul 05, 2021
I was so disappointed that the staff didn't have backup plans when it rain to accommodate the family and kids. For all the events they gave you on an itinerary. I felt like they lost a lot of great things that made the campsite worth coming to the cover all that covered the pool the giant slide that was attached. I always love coming there but all these changes how discourage me from returning.
Jul 05, 2021
clean, comfortable and quiet I think there needs to be breakfast options for people who get up early. 9am is way too late to eat breakfast. For the price there should be some kind of breakfast options from 7-10am Staff was very nice. Will def stay again
Jul 05, 2021
It was a very lovely KOA. The surrounding area was beautiful and near all the shops.
Jul 26, 2021
Friendly staff, plenty of lake view lots and cabins. On my list to visit again
- Anthony Robinson on Google
Jul 21, 2021
Great place very clean and well maintained property . I have to take the time to recognize the staff at this KOA . I have stayed all over the country in KOA's but Brad , Michelle , and Shelly went above and beyond to ensure my wife and I had a great stay !!!! FIVE STAR Service from them !!! A+
- d walk on Google
Jul 19, 2021
My wife and I were looking for nice place with water access. We found it here. Nice fishing pond. Very nice cabins. First time here but we will be back again.
- Kenneth Smith on Google