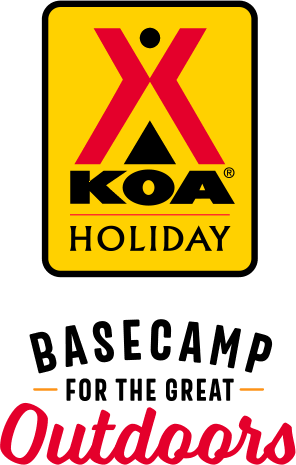 KOA Holiday Campgrounds
Whether you're exploring the local area or hanging out at the campground, KOA Holidays are an ideal place to relax and play. There's plenty to do, with amenities and services to make your stay memorable. Plus, you'll enjoy the outdoor experience with upgraded RV Sites with KOA Patio® and Deluxe Cabins with full baths for camping in comfort. Bring your family, bring your friends, or bring the whole group – there's plenty of ways to stay and explore.
KOA Holidays Feature:
RV Sites with a KOA Patio®
Deluxe Cabins with full baths
Premium Tent Sites
Group meeting facilities
Directions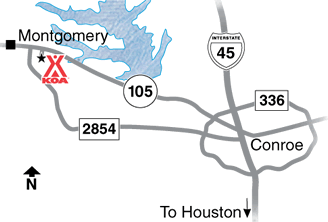 FROM HOUSTON
I- 45 N to  Exit 87(FM 2854/TX - 105 W/W Davis St).  40 miles
Merge onto North FWY Service Road. 1 mile
Left 3 lanes turn left onto 105 W/W Davis Street
13 miles to 19785 Hwy 105 W  LAKE CONROE/HOUSTON NORTH KOA will be on your left 
FROM US - 290
Take TX - 6 ramp Bryan/Hempstead .03 miles
Turn right onto FMR 2  4.2 miles
Turn left onto FM 362 N 5.8 miles
Turn right onto TX - 105 E  
in 21 miles 19785 HWY 105 W LAKE CONROE/HOUSTON NORTH KOA will be on your left
Get Google Directions
Oct 19, 2021
Absolutely love this resort. Everything about it is top notch from the large concrete sites to the well maintained grounds.
Oct 19, 2021
My family of four stayed in a Deluxe Cabin. We were in the area to attend the Texas Renaissance Festival, about 20 miles away. We have stayed in the cabins before, but it had been several years. I noticed right away the new flooring, furniture and appliances. It looked great! And the convenience of a full kitchen, separate bedroom for the kids and lots of space for all made for a perfect stay!
Oct 19, 2021
We enjoyed our short stay. Friendly, quiet and welcoming. We would stay again.
Oct 18, 2021
It was great overall! But wifi didn't work and pool was too cold...
Oct 17, 2021
The stay was great, went fishing with a friend. Weather was nice. You get treated like Royalty, from Check in until you depart. I highly recommend Lake Conroe KOA.
Oct 16, 2021
We decided to camp a short distance from home for a week of getaway. The Lake Conroe was a perfect choice. The employees were great, friendly, and very helpful. We pre-selected a site that was better than we hoped for. All things important - concrete level pad, some shade, easy pull through, close to dog park, close to bath room, etc - were there.
Oct 16, 2021
Hands down the best !! Greeted with kindness and professionalism.
Oct 13, 2021
This is a wonderful place with great friendly staff. The area is well maintained and everything was in working order. Many activities for those with kids. Camp K-9 is well cared for. I stayed just one night but I plan to make my next trip for a longer stay.
Oct 13, 2021
We had a great stay. The personnel were all friendly and helpful. The grounds and permanent structures were well maintained. The lake was nice and added to the charm of the camp grounds. The grand kids loved the train ride and all activities available to them. All together these things made for a great trip.
Oct 13, 2021
First time to stay at a KOA and WOW!! So professional. Staff was courteous and helpful. Not a "sketchy" place at all. Will definitely come back.
Oct 12, 2021
This KOA was amazing! We stayed in a Deluxe cabin for 4 days. It was very nice. The Saturday activities for the kids was fantastic. The facilities and pool were very clean and the lawns were very well kept. The staff was extremely friendly. I guess my only compliant was I wish it closer to where we live.
Oct 12, 2021
Escorted to site. Didn't really use the amenities, but they looked very nice. Staff was very friendly and helpful. Easy in and out. Spaces were spacious. Would definitely stay there again.
Oct 11, 2021
VERY level rv pad. Great showers.
Oct 11, 2021
The staff were extremely friendly and helpful. The play equipment was in good shape. The campgrounds were kept quiet for all to enjoy their stay. The campgrounds were very well maintained, and kept clean of trash and debris. The only downside was that the internet service hardly had any connection. We could not use any of our streaming services when we wanted to relax.
Oct 11, 2021
Had the most friendly and helpful staff then any other campsite we've been. The whole place was very clean and well maintained.
Oct 11, 2021
Quiet and relaxing. Everyone was very friendly. Stayed once before and hopefully going again soon.
Oct 11, 2021
Clean, great pool, friendly and helpful staff.
Oct 07, 2021
My first stay ever in a KOA .. the staff and grounds were just impeccable. Thank you so much for a great experience.. Denise and Mollie
Oct 07, 2021
We have been camping for over 25 years. This campground is the very BEST campground we ever stayed at. The sites were the best in size and extremely clean. The staff is fabulous very helpful and friendly. I will always stay there when I am in the area.
Oct 05, 2021
We had a beautiful site. It had a lot of room. The staff let us know that high winds were expected so we could bring in the awnings.
Oct 05, 2021
We had a great time, staff very friendly and helpful.
Oct 04, 2021
The cabinets had mouse droppings in them, the cabin faced the west so the afternoon sun made it extremely uncomfortable, and the total price of our stay was unclear which made me believe the cost I was quoted was for the entire stay, not just one night. But the kids had a great time.
Oct 04, 2021
Son in law said it wasn't what expected and they didn't stay. I personally did not go with. Said area wasn't big enough to put 2 tents and wasn't private enough.
Oct 03, 2021
Great staff and clean parking spots. Well maintained RV park.
Oct 01, 2021
It was great as usual
Oct 01, 2021
We were passing through and needed a few hours sleep, we found the Lake Conroe KOA was close by, we called and was told that we could check in when we got there at 2:00 am. We are so thankful for Shelly and her staff for being so welcoming and accommodating. I still cannot believe how nice and clean the bathroom and shower was. I felt like I was at a Luxury Hotel. I only wish we could stay longe.
Sep 29, 2021
Outstanding staff, big thanks to Lisa and Alexis! They made the stay a home away from.
Sep 27, 2021
We were only there one night. Wished we could have enjoyed the beautiful campground more. The only problem we had was the cabins could have been a little cleaner. Looks like they need to be updated also.
Sep 27, 2021
Very peaceful. The staff were very friendly and knowledgeable.
Sep 27, 2021
Very helpful and friendly staff.
Sep 27, 2021
Staff is friendly bathroom sanitation a one on point my too biggest pet pees I would stay again
Sep 27, 2021
Had a great time it was so peaceful and everyone was nice y'all have Great staff
Sep 25, 2021
Stayed there while we were building and working . Felt so safe there and a very kind staff. Thank you
Sep 25, 2021
I fled Galveston from a storm. I made an online reservation in midnight hours. I cried to please let me check in early. They said, "We will take care of you, it's going to be alright." The park is clean & well maintained. I felt safe as a woman alone. (There are 2 Pokestops & a Gym, yes I play as an adult). The site was level. Water pressure perfect. Stores, restaurants nearby. You will love it.
Sep 25, 2021
We are first timers an in joyed it very much. We will be back very soon.
Sep 24, 2021
Spacious site and clean campground. Love the area. However, would like to see recycling bins.
Sep 24, 2021
We'll maintained and nice staff …nice long pull thru for big rigs .
Sep 23, 2021
Great staff. Very friendly and helpful. Lots of activities, lots of fun Clean and attractive park.
Sep 22, 2021
We enjoyed the campground, the view was great and the staff were very helpful. We will go back again.
Sep 20, 2021
We arrived after check in time and the office was closed. We found our information in the box and easily found our site, however a vehicle was parked in our site. A quick call to the after hours number, we were in a site close by. Then on our departure we had a problem with a slide out, they helped with a charger and we were on our way. Very good customer service with friendly staff! Thank you!
Sep 20, 2021
Bathroom was super clean and nice and help to get our new pop up set up. Pool was nice and the ice cream! But, dog poop was all over the campsite. We had it all over our shoes as well as the hoses we use for hookups. I know, people are supposed to pick up after their pets but it should just be part of your set up for the next camper. You could easily pick up poop with a pooper scooper.
Oct 09, 2021
Very nice Campground. Shelly and her staff are very welcoming and friendly. This campground has bathrooms and showers as nice as a Hilton. You won't be disappointed.
- Domenic Marcellino on Google
Sep 30, 2021
Oh my gosh. This place was awesome. They have kid events during the day to keep the little active and it was nice to walk around. Showers were clean and it wasn't over crowded.
- Kiki G on Google
Sep 21, 2021
Very nice facility, spacious sites, friendly staff. Close to some stores for necessities. Very relaxing weekend. Will return for sure!
- James Sprague on Google