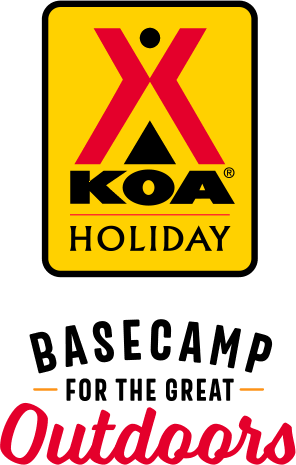 KOA Holiday Campgrounds
Whether you're exploring the local area or hanging out at the campground, KOA Holidays are an ideal place to relax and play. There's plenty to do, with amenities and services to make your stay memorable. Plus, you'll enjoy the outdoor experience with upgraded RV Sites with KOA Patio® and Deluxe Cabins with full baths for camping in comfort. Bring your family, bring your friends, or bring the whole group – there's plenty of ways to stay and explore.
KOA Holidays Feature:
RV Sites with a KOA Patio®
Deluxe Cabins with full baths
Premium Tent Sites
Group meeting facilities
Directions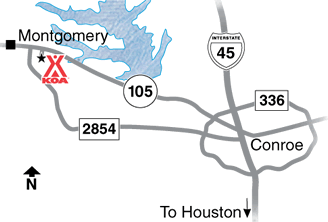 FROM HOUSTON
I- 45 N to  Exit 87(FM 2854/TX - 105 W/W Davis St).  40 miles
Merge onto North FWY Service Road. 1 mile
Left 3 lanes tuen left onto 105 W/W Davis Street
13 miles to 19785 Hwy 105 W  LAKE CONROE/HOUSTON NORTH KOA will be on your left 
FROM US - 290
Take TX - 6 ramp Bryan/Hempstead .03 miles
Turn right onto FMR 2  4.2 miles
Tuen left onto FM 362 N 5.8 miles
Turn right onto TX - 105 E  
in 21 miles 19785 HWY 105 W LAKE CONROE/HOUSTON NORTH KOA will be on your left
Get Google Directions
Jan 20, 2021
We booked the KOA after looking at the amenities on their website. I will never book again on this basis due to the fact that they had not updated their website in SIX YEARS. We found this out after checking in. No indoor pool, no disc golf, no activities. The kids made the best of it but for $80 a night we would've liked to know beforehand that they did not have the amenities any more.
Jan 20, 2021
The stay was great. The only things we were unhappy about was that our water spicket sprayed water everywhere in stead of coming out in a steady stream. Also, my wife had a disturbing encounter with a car driving around trying to follow her back to our tent after she went to the restroom in the middle of the night.
Jan 19, 2021
We love this KOA, staff is awesome!!
Jan 16, 2021
Very nice location. Back in to the lake was excellent. Great WiFi
Jan 11, 2021
KOA campgrounds are our favorite. They are all well maintained and escort you to your camp sight. Conroe KOA was definitely the largest KOA we've ever stayed at, but they did an incredible job! ��
Jan 10, 2021
Nice campgrounds. Weather wasn't the best but not their fault. Friendly staff. Great amenities. Road noise really bad due to stop lite intersection close and heavy truck traffic.
Jan 04, 2021
Very nice facility. The only thing I didn't like was the steepness of the entry off the main street.
Jan 04, 2021
Terry Dick goes above and beyond every visit. I did catch the name of the lady in the gift store. She was very welcoming and went above and beyond helping my daughters purchase items in the gift shop. Well see you all soon!
Jan 04, 2021
Very enjoyable.
Jan 04, 2021
Nice area... campground was decent - did not use the laundry or showers - wifi was not reliable.
Jan 03, 2021
It was very nice place to stay and beautiful area. Staff are very friendly
Jan 02, 2021
The camp site was flooded and unusable!, the RV next to use had a flood light right on our tent all night!, I paid for a site with power and a light but the light fixture was gone and the power to my site was turned off! I left first thing in the morning and I only waited that long because I was to tired to drive home the night we arrived. I was told I could not have a refund on an unusable site!
Dec 30, 2020
Have never had an issue. However this time we scrapped the front right under-carriage as we were leaving.
Dec 26, 2020
We went to CAmille Van Egmond Wedding. Our first time visit was very good . Our cabin was clean and the Ladies that greeted us at the front office were so helpful and smiled. The smile made us feel so welcome. Cissy Serrano
Dec 25, 2020
Nice place to stay, but very expensive
Dec 25, 2020
Overall we were very pleased with the facilities and staff with one exception. The General Manager (did not get his name) was an arrogant POS with absolutely no customer service or care additude towards myself or my family. Tried to explain further but you only allow so many characters........,
Dec 24, 2020
Everyone at this KOA has always been so good to us that we really enjoy staying here and will again in January
Dec 23, 2020
Y'all seriously charged me a late check out when there were at least 20 open spots around me. I didn't get in till late and didn't realize check out was at 11. That was my fault for not looking but no one told me about it on the phone either. Seems pretty poor to charge someone when the spot was not needed at all.
Dec 21, 2020
Amenities as stated are not accurate. Customer service is terrible. Unable to get issues resolved during a weekend stay. I give it a zero on a scale of 1 to 10.
Dec 19, 2020
Place was well kept and service was great.
Dec 15, 2020
I can't believe this cabin (number 21 )was stated as deluxe, Door way rotting out.....entrance tiles broken, smoke detector hanging loose, light bulb needed, parts missing on faucets, and main floor filthy. Two hundred a night for this? Are all KOAs like this? First and last for us.
Dec 15, 2020
Nice campground. Friendly staff. Unfortunately we only booked 2 nights and it was cold so didn't get to enjoy the whole campground. If in the area again I would definitely staff again.
Dec 15, 2020
Beautiful campground! Very clean, very nice people, and lovely grounds. We will return!
Dec 14, 2020
It was perfect. The guests enjoyed the cabins and the Magnolia room was perfect for our rehearsal dinner and working with Tamara was wonderful.
Dec 14, 2020
Never got internet to work. Never got to a point that it even requested a password. TV had snowy connection - never clear.
Dec 14, 2020
Very large but nicely laid out campground with lots of cabins. Friendly staff. We will definitely return!
Dec 14, 2020
this place was more than I expected, very clean, quiet and accessible to town, the staff were friendly and helpful as well.
Dec 14, 2020
First class.
Dec 13, 2020
The cabins look super cute from the outside but the inside of our cabin left much to be desired. Very cold feeling with outdated furniture and kitchenware supplies. Also, we bought 3 bundles of wood and the wood was so wet we could not burn it.
Dec 09, 2020
Everyone there are so polite and take the extra effort to make our stay a pleasant one. If we needed anything all we had to do was make a call or text to the office. We have stayed here before and we will return. Keep up the excellent job to all people that are involved in running this KOA.
Dec 08, 2020
Because the manager had rules but they were not in writing, he threw us out of our rally Hall. Disgraceful. Because we did not understand what he wanted, it was impossible to comply. He actually put screws in the bathroom doors to prevent anyone from coming in. Did he talk to us and ask what we understood? Absolutely not. This guy needs to be fired today. Call me 9366616609 Karl Davidson
Dec 08, 2020
Everything was great
Dec 08, 2020
At first glance it looks really nice but a few things made me rethink my opinion. My site was not level. My site was on the end so the slab for the picnic table did not even fit but the cost did not reflect the small site. They turned off the water at 9am on Monday for maintenance, when they should have waited till 11am. The road noise was bad starting at 6am.
Dec 08, 2020
Besides screwing the bathroom doors to deny access. Staff great, management not.
Dec 07, 2020
Too expensive for just overnight camping. This is an old park and there are lots of things to do for family & kids but not a good value for the money.
Dec 07, 2020
Clean, upscale park. Great staff!
Jan 22, 2021
Upscale KOA with paved roads, concrete RV pads, and spacious layout. Facilities were very clean. Friendly staff! Plenty of shopping nearby. AT&T 4G 5-bars.
- Jack H on Google
Jan 08, 2021
We stayed a week and it was perfect! The staff is very friendly and the park is very clean...they are constantly cleaning and grooming this park. Will definitely be going back...this park is in our top 5
- kelley wickizer on Google
Jan 02, 2021
Staff very friendly. I would come back again.
- ignacio herrera on Google