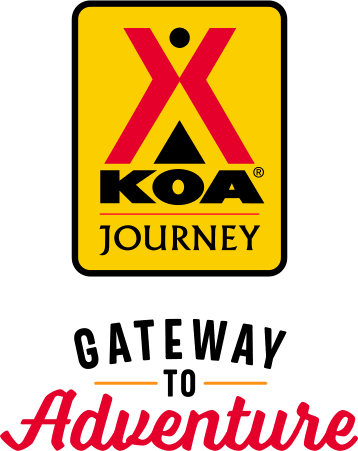 KOA Journey Campgrounds
KOA Journey campgrounds are the perfect oases after a day on the road. Whether it's along the way or a quick getaway, they've got you covered. Located near the highways and byways of North America with long Pull-thru RV Sites, they deliver convenience to the traveling camper. Pull in, ease back and take a load off.
KOA Journeys Feature:
Pull-through RV Sites with 50-amp service
Premium Tent Sites
Well lit after hours check-in service
Aug 07, 2021
Friendly Staff and accommodations
Aug 06, 2021
Enjoyed the short stay. Nice shaded spot close to clean restrooms and showers. Friendly and helpful staff. Quiet area and good campers around made the stay even better
Aug 06, 2021
We would stay there again if we are ever in the area. Very friendly people and nice park.
Aug 05, 2021
A nothing special KOA. Clean. Would stay a night there while traveling but no longer. Biting flies. Pleasant staff.
Aug 05, 2021
We stayed 2 nights. The staff were exceptionally nice and helpful. Caught up on our laundry and paperwork and relaxed.
Aug 04, 2021
Our day was great the place was clean people were nice the campsite was very well-maintained I would recommend it to anyone we had a great time there thank you very much we will return soon
Aug 04, 2021
Very well taken care of park. Nice and quiet and a great place to rest. We will definitely stay again if we are in the area.
Aug 01, 2021
Was disapppointed that the Kennebec KOA was not able to feed us this trip and we had to go to the local bar for supper :(. Oherwise, this KOA campground is always clean and friendly.
Aug 01, 2021
Honestly, I would tell people to actively avoid this KOA. The first place you encounter is the "store" which is sparse and inadequate. Then you are brought to a barren site covered in dog poo because apparently no one picks up after their dogs and the owners aren't concerned. We encountered more flies her that our entire trip out west. The pool was green and there is nothing to do. Nothing.
Aug 01, 2021
Clean, well managed and convenient location. Would definitely stay again.
Aug 01, 2021
Liked the camp site.
Jul 31, 2021
Grounds and parking nice , needs a little work and not much to choose from for restaurants
Jul 31, 2021
It's ok if your staying only overnight and have all your own facilities
Jul 30, 2021
Nice clean, well tended park. The two women in the office were kind and helpful.
Jul 30, 2021
Our oasis in the HOT South Dakota heat! The camp ground as a whole has some new items and some things that are a bit worn but overall we were happy with our stay and glad this KOA is here! Owners were very nice and I enjoyed visiting with them. The pool might have been a bit green, it's hard to keep a pool under control with the trees, weather and dust but we enjoyed it!
Jul 30, 2021
I was so looking forward to using the pool when we got there but wasn't able to. The pool water was green and needed to be treated. I know it was really hot and its hard to keep up with chemicals when its hot, but it can be done. It is a nice clean park.
Jul 30, 2021
Easy in and out for overnight stay. Provided long site to accommodate our rig.
Jul 30, 2021
Arrived at 8:25PM. It was 95 degrees outside and the pool closed at 8:00 PM. I chose this stop based on having a pool. Very disappointed.
Jul 30, 2021
Best KOA we have been to yet! From Canada to Iowa!
Jul 28, 2021
Small but clean koa. Perfect for an overnight stop on i90. Easy in and out.
Jul 28, 2021
Really wish we had a air conditioning was over $75 n it was over 100 degrees n all we had was small fans blowing hot air around we stayed in koa who charged less n had air conditioning..we.didnt sleep well to hot
Jul 27, 2021
Good campground. Clean. Fills up...make reservations early.
Jul 26, 2021
Nice enough pool and sites. Dog run is small and has no shade. Camp store could use some re-stocking and gifts/ fun stuff.
Jul 26, 2021
Good place to see Pierre. Friendly. Clean.
Jul 26, 2021
We stayed 2 nights, nice level pull through site. This is a good stop on I-90, easy access.
Jul 26, 2021
Our site was fine, the restrooms and showers are fine, the staff is very friendly and helpful.
Jul 26, 2021
Quiet place to stop for the night. Mature trees, clean pool and bathrooms. However, WiFi didn't connect, no cable and the pool/shop closed at 8pm- which was a bit early, especially in summer. There is no hot food/restaurant. The fire pit was super small with no grate. They did offer to let us park our vehicle at the empty site next to us- which was nice.
Jul 25, 2021
Needed a little bit of TLC
Jul 25, 2021
Good camp for overnight stops. Clean, open sites, and generally quiet. (Some freeway noise). We stop overnight here on our way from California to Michigan.
Jul 25, 2021
We had a great time!
Jul 25, 2021
nice clean campground.
Jul 24, 2021
Not a bad stop good internet some TV clean overall good spot.
Jul 22, 2021
Quiet, nice length of pull thru sites.
Jul 22, 2021
Open spaces, quiet....
Jul 22, 2021
Useless Wifi!!!! In the evening the wifi is very vert sloooooooooow
Jul 21, 2021
Outstanding stay!!
Jul 21, 2021
Stop over but needs a lot of work
Sep 05, 2021
the bathrooms were the cleanest we have ever seen! the pool looked lovely too. It was a very nice quiet area. The had had an unusually bad rain storm so the roads were a bit rough. i
- M Allen on Google
Aug 25, 2021
They were very accommodating when our truck broke down- & was being repaired at the local mechanic. Being that we didn't know how long it would take, they held our spot - & were overall very sweet to our family.
- Kim Smith on Google
Aug 23, 2021
Great little koa..the family that runs it were great and its a nice small simple campground. .there was bad flood yrs ago but it is amazing how they have brought it back....only one cabin is left after flood and for now tents have to use area by RV rather then old tent camp area, but bathrooms nice and clean and close to small cafes and diner in area....not much else in area and the office is not like big KOAs with mini store, so they only have few basic snacks,etc...but we would stay again..
- shaun K on Google