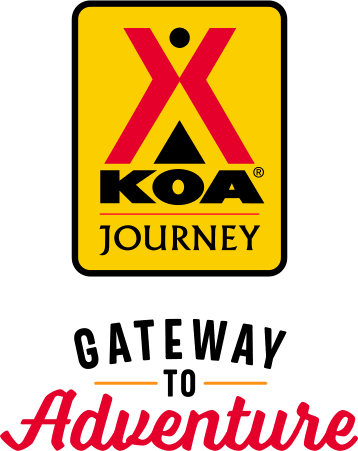 KOA Journey Campgrounds
KOA Journey campgrounds are the perfect oases after a day on the road. Whether it's along the way or a quick getaway, they've got you covered. Located near the highways and byways of North America with long Pull-thru RV Sites, they deliver convenience to the traveling camper. Pull in, ease back and take a load off.
KOA Journeys Feature:
Pull-through RV Sites with 50-amp service
Premium Tent Sites
Well lit after hours check-in service
Sep 10, 2020
Nice staff, good pit stop. Weather was rainy so just went to bed
Sep 09, 2020
We had a total of four stays at Kennebec. Each time the staff was very friendly and helpful. A nice place to just get away...we will return next summer!
Sep 09, 2020
Friendly staff. Appreciated the covid precautions. Comfortable sized sites. Would stay again if passing through!
Sep 08, 2020
It was our first stay at a KOA and you guys made us lifetime fans already! Thanks!
Sep 08, 2020
We spent a very quiet restful two nights. It fit our schedule. So peaceful and not much around to do. Families would not enjoy that much. Owners were nice, helpful but not the usual KOA that we are used to.
Sep 07, 2020
Quite place loved it!
Sep 07, 2020
Perfect for a spot to pull into late at night. Not many amenities, but clean, safe and the employee was friendly.
Sep 06, 2020
Perfect stop, just perfect, heading east from Rapid City to Sioux Falls or anywhere east. So glad for that location and stopover. Thanks!
Sep 05, 2020
Clean, Friendly place. Staff properly masked and distance. Shower/bathroom needs a sign on door string Masks Required
Sep 04, 2020
Staff was very friendly. Campground could have been maintained better. Bathrooms were well taken care of, but playground was falling apart and games such as horseshoes. Picnic table was dirty and full of bird poo. Stayed at other KOA's and picnic table and hookups were cleaned prior to arriving.
Sep 04, 2020
Great place. Very nice folks. They had everything we needed
Sep 02, 2020
We enjoy staying at this KOA. Staff is friendly and always helpful.
Sep 02, 2020
Friendly staff, clean restrooms, not many people there the night we stopped by.
Sep 02, 2020
Host was very friendly and helpful. There was some bad weather coming in and he made sure we were given a site where trees would not rub our camper. He also explained that weather we were seeing should not impact us. The only reason I did not give it five stars was because I did not use the showers or restrooms and can't speak to those services.
Aug 31, 2020
Stayed for a couple of days enjoyed the park
Aug 31, 2020
They left the outdoor light on all night and we could not sleep.
Aug 30, 2020
Excellent campground, facilities and staff.
Aug 30, 2020
Nice campground for an evening stay. We were on our way to Wyoming.
Aug 30, 2020
Very pleasant hosts. Enjoy the night stay.
Aug 26, 2020
We stayed one night slept and left in morning
Aug 24, 2020
Great staff. Convenient location to the interstate. Sites were spacious and flat. Great overnight stay
Aug 24, 2020
Very nice campground. We had a nice quiet stay.
Aug 23, 2020
very restful
Aug 23, 2020
It was short but the facility was clean and the hosts were very accommodating
Aug 23, 2020
This review has been removed by KOA due to profanity.
Aug 21, 2020
Nice and quiet. Level spot to park, good utilities and friendly staff.
Aug 21, 2020
WiFi was terrible
CAMPGROUND RESPONSE / COMMENTS:
I am sorry you had this problem. I wish you had mentioned it to us. As it turns out, a piece of equipment had been shut off by mistake. Had we known at the time, we could have easily resolved this problem.
Aug 20, 2020
Nice clean friendly and relaxing park to stay.
Aug 20, 2020
I arrived late, but there was a spot open for me to take and I slept well. The facilities were clean and I felt safe. Thanks for a great stay, your property is beautiful.
Aug 19, 2020
We arrived early which was ok. Our site was in sun so we request a different site which they were able to accomindate. We were only there for one night but it was clean and quite. Great stop over .
Aug 19, 2020
We were only in the Kennebec KOA 1 night, arrived around supper time and unhooked in order to run out to eat and then back. The campground appeared to be well kept and organized and the staff member I dealt with was very friendly and helpful. I would not hesitate to reserve a spot at this KOA again.
Aug 18, 2020
Our stay was great. We will stay here again on our next trip.
Aug 17, 2020
Pam was so helpful & has a great personality.
Aug 17, 2020
Very nice place. Quite, level spots, good trees for shade, staff very friendly and helpful, went above and beyond to help us.
Aug 17, 2020
Very nice out of the way stop for one night on way home to Missouri. Far enough away from I90 so very quiet.
Aug 17, 2020
well maintained and clean site.
Aug 17, 2020
In these days of Covid we really wanted clean rest rooms. These were brand new and very, very clean.
Aug 17, 2020
This was a pretty run down campground. It appeared abandoned in parts. The "kiddie pool" is an empty eyesore, there's no playground for the kids, though it's on the map. No cable, no store, sites are small. It's an ok place if you're just passing through. I can't for the life of me understand where they get off charging me extra per kid.
Aug 17, 2020
Good hosts, good campsites.... my only issue is with the covid restrictions, the laundry, showers, and restrooms were all locked (understandable), but reduced amenities didn't result in reduced prices. It's also a little odd that the pool remained open. Maybe the message was, "Gotta bathe? Gotta pee? Jump in the pool."
CAMPGROUND RESPONSE / COMMENTS:
Our restrooms are not locked. They are open 24 hours per day and cleaned and disinfected 4 time daily.
Aug 10, 2020
Traveling through, fast and friendly check in.
Jun 20, 2021
I've been on a cross country road trip for over two weeks, staying mostly at KOAs, and this was probably the best night's sleep I've had so far. (I was in the cabin.) This unassuming little place reminded me of KOAs when I was a kid, and is, in my opinion, what a KOA SHOULD be. Forget the ice cream socials, Father's Day weekend BBQs, pool parties and cornhole tournaments. All people really want is a QUIET clean place to stop for a good night's sleep. Right off the freeway, but traffic wasn't a problem. I enjoyed listening to birds chirping and watching turkeys visit the playground this morning! And the awesome hosts couldn't have been kinder or more welcoming. (Note: I'm a lifelong roadtripper and this is the first time I've ever left a lodging review of any type.)
- Cheryl H on Google
Jun 19, 2021
Pretty pog pool
- Mcyt and Eddsworld Fan on Google
Jun 18, 2021
Very friendly staff and helpful. Nice KOA.. Enjoyed our stay there
- Bob Biddle on Google