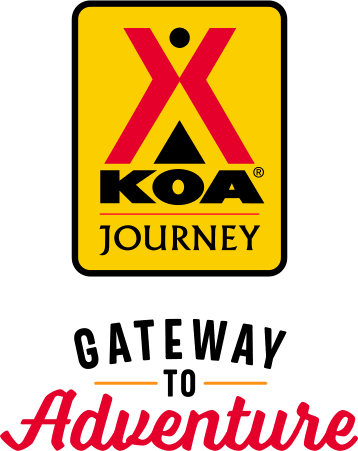 KOA Journey Campgrounds
KOA Journey campgrounds are the perfect oases after a day on the road. Whether it's along the way or a quick getaway, they've got you covered. Located near the highways and byways of North America with long Pull-thru RV Sites, they deliver convenience to the traveling camper. Pull in, ease back and take a load off.
KOA Journeys Feature:
Pull-through RV Sites with 50-amp service
Premium Tent Sites
Well lit after hours check-in service
Sep 17, 2021
Wifi was rockin, 605 restaurant burgers were DEElish!!!
Sep 17, 2021
The owner was very friendly, escorted us to our site and made sure we had everything we needed. Level campsite that was clean and nice. This was just an overnight stay for us, but would definitely stay there again!
Sep 16, 2021
Nice and clean campground. Right off the highway so very convenient! Would stay again!
Sep 16, 2021
We were just passing through and have stayed at Kennebec KOA before. Unfortunately a heavy rain made many sites very wet. The bathrooms were clean and access off the interstate was very handy.
Sep 14, 2021
Too close to the freeway, very noisy
Sep 13, 2021
Very easy access, just off interstate. Quietest KOA we've every stayed at. Pull through sites are long and level. Love the country atmosphere.
Sep 13, 2021
Very friendly staff. Clean accomodations!
Sep 13, 2021
One night. Went fine.
Sep 12, 2021
Quiet, convenient and very nice sites.
Sep 12, 2021
would of been five stars if you didn't have to drive your very expensive motorhome thru big huge muddy filled potholes Sept 2021 KDM
Sep 10, 2021
Just needed the stopover, it was convenient for our purposes
Sep 10, 2021
Very nice roadside park.
Sep 09, 2021
Quiet, safe and clean. Perfect stop over.
Sep 08, 2021
It was a one night stop on a long haul trip. Friendly staff, good facilities. I'd recommend it as you travel across I-90.
Sep 08, 2021
Nice people, concerned about our comfort.
Sep 08, 2021
Some of the nicest, cleanest bathrooms at any campgrounds I've stayed at. Nice people. Sites were nice. Laundry machines were fine but few. Dog park could use a people bench. Would really help (since it is very rural) if the owners could convince a food truck or something to come there.
Sep 07, 2021
Nice campground just off I 90. Very quiet. Friendly staff. We would stay again.
Sep 03, 2021
Campground easy to get into. Helpful staff.
Sep 03, 2021
Nicest KOA I have stayed in for awhile. Thank you!!!
Sep 02, 2021
Very nice. Thank you.
Sep 01, 2021
Had to check out by 10:30, first time before 11am.
Aug 31, 2021
Staff was very pleasant and informative.The facilities were all clean and the sights were good. Nothing fancy, but definitely adequate for an overnight stay.
Aug 31, 2021
Perfect for an overnight stop: quiet, great WiFi, good water pressure.
Aug 28, 2021
Initial assigned campsite was not level. Had to go back to the office and request a more level site.
Aug 27, 2021
Nice staff. Kind of rural. Saw a wild turkey in our camp!
Aug 27, 2021
Lovely people
Aug 25, 2021
just a sleep over, but very nice
Aug 24, 2021
Clean, convenient location. Grandkids enjoyed Pool and playground
Aug 24, 2021
Everyone was friendly and helpful.
Aug 24, 2021
This is a very nice overnight spot while going from place to place.
Aug 21, 2021
Staff was very friendly. Campground very quiet. Great for an overnight stay on the way to Rapid City.
Sep 05, 2021
the bathrooms were the cleanest we have ever seen! the pool looked lovely too. It was a very nice quiet area. The had had an unusually bad rain storm so the roads were a bit rough. i
- M Allen on Google
Aug 25, 2021
They were very accommodating when our truck broke down- & was being repaired at the local mechanic. Being that we didn't know how long it would take, they held our spot - & were overall very sweet to our family.
- Kim Smith on Google
Aug 23, 2021
Great little koa..the family that runs it were great and its a nice small simple campground. .there was bad flood yrs ago but it is amazing how they have brought it back....only one cabin is left after flood and for now tents have to use area by RV rather then old tent camp area, but bathrooms nice and clean and close to small cafes and diner in area....not much else in area and the office is not like big KOAs with mini store, so they only have few basic snacks,etc...but we would stay again..
- shaun K on Google