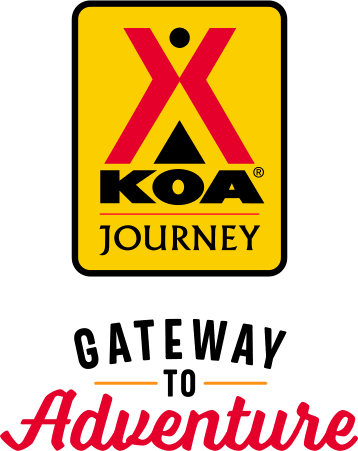 KOA Journey Campgrounds
KOA Journey campgrounds are the perfect oases after a day on the road. Whether it's along the way or a quick getaway, they've got you covered. Located near the highways and byways of North America with long Pull-thru RV Sites, they deliver convenience to the traveling camper. Pull in, ease back and take a load off.
KOA Journeys Feature:
Pull-through RV Sites with 50-amp service
Premium Tent Sites
Well lit after hours check-in service
Oct 12, 2021
Comfy night after a stressful day!
Oct 12, 2021
Great place to stay while passing thru. Very large sites, clean restrooms.
Oct 10, 2021
We stayed 9/17/21 and on 10/4/21 on our way back. Kennebec KOA is a great place to stop when on the way to your final designation! Love that a laundry and sink for washing dishes is available. Outside of the highway traffic, the campground was quiet. The bathrooms were clean, but could use a little updating. Suggestion: check the picnic tables periodically - ours had bird droppings all over it.
Oct 09, 2021
If you want a place to flop for the night this no frills KOA is for you. It was not busy at all....yet when I asked for a later check out I was charged. There were 5 camps total ....most places don't do this. Make sure you have food and groceries too. Not much out there.
Oct 08, 2021
Helpful staff, fabulous pool, nice playgrounds for kids, nice laundry and dish doin facilities.
Oct 08, 2021
Park need a facelift,
Oct 07, 2021
Nice quaint campground. Staff were very helpful
Oct 04, 2021
A good place to stop at but if you're looking for things too do near by there isn't aney.
Oct 04, 2021
beautiful camp, level sites, easy in and out with big rig or coach with toad.
Oct 04, 2021
Friendly and helpful owner. Clean restrooms. They had received three days of rain, so a little muddy driving in, but put us in a dry site. �
Oct 02, 2021
Nice quiet park, lots of bunnies to watch.
Sep 30, 2021
Staff were very friendly! It was very easy on and off for a one night stay. Would definitely stay here again!
Sep 29, 2021
Friendly owners and great personal service. We'll be back!!!
Sep 28, 2021
This is a good campground while passing through. Nice and quiet for a good night's sleep. The staff was very friendly and courteous.
Sep 28, 2021
The Kennebec KOA is nothing more than a glorified pasture, our site was rutted with little or no gravel. If you had kids the so called playground was a joke and the basketball court had either a broken backboard or nothing. Make your plans to either stop before or after the Kennebec KOA
Sep 28, 2021
Nice clean rest rooms,clean laundry and machines. The grounds were clean and the dog park was clean and short grass enjoyed by my dog. Will stay again when are travels goes this way again
Sep 27, 2021
Just did over night going place to place. Easy in and out. Very clean
Sep 27, 2021
Very good Campground very well Ran
Sep 27, 2021
with all the empty spots, we should not have been near to anyone
Sep 26, 2021
really nice camp, easy to get class A with tow in and out. very level, long lots
Sep 26, 2021
Stayed over night.... Easy to get to, easy to access everything we needed. Clean bathrooms, quiet nice spot.
Sep 25, 2021
This KOA was quite, neat, friendly and the restrooms/showers sparkled,
Sep 24, 2021
Other than the mosquitoes showing up for our stay, it was a great location. Easy access off the interstate. Some highway noise, but that is to be expected. Will stay again on our next trip that direction.
Sep 23, 2021
Very customer friendly staff, quiet campground. Definitely a place to stop and relax
Sep 23, 2021
Nice place. Lots of freeway noise coming from the interstate.
Sep 22, 2021
It was very nice. We would stay again.
Sep 21, 2021
There are nice people and there are THE SUPER NICE PEOPLE LIKE THEM
Sep 20, 2021
Tony and his family that own this KOA are great. Very nice and keep everything clean and tidy. They go above and beyond. Always there if you have questions. They even added extra WiFi while I stayed there because I couldn't get a good signal. Would 100% stay there again.
Sep 19, 2021
Sites were clean and spacious. Bathrooms were also very clean. Much nicer than most of the off the highway campgrounds we've stayed at. Will definitely be back.
Sep 19, 2021
Overnight stop. Easy in and out. Nice flat pull thru site.
Sep 19, 2021
Aaron was so helpful during our stay. Dedicated and resourceful!
Sep 19, 2021
Ok for a o e night - easy in & out
Sep 19, 2021
Great place to stop in the middle of South Dakota! Stopped here on our way out west & again on our way back. Super clean campground and friendly people. I like reserving my stays online & they make it very easy, even when checking in after hours!
Sep 18, 2021
We've stayed here before and it's a great place for an overnight stay. Good wifi.
Sep 17, 2021
Wifi was rockin, 605 restaurant burgers were DEElish!!!
Sep 17, 2021
The owner was very friendly, escorted us to our site and made sure we had everything we needed. Level campsite that was clean and nice. This was just an overnight stay for us, but would definitely stay there again!
Sep 17, 2021
Clean, convenient, organized, nice.
Sep 16, 2021
Nice and clean campground. Right off the highway so very convenient! Would stay again!
Sep 16, 2021
We were just passing through and have stayed at Kennebec KOA before. Unfortunately a heavy rain made many sites very wet. The bathrooms were clean and access off the interstate was very handy.
Sep 05, 2021
the bathrooms were the cleanest we have ever seen! the pool looked lovely too. It was a very nice quiet area. The had had an unusually bad rain storm so the roads were a bit rough. i
- M Allen on Google
Aug 25, 2021
They were very accommodating when our truck broke down- & was being repaired at the local mechanic. Being that we didn't know how long it would take, they held our spot - & were overall very sweet to our family.
- Kim Smith on Google
Aug 23, 2021
Great little koa..the family that runs it were great and its a nice small simple campground. .there was bad flood yrs ago but it is amazing how they have brought it back....only one cabin is left after flood and for now tents have to use area by RV rather then old tent camp area, but bathrooms nice and clean and close to small cafes and diner in area....not much else in area and the office is not like big KOAs with mini store, so they only have few basic snacks,etc...but we would stay again..
- shaun K on Google