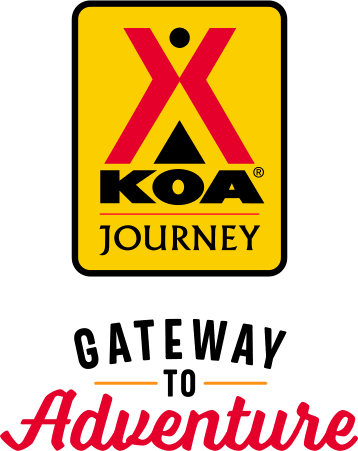 KOA Journey Campgrounds
KOA Journey campgrounds are the perfect oases after a day on the road. Whether it's along the way or a quick getaway, they've got you covered. Located near the highways and byways of North America with long Pull-thru RV Sites, they deliver convenience to the traveling camper. Pull in, ease back and take a load off.
KOA Journeys Feature:
Pull-through RV Sites with 50-amp service
Premium Tent Sites
Well lit after hours check-in service
Jul 26, 2021
Nice enough pool and sites. Dog run is small and has no shade. Camp store could use some re-stocking and gifts/ fun stuff.
Jul 26, 2021
Good place to see Pierre. Friendly. Clean.
Jul 26, 2021
We stayed 2 nights, nice level pull through site. This is a good stop on I-90, easy access.
Jul 26, 2021
Our site was fine, the restrooms and showers are fine, the staff is very friendly and helpful.
Jul 26, 2021
Quiet place to stop for the night. Mature trees, clean pool and bathrooms. However, WiFi didn't connect, no cable and the pool/shop closed at 8pm- which was a bit early, especially in summer. There is no hot food/restaurant. The fire pit was super small with no grate. They did offer to let us park our vehicle at the empty site next to us- which was nice.
Jul 25, 2021
Needed a little bit of TLC
Jul 25, 2021
Good camp for overnight stops. Clean, open sites, and generally quiet. (Some freeway noise). We stop overnight here on our way from California to Michigan.
Jul 25, 2021
We had a great time!
Jul 25, 2021
nice clean campground.
Jul 24, 2021
Not a bad stop good internet some TV clean overall good spot.
Jul 22, 2021
Quiet, nice length of pull thru sites.
Jul 22, 2021
Open spaces, quiet....
Jul 22, 2021
Useless Wifi!!!! In the evening the wifi is very vert sloooooooooow
Jul 21, 2021
Outstanding stay!!
Jul 21, 2021
Stop over but needs a lot of work
Jul 20, 2021
The place was staffed w/2 people. There was 1 person in the office & 1 escort. When it was our time to be escorted to our site we didn't see the escort & so parked ourselves & got scolded. The pool was only open until 8 p. In the upper midwest you hope to get all the pool time you can get when it is nice out & still daylight. We wished the pool was open until Dusk like other KOA's.
Jul 19, 2021
Check in was easy and friendly, they had a very well stocked little store for any last minute needs. The grounds were well maintained and clean. It was a great place to stop over as we were passing through.
Jul 18, 2021
The staff was very helpful and the campground is neat and clean.
Jul 18, 2021
been here a few times. we don't use facilities but otherwise a nice campground.
Jul 18, 2021
Thanks for a great nights rest!! Staff was so friendly! Campgrounds clean!!
Jul 18, 2021
Very nicevstaff
Jul 18, 2021
Great place to stop when traveling through. We would stay there again.
Jul 18, 2021
We stayed one night. Very clean camp ground. We had checked in via phone and arrived after office closed. Tent site only....bathrooms were clean and showers hot. Quiet campground and good neighbors. A good night's sleep and good experience.
Jul 17, 2021
Very clean! Staff was super helpful and able to get us a site with short notice. Thank you!
Jul 16, 2021
Loved it!! They where very nice and it was very clean!! Will stay again!!
Jul 15, 2021
The owners and staff and very friendly and helpful. The bathrooms and showers were clean and neat. Great place to stop overnight while in route to Mt Rushmore and other attractions.
Jul 15, 2021
Nice staff, clean , easy access.
Jul 15, 2021
Old school small town campground. Excellent people and very clean bathroom and showers. Brought back alot of memories for me and my family.
Jul 15, 2021
Pretty basic and a little run down but otherwise a decent place to stay and very helpful and friendly staff.
Jul 14, 2021
Very nice campground. My granddaughter says the pools was great! Easy parking FHU PULLTHRU.
Jul 14, 2021
The man mowing didn't even stop when we pulled in..blowing dirt, rocks right at us...no trees, nothing around it , pool was green.....
Jul 13, 2021
Thank you for being so helpful and accommodating!Much appreciated :)
Jul 13, 2021
very nice and quite we were able to get good nite sleep
Jul 13, 2021
A nice, clean campground! Friendly and helpful staff. Very nice place to spend the night on our journey!
Jul 12, 2021
Great location for our cross country travels Friendly staff, nice sites, great camping neighbors. Would definitely stay here again. There was a little bit of construction during the day but kudos to the owner for taking the initiative to upgrade.
Jul 11, 2021
Very friendly and nice size spaces.
Jul 11, 2021
Friendly staff. Nice and clean pool.
Jul 15, 2021
Very clean facilities
- Michelle Mulholland on Google
Jul 14, 2021
Extremely guiet and very clean. Staff was great. Great place to stay. Kennebec is a very small town which we liked.
- Andrew Eckman on Google
Jul 08, 2021
Friendly people Great recovery after huge flood 2 years ago
- Rev John Reinke on Google