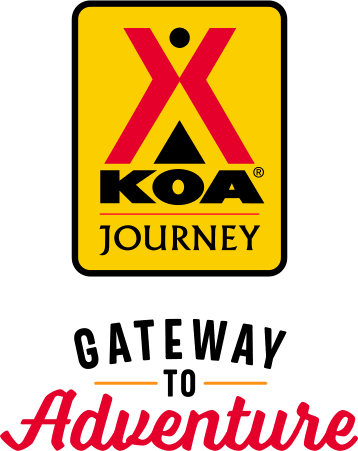 KOA Journey Campgrounds
KOA Journey campgrounds are the perfect oases after a day on the road. Whether it's along the way or a quick getaway, they've got you covered. Located near the highways and byways of North America with long Pull-thru RV Sites, they deliver convenience to the traveling camper. Pull in, ease back and take a load off.
KOA Journeys Feature:
Pull-through RV Sites with 50-amp service
Premium Tent Sites
Well lit after hours check-in service
Oct 04, 2021
A good place to stop at but if you're looking for things too do near by there isn't aney.
Aug 13, 2021
Peaceful and friendly campground
Jul 28, 2021
Really wish we had a air conditioning was over $75 n it was over 100 degrees n all we had was small fans blowing hot air around we stayed in koa who charged less n had air conditioning..we.didnt sleep well to hot
Jun 25, 2021
I stayed overnight (in the cabin). Probably the best night's sleep of all the KOAs during my cross country trip. This unassuming little place reminded me of KOAs when I was a kid, and is, in my opinion, what a KOA SHOULD be. Forget the pool parties, weekend BBQs and putt putt golf. All people really want is a quiet, clean place to stop a good night's sleep. Easy access and kind, welcoming hosts.
Oct 20, 2018
This KOA is located off a very isolated,dark exit!Probably a great quiet place if you arrive day time with family,but it's terribly spooky arriving in middle of night by yourself.no lights left on in cabin,key left in door,bathrooms unsecured.another hotel facility in area spoke very highly of camp hosts and area but I was too uneasy to be reassured and ended up in a hotel that night.
Oct 11, 2018
Just came for the night and it was already dark when we got there, so not much to rate. But we did enjoy the breakfast in the morning! Staff was great to chat with!
Oct 05, 2018
Small, but nice.
Oct 03, 2018
Staff really friendly and helpful. Clean bathrooms. I liked that the cabin had a designated gravel parking spot. No Muddy Mess!!!
Aug 22, 2018
Beautiful and relaxing! Very friendly and perfect for the kids to get out and run around after a long day driving!
Aug 04, 2018
Clean cabins, bathrooms and grounds. There is highway noise. Plan ahead for meals, nearest restuarant is 10 miles. Overall great stay!
Jul 28, 2018
They were so nice having everything ready when we arrived so late. I would suggest a double electrical outlet near the head of the beds for electronics.
Jul 19, 2018
Very friendly and helpful staff. Needs some TLC
Jul 17, 2018
It was dry. Not enough shade
Jul 15, 2018
We had a wonderful stay
Jul 14, 2018
I really like the idea of having both breakfast and dinner there, since there isn't any place near by to go to.
Jul 09, 2018
nice people, quiet area, loved it
Jul 05, 2018
The staff was awesome!!! Very friendly and helpful. The food at the chuckwagon was really good. Only issue was the WiFi, I use the net a lot to plan my trips and check weather and such.
Jun 01, 2018
The owners were friendly, but the pool was cold and slimy at the bottom. The kids wading pool was disgusting, with something floating in it.
CAMPGROUND RESPONSE / COMMENTS:
The pool referenced here was our wading pool. The night before someone had introduced some type of foreign material to the pool which turned the water an awful color. We were aware of the problem, we had closed and locked the pool to prevent anyone being exposed and were in the process of treating it to correct the problem. We are sorry the sight of it disturbed you so.
Sep 12, 2017
This had to have been our 6th stay. We are so appreciative of the clean, comfortable cabins. The owners are so sweet and kind. We'll be back.
Aug 08, 2017
We stayed in a one room cabin. It was nice. The air conditioner is really loud and makes the wall it is on hum a little. Really liked the kiddie wading pool. Bathrooms and showers were clean.
Aug 06, 2017
A nice campground very clean and a friendly staff. They took good care of me and I would stay again. Only reason it's not five stars is the scenery compared to other locations but this is the Great Plains after all
Jul 31, 2017
Everyone at the Kennebec KOA were so kind and helpful. This is a great family run business and one we would stay at again when in the area!
Jul 29, 2017
not much to do in the area
Jul 22, 2017
The vents on the AC were broken, so it only blew cold air straight frwrd-not near the beds. It stunk of moth balls and skunk. Cracks in the walls, flies got inside even though all windows and doors closed. Only one set of outlets, one used for AC left only one outlet. Cabin tilted to the East, floor slightly unlevel. Staff was friendly, store was nice. Bathrooms were clean. Grnds nd shade.
Sep 05, 2021
the bathrooms were the cleanest we have ever seen! the pool looked lovely too. It was a very nice quiet area. The had had an unusually bad rain storm so the roads were a bit rough. i
- M Allen on Google
Aug 25, 2021
They were very accommodating when our truck broke down- & was being repaired at the local mechanic. Being that we didn't know how long it would take, they held our spot - & were overall very sweet to our family.
- Kim Smith on Google
Aug 23, 2021
Great little koa..the family that runs it were great and its a nice small simple campground. .there was bad flood yrs ago but it is amazing how they have brought it back....only one cabin is left after flood and for now tents have to use area by RV rather then old tent camp area, but bathrooms nice and clean and close to small cafes and diner in area....not much else in area and the office is not like big KOAs with mini store, so they only have few basic snacks,etc...but we would stay again..
- shaun K on Google