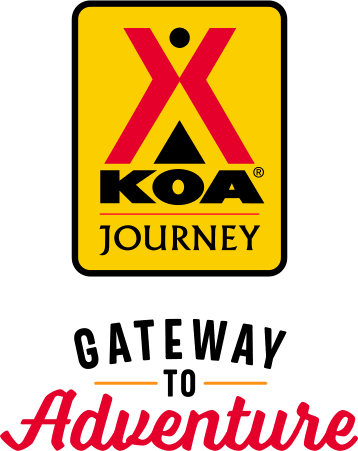 KOA Journey Campgrounds
KOA Journey campgrounds are the perfect oases after a day on the road. Whether it's along the way or a quick getaway, they've got you covered. Located near the highways and byways of North America with long Pull-thru RV Sites, they deliver convenience to the traveling camper. Pull in, ease back and take a load off.
KOA Journeys Feature:
Pull-through RV Sites with 50-amp service
Premium Tent Sites
Well lit after hours check-in service
May 27, 2021
Everything was very nice.
May 25, 2021
This site is barely a KOA is you ask me. I think the signs were the only resemblance. I never met a person who worked there. It was grassy and convenient though right off the highway. If you are travelling past 8pm just know there is no shops open for over a 20 mile diameter in any direction. This is basically a sleep and go stop. No pool, no hot tub, no breakfast. Still did the trick for us tho!
Oct 22, 2020
Great amenities great friendly service
Sep 20, 2020
Statement to wrong person!! We are Sam Roper Family and we did stay at Kennebec! Check in was done by hand in driveway. Only 2 toilets and 2 showers were working. Old and out of date! KOA should reconsider and re-evaluate this property.
Sep 08, 2020
It was our first stay at a KOA and you guys made us lifetime fans already! Thanks!
Sep 05, 2020
Clean, Friendly place. Staff properly masked and distance. Shower/bathroom needs a sign on door string Masks Required
Aug 31, 2020
They left the outdoor light on all night and we could not sleep.
Aug 20, 2020
I arrived late, but there was a spot open for me to take and I slept well. The facilities were clean and I felt safe. Thanks for a great stay, your property is beautiful.
Aug 17, 2020
well maintained and clean site.
Aug 10, 2020
Initially it was unnerving to be in a tent site with semi trucks passing 20 feet away but by about 3am I got used to the suddenness of the violent roar. Otherwise the site was very politely and efficiently run. Seemed great for those in RVs.
CAMPGROUND RESPONSE / COMMENTS:
Not sure why there would have been semi trucks 30 feet from your site. We are over a quarter of a mile from the interstate and slightly less than that from the sites to the nearest state highway.
Aug 07, 2020
Store closed a little early. Everything else wonderful.
Jul 07, 2020
They were more than helpful. We were out riding and exploring the area when a sudden 70 mph storm with hail came through the camp - they called us and they help preserve our tent by putting up our rain fly - so we had minimal damage while we sheltered in place where we were at. Great camp hosts.
Jul 05, 2020
Nice spot near bathrooms, which were very clean, quiet grounds, missed having brkfst
Jun 30, 2020
Great stay all good
Jun 29, 2020
Very small campground situated in the perfect place for your trip to or from the Black Hills. Not a lot of facilities, but clean whatsoever. Friendly staff. Beautiful nature. Quiet. Bring your own food, because the town is very small and doesn't have a lot of choices for where to eat!
Jun 17, 2020
I liked how they were following the coronavirus guidelines. They had a campground between mine and someone else. Very friendly guy at the front. I also liked that there was sanatizer next to the door so you could use it as you left.
Jun 13, 2020
Beautiful Thursday night. 70's and comfortable. The hosts were great. We got to see wild turkeys walk right by our site in the morning. Couple drawbacks, (not their fault) trucks going by 24 hours a day using their jake brakes, pool closed, store closed.
Sep 29, 2019
A little rough, but not bad considering the flood. The 110 v receptacles are in bad shape and need to be replaced. Everything is clean and the camp hist is a great guy. I'm looking forward to seeing the camp after flood recovery is complete!
Sep 26, 2019
Unfortunately they had been flooded and we were unaware before booking our stay. No laundry service and the grounds just needed a good cleaning. Bathrooms and showers were clean. The whole campground just not up to the standards of most KOAs.
Sep 23, 2019
It was a nice visit. The owner was great.
Sep 09, 2019
Considering the campground was flooded in the spring, it is amazing that they got back up and running this season. Hosts were very nice and friendly, gave a discount since not all services were available. Restrooms were clean. Too bad we didn't get to see the true campground, wish them well on their recovery.
Aug 31, 2019
Flood damaged. Terrible condition. They should be more forthcoming with the condition when you make your reservation
CAMPGROUND RESPONSE / COMMENTS:
To set the record straight, you did not make a reservation, you were a drop in. You were informed of the conditions and had the opportunity to check the park out before staying. I am sorry you stay was so bad, I wish you had said something to us about it. Perhaps we could have helped.
Aug 13, 2019
They just got over being flooded felt so bad for them .. Very friendly staff clean bathrooms would stay again in a second ..
Nov 14, 2018
met all my expectations
Sep 11, 2018
Nice quiet night for me. This is very convenient and easy to find. The staff was spectacular and extremely helpful.
Sep 10, 2018
The tent area was far separated from the RVs and the main office, but not so remote. As a result there wasn't any stray headlights or other illumination that might have made sleeping difficult. I had a very good time at Kennebec.
Sep 09, 2018
A wonderful stay - Thanks!!!
Sep 09, 2018
Just stayed for one night while traveling through the town. KOA campgrounds are always so very clean.
Sep 04, 2018
Aside from the mosquitoes, it was very enjoyable.
Sep 02, 2018
The people were very nice and helpful. The store/office had very limited hours and the grounds, while well maintained, were a bit aged. It's not quite as nice as other KOA campgrounds I've stayed at but still very good.
Aug 20, 2018
Some help was gone. No chuck wagon like advertised.
CAMPGROUND RESPONSE / COMMENTS:
We publish that the chuck wagon is open until mid-August. This year it was closed on the 14th of August due to our staff leaving us and returning to school. I am sorry you missed out but we absolutely did what we advertised and kept it open until mid-August.
Aug 14, 2018
Stayed many times! Very nice people and a nice camping area!
Aug 12, 2018
Great people to deal with. Showers and bathroom were clean. Enjoyed the pool. Only downside were the mosquitoes!!
Aug 06, 2018
Very friendly folks, good tent spot.
Aug 01, 2018
Clean restrooms friendly staff. Good halfway stop in the state
Jul 23, 2018
Van was not running properly and stayed at the Koa for awhile while we figured out our plans. Very nice people and place. Thank you
Jun 10, 2021
Nice location. Clean. The only thing if you're coming need groceries or some food, stop before you get to this location there's no restaurants or store that is open after five. The KOA has a few items.
- Patti Bailey on Google
Jun 09, 2021
Great wifi and employees. Nice place, grocery store in town.
- Backfourty Adventures on Google
Jun 08, 2021
My wife and I stopped for the night the on our way to the Black Hills. The next morning a few miles down the road we had a wheel bearing go out on our camper. We were able to turn around and limp back to the campground. Tony, one of the owners put us up in a great site with shade since we have dogs. He also made some phone calls, it was Sunday, everything was closed, and got us hooked up with a local garage who got us fixed up Monday when they could get parts.
- Mike Moore on Google