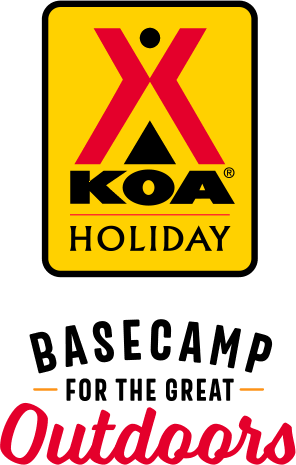 KOA Holiday Campgrounds
Whether you're exploring the local area or hanging out at the campground, KOA Holidays are an ideal place to relax and play. There's plenty to do, with amenities and services to make your stay memorable. Plus, you'll enjoy the outdoor experience with upgraded RV Sites with KOA Patio® and Deluxe Cabins with full baths for camping in comfort. Bring your family, bring your friends, or bring the whole group – there's plenty of ways to stay and explore.
KOA Holidays Feature:
RV Sites with a KOA Patio®
Deluxe Cabins with full baths
Premium Tent Sites
Group meeting facilities
Directions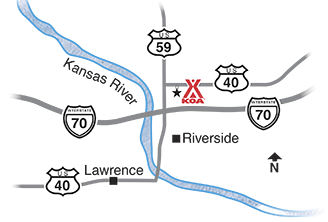 Exit 204 off I-70: take a right go half a mile north on 59 hwy, take a right go east on 24/40. We are the first right after the giant Teepees. 
GPS: N38.998333, W95.228653
Get Google Directions
Oct 21, 2021
Even though just an overnight stay to visit a friend, the park was very nice and the staff friendly and helpful,.
Oct 20, 2021
Easy and welcoming check in and friendly staff. Clean and quiet. Definitely would stay again.
Oct 19, 2021
Thank you Kevin for being so polite and helpful with one of the showers! Really nice people and a very nice campground!
Oct 19, 2021
It was lovely and I didn't even hear the trains at night!
Oct 19, 2021
Best relax time I have I am a Dj my sister and self we like to make music and this is the best place for relaxing and concentration I love it thanks to stuff wonderful people see you soon
Oct 18, 2021
Everyone was very friendly and helpful. Great place to stay!
Oct 18, 2021
We love this place so much that we come back every year for our annual BBQ Bash. Thanks again for a great stay. You know us as the SPAM folks. lol. We also love that there are so many things there for the kids to do. Keep up the great work. This place just keeps getting better and better each year. See you again next year.
Oct 18, 2021
Campground was nice , but it would have been nice to have more room between RV's
Oct 18, 2021
It's a great place and our 2 granddaughters had lots of fun it was a very relaxing weekend all the staff was very nice and friendly and professional will definitely stay there again
Oct 17, 2021
It was nice and clean but the trains were loud and ran all night! And there was a party in the pavilion on Friday night that had music until 1:00 am
Oct 17, 2021
My rating is influenced by your oops not enough space to enter my thoughts. So I doubt you really want my information
Oct 16, 2021
Little muddy with water on our site, but overall an awesome stay! Thank you!
Oct 13, 2021
Very friendly staff. Was just what we needed for a 1 night stay on our road trip!
Oct 12, 2021
Excellent and friendly staff. Able to help when needed and guide us through our maiden camping trip.
Oct 12, 2021
We stayed for the night, needed some supplies so we parked the camper and walked to walmart, it was quite and very pleasant
Oct 11, 2021
The highway and train noise was very loud. Thankfully, they offer earplugs when checking in. The sites are way too close and offer no privacy. The people running the campground are wonderful and do whatever they can to help.
Oct 11, 2021
Good place to stay
Oct 11, 2021
We stayed two nights at the Lawrence KOA. They was very friendly and helpful. The bathroom and showers was very clean and well kept as well as the camping grounds. They have a nice little dog park for our four legged family. It also has a nice area for tent camping with playground equipment. It was very easy to get to off of the turnpike, and Highway 40 - 24 takes you right in to Kansas City.
Oct 11, 2021
It wasn't terrible
Oct 10, 2021
The mgr at the desk was helpful and friendly. We enjoyed our stay, and would book this campground on our next trip out West.
Oct 09, 2021
Loved our site with patio, table & chairs, and even a swing! Also, appreciated the privacy and pizza delivery. Mosquitoes not so much.
Oct 09, 2021
Everything went perfectly. Staff was amaz6.
Oct 07, 2021
Very nice front office personnel. The man and woman were very kind and concerned that we were happy - you could tell they cared. If we ever go that way again, definately would stay
Oct 05, 2021
This is our 2nd time there & we came down for a wedding this time. Very nice people working.
Oct 05, 2021
We'll maintained but the sites are small.
Oct 05, 2021
Convenient location and friendly staff
Oct 04, 2021
Great hosts, excellent, level sites ! Host gave us an excellent recommendation for bbq (Wild Horse Mountain BBQ) Excellent stay will come back!
Oct 04, 2021
The campground was so-so but the train is SO close and blows the whistle ALL night. You know when you are in for a noisy night when the camp staff offer you free ear plugs at checkin. Will not stay here again.
Oct 04, 2021
Nice facility with friendly staff! Highly recommend!
Oct 04, 2021
Nice facilities, nice staff, great stay. Thanks!
Oct 04, 2021
It was clean, convenient, had lots of activities for the kids and the people were nice.
Oct 04, 2021
internet was down but no discount for lack of connection. glad i didn't have to have it this day.
Oct 03, 2021
Campground was clean and cared for. Sites have easy access and although typical KOA spacing they were arranged in a pattern to maximize privacy. Showers were clean. Will stay again
Oct 03, 2021
Ok park. No 50 amp available. WiFi was broken. Lots of trains but they did offer earplugs. Close to interstate. Fine for overnight stay
Oct 02, 2021
Nice area and campground!
Oct 02, 2021
People in the office were helpful and friendly. Problem with this KOA was the tightness of the sites and the serious issues with mud and runoff from moderate rain. Virtually no grass around the sites, nor concrete. Area around sewer connection was muddy and smelled like sewage. Unfortunately the potable water connection was within inches of the sewer hookup. Will not recommend nor return.
Oct 02, 2021
very friendly and very helpful to two tired travelers coming from mt rushmore
Oct 01, 2021
Everyone we had interactions with was wonderful, the site was level but had a tendency to get soggy in the rain. Next time will request a spot closer to the office up the hill.
Sep 24, 2021
Best place ever answered every single questions i needed. Kids loved every minute of camping, and will go back again!
- Jeremy Ewing on Google
Sep 23, 2021
Very clean KOA. Hosts were extra nice and friendly. We enjoyed hearing the train whistle. Definitely not too loud! Kids play areas were very nice. Our spot - electric only - was level and easy to get in to.
- Nancy Bridge on Google
Sep 17, 2021
Clean, Quiet
- Donna Lee Mayo on Google