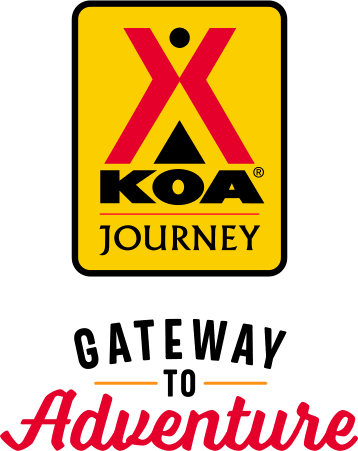 KOA Journey Campgrounds
KOA Journey campgrounds are the perfect oases after a day on the road. Whether it's along the way or a quick getaway, they've got you covered. Located near the highways and byways of North America with long Pull-thru RV Sites, they deliver convenience to the traveling camper. Pull in, ease back and take a load off.
KOA Journeys Feature:
Pull-through RV Sites with 50-amp service
Premium Tent Sites
Well lit after hours check-in service
Directions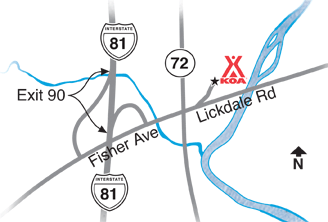 I-81 N or S: Take PA Exit 90. Turn left at traffic signal at off-ramp. (KOA is less than 1,000 feet from ramp). Look for the large log cabin/lighted sign at entrance, less than 50 yards from traffic signal at SR 72.
Get Google Directions
Aug 12, 2021
We stayed there in 2017 and again this year. It was great both times. Wonderful staff and very pretty park that is close to interstate with no noise.
Aug 12, 2021
For our 1st time using our Keystone Passport it was a great start to our Camping experience. Great KOA experience.
Aug 11, 2021
We had to extend for 1 day to get our RV brakes fixed. They found us another pull thru site for the 1 night. Thanks so much
Aug 11, 2021
Well maintained, spacious sites, great camp store and ice cream stand. Would rate it as perfect if it had a pool. After a hot day at Hershey Park it would have been nice to have a pool. If a pool doesn't interest you then this is the place to be. But there is a stream with inner tubes and a splash pad for kids.
Aug 11, 2021
We called at last minute and they fitted us in a nice spot. Great ice cream and breakfast sandwiches.
Aug 10, 2021
We enjoyed our stay very much. Plan on working out another stay in the near future with more of our camping Family. Place was very clean and personnel was very friendly.
Aug 10, 2021
Loved the natural wooded sites. I usually shower in our coach but used one of their private shower stalls. The water pressure was wonderful! It was quiet and we got a night of good rest. We would definitely stay there again if ever on our path.
Aug 10, 2021
Very nice place to stay and owners were extremely friendly!!
Aug 10, 2021
Of the three KOA we stayed at, this was the best. Friendly staff. Nice store. Nice campsites. Traffic was the main negative
Aug 10, 2021
Another great weekend at Jonestown KOA..love that they escort you to your site and deliver food & firewood right to your camp site! Was never there in the heat of the summer so if they had a pool, it would be 5 stars.
Aug 10, 2021
Site room is nice, easy to manage camper in and out. Playground could use a little update
Aug 10, 2021
We really enjoyed the tubing trip and felt that the prices in the camp store we very reasonable.
Aug 10, 2021
When we arrived we were escorted to our site and that person guided me into my spot. I never had that at any other KOA. The shuttle to Hersheypark was very informative about the area which I also enjoyed.
Aug 10, 2021
Nice staff. Convenient location and store has good selection of items you may need or have forgotten .
Aug 09, 2021
Great place to stay
Aug 09, 2021
We loved it so much. Every year we camp there we love it more. We did not want the time to end. See you next year.
Aug 09, 2021
See our previous review of Mystic Connecticut KOA This KOA was far better. The only complaint we have about this KOA thier kitchen closed down at 3 when we were told they were going to be open longer forcing us to disconnect or toad and find another source of food.
Aug 09, 2021
I think it is crazy that day guests need to pay $8 each to visit for anytime over 30 minutes. Our campsite was close to bridge and traffic noise was pretty loud. Access to Swatara state park and it's trails was awesome. Bath houses were the cleanest and nicest of any campground we've been to.
Aug 09, 2021
The sites are beautiful and spacious. All of the staff is extremely friendly and helpful, especially the owners. They are short staffed right now (so is everyone, the "new pandemic") but honestly you could barely tell because the owners and the other staff members were running around like crazy to help everybody in a timely manner… What a great experience!
Aug 09, 2021
great sites. Snack bar could be stocked better
Aug 09, 2021
Great campground. Big rig friendly. Great store. Food and ice cream, and adult slashes...... how can it get better!! We've already stayed 2 different times this year. We will keep this one in mind for future trips.
Aug 09, 2021
We had a great time. There was so much to do. The kids had a blast and never once said they were bored. We will definitely stay again.
Aug 08, 2021
We had a wonderful time at the Jonestown/Hershey KOA. Campsite was large and level with a concrete pad. Fire ring was terrific. Playground, jump pad, splash park was great for our young grandkids. Camp store was one of the best. Campground was right off a highway with gas stations and motels nearby. We visited HersheyPark, Hershey Gardens and did the 5 mile hike to the Appalachian Trail and back.
Aug 08, 2021
Quick check-in, courteous staff and campground in excellent shape. Highly recommended
Aug 08, 2021
Loved the store!
Aug 08, 2021
We love this KOA! Staff members are both friendly and efficient. The grounds are immaculate. The reservations we make are always exactly right for type of site and dates. We have been here many times and hope to return.
Aug 07, 2021
We have stayed here numerous times and always enjoy the friendly service. An added benefit is how close it is to I-81, the gas stations being right there, and Subway and Burger King accessibility. We always top off our evening with ice cream from the store. We'll see you again soon when we head north for another camping excursion. Thanks!
Aug 07, 2021
very relaxing
Aug 07, 2021
A very nice and relaxing 2 night stop over on our way to NY.
Aug 07, 2021
We have been here before a few years ago and it is a great place to stay if you are just looking to relax.
Aug 07, 2021
Well kept camp ground with a lot to offer. A bit noisy due to location next to Interstate 81 and multiple traffic helicopters passing overhead nightly.
Aug 07, 2021
It was short but we find it to be a very nice campground.
Aug 06, 2021
Spent most of our time at Hersheypark. Glad we got a spot on the river and the amount of space we had was great. Kind of wish we had been able to rent tubes and get shuttled but No one was around to do it. The staff was very friendly but didn't have any suggestions. Luckily I walked up the path a way and found a great spot for us to put in so it worked out
Aug 06, 2021
The staff are courteous and friendly. They were also very accommodating.
Aug 06, 2021
Love this campground!
Aug 05, 2021
Need to add pool and fix rec center
Oct 17, 2021
Great little campground.
- Brett Lentz on Google
Oct 15, 2021
Wonderful stop. Love that the sites all had a concrete pad. Helps to keep everything clean. Had great wings too!
- Kim Mcginnis on Google
Oct 12, 2021
Fabulous creekside spots! So nice to here the creek and sit out by it.
- Angy Hanson on Google