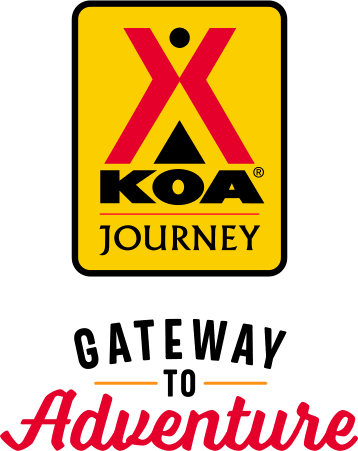 KOA Journey Campgrounds
KOA Journey campgrounds are the perfect oases after a day on the road. Whether it's along the way or a quick getaway, they've got you covered. Located near the highways and byways of North America with long Pull-thru RV Sites, they deliver convenience to the traveling camper. Pull in, ease back and take a load off.
KOA Journeys Feature:
Pull-through RV Sites with 50-amp service
Premium Tent Sites
Well lit after hours check-in service
Directions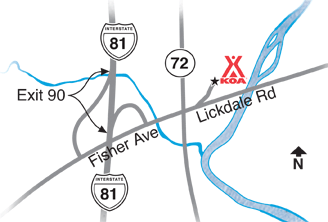 I-81 N or S: Take PA Exit 90. Turn left at traffic signal at off-ramp. (KOA is less than 1,000 feet from ramp). Look for the large log cabin/lighted sign at entrance, less than 50 yards from traffic signal at SR 72.
Get Google Directions
Sep 13, 2021
Great sites. Great staff. Overall wonderful stay. Second time at this location and we are always very pleased. Thank you for all you do!!
Sep 01, 2021
The staff was friendly. The bathrooms were the cleanest I have ever seen at a campground! Overall it was a great place to stay :)
Sep 01, 2021
My friends and I stayed for two nights in a tent and what I loved so much was we were next to the river and far enough away from everyone we could actually hear the rolling sounds of the river and the small waterfall. It was great for sleeping! The general store had the best coffee and for only $.85! The bathrooms and showers were clean, and the whole staff was super friendly.
Aug 23, 2021
This is a great campground. Extremely clean. Lots of things for kids to do. Great camp store.
Aug 17, 2021
They were really nice, the bathrooms were very clean and showers were great. Staff was great and I liked how they deliver stuff to your site. Would recommend to a friend and would stay there again.
Aug 17, 2021
Our stay was really good the only thing is the porta potty back in the tent areas could use something in it to keep the bees out of it cuz it's a lot of bees in it and nobody can use it because of the bees when we were there we did put fly traps up but it didn't really work for the bees but overall our state was good the kids loved it.
Aug 13, 2021
The campground was beautiful but I thought it was ridiculous that my two friends had to pay $80 to stay when on the website it says the campsite fits up to 4 people. They should not have had to pay.
Aug 10, 2021
We really enjoyed the tubing trip and felt that the prices in the camp store we very reasonable.
Aug 02, 2021
This was our first time at a KOA and we loved it! We have 3 boys under 10 and they were exhausted...which means they had an amazing time! Lots of activities for them equals very happy parents because no one was complaining they were bored! Overall, very clean, family oriented and the tent sites were large and right next to the creek! We will be back soon!!!
Jul 31, 2021
Staff was very accomodating and catered to oir every need. Will definitely stay there again. Thank you Missy......you rock!!!
Jul 26, 2021
They were very helpful.
Jul 25, 2021
Very nice helpful friendly staff
Jul 16, 2021
The staff was super friendly and helpful. Very nice and we'll kept facilities. Nice splash park and horses. One of our better experiences at a KOA!
Jul 15, 2021
Employees did not have good customer service. General unsafe feeling
Jul 09, 2021
Check-in was confusing and the workers inside were rude as we were trying to figure out where to go. The facilities are really nice and the creek setting is absolutely gorgeous. The young man who escorted us to our site was very helpful and was able to move us to a site that was more appropriate for us.
Jul 07, 2021
Been coming here for years some of my fondest memories as a kid come from this campground and its always a pleasure staying here never wanna leave
Jun 27, 2021
The staff was super nice. The amenities provided made our stay a happy one. Thank you.
Jun 21, 2021
Awesome! We are tent campers & just love all the amenities! Very clean bath houses, loved the creek next to our site! The kids loved the playground, bounce pad, mini golf & store! Thx so much! This was our 2nd stay & we will def be back for a 3rd!!
Jun 21, 2021
Clean bathrooms and inexpensive food choices. Their store opens early. I only take off 1 star because you cannot use your own firewood. Why is that?
Jun 15, 2021
Staff was very friendly and helpful. Checked and was able to move me to an electric site. Site was huge and had beautiful view of creek. Adult slushie (peach mango) was super delicious. Bathroom was spacious and very clean. There were lots of things to do. Wish I could have stayed longer!
Jun 07, 2021
I love it there...So peaceful and people are friendly...I took a pic of my campfire and even had a ghost appear in the picture
May 24, 2021
The Jonestown/Hershey KOA was great! The only reasons I have given them a 4 star instead of a 5 is due to highway noise (which was definitely less on Saturday night than it was on Sunday) and that there is only one bathroom (if you are staying in the tenting area it can be a very long walk if you are having any digestive issues). Overall we loved our experience and would go back!
May 17, 2021
Love this place
May 16, 2021
Great tent sites!
May 10, 2021
It was a rainy weekend, but staff was great. The restrooms were very clean and not over-crowded, which being a tent camper is very important to us. We ordered firewood and the food from the restaurant to be delivered. Everything came very quickly and the food was great!
May 04, 2021
Cleanest campground bathrooms we've ever encountered! Just for that, we would stay there again. Friendly staff, clean grounds. All around a great place!
May 03, 2021
You had so many things to offer and it was such a great experience. We will definitely be returning.
Apr 21, 2021
This was a perfect stopover spot on my trip from the southeast to the northeast. I camped by the creek and it was a lovely resting place during a long drive. The owner was friendly and helpful. I highly recommend it and will be back again!
Apr 20, 2021
Had a nice weekend enjoyed a weekend away had a nice site wasn't bothered site wasn't tight up against other sites
Apr 11, 2021
Everyone was welcoming and friendly. Can't wait to stay again.
Sep 14, 2021
Tons to do. Well maintained. Trees, river, mini golf, general store with ice cream and beer, bounce pad, great dog area. The signs could be better especially if you come in at night.
- Jessica Houde on Google
Sep 13, 2021
We had great time here! The staff and other guests were friendly. The grounds were maintained with plenty of space. The ice cream was great too. We will be staying here again!
- Josh Candee on Google
Sep 03, 2021
Great family friendly activities and friendly staff
- Zach Campbell on Google