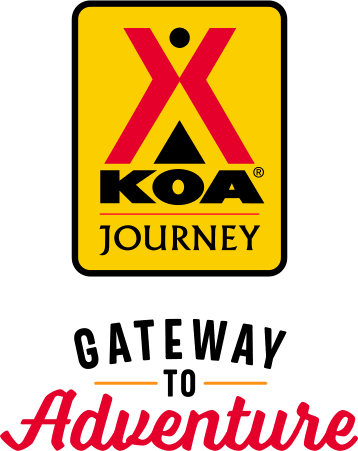 KOA Journey Campgrounds
KOA Journey campgrounds are the perfect oases after a day on the road. Whether it's along the way or a quick getaway, they've got you covered. Located near the highways and byways of North America with long Pull-thru RV Sites, they deliver convenience to the traveling camper. Pull in, ease back and take a load off.
KOA Journeys Feature:
Pull-through RV Sites with 50-amp service
Premium Tent Sites
Well lit after hours check-in service
Directions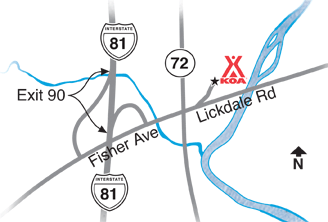 I-81 N or S: Take PA Exit 90. Turn left at traffic signal at off-ramp. (KOA is less than 1,000 feet from ramp). Look for the large log cabin/lighted sign at entrance, less than 50 yards from traffic signal at SR 72.
Get Google Directions
Oct 29, 2020
Excellent facilities and attentive host!
Oct 18, 2020
excellent. bathroom is very clean. hot shower is wonderful.
Oct 13, 2020
Great campground. Clean, friendly and tent sites with a water view. Perfect!
Oct 12, 2020
Great place to stay!!!
Oct 12, 2020
Our tent site was clean and next to the creek. What a wonderful view. The campground was close to full. The bathrooms were immaculate. The staff was very friendly. I would like to add a thank you for allowing us to borrow a propane tank because we forgot ours. We filled the tank and then left it hit the next camper who may forget theirs. We will definitely be back.
Sep 28, 2020
The campground it's self was nice, weather wasn't great but of course that is no one's fault. However, the staff in the little store could've been a little more friendly and the cost of the large wood bags are ridiculously expensive for how quickly the wood burns maybe try offering one free bag with a 2 night stay or something.... Overall it was okay nothing special but not bad either.
Sep 17, 2020
My stay was short but sweet as usual. Coming here abut 10 years, 2 times a year for an overnight with horses. Peaceful, quiet. I picked up quite a few metal bottle caps, metal garbage from the fire pits, various plastic things. 5 bikers were parked a tent site down from us, they were very quiet, but the next morning they left all plastic coverings from their new tents that they had set up.
Aug 23, 2020
Great Campground! Everyone is wonderful! Second stay this month! The owner and Linda & Amanda all the rest of the staff were great! We will definitely be back!
Aug 22, 2020
Perfect! Our creek side tent site was beyond what we expected so, except for one day trip, we cancelled other plans and stayed at the site, relaxing and watching the birds, turtle, deer, etc. and read, played games...relaxed! The staff was exceptionally nice and helpful and the facilities were spotless. This was our first KOA experience and it was thumbs up all around!
Aug 17, 2020
being able to have things delivered to the campsite was a great service in the time of social distancing.
Aug 17, 2020
stayed at a few koa''s this is the best one. we visited 2x in the last month.first time we had one of the primitive sites. its huge, probably 40 x 20 yards, tent site 6. 2nd time was on tent site 4 also huge but w/water and electric.interaction w/staff was minimal in the day..more in the early evening and night. Amandas great! she's one of the people that shows you to the site..makes deliveries et
Aug 13, 2020
Amanda could not of been more helpful and accomadating and just awesome this weekend! NOW conchetta whom I had spoken to about my reservation prior to arrival was rude, short and spoke to me in a condescending tone at one point. If I wouldn't of lost my deposit I would of canceled and gone to a different KOA. If my family returns it will be because of Amanda, Linda and Josh they make you feel wel
Aug 10, 2020
All of the staff were incredibly helpful, the owner drove us personally for our tubing trip which was a ton of fun! The bathrooms were very clean. The creek side camp sites were well maintained with a lovely view. The store was well stocked and all prices were fair and reasonable! We would definitely stay again!
Jul 27, 2020
We camped in a tent. Had a nice shady site next to the stream with water and electric at our site. Very convenient. Clean bath house as well.
Jul 20, 2020
Best Weekend spent in a long Time. Not only is it Beautiful but peaceful. The staff were so friendly and the Campsite was super Clean including Bathrooms. Great place to bring kids they have many activities on the campground. Our best part of our stay was the water Tubing! I'm already planning our next stay! This visit was just me and my Husband. My next reservation I'm bringing my kids.
Jul 18, 2020
Nice and cozy. Very kind owners. Very very clean bath house
Jul 06, 2020
It was our second time there! Staff is super friendly, activities are excellent and the camp is super well maintained! Great job!!!
Jul 03, 2020
Wonderful campground. Everybody was very friendly. Lots of stuff for kids to do. The chicken and the ice cream was a nice treat too. We look forward to coming back again in the future.
Jul 03, 2020
It was wonderful. We are going back next month
Jun 29, 2020
We had the best time. The river was the highlight for our group- and we loved having a site right next to it. The environment was very relaxed and friendly. We loved the open space, especially because the last KOA we stayed at was very tight and crowded. The bathrooms were a huge plus and we loved all of the nearby trails. The adult slushees were a must for the trip! We had the very best time!!
Jun 22, 2020
We had a great time and it was the kids first time camping. Disappointing that the playground and jump pad were closed but we understand why.
Jun 16, 2020
Beautiful area. You need to enforce your mask wearing in the rest rooms
Jun 15, 2020
A beautiful setting along a picturesque creek. The staff were friendly and helpful. We will definitely be staying here again!
Dec 28, 2020
We went to see the lights at Hershey. Omgosh! Best ever! The only criticism I have is your roads are way too bumpy. The huge pot holes made it hard to take a few pictures. I was quite disappointed. The lights are well thought about, very well placed, and just ❤️ beautiful. Thank you so much! The pictures below are the ones that weren't blurry. It's well worth the price!!!! Regarding the campground, I loved it! They have a small restaurant and they deliver to the sites. It was really cold and we appreciated not having to cook that night. The food was great and the staff members are very very kind. It's a good place for the kiddos too! We will be back!!! Thank you so much for caring about your visitors!!!!
- Suzanne D. Rogers on Google
Dec 14, 2020
Great staff and one of the best camp stores you will ever enter. This was an excellent home base to explore Hershey. We saw the sweet light show, visited the chocolate factory, and found a tree farm to cut down a tree for Christmas. We also enjoyed walking the grounds. Bathrooms are super clean and a really nice laundry room. WiFi was good but there was not many guest. AT&T signal was good. The on site restaurant delivers food right to your site. Food is reasonably priced and was good. As advertised it's right off I-81. So it's super convenient as a quick stop over and a recharge. The only downside is traffic noise. We definitely would return if we come through this part of PA again.
- Anthony Gambescia on Google
Mar 29, 2018
Fun place clean
- donna borghese on Google