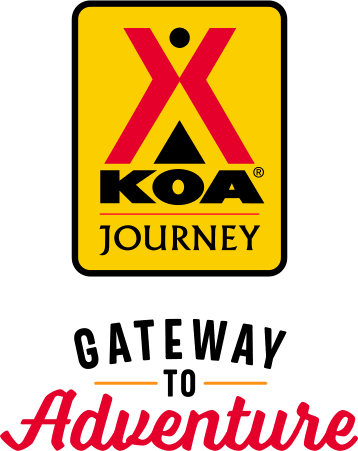 KOA Journey Campgrounds
KOA Journey campgrounds are the perfect oases after a day on the road. Whether it's along the way or a quick getaway, they've got you covered. Located near the highways and byways of North America with long Pull-thru RV Sites, they deliver convenience to the traveling camper. Pull in, ease back and take a load off.
KOA Journeys Feature:
Pull-through RV Sites with 50-amp service
Premium Tent Sites
Well lit after hours check-in service
Directions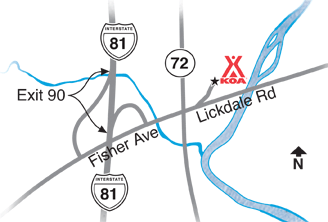 I-81 N or S: Take PA Exit 90. Turn left at traffic signal at off-ramp. (KOA is less than 1,000 feet from ramp). Look for the large log cabin/lighted sign at entrance, less than 50 yards from traffic signal at SR 72.
Get Google Directions
Apr 06, 2021
Jonestown KOA was great. Very convenient location right off the exit. It was clean, comfortable and the staff was excellent. We would stay again.
Apr 06, 2021
Terrific camp store - wide selection plus food, ice creams, you name it. Very well stocked. Also, the mini golf and river fun was great. Excellent way to come to the area and land for a Hershey Park experience (KOA was much more enjoyable than Hershey Park IMHO!).
Apr 06, 2021
Needed to reset my breaker for the 30 amp service and was unable to do so and the office was closed
Apr 05, 2021
Nice, quiet campground. Easy check-in with escort to the site. Clean, bright bathrooms. The pull thru site we had was nice and wide with grass for the dogs. Very happy!
Apr 05, 2021
Met the owners and they were wonderful! Will definitely be back to stay again!
Apr 05, 2021
It was very relaxing, very clean campground- will definitely be back!
Apr 05, 2021
Well run. It can be noisy from highway and street noise. It is always clean and friendly. It is a bonus to have great food available that is so inexpensive.
Apr 05, 2021
I liked the facility and staff was very nice. Only problem I have, and not only this KOA, is the limited WIFI. I had to cut my stay short because the WIFI access is not suitable to work remotely. With remote wo this now being an option, I can work from the trailer while the kids enjoy the area. But unfortunately the KOA does not invest in the internet options for thier guests and its unfortunate.
Apr 04, 2021
Very nice owners and staff
Apr 04, 2021
This was our 4th stay. Great RV facility.
Apr 04, 2021
We were newbies and it was our first time camping in our TT. The staff and Kyle the owner were very helpful with all my questions! We were only there for one night but had a very level site and was impressed with the place as we walked the dog! We'd would go back!
Apr 03, 2021
Wish we had more time there.
Apr 02, 2021
The employees we encountered were very nice and helpful. The park was very clean. All hook ups worked as should.
Apr 02, 2021
We enjoyed hiking the rail trail. Dinner was delivered and it was excellent
Mar 31, 2021
Booked this campground for two nights because we were passing through the area. The pros are the convenient location right off I81, the food services, and reasonable prices. The cons are that the facilities are badly in need of updating. Things like the utilities and picnic tables are old and worn out and in some cases patched together. Low prices also seem to attract some sketchy campers
Mar 31, 2021
easy in easy out
Mar 31, 2021
We always enjoy are stays at Jonestown. They are always accommodating; willing to work with you anyway they can. There are plenty of things for the kids to do.
Mar 31, 2021
Such a clean and convenient campground! Always a pleasant stay, and the food offerings are tasty and very reasonably priced too! We will be back again shortly.
Mar 31, 2021
Jonestown KOA is always our first and last stay for a night or two on our travels. We have stayed numerous times and order their excellent wings. The staff is professional and friendly and the facilities are clean and well maintained. Excellent journey KOA!
Mar 31, 2021
The staff was helpful and the park was well maintained. We will stay there again...
Mar 31, 2021
This is the 14th year that we have visited the Jonestown/Hershey KOA. We start heading south in January and home in the spring. On each visit we try some new in the area. What a great area! Stop by and find out for yourself!
Mar 29, 2021
Nice roomy pull through site. Very clean. I will be going back.
Mar 27, 2021
Nice and level, easy to navigate with a large rig, escorted to site, clean, well kept and friendly staff. Very convenient to the interstate.
Mar 27, 2021
The Staff is always welcoming at the Jonestown KOA. I love the fact that they have a Cafe for dinner after we arrive and a breakfast before we leave. They were extraordinary when we stayed in December. It had snowed during the night. The staff plowed a path for us to leave in the morning so we would not be late arriving at my daughter's home in North Carolina.
Mar 27, 2021
Nice site by brook. Bathrooms very clean everyone friendly and helpful. Will stay here again.
Mar 26, 2021
We had a beautiful site. We especially appreciated the careful Covid 19 check in procedure.
Mar 26, 2021
We stopped for 1 night on our way South the staff and park �. Would most definitely recommend this KOA
Mar 25, 2021
Great hosts - so helpful! Thank you for everything!
Mar 23, 2021
We are new to RV Jonestown Hershey's KOA was our first campsite ever in December 2020 we then returned home in March 1921 and made it our last night stay before we returned home a great site people were awesome thank you for the experience
Mar 23, 2021
Always love staying here Easy on and off the highway Fuel right there by highway Easy propane fill AAA rating from us
Mar 23, 2021
Peaceful and very pleasant staff!
Mar 22, 2021
We had a wonderful time. Very pretty place, right next to the water. The food at the snack bar was delicious, especially the wings. Just wish that all of the visitors wore masks.
Mar 22, 2021
Clean well managed
Mar 22, 2021
Great Place to stay and conveniently right off of I81. Bathrooms are clean and updated. The place was quiet and not too crowded.
Apr 15, 2021
It was awesome. We parked there for a few days and had a blast
- Nevan J. Medina on Google
Apr 11, 2021
Great ice cream! Super clean.
- Oxy on Google
Mar 21, 2021
Level sites. Nice people. Quiet.
- Eileen Taylor on Google