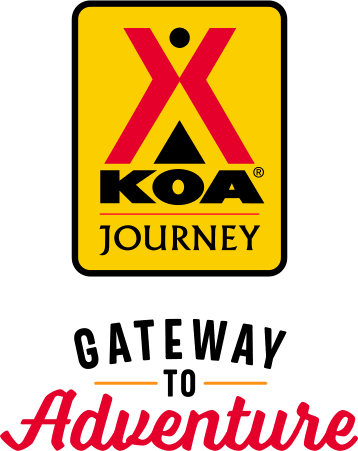 KOA Journey Campgrounds
KOA Journey campgrounds are the perfect oases after a day on the road. Whether it's along the way or a quick getaway, they've got you covered. Located near the highways and byways of North America with long Pull-thru RV Sites, they deliver convenience to the traveling camper. Pull in, ease back and take a load off.
KOA Journeys Feature:
Pull-through RV Sites with 50-amp service
Premium Tent Sites
Well lit after hours check-in service
Directions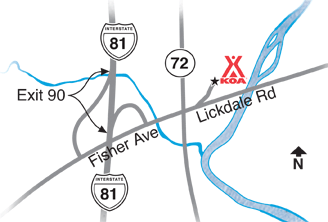 I-81 N or S: Take PA Exit 90. Turn left at traffic signal at off-ramp. (KOA is less than 1,000 feet from ramp). Look for the large log cabin/lighted sign at entrance, less than 50 yards from traffic signal at SR 72.
Get Google Directions
Jul 23, 2021
Would rate higher than 0. I had the wrong Campground.
Jul 23, 2021
Quick trip to Hershey Park. Nice campground. Clean and lots of grass. Friendly staff. Easy checkin and out
Jul 23, 2021
Nice clean campground staffed by friendly people. Well stocked store. Minutes off of 81. Will definitely visit again
Jul 22, 2021
Stayed a few nights passing thru. Very nice patio sites. Wifi is good. Food and ice cream is very good and nice to have the option to order in the campground after a long day of driving. Easy in and out, right off of 81.
Jul 22, 2021
The campground was quite and clean. The creek was lovely to look at and the site was a good size with a concrete pad and fire ring.
Jul 22, 2021
fantastic pull thru sites, friendly and polite staff, great for kids, already booked another stay
Jul 22, 2021
So clean, friendly staff, highly recommended
Jul 22, 2021
Easy to find for overnight stay across Pennsylvania. Excellent ice cream and breakfast sandwiches were great, very helpful additions both when arriving from hot day and setting off onto another one.
Jul 22, 2021
Super location just off interstate. Lovely sites and helpful staff.
Jul 21, 2021
Very nice, comfortable. We had nice sites--very spacious and clean. Employees were very friendly and courteous.
Jul 20, 2021
We asked to be located near another camping family weeks prior to our visit. We watched the movement of other campers during our stay and find it hard to believe that our request was not possible. Very disappointing. This was the main reason for my rating of the KOA as we did not use most of the other amenities.
Jul 20, 2021
It was great. We will put you on our return list.
Jul 20, 2021
Only stayed 1 night but this seemed to be a really nice campground. Lots of activity areas that we wish we had time to take advantage of.
Jul 20, 2021
Always a good stop.
Jul 20, 2021
Lovely, clean park in a beautiful setting. Employees were friendly and helpful.
Jul 19, 2021
The first time in dealing w/ KOA we were greeted by someone who was surly and unfriendly. It soured us on the KOA. The campground was fine and they provided a nice cement pad, which you needed to park near so as to not to trip over. The hook up were convenient.
Jul 19, 2021
I was worried about hearing traffic the whole weekend being close to rt 78, but it we didn't hear it at all! Had a site along the creek with stairs leading down to the water and nice view off the patio. Took advantage of the shuttle to go tubing on the creek, and the orange Creamsicle slushy is a must have! We had a great weekend and will definitely go back!
Jul 18, 2021
Everyone was friendly just wish you had a pool
Jul 18, 2021
Very clean, level sites, awesome store.
Jul 18, 2021
We came in during a storm and they escort us to our campsite
Jul 18, 2021
Clean, quiet, friendly, and good WiFi
Jul 18, 2021
Great rates, large roomy sites, helpful staff, fun amenities, children and adult friendly, quiet and relaxing- overall impressed and highly recommend.
Jul 17, 2021
My stay was excellent like always.the staff is great, always there to help if needed.
Jul 17, 2021
Very efficient and helpful in the front office. The store is well stocked. One of the better things is that they left some space between sites and obviously made an effort to keep as many trees, bushes, etc...on the grounds. We will make it a waypoint on our travels when we can.
Jul 17, 2021
Used the facility as an overnighter.
Jul 16, 2021
We continue to make this one of our favorite "Go To" places. Love the area, Love the staff Well maintained Convenient location
Jul 16, 2021
Had a great time at the KOA! We loved our campsite with the view of the creek. The staff were friendly and the office was nice and clean. The only downside was that we were looking forward to taking the shuttle to Hersey park but they didn't have tickets for the park so we had to buy tickets online and Uber to the park. Otherwise the campsite itself was great and would go there again.
Jul 16, 2021
The staff was super friendly and helpful. Very nice and we'll kept facilities. Nice splash park and horses. One of our better experiences at a KOA!
Jul 16, 2021
We only came in for one night, but it is definitely on our list of returns. It was so clean with tons of stuff to do. The staff was so friendly. Definitely recommend this campground.
Jul 15, 2021
Love the campground and everyone is so friendly. Will stay here again!
Jul 15, 2021
Sites are clean and level and staff was friendly.
Jul 15, 2021
Very nice campground. the staff was great and helpful. Nice camp store and we loved the Ice Cream shop. Would stay there again.
Jul 15, 2021
You the halfway point for a long drive. We have stayed before and will certainly stay again. The campsite is clean and well kept up. The staff is friendly and helpful and the ice cream is awesome!
Jul 15, 2021
Nice sites Highway right there by creek was alittle loud.
Jul 15, 2021
Employees did not have good customer service. General unsafe feeling
Jul 18, 2021
Very clean 👌
- Andrew Anderson on Google
Jul 14, 2021
Staff was fantastic, site was spacious, breakfast sandwiches were delicious and a great beer selection.
- burl penton on Google
Jul 10, 2021
A River Runs Through IT .And Appalachian Trail Runs threw it. So Enjoy This Place...
- Brian A Meyer Sr on Google