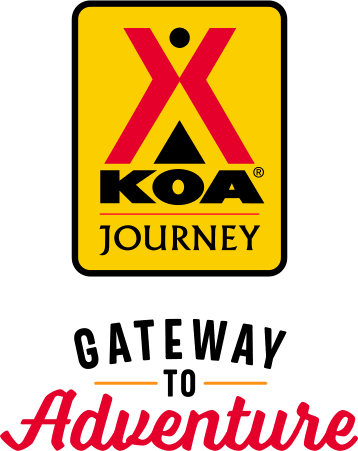 KOA Journey Campgrounds
KOA Journey campgrounds are the perfect oases after a day on the road. Whether it's along the way or a quick getaway, they've got you covered. Located near the highways and byways of North America with long Pull-thru RV Sites, they deliver convenience to the traveling camper. Pull in, ease back and take a load off.
KOA Journeys Feature:
Pull-through RV Sites with 50-amp service
Premium Tent Sites
Well lit after hours check-in service
Directions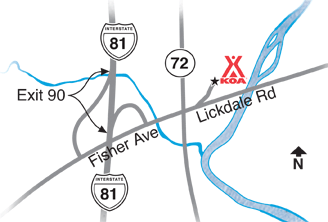 I-81 N or S: Take PA Exit 90. Turn left at traffic signal at off-ramp. (KOA is less than 1,000 feet from ramp). Look for the large log cabin/lighted sign at entrance, less than 50 yards from traffic signal at SR 72.
Get Google Directions
Feb 18, 2021
Enjoyable stay. Great food
Feb 16, 2021
There was no path shoveled to the bathroom. The food we ordered was poor-fair. The staff was friendly and courteous. The bathrooms were clean. We have stayed here several times and this is the first time we were less than impressed
Feb 16, 2021
Staff friendly & grounds were clean. Internet was choppy & we could not get our TV to attach. Others had the same issue. Clerk could not resolve. The "Political Sign" just outside of the KOA close enough to be on the grounds. We're just members & a family that enjoys the RV life & are proud members of KOA and a few others. We loved the grounds and the service provided.
Feb 14, 2021
We searched under the snow for the sewer connect. called the office and was told to keep looking. After shoveling for 20 min to no avail we called back and asked to use the main dumping station instead, since we were unable to locate, and was told it would be $25 to use the dumping station?! will not stay here again
Feb 13, 2021
Office staff very helpful. Site level. The snow was very pretty!
Feb 10, 2021
Convenient location for our south winter travels. Great staff. Will be back on our return trip.
Feb 06, 2021
The Campground itself was nice, however, the service was unbelievable!! From the time we made our reservations, the staff was rude. When I called to verify they were open, yes, clearing site now. When arrived, was not...bathhouses not shoveled out, said our 2 older children could not come &stay, but when we wanted to rent cabin (not shoveled our) they said they could stay with us. Bad servi
Feb 03, 2021
Had a great time we like winter camping
Feb 01, 2021
The staff was so friendly and everything was convenient. We will be back!
Jan 30, 2021
Only stayed 1 night on our way from MA to FL. Very clean beautiful site. Friendly staff - will definitely use again and recommend to anyone.
Jan 30, 2021
Easy check in. Escorted to your site. Nice wide level site. Restroom is spotless and updated recently. Restaurant on site. Fuel in several spots on way back to 81. Campground is right off 81. Easy on and off. We stop here on the way to Florida and also on the way home. Open all year. Nice courteous staff.
Jan 23, 2021
The only complaint I have was lack of garbage cans.
Jan 21, 2021
We love the chicken wings. The campground is great. It is our first stop out of the north country and our last stop heading back.
Jan 18, 2021
Clean, quiet with helpful staff.
Jan 16, 2021
Location is convenient from I-81 and I-78. Due to highway and commercial area there's a lot of traffic noise. RV site was easy to access, level and well equipped. Sites are very close together. Dog park is located right along a busy road, but the park is laid out well for dog walking. Good campground for a stop when traveling but not for an extended stay.
Jan 15, 2021
Love this KOA! So glad that you are open year round! We used the laundry this time and it was quick and easy! The people who work here are professional and extremely efficient. We had our propane tank filled quickly and with a smile!
Jan 14, 2021
Everything was ok. Would def stay again as we are traveling through. Thanks for a spotless shower facility.
Jan 12, 2021
Nice site, easy access, utilities worked well.
Jan 11, 2021
Always a great place to stay!
Jan 11, 2021
Friendly folks at check in. Clean and comfortable amenities. Has an awesome dinner delivered from the lodge. A very pleasant stay.
Jan 05, 2021
The staff were extremely friendly and the restaurant on site serves delicious food. Would definitely stay there again in warmer weather.
Dec 30, 2020
We always stop going threw pa, nice area, nice people to deal with.
Dec 28, 2020
Great campground for in transit use. Not being able to leave the water connected was a bit annoying and understandable. The office / store staff were a bit rude but our escort / check in person was super nice. Overall, a good campground.
Dec 28, 2020
Love that it's right off highway!!
Dec 27, 2020
We had to leave because of the flood. We are not upset about that. We called three times and left messages to let them know the card they are refunded us on is no longer good. No one ever called us back. My first call resulted in some crazy lady, (owner) screaming at me so bad i got off the phone and cried. My two other phone calls recieved no call backs. They lost our business and many more
Dec 27, 2020
Part of campground was flooded and we were not notified about it. Arrived after dark and map left for us was incorrectly drawn and we had difficulty finding our site because there are few lights in there. It was freezing and when we turned on the water, the shutoff handle wouldn't close. We broke it, went to office to report it and would pay for repair. The man working there began berating my hu
Dec 24, 2020
We were not prepared for very cold weather, and had to leave.
Dec 22, 2020
Well we stayed during a huge snow storm the staff wes very helpful
Dec 20, 2020
Quick overnight stay easy in easy out fast and friendly.
Dec 19, 2020
The staff made sure we were plowed out after 10 inches of snow overnight. 5 star service
Dec 19, 2020
Good stop along the way. Very happy they are open year round as we travel South then West during the winter. Staff friendly and helpful. Very little traffic noise.
Dec 14, 2020
Wi-Fi wasn't great. Right along highway so road noise. Nice accommodations, not crowded at all - - likely due to time of year. Nice store on site.
Dec 14, 2020
We had a great time and the customer service was superb. Thanks!
Dec 14, 2020
Great staff and store. An excellent home base for all Hershey attractions.
Dec 13, 2020
Welcoming, helpful staff, nice camp store, great place!
Dec 11, 2020
Very clear instructions about covid precautions. Very clean!!! It was a delight!
Dec 28, 2020
We went to see the lights at Hershey. Omgosh! Best ever! The only criticism I have is your roads are way too bumpy. The huge pot holes made it hard to take a few pictures. I was quite disappointed. The lights are well thought about, very well placed, and just ❤️ beautiful. Thank you so much! The pictures below are the ones that weren't blurry. It's well worth the price!!!! Regarding the campground, I loved it! They have a small restaurant and they deliver to the sites. It was really cold and we appreciated not having to cook that night. The food was great and the staff members are very very kind. It's a good place for the kiddos too! We will be back!!! Thank you so much for caring about your visitors!!!!
- Suzanne D. Rogers on Google
Dec 14, 2020
Great staff and one of the best camp stores you will ever enter. This was an excellent home base to explore Hershey. We saw the sweet light show, visited the chocolate factory, and found a tree farm to cut down a tree for Christmas. We also enjoyed walking the grounds. Bathrooms are super clean and a really nice laundry room. WiFi was good but there was not many guest. AT&T signal was good. The on site restaurant delivers food right to your site. Food is reasonably priced and was good. As advertised it's right off I-81. So it's super convenient as a quick stop over and a recharge. The only downside is traffic noise. We definitely would return if we come through this part of PA again.
- Anthony Gambescia on Google
Mar 29, 2018
Fun place clean
- donna borghese on Google