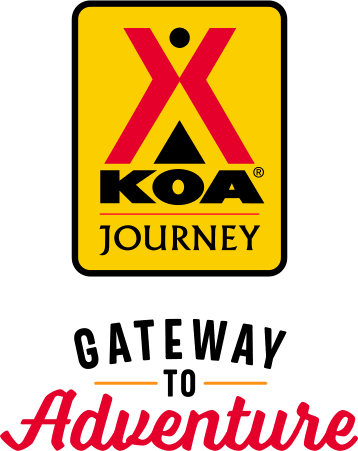 KOA Journey Campgrounds
KOA Journey campgrounds are the perfect oases after a day on the road. Whether it's along the way or a quick getaway, they've got you covered. Located near the highways and byways of North America with long Pull-thru RV Sites, they deliver convenience to the traveling camper. Pull in, ease back and take a load off.
KOA Journeys Feature:
Pull-through RV Sites with 50-amp service
Premium Tent Sites
Well lit after hours check-in service
Directions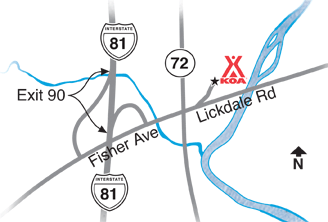 I-81 N or S: Take PA Exit 90. Turn left at traffic signal at off-ramp. (KOA is less than 1,000 feet from ramp). Look for the large log cabin/lighted sign at entrance, less than 50 yards from traffic signal at SR 72.
Get Google Directions
Sep 24, 2021
We would stay again. Thank you
Sep 24, 2021
very clean staff was very helpful and courtous new sites being put in are very nice we will be staying again next year on or trip north
Sep 23, 2021
Great place. Staff are always exceptional in their knowledge and their overall attitude
Sep 23, 2021
Really enjoyed our stay. East access to freeway. On-site store was very convenient when we needed milk. Really liked the ice cream and "adult" slushees.
Sep 23, 2021
Beautiful site by the river. Campfire at night, sipping a beverage, and "Watching the river flow". Aaahhhhh. Lots of things to do in and around this KOA. I'll be back.
Sep 22, 2021
What a wonderful KOA…From check in to the sites, there's nothing bad to say. Sites are nice…level and easy in and out. We had full hook ups and a small patio.
Sep 22, 2021
This is the third time we have been at your campground and every time the cable TV is terrible. It is all snowy and comes in and out. You need to work on fixing it. I have been at many KOA 's and this one is the worst. We pay alot of money to stay there the TV should come in clear. We had someone from the office and they couldn't even get it on there TV they brought hooked outside.
Sep 21, 2021
Clean rest rooms friendly staff. we will be back
Sep 21, 2021
Well worth the stay. Clean and the owner both friendly and informative.
Sep 21, 2021
We always stay here while going to the RV show or seeing relatives in PA. We quiet and convince store has good ice cream and food
Sep 21, 2021
Only one night as we were traveling thru. Great place. Nice site. All sites had a paved patio. Very clean and quiet. Loved their ice-cream shop. Will definitely be back when we visit the Hershey/Lancaster area. Small campground so book early.
Sep 21, 2021
We absolutely love this place, we stay here twice every year. The people are awesome they're sites excellent, food is amazing & it's an easy on & off 81! Keep up the great work!
Sep 21, 2021
The staff members are always very pleasant and helpful.
Sep 20, 2021
Been coming a couple years with friends . Creekside sites nice , clean & relaxing atmosphere here. Store has everything u may need .
Sep 20, 2021
very nice campgrounds will come back next year
Sep 20, 2021
Our club booked 7 sites. We found the Jonestown KOA congenial and accommodating. We all had a great time.
Sep 20, 2021
Very nice but too many mosquitoes.
Sep 20, 2021
Very nice campground very friendly
Sep 18, 2021
This was the second time we stayed there. No real negative issues about the koa campground but the sites were alittle too close to each other and the laundry room was out of order and none of the staff knew anything about when it was going to be fixed. You can't camp and not do laundry. Very disappointed. We left a day early.
Sep 17, 2021
Quick and easy check in with outleaving the vechicle
Sep 17, 2021
owner promised refund after leaving early due to flooding After several phone calls and no response have not received anything!!!! Not getting any responses from them Lack of respect!! This is how to run a business? Rating -0
Sep 16, 2021
Very nice as usual
Sep 16, 2021
Only stayed overnight so we didn't get a chance to check everything out. The store was nice. Very friendly staff. Seemed like a nice place to stay. Will visit again soon
Sep 15, 2021
Other than the laundry being down due to flooding, this was a great one night stay. Will stay there again
Sep 15, 2021
Beautiful campground. Great scenery alongside a creek. Nice playground for kids. Very strong wifi signal. Close to Hershey attractions. Will definitely come here again.
Sep 15, 2021
Clean, level and the "gate guard" is always nice!
Sep 15, 2021
I have stayed here many times and love this campground. They made a huge effort to recover from the rain damages. I would have given it a 5 stars as I usually do, but there was no TV working, hence the 4 star. By the time the person came to see what was wrong, it was too late to fix it. I understand, just being real for those who need to know now.
Sep 14, 2021
Excellent level site and friendly and helpful staff.
Sep 14, 2021
Love the location and amenities. Only issues I had were the trees made it hard to navigate to park and the drain hole is so high up it messes up draining my tanks. if the drain hole was adjustable/removable it would be great
Sep 14, 2021
Stay wea great but the concrete was on a tilt kind of sucked should be fixed
Sep 14, 2021
Clean, quiet - very nice staff - and a great store! Would definitely come back for a longer stay!
Sep 14, 2021
I wish to express two things that disturbed me during my visit (Sept. 21). Turn the blower on the jumping pad off at night. It is loud and hums all night.. I was parked next to Sandford and Son. Junk all round the 5th wheel and three vehicles on site. Two cars and a work truck. These people are permanant residents. You should remember you are not a mobile home park.
Sep 14, 2021
Wonderful service
Sep 13, 2021
Great campground! We love it here.
Sep 13, 2021
Very nice campground!
Sep 13, 2021
This is a great campground! The sites are spacious and there are lots of trees. The dog park is huge - always a welcome amenity for us as we travel with a large dog who likes to run after a day on the road. We were also happily surprised to find all the bike trails in the area accessible right out of the campground! Lots of family activities and a friendly, helpful staff. One of our favorite KOAs.
Sep 13, 2021
Very nice and friendly staff
Sep 13, 2021
We had a great time here! We did pick your site and choose Site 69 with a patio. We were presently surprised as the site opened up into a field with a play ground on the other side, it was not to loud with the playground close by. The staff and other guests were all friendly make it even better. The ice cream was great! We will definitely stay here again!
Sep 13, 2021
Perfect place to stay
Sep 14, 2021
Tons to do. Well maintained. Trees, river, mini golf, general store with ice cream and beer, bounce pad, great dog area. The signs could be better especially if you come in at night.
- Jessica Houde on Google
Sep 13, 2021
We had great time here! The staff and other guests were friendly. The grounds were maintained with plenty of space. The ice cream was great too. We will be staying here again!
- Josh Candee on Google
Sep 03, 2021
Great family friendly activities and friendly staff
- Zach Campbell on Google