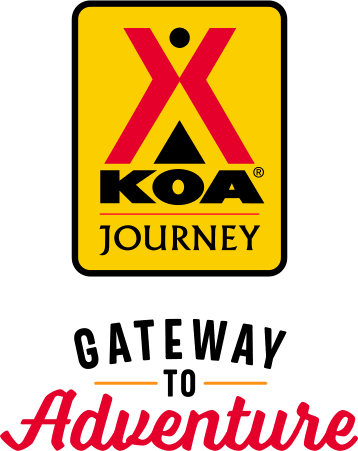 KOA Journey Campgrounds
KOA Journey campgrounds are the perfect oases after a day on the road. Whether it's along the way or a quick getaway, they've got you covered. Located near the highways and byways of North America with long Pull-thru RV Sites, they deliver convenience to the traveling camper. Pull in, ease back and take a load off.
KOA Journeys Feature:
Pull-through RV Sites with 50-amp service
Premium Tent Sites
Well lit after hours check-in service
Directions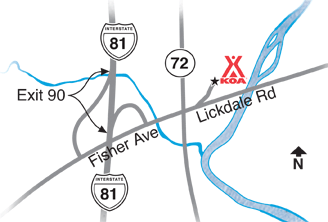 I-81 N or S: Take PA Exit 90. Turn left at traffic signal at off-ramp. (KOA is less than 1,000 feet from ramp). Look for the large log cabin/lighted sign at entrance, less than 50 yards from traffic signal at SR 72.
Get Google Directions
Aug 21, 2021
We loved it! Nice and quiet. We will definitely stay again when up this way.
Aug 21, 2021
The campground and staff were great! Seems like there wasn't enough help at times, but, considering COVID, we understand. The grounds needed a bit of attention, especially around the checker board game. Hope they are able to get some more help to make it the best!
Aug 21, 2021
They came out to check own us when we were late getting there nice people
Aug 20, 2021
We have stayed here several times and have enjoyed it there. The staff is friendly and helpful. Great for a stop over because of the incredibley easy access off of 81. Good for a longer stay to have fun on the river and for all of the amenities they have for young kids.
Aug 20, 2021
We only stayed one night while passing through this area, had a nice pull-thru site. The store was well stocked & they had an ice cream shop which was nice. Good KOA
Aug 20, 2021
This is my normal stop going north to south. I intend to keep it that way.
Aug 20, 2021
The food was great at the small restaurant. Everyone was very friendly and we would love to come again.
Aug 19, 2021
Had some kinda smell ?? Papermill ? Love the location when we travel from NC to NY ... friendly folks n ice cream.is great
Aug 19, 2021
We like staying at KOA's because the campgrounds are clean and well kept. .Staff was helpful and friendly. Making reservations was easy. I prefer to talk to a person when making reservations and I was given that option by calling directly rather than using the other phone number or doing it on line. We have recommended Jonestown KOA to friends and family. You can count on seeing us again.
Aug 19, 2021
Very pleasant
Aug 19, 2021
I like the express check in.
Aug 18, 2021
Nice site. Really tries to be more than a Journey type, nice people. No pool. Nice location.
Aug 18, 2021
I appreciated the curbside check in. Very efficient. Thanks.
Aug 18, 2021
Great location, friendly workers, clean park,
Aug 18, 2021
Great overnight stay, would easily book again. For longer stays might like to be a little further away from the road, but glad they were able to fit us in on short notice.
Aug 17, 2021
We had a fantastic stay. Very friendly and clean. Will definitely recommend. On a side note…as a Disabled Veteran who suffers from PTSD…my first night was tough with all the overnight small arms an artillery fire. Not the fault of KOA. I personally should have been more mindful of Ft Indiantown Gap.
Aug 17, 2021
They were really nice, the bathrooms were very clean and showers were great. Staff was great and I liked how they deliver stuff to your site. Would recommend to a friend and would stay there again.
Aug 17, 2021
Great clean campground. The owner was wonderful and knowledgeable about the area. I am giving this campground a 4 star because the girls that work in the store were miserable!
Aug 17, 2021
enjoyed it very much but it would be nice to list local churches and times of their services.
Aug 17, 2021
Our stay was really good the only thing is the porta potty back in the tent areas could use something in it to keep the bees out of it cuz it's a lot of bees in it and nobody can use it because of the bees when we were there we did put fly traps up but it didn't really work for the bees but overall our state was good the kids loved it.
Aug 17, 2021
I didn't see a bad site. All were good size. Ice cream stand a plus!
Aug 16, 2021
We liked our site and everything was well kept and good location .
Aug 16, 2021
Nice and quiet. Owner was friendly
Aug 16, 2021
Very nice, well kept park,we were only passing through this time, but we'll be back to enjoy the local attractions soon.
Aug 16, 2021
The staff were very friendly. The office in initial building are in good condition. The property however is located on an incline with narrow roads leading to individual camp sites.
Aug 16, 2021
Good location. Site was not well suited for our Travel Trailer and was hard to get into. The electrical box and cable were so far away that we left these off for the overnight visit. Grounds were clean and easy to find.
Aug 16, 2021
we stayed creekside and loved it!
Aug 16, 2021
The River site was great, will be back!
Aug 16, 2021
Beautiful river view. Level sights. Great staff. A little higher priced probably because of extra amenities.
Aug 15, 2021
The staff was very helpful meeting my specific site needs. The campground was very clean, as was the restrooms and showers. Lots to do for kids.
Aug 15, 2021
Bad weather. Dump station needs work.
Aug 15, 2021
We had a fantastic time and the campground was amazing! I had never seen a general store offer so much! The ice cream was delicious and we enjoyed sitting on the cute porch eating it!
Aug 15, 2021
Clean, friendly, accommodating, love this stop!
Aug 14, 2021
Loved the campground…was disappointed that a family member was switched far away from booked site.
Aug 14, 2021
It was really nice there. We will be back. However, a tree branch fell through our awning. We emailed the campground, but no response.
Aug 14, 2021
Great stay. Beautiful KOA with lots of activities. Very accommodating staff.
Aug 14, 2021
We arrived very late, and they had the reservation information waiting for us. Easy arrival and great stay. We will be back. Thanks again, D. Short
Aug 14, 2021
Loved this campground as it was close to trails and we did a lot of hiking. We would've like to stay another day but we're told we would have to move sites because we didn't have a reservation. That was a bummer. We moved on. But the campground it is very convenient to the Appalachian Trail and other hiking.
Aug 14, 2021
The campground is nice but our campsite was not what was shown on the website and we wanted a campsite next to the creek (which we were) but there is a VERY loud bridge over the creek right where our campsite was that was bustling with traffic all night and very early so we were always woken up. Bathrooms were very clean though!
Sep 14, 2021
Tons to do. Well maintained. Trees, river, mini golf, general store with ice cream and beer, bounce pad, great dog area. The signs could be better especially if you come in at night.
- Jessica Houde on Google
Sep 13, 2021
We had great time here! The staff and other guests were friendly. The grounds were maintained with plenty of space. The ice cream was great too. We will be staying here again!
- Josh Candee on Google
Sep 03, 2021
Great family friendly activities and friendly staff
- Zach Campbell on Google