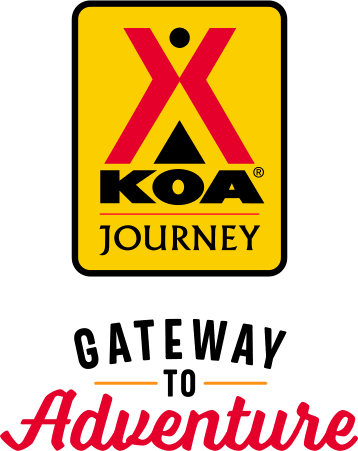 KOA Journey Campgrounds
KOA Journey campgrounds are the perfect oases after a day on the road. Whether it's along the way or a quick getaway, they've got you covered. Located near the highways and byways of North America with long Pull-thru RV Sites, they deliver convenience to the traveling camper. Pull in, ease back and take a load off.
KOA Journeys Feature:
Pull-through RV Sites with 50-amp service
Premium Tent Sites
Well lit after hours check-in service
Directions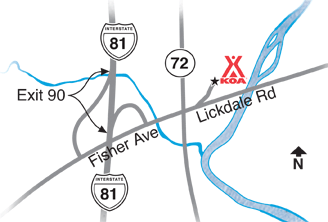 I-81 N or S: Take PA Exit 90. Turn left at traffic signal at off-ramp. (KOA is less than 1,000 feet from ramp). Look for the large log cabin/lighted sign at entrance, less than 50 yards from traffic signal at SR 72.
Get Google Directions
Jul 13, 2020
Friendly staff. Nice pull through trailer site. On site restaurant and ice cream service.
Jul 13, 2020
It was just one night but very nice and quiet
Jul 13, 2020
Overall the camping and amenities were extremely nice. The lower rating is for the "flies". This camp ground has by far been the most fly infested i have been to recently. The flies were obnoxious..... Take a suggestion and move the garbage collection area off site or to the furthest reaches of the campground. the garbage collection units in the heart of the campground is a breeding ground.
Jul 12, 2020
Nice place , just passing through, great wings!
Jul 11, 2020
Road noise was VERY loud. Spots were nicely sized but never felt like the "camping" experience because of the gas station type office and close busy road.
Jul 11, 2020

We had a lot of fun.
Jul 11, 2020
Very nice campground and we had a great stay. Also, very delicious ice cream at their store.
Jul 10, 2020
This campground is great. We only stayed one night but they were very accommodating and friendly. They have a nice store and restaurant as well. We will definitely stay there every time we pass through.
Jul 10, 2020
Campground was very quiet, easy access off highway, large pull thru sites, great for kids
Jul 10, 2020

Stayed for two nights. The bathroom facilities were absolutely immaculate. Glad the splash pad was open. Will be back again in the fall!
Jul 10, 2020
Best staff and crew ever. Site 36 needed cleanup. Old laundry, socks, panties on site. Old pipes sticking out of the water. Hazard We really like this place, been many times. Small issues. Will be back
Jul 10, 2020
Was a great halfway point for our trip. Very friendly and helpful staff. The whole facility was very clean, well-kept, and beautifully landscaped. We had burgers and pasta/potato salads...sorry, but the burgers were nigg tv very good quality. We would definitely go again though.
Jul 09, 2020
I'm giving it a 5 star rating because the campground itself is awesome. The day before we arrived I called to see if we could check in early. They said yes. When we arrived, the lady checking us in was very unprofessional and rude by telling us that check in time is 2pm and we would be charged $2.00 per hour that we were early even though our site was ready.
Jul 08, 2020
Great campground loveed staying there grandson really enjoyed the play ground and sprinkler park.
Jul 08, 2020
This is a great place perfect location etc, but the office staff is consistently a problem. Reservation issues less than helpful etc. The owners are great if only they could get good help!
Jul 07, 2020
Appreciated July 5th fireworks, clean site and grounds. Thanks!
Jul 07, 2020

Really enjoyed our stay in cabin 1! Very clean cabin and public areas. Great 4th July fireworks! Outside cabin could use clean up of leaves and debris. Wish you could rent golf carts as I can't do as much walking as I used to. Had a great time! Thanks
Jul 07, 2020
Wonderful weekend and the fireworks were awesome!
Jul 07, 2020
Kyle the owner went out of his way to talk with us and make us feel welcome. Very clean and friendly campground. The rest of the staff was helpful and courteous. Patio, picnic table, fire ring all in great shape. Site was level and no issue with hook ups.
Jul 07, 2020
Been there many times before KOA name. It is very neat well cared for sites easy to access. Loved the great fireworks too!! Staff excellent helpful. It is always our "half way" to our relatives down south. Great place to stay & ice cream a true delight! Thx Bill Bobskill/ Massachusetts
Jul 07, 2020
Stayed just the night, campground was clean, staff was friendly. Good location, easy in/out.
Jul 06, 2020
Office Folks were very nice. Not a lot of shade where we stayed. Very nice that you could order food (chicken wings were great) & it was delivered to your RV! We are traveling from north FL up to Maine & this was a nice stop close to I-81.
Jul 06, 2020
We enjoyed our stay at the KOA Jonestown. We have stayed with them several times and will again in the future.
Jul 06, 2020
Great campground, friendly staff.
Jul 06, 2020
Way to small and crowded and very noise near the highway
Jul 06, 2020
Friendly staff as expected at the KOA. LOVE that we can get food delivered from the on-site store. Kids loved the ice cream and spray ground. We all enjoyed swimming in the creek! Our young kids weren't ready to stay at a creek-front site but we were still able to access stairs between those sites so we can get to the creek easily. Staff even had fun events planned for the July 4 weekend!
Jul 06, 2020
The owner was very nice, the staff always seemed bothered . We reserved canoeing & it took 2 people to book it & they both seemed annoyed. My 12 yr old granddaughter was with me and said "let's just forget it Mommom, it looks like it's too much trouble". She was upset when we left the store because she felt like we were bothering them. I explained to her that that is their jobs!!
Jul 06, 2020
We loved this campground! It was small and quiet. The store was great, lots in stock. They had adult slushees, which hubby and I enjoyed. The ice cream was so yummy. The kids loved the splash pad and jump pad. Everyone was super friendly. We loved the activities scheduled, keeping the pandemic in mind (rock painting, etc.) And swimming in the creek was amazing! We will absolutely be returning!
Jul 06, 2020
Unfortunate that restrictions were in place because of COVID, but everything was fine. The grounds were clean and the staff were organized. The restaurant/delivery was helpful, food was good.
Jul 06, 2020
It was our second time there! Staff is super friendly, activities are excellent and the camp is super well maintained! Great job!!!
Jul 05, 2020
We had a very pleasant stay. Grounds were clean and very well kept. Staff was very nice and courteous. Great camp store!
Jul 03, 2020
Wonderful campground. Everybody was very friendly. Lots of stuff for kids to do. The chicken and the ice cream was a nice treat too. We look forward to coming back again in the future.
Jul 03, 2020
I know this is a trying time with all that is going on with the virus But a little friendliness would go along ways. We have always enjoyed staying at you koa. But was quite disappointed this time
Jul 03, 2020
Very convenient, clean, and staff was very friendly. We were just passing through so it worked great for us being right off the highway. �
Jul 03, 2020
It was wonderful. We are going back next month
Jul 03, 2020
Very nice campground with nice lots. The store had anything you might need. Having ice cream was a great addition. The employees were friendly and helpful.
Jul 02, 2020
We live near by and wanted a place to stay close to home.We liked our camp site and the staff was very friendly. We will be using your campground for many years to come.
Jul 02, 2020
This campground has excellent facilities, from a well stocked camp store, to broasted chicken to ice cream to entertainment for children. Everything you could want for your stay.
Jul 02, 2020
We plan on returning in the future your staff was very courteous and friendly. Thank you!
Jul 02, 2020
Check in staff was not overly friendly but not rude. Just not as friendly as we're used to. Having the food take out on site was a definite benefit in these COVID times. And there was a nice selection. We will definitely stay here again on our trips between NH and southeast GA.
Jul 01, 2020
It was a quick overnight stay and our first stay in a campground.We were very pleasantly surprised!
Jun 30, 2020
This was fine for an overnight stay. Our site was more than long enough for our 72' RV/Stacker trailer combination. The power at the post was a bit weak but not so bad as to cause our energy management system to shed load. This could be a really nice campground if they would tidy it up a bit. Lots of amenities for the kiddos.
Dec 28, 2020
We went to see the lights at Hershey. Omgosh! Best ever! The only criticism I have is your roads are way too bumpy. The huge pot holes made it hard to take a few pictures. I was quite disappointed. The lights are well thought about, very well placed, and just ❤️ beautiful. Thank you so much! The pictures below are the ones that weren't blurry. It's well worth the price!!!! Regarding the campground, I loved it! They have a small restaurant and they deliver to the sites. It was really cold and we appreciated not having to cook that night. The food was great and the staff members are very very kind. It's a good place for the kiddos too! We will be back!!! Thank you so much for caring about your visitors!!!!
- Suzanne D. Rogers on Google
Dec 14, 2020
Great staff and one of the best camp stores you will ever enter. This was an excellent home base to explore Hershey. We saw the sweet light show, visited the chocolate factory, and found a tree farm to cut down a tree for Christmas. We also enjoyed walking the grounds. Bathrooms are super clean and a really nice laundry room. WiFi was good but there was not many guest. AT&T signal was good. The on site restaurant delivers food right to your site. Food is reasonably priced and was good. As advertised it's right off I-81. So it's super convenient as a quick stop over and a recharge. The only downside is traffic noise. We definitely would return if we come through this part of PA again.
- Anthony Gambescia on Google
Dec 09, 2020
One of the best KOA experiences yet, and we've been to many! Extremely clean bathrooms and laundry area! Big stes! Awesome dog park and the best BBQ, that they can deliver to your RV!!! Good staff too 👍
- Nikki Harper-Smith on Google