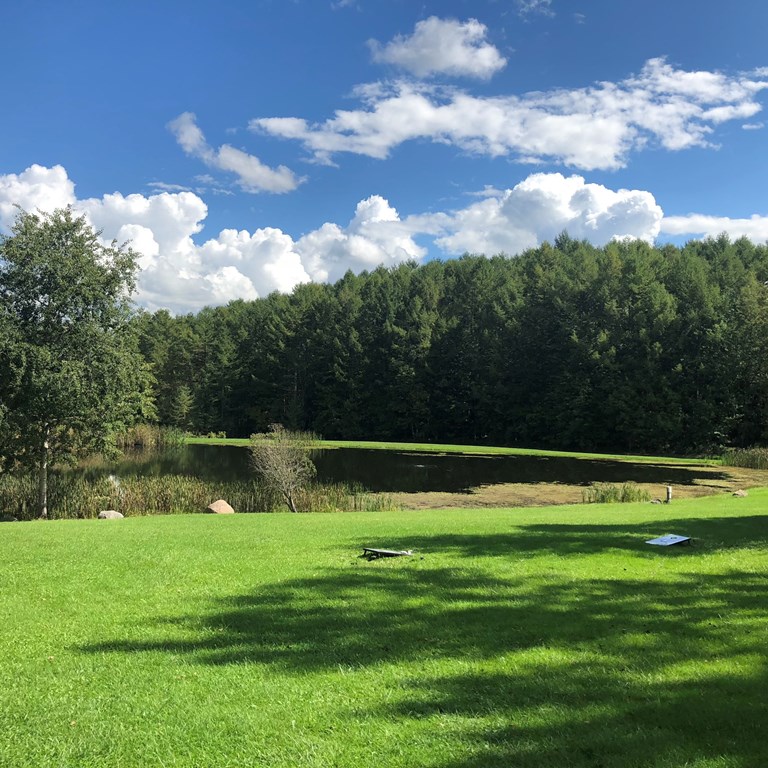 Houghton / Letchworth KOA Reviews
We are open! Please follow us on Facebook to receive updates on Covid-19 guidelines.
Directions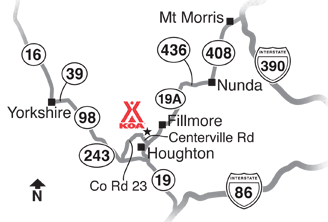 GPS ALERT: SOME GPS MACHINES WILL DIRECT YOU DOWN DIRT ROADS IN THE AREA, AS IT IS A SHORTER DISTANCE. DO NOT FOLLOW THOSE DIRECTIONS! PLEASE FOLLOW THE DIRECTIONS LISTED BELOW. THEY COVER ALL ROUTES TO CENTERVILLE ROAD.

FROM I-86: Take Exit 30 to State Route 19, heading North. Turn left onto route 243 in the town of Caneadea. Turn right onto Allegany County Road 23 (also know as Hume Road). Take 23 to Centerville Road. Turn right onto Centerville Road. About two miles turn left into Kampground.
FROM STATE RT. 19 in Houghton: Enter at Houghton College. Follow the road through the college. The college road ends at Centerville Road. Swing left onto Centerville Road for 1.3 miles. Turn right into Kampground.
FROM STATE RT. 19 IN HUME: Turn right onto Allegany County Road 23. Take 23 to Centerville Road. Turn left onto Centerville Road. About 2 miles turn left into Kampground.
FROM ROUTE 98: Follow 98S. Just before Rushford, Route 98 turns into Route 243. Stay on 243 and then make a left onto County Route 23 (just past Rushford Plaza). Take Route 23 to Centerville Road. Turn right onto Centerville Road. About 2 miles turn left into Kampground.
Get Google Directions
Jun 20, 2020
the campground was very clean, the views of the area was nice also. the staff was very nice and helpful, i would come back again
Jun 18, 2020
Perfect and enjoyable. Great hosts!
Jun 17, 2020
We absolutely loved the way this campground was laid out. The sites were spacious and level. The dog park was amazing. It really helped to have such a huge space to let our dogs run some of their pent up energy out. And the owners were very nice. We definitely plan on returning.
Jun 17, 2020
Loved it and the hosts were amazing. I just wish you had luxury sites. We were on a very small site and with the grandkids it was tight. But what a fun time we had at the fishing derby
Jun 17, 2020
It was easy to check-in, and we liked the area. We stayed during COVID, so the bathrooms were locked. We were only there for 1 night, but there seemed to be a lot of people there. We would stay again for sure.
Jun 16, 2020
Owners were friendly and "hands on". We thought the daily itinerary text was awesome. We hope to return to take advantage of the pool (which wasn't opened, covid-19)
Jun 16, 2020
Very nice, quiet campground. Owners were very pleasant and helpful. Would highly recommend!
Jun 14, 2020
Enjoyed a peaceful stsy. Not your typical KOA with golf carts racing around all over. Most spots are spacious and spread out. Feels more like actual camping.
Jun 11, 2020
We would have enjoyed the use of the pools, but understood ahead of time that they would be closed. ���� The biggest inconvenience was the closing of the restrooms and showers. As my daughter and her boyfriend were tent camping, to give each couple their privacy, it made it uncomfortable for them to have any facilities, so they went without. If I had know about these closures I would not have s
Jun 10, 2020
Owners were very nice and accommodating. Facility was clean and everyone was very friendly. I really enjoyed the good morning text message informing of the day's activities. I have never had a campground do that before and it really started the day off with a smile on our faces. It was a very nice time and I would recommend this campground to everyone.
Jun 10, 2020
The owners are extremely friendly and accomodating!
Jun 10, 2020
The owners were super accommodating to my needs and helped fulfill my wishes for the weekend-Scotty
Jun 09, 2020
Fantastic. Everything was done to make our stay comfortable during this crazy virus! Tom was a great host taking us to our site and explaining everything! Great host!
Jun 09, 2020
Couldn't be better.
Jun 09, 2020
My kids loved the fish pond
Jun 09, 2020
They went out of there way to make our stay fun and welcoming, Love it there. Will definitely be back many times!!!
Jun 09, 2020
Loved our visit. Love the campground. Loved the dog area. Very helpful staff. Really enjoyed ourselves. Thank you.
Jun 09, 2020
The owners were very nice and welcoming! We enjoyed our stay. It was a very peaceful stay. Loved listening to the birds and even saw a deer. The woods and pond are great. The kids lived taking the dog to the agility park. Would definitely come back! The camp fire cones were a hit as well :)
Jun 08, 2020
The KOA Houghton-Letchworth is a GREAT campground. The owners: Tom and Karin are wonderful hosts! Very friendly and helpful! This was our 2nd stay at this campground and we plan on going here again as soon as we can.They have a nice big fenced in dog park. Our dog loved it. He was able to RUN!!!
Jun 06, 2020
Great facilities and staff onsite was very accommodating
Jun 03, 2020

Thank you soo much ****
Jun 03, 2020
Nice campground, very wooded sites! If I wanted to park my camper in grass lot i would just park it in my yard. So we really liked it and the service at check in was great
Jun 03, 2020

Beautiful location and lovely cabin!! Would recommend this Koa campground to anyone and would love to stay again one day.
Jun 02, 2020
It was very peaceful and the owners were amazing. Thank you!
Jun 02, 2020
Great campground. Very clean and friendly owners. All the guests were nice and friendly as well.
Jun 02, 2020
Everything was good for going during covid 19 quiet campground would like to go back when it's over. Only thing that may need looked at is leveling of the sites
Jun 02, 2020
Had a great time only problem we did not get a email receipt.
Jun 02, 2020
Everyone was extremely welcoming. When our cable cord was too short, they brought one directly to our site. No charge, just smiles. Even with Covid 19 rules, we we're still able to enjoy our campsite and the campground. Great!
Jun 02, 2020
Very nice people. Sight was beautiful. Grounds were kept nice. We had a rainy day so we would have appreciated faster internet as the property weighs future investments.
CAMPGROUND RESPONSE / COMMENTS:
Thank you very much for your review. We enjoyed having you stay with us. Our internet is one of the fastest and most reliable of any campground - we made major investments to ensure this. Since our equipment is outside and intertwined through many trees, weather can sometimes effect the service, as
May 29, 2020
Owners were very nice, site was tiny and very close to neighboring sites. Overall a good time, just would have liked a larger site. We made the best of it. Lots to do nearby.
CAMPGROUND RESPONSE / COMMENTS:
Thank you for your review. Unfortunately, since it was Memorial Day weekend we had limited sites to choose from when you rescheduled your reservation from a few weeks prior. Hopefully, you will be back and can experience our campground from another site. We have many large sites.
May 28, 2020
We had an enjoyable time despite facilities needing to be closed due to Covid. Nice grassy sites, friendly staff, and a quiet relaxing campground. We hope to be back again.
May 28, 2020
This was our first KOA and we had a great time. The owners and family are great and very helpful. Even under the current climate (Covid-19) they did everything they could to make everyone's stay enjoyable. Definitely coming back.
May 28, 2020
Even amid the Covid pandemic it was still nice to be able to camp. The Owners were very up to date on protocols and were very helpful with delivery of store items. They responded quickly to any emails and phone calls.
May 28, 2020
Awesome campground friendly staff would 100 percent recommend to my friends definatly coming back again
May 28, 2020
This is my second time doing a yearly personal retreat at KOA Houghton/Letchworth. I felt very taken care of by Tom & Karin--and I appreciated the extra safety measures they took during the COVID-19 pandemic. I will be back next year! :)
May 27, 2020
everything was great we booked late to camp with friends and got a nice site. no complaints the covid had everything pretty much closed in the campground pool bath houses etc. The owners could not have been more accommodating to us.we had a great time. Hope to return to the area again and the same KOA campground
May 26, 2020
Great KOA! Large spaces, Very quite. Kids loved fishing. Hosts were wonderful. We will be back!
May 24, 2020
This is a family run campground for families. The owner is extremely kind and conscientious to the needs of all campers. At check in they provide a welcome packet suggesting local hikes and the owner provides his personal cell phone number for any needs or concerns. The campground is about 20 minutes south of Letchworth main entrance. I will definitely come back and bring some of my pals.
May 23, 2020
Very nice KOA! We stayed in our travel trailer May 16-18. The weather wasn't great but we made the best of it. Due to covid restrictions all of the amenities were unavailable, but the campsites were clean and we'll maintained. The owners couldn't be more friendly or accommodating! we will definitely return!
May 19, 2020
We had a wonderful time there! The owners could not have been more helpful!!
May 19, 2020
Enjoyed the weekend. Extremely friendly and helpful. We will go back again next year. Beautiful grounds.

Houghton / Letchworth KOA
Open May 1 - October 19
7632 Centerville Road
P.O. Box 4
Houghton, NY 14744
Check-In/Check-Out Times
All Sites
Check-in: 2:00 pm, Check-out: 12:00 pm
Houghton / Letchworth KOA
Get Google Directions

© 2020 Kampgrounds of America, Inc.