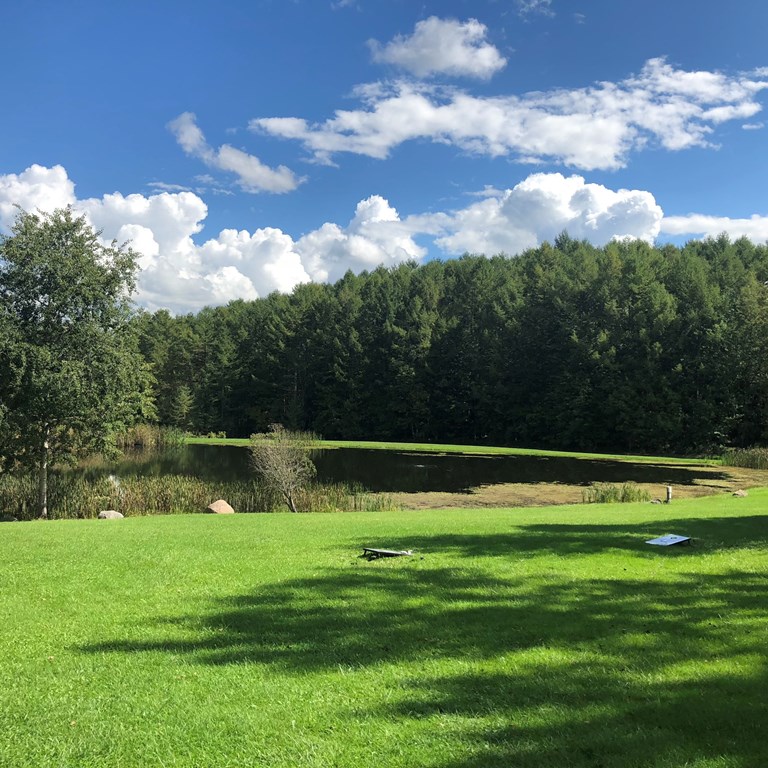 Houghton / Letchworth KOA Reviews
We are open! Please follow us on Facebook to receive updates on Covid-19 guidelines.
Directions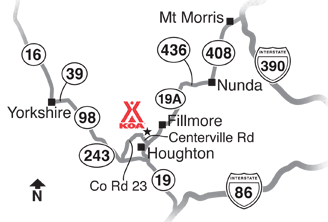 GPS ALERT: SOME GPS MACHINES WILL DIRECT YOU DOWN DIRT ROADS IN THE AREA, AS IT IS A SHORTER DISTANCE. DO NOT FOLLOW THOSE DIRECTIONS! PLEASE FOLLOW THE DIRECTIONS LISTED BELOW. THEY COVER ALL ROUTES TO CENTERVILLE ROAD.

FROM I-86: Take Exit 30 to State Route 19, heading North. Turn left onto route 243 in the town of Caneadea. Turn right onto Allegany County Road 23 (also know as Hume Road). Take 23 to Centerville Road. Turn right onto Centerville Road. About two miles turn left into Kampground.
FROM STATE RT. 19 in Houghton: Enter at Houghton College. Follow the road through the college. The college road ends at Centerville Road. Swing left onto Centerville Road for 1.3 miles. Turn right into Kampground.
FROM STATE RT. 19 IN HUME: Turn right onto Allegany County Road 23. Take 23 to Centerville Road. Turn left onto Centerville Road. About 2 miles turn left into Kampground.
FROM ROUTE 98: Follow 98S. Just before Rushford, Route 98 turns into Route 243. Stay on 243 and then make a left onto County Route 23 (just past Rushford Plaza). Take Route 23 to Centerville Road. Turn right onto Centerville Road. About 2 miles turn left into Kampground.
Get Google Directions
Sep 15, 2020
We had a great weekend!! The only thing that could have used a little more attention was the cleanliness of our cabin. The cabins are beautiful but we had to clean everything before we unpacked our vehicle. Not only because of Vivid, but because it was just dirty. That was the only thing that could have been better. The staff is great, so friendly. All of the neighbors were so friendly! Thank you!
CAMPGROUND RESPONSE / COMMENTS:
Thank you for your feedback and review. I'm a little confused on the cabin cleanliness, since as the owner I personally checked your cabin and washed the carpet, shower curtain and left it spotless. In the future, please let us know what needs attention and we will gladly take care of it. Thank you.
Sep 08, 2020
Had a good time as always. Our cabin was not as clean as has been in past but nothing that would stop me for reserving again. The toilet ran constantly in Cabin 2 and should be checked and rust stained.
CAMPGROUND RESPONSE / COMMENTS:
Thank you for your feedback. Apologize that the cleanliness of the cabin did not meet your expectations. We will do better. Please let us know when a toilet is running, we could have fixed it for you. I cleaned the cabin myself today and did not see any rust stains. Again, we apologize. Thank you.
Aug 28, 2020
The camp ground was very clean and quite. The host gave us tips on things to do in the area. We will definitely be back in 2021.
Aug 16, 2020
It was our first camping trip as a family. It was nice and relaxing. The owners and staff are sooo nice and accommodating! The cabin we stayed in was perfect! It was clean and just the right amenities for camping.
Jul 27, 2020
This camper comment has been removed by KOA because it contained inappropriate content.
Jul 25, 2020
We stayed in a deluxe cabin and our fellow travelers stayed next to us in their RV. The cabin was ideal for us. The campgrounds were wooded and clean.
Jul 20, 2020
Thank you Stroh family for giving experience of home away home during our weekend gateway just after pandemic lockdown. I would like to appreciate your efforts to provide fun filled activities for kids and adults along with making sure of safety & health regulations.
Jul 09, 2020
We had a great time! The deluxe cabins were very clean and Karen was so nice to work with.Thanks!
Jun 02, 2020
Great campground. Very clean and friendly owners. All the guests were nice and friendly as well.
May 28, 2020
This is my second time doing a yearly personal retreat at KOA Houghton/Letchworth. I felt very taken care of by Tom & Karin--and I appreciated the extra safety measures they took during the COVID-19 pandemic. I will be back next year! :)
Oct 17, 2019
Rented the deluxe studio cabin and my sister was in the cabin next door. Fun Columbus Day weekend celebrating Halloween. Clean quiet campground with friendly owners.
Oct 08, 2019
The facility was clean and comfortable. The campground was peaceful and well managed. The staff was friendly, very polite, and helpful.
Oct 03, 2019
This KOA Kampground was wonderful! Our stay was just an adult only get-a-way so we are definitely bringing our children back next year. The owners are amazing and the facilities were great. We stayed in a Deluxe Cabin and it was very clean, cozy and a perfect fit for us. The only thing we were sad about was that our boys weren't with us. They would have LOVED it here!!
Sep 17, 2019
Cabin was clean and super cute. Campground is well maintained and very nice!
Sep 10, 2019
THANK YOU ALL SO MUCH! We'd had a very rotten week leading up to it but our vacation was very relaxing! The flowers were very much appreciated! Our neighbors were quite loud (one day until 1:30 am) but nothing that could be helped. We will be telling all of our friends and family to stay in this clean and well-accomidated, beautiful camping resort. Tell Bo Derrick she's a good girl for us!
Sep 06, 2019
Loved everything about the campground. From the pool (heated perfectly) to the fully stocked fishing pond (daughter caught her first fish ever!) to the great cabin, our family had a truly amazing time. Very close proximity to Letchworth's main Falls entrance and close to other necessities and adventures (check out Charcoal Corral and Hidden Valley Safari!). Can't wait to come back next summer!
Sep 05, 2019
We had a great time as always. We've been coming there for years for Labor Day weekend. Love the changes since it became KOA. Looking forward to more. See you next year!
Aug 29, 2019
Nice quiet campground. Cabin was a nice size and very clean. Pool was nice.
Aug 15, 2019
The campground itself is laid out nicely... very peaceful, quiet and very well kept/maintained. We stayed in a Deluxe cabin (my daughter has special medical needs so it worked out perfectly) .. and the cabin was super clean upon arrival. The owners (I cannot recall their names - I'm awful with names) were very friendly, nice, helpful, accommodating. We will be back!!
Jul 31, 2019
Everything you need for a relaxing weekend in the woods! The owners are phenomenal and we come back year to year and are delighted to find new improvements every time!
Jul 30, 2019
Stayed in delux cabin. The cabin was new and quite nice. Most everything worked fine. Staff was very friendly. Bed matress was very low end and for $120 per night could be upgraded. Bunk bed matresses were just thin foam. Also need to bring own linens which is fine but they should tell that they mean anything you might use that is cloth...including pillows and bath mat.
CAMPGROUND RESPONSE / COMMENTS:
Appreciate your comments. Other guests have described the beds as the most comfortable that they have slept in at a KOA. Never had an issue with people not bringing pillows. The price of the cabin also includes all of the campground amenities.
Jul 27, 2019
We had a great time. Fun swimming in the pool,fishing, and visiting Letchworth! We were given little drawstring bags for our kids at checkout, thought that was very nice�
Jul 22, 2019
It was an awesome place. The kids enjoyed it very much. the cabins were very nice. Everything was very convenient. the staff was very friendly and helpful. looking forward to coming back next year.
Jul 12, 2019
Very clean. Great campground
Jul 04, 2019
We stayed in the deluxe cabin...it was very clean and well supplied. The layout was very good for children...play areas in center of cabins and many campsites. Staff friendly and accommodating.
Jun 26, 2019
I had a great first stay at this campground, The Owner and his family were very accommodating and ensuring that our stay was pleasant and fun. Everyone around our site was very friendly and often helped us get settled in. The Owner was great and very smart, if we had a problem he went out of his way to help us immediately. I will be returning to this KOA.
Jun 15, 2019
The owners are very nice. The bathrooms were emasculate. We were there in June so the campground was pretty empty. The cabin my friends stayed in was new and perfect.
May 31, 2019
We really enjoyed our stay. The campground owners were very friendly and helpful. We stayed in a well appointed cabin, which was immaculate. Between the beautiful pool, hiking trails, organized activities, and the many games in the rec room, there was no shortage of things to do. Can't wait to return!
May 13, 2019
I needed an overnight getaway after a very busy season--and the Deluxe Cabin was perfect! Karin greeted me upon arrival and I immediately felt sure that anything I needed would be provided. (I had the campground to myself, and she even offered their cell in case I got nervous by myself in the night! :) ) It was quiet, the grounds were immaculate, and I left REFRESHED! Thanks Karin and Tom!
Oct 06, 2018
It was awesome the camp site is really neat and clean with alot of things to. And the staff are very Amazing. I will be returning soon
Sep 19, 2018
The only issue was an lpn alarm that went off mysteriously at 1:30am.
Sep 17, 2018
Deluxe cabin was exceptionally clean and comfortable. Grounds were well maintained and other campers respected the rules which made for an enjoyable stay!
Sep 06, 2018
Tommy, was very friendly when we arrived. Tony, was also great. The cabins and bathrooms were very clean. Pool was beautiful!!
Sep 02, 2018
This was so nice! We were really impressed by the facilities and the location! Will plan on coming back!
Aug 29, 2018
Nice place - clean, quiet and friendly
Aug 15, 2018
Everything went well. Deluxe cabin facilities great. Staff very nice and accomadating. People in cabin next to ours had various complaints but not all justified and should be taken somewhat with a grain of salt..
Aug 09, 2018
Deluxe cabin was exactly what was expected. Campground quiet and peaceful. Owner and staff very friendly and accommodating to all our needs. Whatever the camp store didn't have we were able to drive a short distance to local store. Will definitely be going back!!
Aug 07, 2018
Gentleman at front sunday night was very nice. Loved that you had soap, toilet paper, coffee and even coffee cups. It was very clean!!

Houghton / Letchworth KOA
Open May 1 - October 19
7632 Centerville Road
P.O. Box 4
Houghton, NY 14744
Check-In/Check-Out Times
All Sites
Check-in: 2:00 pm, Check-out: 12:00 pm
Houghton / Letchworth KOA
Get Google Directions

© 2020 Kampgrounds of America, Inc.