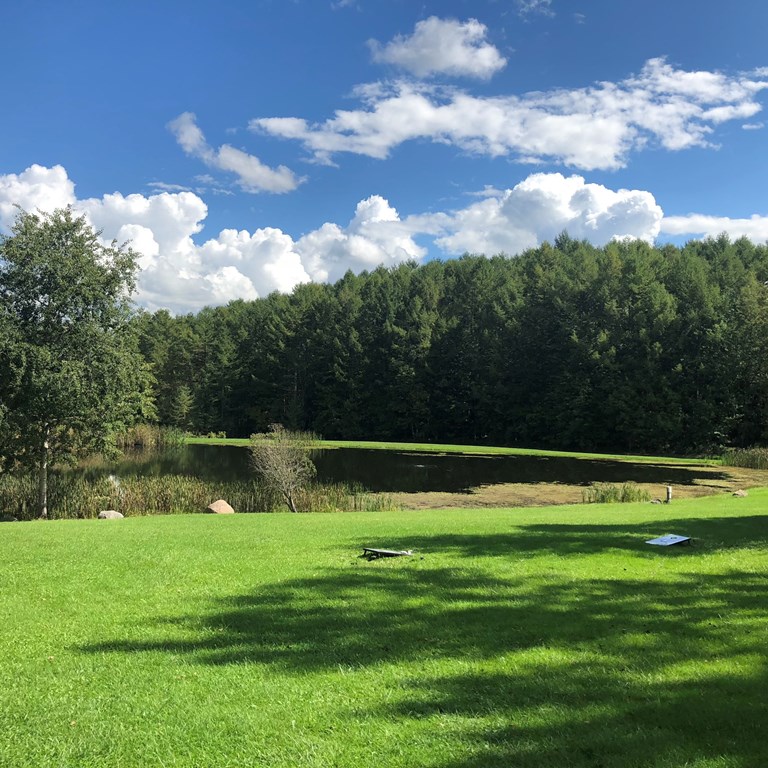 Houghton / Letchworth KOA Reviews
We are open! Please follow us on Facebook to receive updates on Covid-19 guidelines.
Directions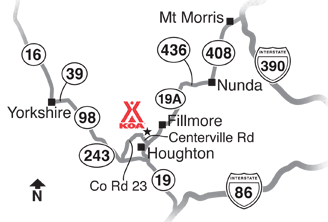 GPS ALERT: SOME GPS MACHINES WILL DIRECT YOU DOWN DIRT ROADS IN THE AREA, AS IT IS A SHORTER DISTANCE. DO NOT FOLLOW THOSE DIRECTIONS! PLEASE FOLLOW THE DIRECTIONS LISTED BELOW. THEY COVER ALL ROUTES TO CENTERVILLE ROAD.

FROM I-86: Take Exit 30 to State Route 19, heading North. Turn left onto route 243 in the town of Caneadea. Turn right onto Allegany County Road 23 (also know as Hume Road). Take 23 to Centerville Road. Turn right onto Centerville Road. About two miles turn left into Kampground.
FROM STATE RT. 19 in Houghton: Enter at Houghton College. Follow the road through the college. The college road ends at Centerville Road. Swing left onto Centerville Road for 1.3 miles. Turn right into Kampground.
FROM STATE RT. 19 IN HUME: Turn right onto Allegany County Road 23. Take 23 to Centerville Road. Turn left onto Centerville Road. About 2 miles turn left into Kampground.
FROM ROUTE 98: Follow 98S. Just before Rushford, Route 98 turns into Route 243. Stay on 243 and then make a left onto County Route 23 (just past Rushford Plaza). Take Route 23 to Centerville Road. Turn right onto Centerville Road. About 2 miles turn left into Kampground.
Get Google Directions
Sep 05, 2020
Actual campsite was amazing however the property was not what I expected being my first time at a kale after seeing all the website advertisements expected much more but then again this was out of the way rural which was also very nice though I complaint I have is the showers were cold no matter what time of day I attempted to take one however this was not the problem for the ladies room.
CAMPGROUND RESPONSE / COMMENTS:
Thank you for your feedback and review. I'm sorry that our campground did not meet your expectations. Your comments to us where all positive, so we are a little confused. Each year we improve upon the park. We apologize for the shower temp, we have not had any other complaints. We will address it.
Sep 01, 2020
The Campground folks were great. Huge tent site by the lake. Quiet with friendly RV's. Loved it and intend to return.
Aug 09, 2020
Very impressive tent camping site. We had plenty of privacy, and the water and electric at the campsite was a huge plus.
Aug 09, 2020
The large w/e tent site was perfect for our last minute need to unplug, relax, get some country air and sleep under the stars! The owners were very helpful and quick to respond to a couple unexpected situations. Our high energy Aussiedoodle LOVED the dog park! We will definitely be back in the future!
May 04, 2020
Fantastic. The owners could not have been more accommodating given the current state of things.
Aug 14, 2019
The owner was very friendly, really nice camping spot, clean bathrooms
Aug 14, 2019
My boyfriend and I stayed here for the weekend. The campground itself is very nice. The girl that checked us in was great. However, if your younger, the manager might make you feel very uncomfortable, or like you don't belong there. While looking around the shop they had, he very rudely asked which site we were at, and then if the site was okay. Maybe he meant well, but tone means everything.
Aug 05, 2019
If your looking for a more rustic KOA this is the place. We loved it. Thanks Tommy
Jul 31, 2019
The camp owners are very friendly and the camp site was great.
Jul 29, 2019
Our family really enjoyed camping at Houghton/Letchworth KOA. It was clean, quiet and the tent site was huge. We will definitely come back
Jul 17, 2019
Attractive, spacious campsites and a nice pool.
Jun 02, 2019
Great! Owners and other campers we're all very friendly and helpful.
Sep 19, 2018
The Campsite is nice. Staff is friendly/helpful. Bathrooms are clean/well stocked. Loved our site. Only issue is lack of enforcement of the pet policy. There were 5 dogs that I could see. Only one was kept on a leash. Mine. One dog roamed the grounds. Came over to my site making my dog bark. Took a dump in my site which I had to clean. Called office but no answer. Need to enforce dog rules.
CAMPGROUND RESPONSE / COMMENTS:
Thank you for your review and thank you for staying with us. We had an issue that particular week that you camped with us, with some campers not following the pet rules. We addressed the situation and the campers understood and apologized. Thank you for bringing this to our attention.
Aug 28, 2018
Our tenting site was the best tent site we have ever been on!!! Loved it!
Aug 17, 2018
Everyone was very friendly and accommodating. We tented and the area into our site was not car safe so they let us park at a separate site close by which was very nice. Sadly due to personal reasons we needed to leave early and we're refunded for our last night which wasn't expected but greatly appreciated!
Aug 15, 2018
We enjoyed our 3 day stay and were given a very large site with mature trees that provided lots of shade and accommodated a tent trailer, large kitchen tent and large tent. We were able to share site with our son and his family. There were many things for the grandkids to do and the Saturday events were very fun. We encountered cold showers but problem was remedied quickly.
May 30, 2018
Friendly staff, extremely clean bathrooms and showers, great stay!
Aug 03, 2017
It was clean and there were many activities to keep us busy.
Jul 20, 2017
Beautiful location in the woods with lots of great spots to camp. There seems to be a drainage issue on the grounds, so make sure your campsite is dry.
CAMPGROUND RESPONSE / COMMENTS:
Thank you for your review. There is no drainage issue. We have been hit with a considerable amount of rain almost every day since May. The ground has not had a chance to dry up in certain low areas where the tents sites are.
Jun 28, 2017
this koa is 100% focused on camper trailers and rvs. they only have 4 tent sites that are vary small and when we got there the guy at the counter said "the sites might be pretty wet" which they where but i was able to find a small spot to put my tent in a soft but dry ish spot. the bathrooms could have been a little cleaner but no camp ground bathrooms are great. i feel like $44 was too much.
Sep 06, 2016
The camp itself was absolutely beautiful, the view of the pond was so nice especially with the morning fog. We stayed here because nothing in Letchworth park was available being Labor Day weekend and it was a great decision. The location was great and close enough to the park without all the busy park traffic. Karin the owner was great and very accomidating. Bathrooms were clean/well maintained
Sep 04, 2016
Campground was decent but the bathroom had half doors on the stalls that you could see over and they were quite dirty. the management was horrible. We were greeted by a young women who told us the computer was down and asked us to come back tomorrow even though we were only there for 1 night.
Aug 01, 2016
The host and her children were absolute delights and received us at midnight for check in. However the restrooms needed some work. They had one out of order out of two.

Houghton / Letchworth KOA
Open May 1 - October 19
7632 Centerville Road
P.O. Box 4
Houghton, NY 14744
Check-In/Check-Out Times
All Sites
Check-in: 2:00 pm, Check-out: 12:00 pm
Houghton / Letchworth KOA
Get Google Directions

© 2020 Kampgrounds of America, Inc.