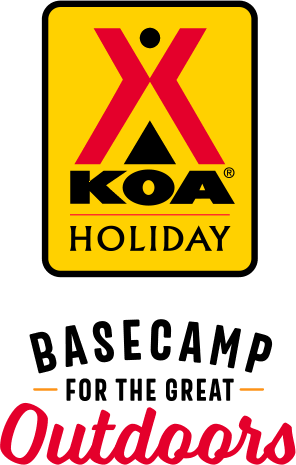 KOA Holiday Campgrounds
Whether you're exploring the local area or hanging out at the campground, KOA Holidays are an ideal place to relax and play. There's plenty to do, with amenities and services to make your stay memorable. Plus, you'll enjoy the outdoor experience with upgraded RV Sites with KOA Patio® and Deluxe Cabins with full baths for camping in comfort. Bring your family, bring your friends, or bring the whole group – there's plenty of ways to stay and explore.
KOA Holidays Feature:
RV Sites with a KOA Patio®
Deluxe Cabins with full baths
Premium Tent Sites
Group meeting facilities
Directions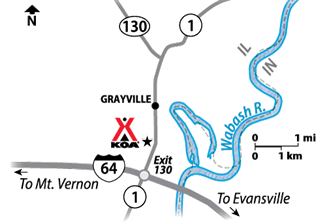 From Interstate 64, take the Grayville exit (#130 Illinois Rt.1) and turn north. Approximately 0.6 miles, turn left (West) at the Best One onto Koehler Street. Straight ahead 0.2 miles.
Get Google Directions
Sep 08, 2021
Friendly staff, very clean and well kept camp ground! Lots of activities to do and a very quiet place to relax and camp. Thank you for making our experience great on our last leg of our vacation trip!
Sep 08, 2021
One night stop over on trip home.
Sep 08, 2021
Good overnight stop. Can't see spending a vacation here. Clean, well maintained.
Sep 07, 2021
2nd stay with you. Excellent place. Will come back
Sep 07, 2021
We will be back the whole place was spotless. Are kid's had a great time. Thank you so much.
Sep 07, 2021
Love the workers and the place. Always a nice clean place with friendly staff. Our favorite place to camp.
Sep 07, 2021
Really enjoyed it, granddaughter's loved the playground
Sep 07, 2021
Very nice camping
Sep 07, 2021
Loved the campground. Mosquitoes were really bad during our stay. Would definitely visit again.
Sep 07, 2021
This campsite was extremely well-maintained and clean. The restaurant, ice cream parlor, and of course mini golf course made for an awesome Labor Day weekend. We will definitely be back here in the future
Sep 07, 2021
We love staying over there and hopefully can come again in few weeks or halloween
Sep 07, 2021
Best koa I've been to. Restroom by tent sites. Restaurant had good food. All staff very courteous and friendly. Lots of activites for the kids. We will be comming back.
Sep 05, 2021
If the store opened a little earlier, it would be nice.
Sep 05, 2021
Very nice campground, love the old town set up.
Sep 04, 2021
This was an exceptional KOA. Unfortunately, I was only passing thru, so it was just for one night, but I enjoyed the campground. My only complaint was that the only shower facility was at the complete opposite end of where my camper was parked.
Sep 04, 2021
Great staff and beautiful facility. Plenty of activities and all well maintained. Best looking shower/bath facilities I have seen. Only issue was hot water did not stay hot in the shower more than about 2 minutes.
Sep 03, 2021
Great campground
Sep 01, 2021
Very nice campground.
Sep 01, 2021
Great place with two minor exceptions. 1st) the WiFi could be improved. And 2) there needs to be another guest bathroom. We had to walk about 150 yards to the guest bathrooms located at the front of the complex. Regardless we will stay there again on our cross-country trips
Aug 31, 2021
This is one of the best Cleanest friendliness KOA that you will every stay at
Aug 31, 2021
Nice location with new facilities. Very nice.
Aug 30, 2021
Third time staying there this summer. Great stay again.
Aug 26, 2021
Great stay, wonderful, friendly staff
Aug 26, 2021
Last minute stayover on cross country trip. Everything seemed new. Smooth easy pull in and out. Nice spacing. Cannot rate amenities as i did not use them. Enclosed after hours registration was a nicefeature. Easy to find a space!
Aug 25, 2021
Need more bathrooms. I was in space #8 and there was no restroom or shower anywhere my site. Your sign in the road is VERY SMALL. Your sign on the road is only visible from the South. I didn't see one when approaching from the North.
Aug 24, 2021
Dave and Rick where fabulous and went out and made you feel at home away from home. Restaurant was great along with the staff. Need to stay KOA
Aug 24, 2021
Very nice campground. Had issues WITH WIFI and hot water in bath houses. Still, a very good stay.
Aug 24, 2021
Very friendly staff. Lots to do for kids. Our site was a pull in. Had shade and very quiet
Aug 23, 2021
Everyone was very nice, park was beautiful. Laundry room was lacking and we were disappointed in the restaurant. Ranch dressing was very not ranch!!
Aug 23, 2021
Sites are nice size,BUT no shade. Well kept but NO POOL!, Staff well organized and friendly, Saloon has great food at reasonable prices.
Aug 23, 2021
Very clean level sites. Great in park restaurant. Miniature golf was fun. The total property is well maintained.
Aug 23, 2021
Very quiet, easy on off on interstate, level spot Everything worked
Aug 23, 2021
This place is very clean And a great place to take your family for family fun
Aug 23, 2021
The entire facility is exceptional. There are plenty of activities to do there. It was very clean and well maintained. The restaurant was great. The staff was friendly and very helpful for us newbies. Will definately come back again.
Aug 23, 2021
Beautiful Park. professionally managed. Well designed. Very easy to navigate. Sites are very roomy.
Aug 22, 2021
One night only. Like most KOAs that we stay at, check-in was friendly, efficient, and helpful. Site was clean, spacious and long enough for our motorhome and towed vehicle. Everything on the park was clean and neat. They pick up trash every morning. Quiet at night from about 10pm on as it's next to I-64. Very attractive entrance...looks welcoming. We'd stay here again.
Aug 22, 2021
Nice place to stay. We didn't have children with us, but it would be a great place for kids.
Aug 20, 2021
The staff was friendly and the location looked well maintained. I have stayed at several while riding my motorcycle across parts of the country. The only reason I gave 3 instead of 5 stars was because of live and dead bugs inside-spider across whole inside of window and let staff know, nobody came by. Also, shower head was like a pressure washer-painful. I would like the owner to try that one.
Aug 20, 2021
people nice and friedly. i wii come back
Aug 20, 2021
This was an absolutely lovely KOA. The two ladies who helped us after hours were great! I'd recommend this campground and would stay here again.
Aug 19, 2021
Adorable Wild West theme, fun amenities (playground, mini golf, shooting gallery, etc), and very nice sites. Will definitely be back!
Oct 31, 2021
Stopped here for just an overnight stay on Halloween weekend. Nicest staff, nice ppl throughout park. This KOA has everything for entertainment. And what a fun place for kids and families on Halloween! Big, roomy pull thru spots. Would definitely come again!!
- Jen Jones on Google
Oct 07, 2021
Very clean park, with Great amenities...full hook ups, large pull thru sites, nice fire rings, Doggie park, laundry & shower houses, awesome play ground, cabins, restaurant & the best putt putt golf course Ive seen, AND....Tether Ball!! Took me back to my grade school playground! Will come again!
- Shana Hayes on Google
Sep 22, 2021
Helpful staff. Campground very clean. Stayed 1night on way to Stillwater OK. Will stay again when going back to OSU
- Dave Timmons on Google