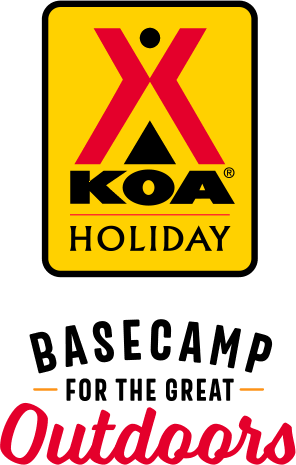 KOA Holiday Campgrounds
Whether you're exploring the local area or hanging out at the campground, KOA Holidays are an ideal place to relax and play. There's plenty to do, with amenities and services to make your stay memorable. Plus, you'll enjoy the outdoor experience with upgraded RV Sites with KOA Patio® and Deluxe Cabins with full baths for camping in comfort. Bring your family, bring your friends, or bring the whole group – there's plenty of ways to stay and explore.
KOA Holidays Feature:
RV Sites with a KOA Patio®
Deluxe Cabins with full baths
Premium Tent Sites
Group meeting facilities
Directions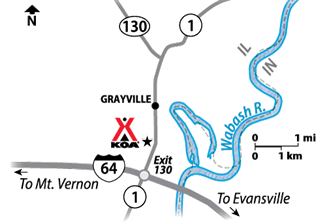 From Interstate 64, take the Grayville exit (#130 Illinois Rt.1) and turn north. Approximately 0.6 miles, turn left (West) at the Best One onto Koehler Street. Straight ahead 0.2 miles.
Get Google Directions
May 07, 2021
great little property and staff was great
May 07, 2021
Very level, very clean campground. No trees but during thunderstorms we had in the night we were glad of that! Adequate, not huge, dog park. Laundry room good, did two loads, wash and throughly dried, for $7. Lots of things of kids to do, playground, etc.
May 06, 2021
We will stay here again. Really nice campground with easy-on-easy-off from I-64 at the Illinois/Indiana state line; great location. Our site was level, we had 50 amp full hook-ups and the place was very well maintained. mw
May 05, 2021
For the first time since the COVID pandemic became a reality, when we entered a building to conduct our business, not a single employee was wearing a mask. I wear a mask to protect others and appreciate it when others wear one to protect me. We have travelled from central VA to CO so far on this trip and this is the single business to show such disregard for their customers.
May 03, 2021
Large sites, well run new facility. Good food at the Saloon Restaurant. Convenient to the interstate. Highly recommended for travel stop
May 03, 2021
Upon arrival, we were greeted with smiles. The staff was very informative and we enjoyed visiting with them. The facilities are very well maintained. The staff is friendly and very helpful. We will be back.
May 03, 2021
This facility is very clean, the staff is more than accommodating and friendly, and everything you need is there!
May 02, 2021
We loved it here! It's so close to home for us and such a nice place to visit! The miniature golf was excellent and everything was super clean
May 01, 2021
We enjoyed our stay. My kids loved the playground and putt putt.
May 01, 2021
Awesome new park. Great store with ice cream. Mini golf looked awesome. Wish we had more time to stay.
Apr 30, 2021
We have returned 3 times now to this KOA. We like the large level sites and the way they are laid out. If you have a motor coach you use the even number sites, if you have a tow behind or fifth wheel use use the odd number sites. This way you have your pinic table and fire pit outside your door area. Really smart on their part to set the campground up this way. They have a fun area too.
Apr 30, 2021
A very pretty and well maintained park. The western theme was well done. The WiFi was fully functional and available. The bathouse and laundry room were clean. I would return to this park.
Apr 28, 2021
Easy on and off freeway. Campground is easy to access. Very quiet night. Theming is cute
Apr 28, 2021
Friendly people greeted us, the site and showers were great, and we had a terrific time.
Apr 27, 2021
Awesome, awesome, awesome. Definitely and destination campground. Plenty of space between sites. Wide open spaces. Very refreshing. Don't miss it.
Apr 26, 2021
We had a great time other than the Rain. It was an awesome time.
Apr 26, 2021
Very enjoyable. Staff very helpful and nice. Site level and clean. It was a rainy weekend but still very enjoyable. Have stayed here several times and the grandkids love the playground and mini golf. Will certainly return...
Apr 26, 2021
Fantastic spots with plenty of room to move around! Staff was friendly and helpful. We can't wait to go back!
Apr 26, 2021
Very helpful staff! We had an electrical problem with our trailer... employee helped us threw every step of repair
Apr 26, 2021
2 fun weekends in a row. What a blast!
Apr 26, 2021
One of the best KOAs we have stayed at. Extra long sites friendly staff plenty to do. Hoping to see a pool in the future, more items in their store. Pvt bathhouse a major plus
Apr 26, 2021
Great KOA. Will be back
Apr 24, 2021
Friendly staff and very nice campsite. We only stayed 1 night, did use other facilities.
Apr 23, 2021
In & out; one night stay...it snowed��� It was nice to duck-in out of the weather for a night. Looks like a relatively new KAO! Well suited for all types/sizes of campers...amenities & recreation galore! I suspect once the "cootie crap" is behind us/normalized & the weather warms up, this will be quite a hot spot!! We definitely would consider again. Many thanks Grayville, IL KOA�
Apr 22, 2021
Very nice park with level sites and solid services. Even the WiFi performed well. We do wish the dining room had been open beyond just weekend hours. There is a fenced off leash area for dogs, but the size is too small for anything other than small dogs to run in. Considering the amount of open, unused area where the pen is, I have to question why they didn't make this bigger. Still a good park.
Apr 22, 2021
Easy in and out of I64. Open wide spaces.
Apr 19, 2021
cabin was great we enjoyed playing putt putt golf in the shooting gallery the food at the restaurant was tremendous
Apr 19, 2021
Rates for campsites and cabins went up way to high. Cabins don't even have a stove. We could have rented a cabin in Gatlinburg for the same price with everything includied.
Apr 19, 2021
Very clean and friendly staff
Apr 19, 2021
Nice and quiet with very nice restroom facilities. I p
Apr 18, 2021
We enjoyed our stay at this KOA. It is very new and modern. Lots of activities for children. We would definitely use this campground in the future. Wi-Fi is fantastic. The Burrells from Bogart Georgia ����������
Apr 18, 2021
Everything was perfect! Staff, lodging, cleanliness, variety of things to do, and very family oriented. KOA Grayville is a hidden gem. Hope to make many more trips there. Thank you for making it a special memory for our family.
Apr 17, 2021
Wonderful KOA. Second time we have stayed there and will be back again!
Apr 15, 2021
Wonderful place, lots to do there. Putt putt golf, ice cream & playground was great. Very quiet.
Apr 15, 2021
Easy on/off from freeway. We didn't use any of the facilities but campsite was level. When we had a problem with the water valve, someone called back immediately to help out. Thanks!
Apr 12, 2021
Stayed in cabin 8 for 2 days. Bed was like sleeping on mine at home, Perfect. Had TV and coffee pot. Just enough room for my daughter and I. Quick access to everything.
Apr 12, 2021
Further away from interstate so quieter than most. Spacious sites with trees in most cases. Liked how rv sites and cabins were interspersed. Separate "bath house" with four individual toilet/shower rooms and spacious laundry room. Unable to eat at restaurant due to residual Covid limitations and off-season stay. But lots of potential here and would definitely return.
Apr 11, 2021
What a nice place ! Such nice parking spots . Couldn't enjoy it for very long. Arrived late and left early morning ! If we travel that way again we sure will made it a overnight stay again . Blessings
Apr 10, 2021
Very nice KOA. Nice long sites for big rigs. Easy to get in and out and I am 70 feet log.
Apr 10, 2021
Great place, with many wonderful things to see and do�
Apr 08, 2021
Very friendly. Nice place with kids to play. Grand kids enjoyed the play ground. Excellent food in the restaurant plan to come back again to visit with the grand kids.
Apr 08, 2021
Perfect for the kids!! Staff is awesome! Spaces are level and full hook ups which are nice! The only thing I'd like to see would be some more trees and maybe more space. But it was a great time!
Apr 30, 2021
Beautiful new KOA park. Street difficult to find, just past the gas station on left. Staff is pleasant and helpful. Great store and mini golf, plus ice cream.
- Patricia Desanto on Google
Apr 24, 2021
Don't forget your blankets!
- Jb on Google