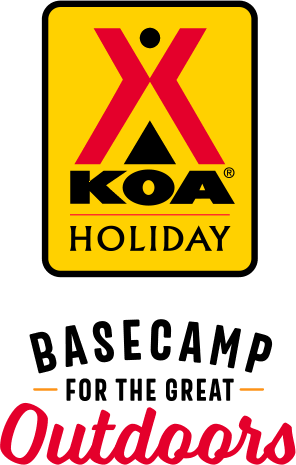 KOA Holiday Campgrounds
Whether you're exploring the local area or hanging out at the campground, KOA Holidays are an ideal place to relax and play. There's plenty to do, with amenities and services to make your stay memorable. Plus, you'll enjoy the outdoor experience with upgraded RV Sites with KOA Patio® and Deluxe Cabins with full baths for camping in comfort. Bring your family, bring your friends, or bring the whole group – there's plenty of ways to stay and explore.
KOA Holidays Feature:
RV Sites with a KOA Patio®
Deluxe Cabins with full baths
Premium Tent Sites
Group meeting facilities
Directions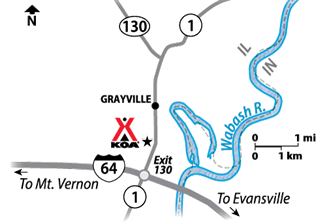 From Interstate 64, take the Grayville exit (#130 Illinois Rt.1) and turn north. Approximately 0.6 miles, turn left (West) at the Best One onto Koehler Street. Straight ahead 0.2 miles.
Get Google Directions
Jul 27, 2021
So nice! Amenities were fantastic. Layout of the lots were great! One of the best campgrounds that we have ever been to.
Jul 27, 2021
Loved it. Great venue with lots to do.
Jul 27, 2021
Very nice every thing is new
Jul 27, 2021
Great facility and staff. Clean, well organized, and in good condition - like new. Great western themed playground and mini-golf course.
Jul 27, 2021
Easy late night check in wonderful private showers and things to do..Very quiet. It is impossible to police, but had to remove dog poop before we could set up.
Jul 26, 2021
Very nice campground. Can't wait til trees are big enough for shade. Host Dave very very helpful on many issues campers deal with. Wish every campground had a Dave!!
Jul 26, 2021
Good service, very helpful staff.
Jul 26, 2021
Very friendly and helpful staff. Premises was very clean and well taken care of.
Jul 26, 2021
Great place. Wish we lived closer. Very clean, new, and family friendly. One of the best mini golf courses we've ever played.
Jul 25, 2021
Great sites. Plenty of room. Clean. Smooth roads. Friendly staff. Best KOA this trip.
Jul 25, 2021
Our stay was great with one exception - I ran out of hot water while showering. I didn't bring this to the campground's attention as we were anxious to get back on the road. In addition, we were scheduled for one site but when we arrived, the receptionist was able to accommodate us with some shade. I would stay here again without hesitation.
Jul 25, 2021
Beautiful paved site, close to bath house..only regret..no pool!
Jul 25, 2021
The Camp Ground is Very Nice. The Staff seem Friendly and very helpful. The only item we did not like was the Bathhouse was on the far end of the camp ground from our site. It seems that it would of been more convient for all the guests if the bathhouse was in a central location. I think some one read the blue prints wrong and put the bathhouse where the maintenance building was suppose to be
Jul 25, 2021
The facility was very clean, well organized and kept. The staff was very friendly and helpful. We will, most assuredly, stay there again.
Jul 24, 2021
Just one night.
Jul 24, 2021
Very nice campground. Friendly staff
Jul 23, 2021
For a "Holiday" the only thing for free was the playground, everything else was a charge. When I saw the amenities page I saw "pool". Didn't know you had to click on it to realize it was in town. Otherwise nice and clean with friendly staff.
Jul 23, 2021
Great place for kids. Everything was clean and working well. Wifi was OK.
Jul 22, 2021
It was nice. Clean bathrooms and bath house. The restaurant has good food. We will return there next year for another overnight stay
Jul 22, 2021
It was an overnight stop so we did not have time to enjoy the grounds but I can see how a family with kids would have a great time. I think adding a pool would be the icing on the cake.
Jul 21, 2021
Easy Peast check in, escort and ice cream!!
Jul 20, 2021
The facility is great and the staff friendly and courteous. Ate in the cafe twice and the food was good. Will come back when our travels find us in the area again
Jul 20, 2021
We enjoyed our stay. The lot was level, making setup easy. Check In was a breeze and the person who checked us in was very informative and upbeat. We thought the ice cream cone was a little expensive but the ice cream was delicious. Thank you for your hospitality.
Jul 20, 2021
This is a new campground with large spaces and wide roads. All the hook-ups are convenient. The rates are very competitive
Jul 20, 2021
The restaurant had closed before we got in. It is a new campground with nice amenities and level pull thru spots.We do wish they had a few more discounts for seniors. We would still stay here again if in the area.
Jul 19, 2021
This is a great stop for kids. It has a Western Theme with a Shooting Gallery, ping pong and restaurant. Outside there is a playground complete with a stagecoach and the best mini golf I have seen in a campground. No pool though.
Jul 19, 2021
Awesome KOA, friendly staff, clean and level sites, and great food
Jul 19, 2021
Enjoyed the cabin site. Nice area to walk our dog's. Fun activities for all. Loved the western theme. The saloon/restaurant was nice.
Jul 19, 2021
We stayed the Monday after the 4th weekend. The site we were assigned was not cleaned up from the weekend. It had glass, beer cans and dead snakes in the fire pit. We asked the desk clerk to speak to an onsite manager or host and was told they do not have one and there is no-one onsite from 7p to 9a each day. I reported this to KOA corporate.
Jul 19, 2021
Our family had a great time. Grandkids are already asking when they can come again. Staff was very friendly and we enjoyed visiting with them also.
Jul 19, 2021
Very nice place
Jul 19, 2021
Not our original plan. But an issue happened where we could not continue on. Staff was super friendly and helpful providing RV repair people.
Jul 19, 2021
This is by far one of the best KOA's that we've stayed at. Staff was very friendly and helpful; the restaurant's food was excellent; campground was very clean and spacious. Would definitely stay here again!
Jul 17, 2021
We love this place. Plan a swimming pool to bring in the customers.
Jul 16, 2021
Beautifully kept, kids playground is amazing, mini golf looks great. Store is great with amazing hand painted signs etc. the only negative is that there's no fishing.
Jul 14, 2021
The campground was maintained well. The site was big enough to have room to move around.
Jul 13, 2021
Sewer placement was very far up in the pull through site and had to have our truck hang out in the road in order to dump . The showers in the bath house were nice but the hot water took almost 5mins to get to the shower head and half way through the hot water cut out. Staff was pleasant and most of the other facilities were nice. We only stayed over night and did not unhook our trailer.
Jul 13, 2021
Everyone was so helpful. We had a sink leak in our camper and one of the employees came over after work to fix it. Very nice staff.
Jul 13, 2021
We loved it. We enjoy staying there and our looking for our next date to come
Jul 13, 2021
Great sites, very nice over all. Will be better when restraunt is open 7 days week for those staying during week. Also restraunt needs more help so your not waiting for drinks or water till meal is ate. Tables need cleaned off faster for next guests waiting. Mercantile needs KOA souvenirs with Grayville swag.
Jul 12, 2021
We absolutely love this Campground and will definitely be back. The staff are super helpful and the restaurant/saloon is good food/drink for reasonable price. The theming details, playground and dog park add to an already experience. I would love to see the price of mini-golf reduced. The course is great but $25/$20 per person is quite steep when you travel multi-family. A pool would be great
Jul 12, 2021
We have stayed in a lot of KOA's and this campground was one of the nicest we have seen although new they were definitely onto something. Staff was awesome saloon food was great overall great experience
Aug 01, 2021
If you are looking for a very clean fun and friendly atmosphere Then try this camp ground my experience was very awesome
- Richard Colacecchi on Google
Jul 27, 2021
Stayed here one night on our way to Virginia. Very nice! Easy pull-through campsites, and we have a 41-foot Sundowner! The place was kept and absolutely beautiful! Our girls enjoyed the playground and miniature golf! A great place to stop...if we're ever back this way, we will be staying again for sure! 👍
- Rachael Williams on Google
Jul 23, 2021
Nice, quiet park. Located just off the interstate. Great little western theme. Vary friendly staff. Truck stop, dollar general, and hardware store just down the street. Stayed here 3 or 4 times so far.
- Luther Hill on Google