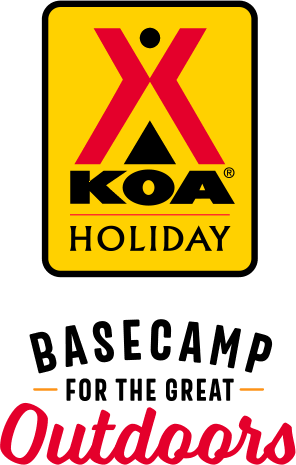 KOA Holiday Campgrounds
Whether you're exploring the local area or hanging out at the campground, KOA Holidays are an ideal place to relax and play. There's plenty to do, with amenities and services to make your stay memorable. Plus, you'll enjoy the outdoor experience with upgraded RV Sites with KOA Patio® and Deluxe Cabins with full baths for camping in comfort. Bring your family, bring your friends, or bring the whole group – there's plenty of ways to stay and explore.
KOA Holidays Feature:
RV Sites with a KOA Patio®
Deluxe Cabins with full baths
Premium Tent Sites
Group meeting facilities
Directions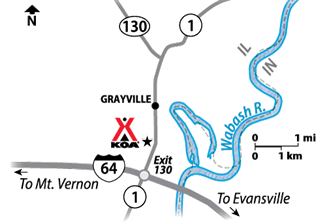 From Interstate 64, take the Grayville exit (#130 Illinois Rt.1) and turn north. Approximately 0.6 miles, turn left (West) at the Best One onto Koehler Street. Straight ahead 0.2 miles.
Get Google Directions
Nov 08, 2021
We rented 3 cabins for our family to help us celebrate our 50th wedding anniversary. We all loved to camp grounds. There was plenty of things to keep the little ones busy. And the older ones gathered around the camp fire. Perfect weekend!
Nov 08, 2021
Everything was very clean and nice. The workers were all very nice and friendly! The only complaint I have is the AC/Heater in the cabin was either VERY hot or got very cold. There was no happy medium. It ran continuous and did not ever shut off unless we manually shut it off! I told them about it when we checked out. We just left it off and used an extra blanket at night.
Nov 01, 2021
Had a great time
Oct 30, 2021
Love the cabins, clean and very well maintained. Staff has always been extremely friendly and helpful
Oct 25, 2021
We stayed in a cabin and it was nice that it was brand new. Since the cabin was near the putt putt course, it would be nice to have the lights on the course turn off after it closes. Having them on all night and shining into our cabin was a bit of a disturbance. The water heater in the cabin was also an issue, as the temperature in the shower would go up and down significantly.
Oct 25, 2021
Clean and fun campground! Staff was very friendly. It would be nice for cabins to have some basic dishes and cutlery and possibly a gas grill. Other than that our stay was great. Thank you!
Oct 22, 2021
We enjoy the Kampground. The owners are responsive when there's a problem. It's clean and comfortable. Most comfortable beds we've found in the area.We will see you next year.
Oct 12, 2021
Perfect little getaway! The campsite is so peaceful and clean and the added amenities that most sites don't offer were a plus. I called about several things prior to our arrival and the staff was over the top friendly and accommodating. We loved our stay!
Oct 11, 2021
The play area for kids was wonderful! Very very nice campground.
Oct 11, 2021
The stay was great! The cabin was comfortable and clean. Thw restaurant was closed the weekend due to staffing but found other places to eat that were close. Would definitely stay again!
Oct 04, 2021
This was our second time staying here. We had a great time. We rented 5 cabins for family & friends. Kids enjoyed miniature golf,playground.
Oct 04, 2021
Always cordial, and informative. Love the cabins!!
Sep 29, 2021
Cabin was very nice and clean. Employees were very friendly and helpful. Mini golf and playground A+. May i suggest a pool in the near future though? ;-)
Sep 28, 2021
Very pleasant!!!
Sep 26, 2021
We rented Cabin #4 with handicap facilities. It was very comfortable. I greatly appreciated that Kevin helped me move in, since I am disabled. The bed was very comfortable., the kitchen was adequate, and the bathroom VERY BIG. The only problem we had was the heat clicking on during the night. It kept me awake. We finally put it on full fan, and the continuous fan didn't keep us awake.
Sep 25, 2021
Was traveling through stayed one night in cabin. There is no camp store to get any kinda groceries the cabin cabnets hadnt been cleaned unfriendly at check-in. This was last stop in a 4 thousand mile road trip all at cabins in several states. By far the worst. Oh and they took a $50 deposit that a week later i still havent got back. I even cleaned cabinets disinfected everything . Not happy
Sep 25, 2021
Cabin was clean and very well built.
Sep 17, 2021
Probably the BEST campground we have stayed at. Clean, comfortable, friendly, easily accessible.
Sep 13, 2021
We have stayed at several KOAs and we're super excited to stay at this Western Themed one for the Appreciation Weekend. When we arrived we found out we were next to an RV with 17 small dogs... right on top of us. We did not have our own fire area which was shared by the RVs that were literally on top of us. We only had half curtains as well. I have pictures if someone contacts me No room to finis
Sep 13, 2021
The staff was amazing and so is the park. There is many things for the kids to do while staying there. Our cabin was great and everyone there was very polite.
Sep 07, 2021
We will be back the whole place was spotless. Are kid's had a great time. Thank you so much.
Aug 20, 2021
The staff was friendly and the location looked well maintained. I have stayed at several while riding my motorcycle across parts of the country. The only reason I gave 3 instead of 5 stars was because of live and dead bugs inside-spider across whole inside of window and let staff know, nobody came by. Also, shower head was like a pressure washer-painful. I would like the owner to try that one.
Aug 15, 2021
Beautiful campground, most courteous staff.
Aug 09, 2021
Excellent place to stay! Wonderful for the kids. Clean campgrounds and awesome activities
Aug 09, 2021
The place was incredible. The wild West's theme was carried throughout and was fantastic the staff was so nice the cabin was spotless. The food in the restaurant was really really good. We honestly cannot wait to stay there again. The only thing that would have been nice is to have a pool but that may be there in time. Other than that we cannot say enough good things about this KOA.
Aug 04, 2021
Very comfortable, clean and quiet! Definitely make this camp my go to spot when I'm in the area!
Aug 01, 2021
we came in when it was still light out the office was closed. we had some needs. The icecream was not available. I didn't see the place where you get your keys to the cabin. got lucky.
Jul 28, 2021
Very clean, quiet, and safe. Mini golf was awesome! Very nice people running this KOA.
Jul 19, 2021
Enjoyed the cabin site. Nice area to walk our dog's. Fun activities for all. Loved the western theme. The saloon/restaurant was nice.
Jul 19, 2021
Our family had a great time. Grandkids are already asking when they can come again. Staff was very friendly and we enjoyed visiting with them also.
Jul 12, 2021
We have stayed in a lot of KOA's and this campground was one of the nicest we have seen although new they were definitely onto something. Staff was awesome saloon food was great overall great experience
Jul 07, 2021
Notified front desk upon checkin that the rear door to the cabin would not open due to the dead bolt being wedged so tightly in the door jamb. Nothing was done. Gave them a day to fix it. Nothing. Mentioned it again on day 3. Offered to move us or take the deadbolt out and put a rag in the hole it would leave. This was a safety issue that was ignored by your staff for 3 days. Not acceptable.
Jun 30, 2021
Great place!
Jun 30, 2021
Rented a deluxe cabin. Everything was neat and clean. The grounds were clean and cleared. The staff was super nice and helpful. My kids enjoyed the playground, mini golf, rec room and ice cream. Will be booking another cabin in the future.
Jun 30, 2021
Friendly service. Great location from the hwy. Great attractions for the kids. Great store. Great dog park. Beautiful campground.
Jun 28, 2021
Great family venue
Jun 26, 2021
We love staying in the cabin. This was our third visit this year. It was clean and well equipped for everything we needed. Check in staff are always friendly. The vaulted ceilings make the cabin seem even bigger. Thanks!
Jun 25, 2021
We stopped in for the night. Our cabin was wonderful, and had everything we needed.
Jun 23, 2021
Awesome campsite and staff is the best. The Western theme makes the experience even more special for the children. Great playground and miniature golf area.
Jun 20, 2021
Very clean,very polite,food was delicious! Enjoyed it very much! I'll be back!
Jun 18, 2021
It was very warm in our cabin during the day, it was a little uncomfortable ���. But everything else was great!
Oct 31, 2021
Stopped here for just an overnight stay on Halloween weekend. Nicest staff, nice ppl throughout park. This KOA has everything for entertainment. And what a fun place for kids and families on Halloween! Big, roomy pull thru spots. Would definitely come again!!
- Jen Jones on Google
Oct 07, 2021
Very clean park, with Great amenities...full hook ups, large pull thru sites, nice fire rings, Doggie park, laundry & shower houses, awesome play ground, cabins, restaurant & the best putt putt golf course Ive seen, AND....Tether Ball!! Took me back to my grade school playground! Will come again!
- Shana Hayes on Google
Sep 22, 2021
Helpful staff. Campground very clean. Stayed 1night on way to Stillwater OK. Will stay again when going back to OSU
- Dave Timmons on Google