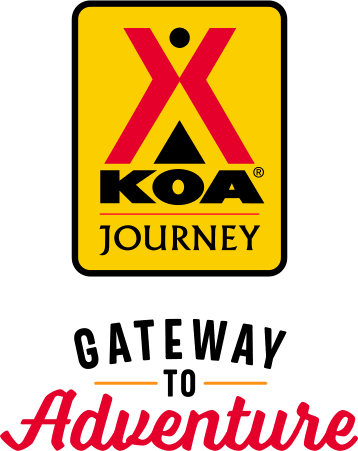 KOA Journey Campgrounds
KOA Journey campgrounds are the perfect oases after a day on the road. Whether it's along the way or a quick getaway, they've got you covered. Located near the highways and byways of North America with long Pull-thru RV Sites, they deliver convenience to the traveling camper. Pull in, ease back and take a load off.
KOA Journeys Feature:
Pull-through RV Sites with 50-amp service
Premium Tent Sites
Well lit after hours check-in service
Directions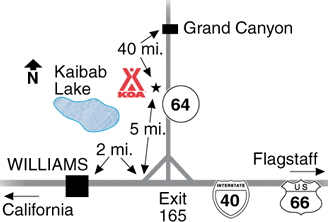 From Williams: Take Exit 165 off I-40. Head north on Grand Canyon Hwy (SR 64) about 5 miles. KOA on left.
From Grand Canyon: Head south on SR 64 about 40 miles. KOA on right.
From Flagstaff: Take I-40 WB to Exit 165. Head north on Grand Canyon Hwy (SR 64) about 5 miles. KOA on left.
GPS: N35.327451, W112.156613
Get Google Directions
Feb 25, 2021
Rather short stay. Very convenient and clean
Jan 09, 2021
Very nice. Lots of amenities!
Dec 28, 2020
Front desk was very nice! Was quiet at night and no problems at all. Love KOAs!
Nov 29, 2020
campsite was great, spacious and pretty. bathrooms were clean, staff was polite. I was not informed however that the water at my site was turned off before my stay, and before all the staff left for the thanksgiving holiday, leaving me without drinking water as I had thought I'd paid for a site with water. I believe I should have been informed about this ahead of time
Nov 29, 2020
I really liked it, you get what you pay for. The staff was really helpful, restrooms were clean but door locks were too worn that my daughter got locked in, luckily I was outside. (Tent camping).
Nov 16, 2020
Extremely convenient to Grand Canyon National Park. Nicely laid-out campsites. Bathrooms not very clean -- but they were in heavy use, so really no way to keep up with it. Smooth, late-night check-in without advance reservation. Easy check-out. Very friendly, efficient desk staff.
Oct 28, 2020
Staff were very friendly and facilities were decent. Camp store was very convenient. Location good for day-tripping into the national park. Tent camping space was small but luckily the campground was not too small so it was not an issue. Highway traffic was loud at night.
Oct 27, 2020
The sites were well maintained and the facilities very clean. Thank you, Alice Ramsey
Oct 23, 2020
Showers not too clean
Oct 23, 2020
We appreciate clean, individual family style bathrooms with showers. The location is excellent for the trip to the GC South Rim.
Oct 19, 2020
Stayed in tent site when there was a fire ban, was very glad for the propane fire pits on the patio. Wish the store carried some more camp food. Nice and clean and well maintained.
Oct 12, 2020
The campground was very well maintained. The staff very helpful and friendly. Especially Chad. The gift store had good prices and my children and I really enjoyed our stay.
Oct 11, 2020
Really nice campground. Staff was also friendly and kind.
Oct 08, 2020
We had a great time. The community grill area and fire pits were awesome. As soon as we got home we already started planning our next trip there.
Oct 08, 2020
Our site had zero privacy and was very noisy being right next to a huge interstate and the pool cleaning started so early.
Oct 05, 2020
The staff was friendly and professional. They made check in/out and purchases easy. The pool was open which was a welcome relief from the heat. Our site didn't have shade most of the time and was pure rocks which sucks for a tent and was risking popping our air mattress. But overall the campground was very nice.
Oct 05, 2020
Our stay was great staff was friendly and helpful. Facility was very clean. Thank you!
Oct 02, 2020
Great campground and great staff. Love the hot tube after a long day of hiking at the Grand Canyon.
Oct 01, 2020
it was GREAT !!!
Sep 28, 2020
Muy bien el servicio del asador de propano ahora que no se permite usar carbon.
Sep 26, 2020
Second time I've stayed there. The people are friendly and the facilities are well kept. Nice area.
Sep 22, 2020
Friendly staff, nice pool and hot tub, the individual shower/restrooms were roomy and kept clean. Nice location if the campgrounds at Grand Canyon are full.
Sep 22, 2020
Very nice facility and close to the grand canyon south. Nice to have a gas station on the facility.
Sep 21, 2020
It was enjoyable, we liked the staff, security and help of the on site team but we were concerned regarding covid and the lack of mask wearing of visitors in communal spaces and overcrowding in the pool area.
Sep 15, 2020
Staff was very nice and helpful. Restrooms were clean. We had a very nice stay.
Sep 10, 2020
Our stay was great! The location was central to our planned activities and the staff was pleasant. The grounds were clean and clear of hazards. I felt safe walking around at night. The laundry facility was a bonus and the showers were extremely convenient. The only negative was the wifi wasn't strong, but it turned out to be a positive because it forced us to put away our phones and enjoy family
Sep 09, 2020
Staff was great... Had a good stay
Sep 08, 2020
Pool was wonderful and the staff friendly and helpful
Sep 06, 2020
The bathrooms were dirty the whole time. We stayed At a tent site and were told that the plugs were 20amps and they are not they were 15amps. Very disappointed by this KOA
Sep 01, 2020
Excellent site and amenities.
Aug 31, 2020
Very enjoyable. Relatively quiet. Bathrooms, showers, hot-tub and pool were within close proximity to tent area compared to other KOA locations. Definitely recommend.
Aug 27, 2020
Joelle was so kind and helpful. We had a great time!
Aug 24, 2020
Our car broke down and I emailed to cancel our reservation, but then we were able to get back on the road and KOA was awesome about it. They had already cancelled our reservation by the time we got cell service again, but they easily set it back up.
Aug 24, 2020
I had an emergency, and everyone was super accommodating. Would stay here again!!
Aug 23, 2020
Clean, quiet, friendly staff. First time staying at a KOA and can't wait to do another one!
Aug 20, 2020
We had a great 6 night stay at this KOA this past week. Everything was perfect. Crowds pick up on the weekends but it was still very quiet and enjoyable. Wish the pool had been open but that was not the fault of KOA thanks to COVID. It is the perfect location to the Grand Canyon NP and an easy 4 miles to Williams for dinner. Highly recommend!
Aug 18, 2020
Stayed here 10 years ago and it is not the same. Staff was not very friendly and there was not night security. A group of people came in late to a tent site and were very loud and rowdy and were using the sqimming pool at 0100.
Feb 27, 2021
Even during the slow season this place was great for a stopover while seeing the Grand Canyon! The cabin we stayed in was perfect for my family! I recommend staying here any time of the year.
- SirJ CO on Google
Feb 26, 2021
The cabin was clean and very much fun.
- Drea Lovely on Google
Feb 17, 2021
Loved this place very nice and clean
- Yolanda Deleon on Google