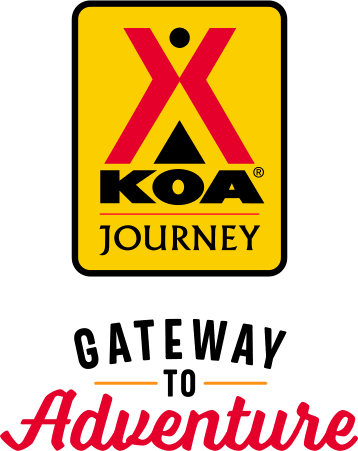 KOA Journey Campgrounds
KOA Journey campgrounds are the perfect oases after a day on the road. Whether it's along the way or a quick getaway, they've got you covered. Located near the highways and byways of North America with long Pull-thru RV Sites, they deliver convenience to the traveling camper. Pull in, ease back and take a load off.
KOA Journeys Feature:
Pull-through RV Sites with 50-amp service
Premium Tent Sites
Well lit after hours check-in service
Directions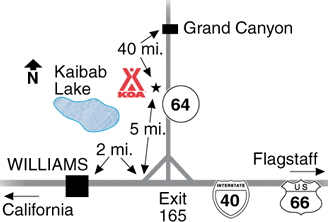 From Williams: Take Exit 165 off I-40. Head north on Grand Canyon Hwy (SR 64) about 5 miles. KOA on left.
From Grand Canyon: Head south on SR 64 about 40 miles. KOA on right.
From Flagstaff: Take I-40 WB to Exit 165. Head north on Grand Canyon Hwy (SR 64) about 5 miles. KOA on left.
GPS: N35.327451, W112.156613
Get Google Directions
Apr 06, 2021
Great place! Super friendly staff. The cabins were awesome
Apr 06, 2021
Everyone was very friendly and helpful. We were there for Easter and they made it magical for the kids with an Easter egg hunt. Great experience!
Apr 06, 2021
I've come to appreciate and count on the quality and predictability of KOA. This is a nice KOA as most are. Checked in after office hours and checked out early to get to the Canyon. Bathrooms were nice, particularly the one by the cabins. When we arrived one staff member was available on the premises but was a little haggard.
Apr 06, 2021
This KOA was exactly what we needed for our trip the Grand Canyon!! We had originally booked a couples cabin, small but warm! We however had an immediate issue with our neighbors. The staff, Joelle and Dennis, were extremely helpful with the situation and we ended up with the deluxe cabin at a discounted price. Didnt need all the accommodations, but it was better than a hotel!!
Apr 06, 2021
Not great...everything had issues. Only reason its not a 1 star is the 2 maintenance staff went way out of there way to assist. Still had issues with everything but they tried.
Apr 06, 2021
Great staff. Cozy cabin.
Apr 06, 2021
Dennis was amazing! He helped us a lot!
Apr 06, 2021
The staff was super friendly and helpful in our short stay
Apr 05, 2021
We stayed in the deluxe cabin with a 4 and 2 year old and the bunk beds were awesome! The kids loved the playground, game room, and the ability to just run around outside the cabin as well as make smores in the campfire. There were fun restaurants nearby at Williams and the store had everything we needed and extremely affordable.
Apr 05, 2021
The front desk people are great. The only complaint we have is people have issues with their cabins boundaries and their incessant barking dog. Other than that great. Also there should be a limit to how many people are in 1 cabin
Apr 05, 2021
Stayed in one of the small cabins. Very clean and comfortable. It would be nice if they had a lamp above the headboard for reading.
Apr 05, 2021
Great views! The campground had an issue with the water line breaking and staff hot it fixed in a jiffy.
Apr 04, 2021
It's a great location, great staff, and very clean. Bathroom and showers were very clean.
Apr 04, 2021
Our cabin was perfect and the staff is incredibly friendly. We very much enjoyed our stay!
Apr 04, 2021
Great place. Plenty for the kids to do.
Apr 04, 2021
We had the best time!! We have 6 little ones and they all had a blast! The staff was so friendly and helpful and fun to chat with!! We will definitely be back!
Apr 04, 2021
Worked great for Grand Canyon day trips. They say its an hour, but factor in traffic (we got stuck in traffic for 2 hours). Camp ground was good, they even backed me in. Play ground for kids, but pool is closed currently (3/31/2021), maybe because of covid. Has showers, rv dump, laundry, pretty darn easy.
Apr 04, 2021
This review has been removed by KOA due to profanity.
Apr 03, 2021
Good location. Friendly staff. Just wish you had cable TV.
Apr 03, 2021
It is one step above wilderness camping. It has showers and toilets, but there are too few and they are combined, so they are always dirty. There is no one on duty at night, so teenagers partying all night are not dealt with. The people working there are fantastic and the price was right. In short, don't expect too much.
Apr 03, 2021
We stayed at a non electric tent site. Close to bathrooms and play area. The caretaker we met was kind and helpful. The kids got to play with other camping kids. We enjoyed seeing the Grand Canyon and Bearizona during our stay.
Apr 03, 2021
Restrooms weren't clean. No WiFi at campsites. Nearly all amenities had a fee. It just wasn't what we expected from a KOA.
Apr 03, 2021
Great location...….very clean with a very helpful staff
Apr 03, 2021
It was our first RV experience ever. Excellent service. Travis helped us a lot and answered all our questions. We'll be back
Apr 02, 2021
There are only few rest rooms and showers, they were VERY busy and we have to wait for 1.5 hours until we can use it since it's a single cell for rest room and shower. Also the cells were very not clean. Many travelers use the cells to clean their stuff and not for their purpose due to the fact that there are no water beside of the cells so this cause the cells to be super busy. Beside of this
Apr 01, 2021
Wifi need improvement. Cell service was not good.
Apr 01, 2021
Not what I expected. Nothing fun for kids..game room empty with just 1 arcade game and empty pool table. Since it was snowing when I was there the rv spots became very muddy and puddles were right where u exit rv. Suggestions would be put some asphalt where the rv parks not enjoyable with mud all over the rv. Staff was not helpful or pleasant to talk too.
Apr 01, 2021
As this was my first KOA experience, I was very pleased. The cabin itself was cozy and clean. I was worried about the communal-style bathrooms, but they were all well cleaned, heated, and I never had to wait to use one. We had to leave early due to unforeseen circumstances, and the front staff was very accomodating. I would stay here again for sure.
Mar 31, 2021
The General Store didnt open until 9:00 a.m. that is rather late, and, ot. Losed at 5:00, that is way too early.
Mar 31, 2021
The staff was great, the grounds were clean. Not much else I could ask for!
Mar 31, 2021
Nice, clean and fairly quiet
Mar 31, 2021
Love this campground!!!
Mar 30, 2021
Everything was great. Lots of snow though. The one thing we wanted to mention, both of our neighbors went to bed and left their camp fire going. Ugh. Please make sure you educate your guest to put the fire out and do not leave it unattended. Should the wind pick up it could be a disaster.
Mar 28, 2021
Great sites. Space for the kids.
Mar 28, 2021
The campsite was convenient for the Grand Canyon however the red rock ground was not level and was very wet when we got there thus the red dirt got everywhere
Mar 28, 2021
Great location. Site was large. Staff was friendly.
Mar 27, 2021
We had a wonderful visit, even when it snowed! The staff was very helpful and the facilities were clean and tidy.
Mar 27, 2021
It was too cold for a fire but it was an amazing view and trip thank you
Mar 27, 2021
Check in couldn't have been easier, everthing was super clean, and the grounds were very well lit at night. We just stayed for one night, but would definitely stay again if we find ourselves in the area again.
Apr 13, 2021
KOA Grand Canyon on Highway 64 was a great campground.
- Donna Celenza-Sweet on Google
Apr 12, 2021
Didn't get to stay here but took a tour, great property, nice people.
- D.A. S on Google
Apr 11, 2021
Very nice campground. The bathrooms are extremely nice compared to what I was expecting. They seem to have a heater inside. The showers seem very optimal as well. They provide a in ground fire pit and a charcoal bbq for every cabin. During the day my niece was able to ride her bike around without any issues. A rec room is provided which has a laundry room attached to it. Inside the rec room there is a microwave for use. There is more than one laundry room. The rec room is accessible 24 hrs a day. They also provide areas for overnight camping in tents and have rv spaces. There is a playground on site. Visitors can have access to the swimming area from dusk till dawn. How you wish to spend your day and night here depends on you. There is a few options on what you can book for your visit. Right before entering KOA campgrounds you will have access to a gas station. I believe it is shell. Wifi is also provided for the guest that choose to stay. Overall this is an ideal place for visiting. It's not to far from the grand canyon. If you choose to stay in a cabin a heater is provided for the room. However you will need to bring your own sheets, blankets and pillows. The cabins have a bunk bed and a full bed. Along with a desk and a chair.
- marcus potenciano on Google