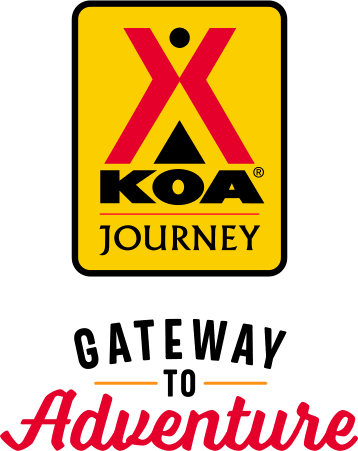 KOA Journey Campgrounds
KOA Journey campgrounds are the perfect oases after a day on the road. Whether it's along the way or a quick getaway, they've got you covered. Located near the highways and byways of North America with long Pull-thru RV Sites, they deliver convenience to the traveling camper. Pull in, ease back and take a load off.
KOA Journeys Feature:
Pull-through RV Sites with 50-amp service
Premium Tent Sites
Well lit after hours check-in service
Directions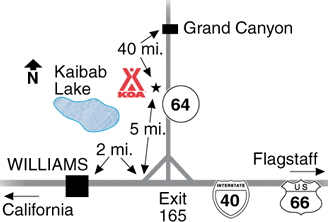 From Williams: Take Exit 165 off I-40. Head north on Grand Canyon Hwy (SR 64) about 5 miles. KOA on left.
From Grand Canyon: Head south on SR 64 about 40 miles. KOA on right.
From Flagstaff: Take I-40 WB to Exit 165. Head north on Grand Canyon Hwy (SR 64) about 5 miles. KOA on left.
GPS: N35.327451, W112.156613
Get Google Directions
Jan 19, 2021
Our stay was not covid friendly. The first bathroom entered had a disgusting poop stain on the toilet. The showers were dirty and the mattresses were cardboard. The heater stopped working in the middle of the night and we woke up freezing. The only good part about this stay was that we got a full refund.
Jan 19, 2021
Very friendly & helpful staff!
Jan 18, 2021
The office staff and grounds people are pleasant and helpful. We were escorted to our site within a few minutes of arrival. This is a very clean campground. We have visited here a few times and will continue to come back.
Jan 18, 2021
Very clean site! Very nice area. Will visit again. We enjoyed our stay. But be prepared for no cell service(T-mobile) and slow WiFi.
Jan 17, 2021
FHU pull through sites are extra wide, which was great, and the people were very nice. The WiFi was disappointing and sometimes unusable, which was difficult with no cell service either. This is important to us since we RV full time and need internet to work on the road.
Jan 16, 2021
Great park everything clean and ready. People were friendly and pleasant with campers. I recomend this park only negative is weak wifi but wasnt a problem for 7s.
Jan 15, 2021
We stayed in a Deluxe Cabin which was great. Super comfy. Bed was great. A couple of problems happened though. Water froze up the first morning so we had no water to shower that morning. Second morning the drain in the shower was stopped up so we couldn't shower that morning either. Also the hair dryer didn't work. Could of been a great stay otherwise.
Jan 15, 2021
We have stayed at this KOA several times and we love it. This time in particular all the staff we encountered were amazing. The two maintenance guys were incredible, so friendly and made us feel like family.
Jan 14, 2021
Plus is that it is reasonably priced and close to Grand Canyon. Minus is the maintenance ~ leaking faucets, not very clean overall. Very different from the last time we stayed. New management??
Jan 12, 2021
Excellent location to Bearizona, Grand Canyon, that sweet little deer farm. Very quiet campground, easy check in/out process. Didn't feel like the sheets were washed. The bottom sheet came up and there was a ton of disgusting crumbs and stuff between the mattress protector/bottom sheet. The king bed was already made so curious if the sheets were not washed since the other beds linens bagged.
Jan 11, 2021
Campsite was clean, well maintained, clean restrooms, respectful staff, the two ladies working the counter were both amazing, the prices in the store were reasonable, the whole area was well designed so driving an RV around was not burdensome... all around a fantastic experience! ONLY complaint is that layout/markings are vague, so unless you arrive in daylight, finding you spot is a challenge.
Jan 09, 2021
Very nice. Lots of amenities!
Jan 07, 2021
Bathrooms were disgusting, but staff were friendly.
Jan 05, 2021
Very Hospitable Staff. Convenient access to the south entrance to the Grand Canyon. WIFI access limited to areas near the main building. All dirt roads and sites. No cable as staff explained the wire was cut when they installed the pool.
Jan 05, 2021
The staff were super helpful and kind to my friend and I when our tent blew apart in the wind and snow! The bathrooms were clean and well kept. Cabins are super warm in the winter. Great proximity to good hiking. Super thankful for my experience here.
Jan 04, 2021
This was the second time we enjoyed this park. It's nice and clean and we look forward to the next time we are able to visit.
Jan 04, 2021
This review has been removed by KOA due to profanity.
Jan 04, 2021
We have stayed here before and it is always a pleasant time. The area is nice and clean. We were in space #1 which was literally next to everything. Convenient to get in and out of. The park was quiet and the weather was perfect for a fire. We had a mechanical problem and one of the guys graciously loaned us tools. We look forward to the next trip.
Jan 02, 2021
My slide out got frozen and the man employed there helped me get it back him. He was very helpful because I was very worried.
Jan 02, 2021
We reserved a tent site, but it was very cold when we arrived. Luckily, there was a deluxe cabin available that we upgraded to. The cabin experience was wonderful—plenty of space for everyone, warm, and cozy. We hadn't stayed in a KOA cabin in many years but definitely plan to do so again. Thanks!
Jan 02, 2021
lady who chkd us in Very rude!! dirty bathrooms!! and guy chopping pounding wood till 11 at nite wont stay there again or refer!!
Dec 31, 2020
Bathrooms need a thorough scrub and more care. Very dirty. No excuses for not being clean and no supplies. Same with common areas. For what you charge, clean it up. After all, this is our home away from home and we don't keep our homes dirty.
Dec 31, 2020
Wonderful people. Very basic but good amenities as expected with KOA. It is about an hour drive to the Grand Canyon so that's good to know beforehand. We stayed an extra night since there were many things we wanted to see/do :)
Dec 30, 2020
It was ok. The dirt bikes were loud. The store was very expensive. The bathrooms were pretty clean.
Dec 30, 2020
We stayed for 3 nights in Williams. The location is good. The little shop on site is cute and has some necessities. The showers could use a little more cleaning, but overall it was good to have a hot shower.
Dec 30, 2020
This was one of the most memorable experiences I have ever had I will definitely be coming back. The staff was fantastic the cabin was great. I didn't want to leave it was clean and kept very nicely. The staff was very knowledgeable and helpful upon check-in and when I had questions and check out. and one of the gentlemen even brought my firewood over to my campsite for me. I will be back soon.
Dec 29, 2020
Excellent place, good staff, big store and gas station attached to it. Just the wifi sucks.
Dec 29, 2020
Obviously the rules are not important at this campground. We had a "family unit" from California staying behind us and approximately 20 people were having a grand time till the wee hours of the morning. I don't know how many actually camped in the site but i can assure you it was over 10. Besides the travel trailer, they even set up a tent.
Dec 28, 2020
The restroom facilities were very dirty, did not have toilet paper, did not have hand towels, nor did they have hand soap. The website lists under amenities "heat" and when I called, the agent at the campground stated the cabins were "climate controlled." The cabins were freezing because "heating" was attempted with a small space heater, which did nothing. Completely horrible, would not recommend.
Dec 28, 2020
Great facilities and services !!!!!!
Dec 28, 2020
Front desk was very nice! Was quiet at night and no problems at all. Love KOAs!
Dec 28, 2020
Check in and check out process was super easy. Debra in the front office was very helpful and provided good tips for what to pack to have a comfortable stay.
Dec 25, 2020
The staff is friendly and the park is beautiful. Our space was large and flat which is always a plus.
Dec 25, 2020
We contacted Grand Canyon/ Williams KOA for a last minute reservation and he staff was very accommodating and super-nice. They were very helpful in giving us advice to prepare our RV for a very cold night (10 degrees). Would definitely stay there again.
Jan 12, 2021
One word... AWESOME! Staff was helpful, respectful, and polite. Grounds were maintained well. Bathrooms were clean enough for ME to use, and I DON'T do public restrooms! The general store actually had decent prices, the propane was reasonable, the playground and dog park kept my little ones entertained, and the whole grounds are well laid out so an amateur like me had no problems navigating a 30' RV including turning around. ONLY complaint is that if you arrive at night, just give up early, get out of the RV with a flashlight and go find your slot on foot. Us and 4 other RVs all did laps for ages until all of us came to the same conclusion and did the same thing. But if you show up during the day like they encourage, there's NOTHING to complain about this KOA!
- Kevin Kauffold on Google
Dec 24, 2020
Loved this KOA. Wonderful, welcoming staff and a very clean site. They have kids ride-ons you can rent and a great little dog park with mini sized agility equipment in it (my older dog loved getting in some training while traveling). If you have a small dog (our puppy is 12lbs), watch the dog park gates because our small dog was able to escape under them. We'll definitely be back.
- Genyne Malin on Google
Mar 31, 2018
Very nice camp ground and comfortable. I made new friends here.
- 가즈아 on Google