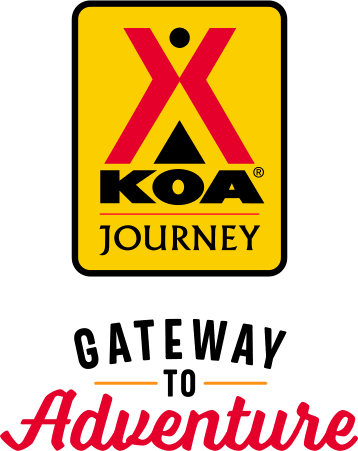 KOA Journey Campgrounds
KOA Journey campgrounds are the perfect oases after a day on the road. Whether it's along the way or a quick getaway, they've got you covered. Located near the highways and byways of North America with long Pull-thru RV Sites, they deliver convenience to the traveling camper. Pull in, ease back and take a load off.
KOA Journeys Feature:
Pull-through RV Sites with 50-amp service
Premium Tent Sites
Well lit after hours check-in service
Directions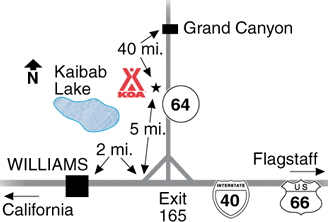 From Williams: Take Exit 165 off I-40. Head north on Grand Canyon Hwy (SR 64) about 5 miles. KOA on left.
From Grand Canyon: Head south on SR 64 about 40 miles. KOA on right.
From Flagstaff: Take I-40 WB to Exit 165. Head north on Grand Canyon Hwy (SR 64) about 5 miles. KOA on left.
GPS: N35.327451, W112.156613
Get Google Directions
Feb 26, 2021
Great location. Bathrooms cold for use in the morning. Overall quiet and peacefull.
Feb 24, 2021
Very nice place and people
Feb 24, 2021
The lady at the front desk was so nice & very helpful! The people & grounds were great!
Feb 23, 2021
Great customer service. Nice clean bathrooms. Not too far from the grand canyon. Enjoyed our stay.
Feb 23, 2021
Great campground! Right on your way to the Grand Canyon. We will definitely use this campground in the future. The Burrells from Bogart Georgia ���������
Feb 22, 2021
Appreciate that the site was kept clean, appears maintained, and size compatible for our truck and trailer.
Feb 21, 2021
First time traveling in an rv and staying at KOA. Everything was nice. I didn't know KOA'S had wifi!! The people were nice. They had washer and dryers, pool table, games for the kids! Very special experience.
Feb 16, 2021
Everything was as expected �
Feb 14, 2021
We arrived late in the evening and there was approximately 6-8 inches of snow on the ground, a path was plowed in our space wide enough for the truck and camper not the best situation but workable. Upon our checking out was unable to find the sewage dump at the site. We have stayed there twice before without any problems, always clean with level sites.
Feb 13, 2021
Staff is fantastic, accommodating, friendly and helpful! A clean KOA. We'd definitely stay here again.
Feb 10, 2021
Nice park and easy to get to the Grand CAnyon
Feb 09, 2021
The stars are the personnel at this camp. The bathrooms are divinely clean as the camp is. An hour drive to the Canyon. Verizon and ATT are 2 bars ar best as well as the KOA WiFi. Gas station right out front. The parking lot leaves my rig a mess, but it's solid. Definitely would stay here again.
Feb 09, 2021
This was a nice friendly clean spot. It was located perfectly for our trip. Really the only down side was the spotty WiFi.
Feb 07, 2021
Worse rv park I've stayed at to date. The most frustrating thing was the office being open for only 2 hours a day. My son wanted to rent a bike and they wouldn't even allow us to that when the park had literally only 5 campers. There was litter from previous occupants that nobody picked up. The dog park was too small for dogs to run. All dirt sites which turned to mud. Just a terrible park.
Feb 01, 2021
Great time as always staff friendly and helpful
Feb 01, 2021
Very helpful, clean and friendly staff
Jan 28, 2021
When making reservations I asked if there was dirt bike riding/ quad riding on site or if therewere trails I was told yes there were Guess what???? no riding in the park, no trails really let down tried to kill time in the game room, 1 old game a pool table no sticks or balls, and a wood jenga game, a tiny play ground made for 5 and under. My kids were so bored.
Jan 19, 2021
Very friendly & helpful staff!
Jan 18, 2021
The office staff and grounds people are pleasant and helpful. We were escorted to our site within a few minutes of arrival. This is a very clean campground. We have visited here a few times and will continue to come back.
Jan 18, 2021
Very clean site! Very nice area. Will visit again. We enjoyed our stay. But be prepared for no cell service(T-mobile) and slow WiFi.
Jan 17, 2021
FHU pull through sites are extra wide, which was great, and the people were very nice. The WiFi was disappointing and sometimes unusable, which was difficult with no cell service either. This is important to us since we RV full time and need internet to work on the road.
Jan 16, 2021
Great park everything clean and ready. People were friendly and pleasant with campers. I recomend this park only negative is weak wifi but wasnt a problem for 7s.
Jan 14, 2021
Plus is that it is reasonably priced and close to Grand Canyon. Minus is the maintenance ~ leaking faucets, not very clean overall. Very different from the last time we stayed. New management??
Jan 11, 2021
Campsite was clean, well maintained, clean restrooms, respectful staff, the two ladies working the counter were both amazing, the prices in the store were reasonable, the whole area was well designed so driving an RV around was not burdensome... all around a fantastic experience! ONLY complaint is that layout/markings are vague, so unless you arrive in daylight, finding you spot is a challenge.
Jan 07, 2021
Bathrooms were disgusting, but staff were friendly.
Jan 05, 2021
Very Hospitable Staff. Convenient access to the south entrance to the Grand Canyon. WIFI access limited to areas near the main building. All dirt roads and sites. No cable as staff explained the wire was cut when they installed the pool.
Jan 04, 2021
We have stayed here before and it is always a pleasant time. The area is nice and clean. We were in space #1 which was literally next to everything. Convenient to get in and out of. The park was quiet and the weather was perfect for a fire. We had a mechanical problem and one of the guys graciously loaned us tools. We look forward to the next trip.
Jan 02, 2021
My slide out got frozen and the man employed there helped me get it back him. He was very helpful because I was very worried.
Jan 02, 2021
lady who chkd us in Very rude!! dirty bathrooms!! and guy chopping pounding wood till 11 at nite wont stay there again or refer!!
Dec 31, 2020
Bathrooms need a thorough scrub and more care. Very dirty. No excuses for not being clean and no supplies. Same with common areas. For what you charge, clean it up. After all, this is our home away from home and we don't keep our homes dirty.
Dec 31, 2020
Wonderful people. Very basic but good amenities as expected with KOA. It is about an hour drive to the Grand Canyon so that's good to know beforehand. We stayed an extra night since there were many things we wanted to see/do :)
Dec 30, 2020
It was ok. The dirt bikes were loud. The store was very expensive. The bathrooms were pretty clean.
Feb 27, 2021
Even during the slow season this place was great for a stopover while seeing the Grand Canyon! The cabin we stayed in was perfect for my family! I recommend staying here any time of the year.
- SirJ CO on Google
Feb 26, 2021
The cabin was clean and very much fun.
- Drea Lovely on Google
Feb 17, 2021
Loved this place very nice and clean
- Yolanda Deleon on Google