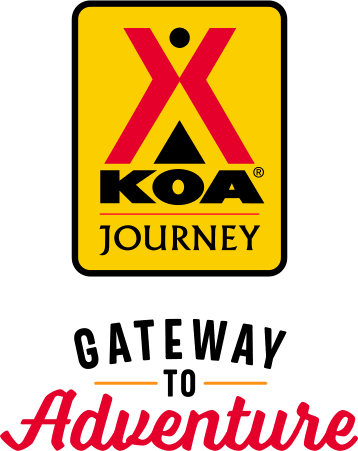 KOA Journey Campgrounds
KOA Journey campgrounds are the perfect oases after a day on the road. Whether it's along the way or a quick getaway, they've got you covered. Located near the highways and byways of North America with long Pull-thru RV Sites, they deliver convenience to the traveling camper. Pull in, ease back and take a load off.
KOA Journeys Feature:
Pull-through RV Sites with 50-amp service
Premium Tent Sites
Well lit after hours check-in service
Directions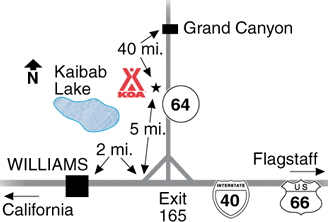 From Williams: Take Exit 165 off I-40. Head north on Grand Canyon Hwy (SR 64) about 5 miles. KOA on left.
From Grand Canyon: Head south on SR 64 about 40 miles. KOA on right.
From Flagstaff: Take I-40 WB to Exit 165. Head north on Grand Canyon Hwy (SR 64) about 5 miles. KOA on left.
GPS: N35.327451, W112.156613
Get Google Directions
Mar 03, 2021
Thankful for the willingness by staff to accommodate parking our UHaul truck towing a vehicle.
Mar 01, 2021
Absolutely wonderful, staff very professional and friendly...bathrooms excellent and very clean...thank you
Feb 26, 2021
Great location. Bathrooms cold for use in the morning. Overall quiet and peacefull.
Feb 26, 2021
Loved the little cabins...and the staff was very welcoming and professional....the bathrooms were the best i have ever seen.... thank you
Feb 25, 2021
Rather short stay. Very convenient and clean
Feb 24, 2021
Very nice place and people
Feb 24, 2021
The lady at the front desk was so nice & very helpful! The people & grounds were great!
Feb 23, 2021
Great customer service. Nice clean bathrooms. Not too far from the grand canyon. Enjoyed our stay.
Feb 23, 2021
Great campground! Right on your way to the Grand Canyon. We will definitely use this campground in the future. The Burrells from Bogart Georgia ���������
Feb 22, 2021
Appreciate that the site was kept clean, appears maintained, and size compatible for our truck and trailer.
Feb 21, 2021
First time traveling in an rv and staying at KOA. Everything was nice. I didn't know KOA'S had wifi!! The people were nice. They had washer and dryers, pool table, games for the kids! Very special experience.
Feb 18, 2021
Really Really cold and the little portable heater didn't cut it. We had plenty of blankets so we slept relatively warm. KOA cannot control the weather. Lol. But besides the cold it was nice and we will do this again. The employees in the store were very nice.
Feb 16, 2021
Everything was as expected �
Feb 15, 2021
The staff was super cranky and rude. Our cabin was so dirty I will never stay at this KOA again. We were told that our cabin wasn't ready because it was being checked a second time to make sure it was clean. We found a pair of underwear in the cubbie of the bunk bed along with trash. The fans were dirty and they used dirty stinky mop water to mop if that's what you call it.
Feb 15, 2021
Nice place. CLEAN facilities and very nice employees. Definitely will be back
Feb 15, 2021
Great place, friendly, everything very accessible.
Feb 14, 2021
We arrived late in the evening and there was approximately 6-8 inches of snow on the ground, a path was plowed in our space wide enough for the truck and camper not the best situation but workable. Upon our checking out was unable to find the sewage dump at the site. We have stayed there twice before without any problems, always clean with level sites.
Feb 13, 2021
Staff is fantastic, accommodating, friendly and helpful! A clean KOA. We'd definitely stay here again.
Feb 12, 2021
The bathrooms/showers were very clean and heated, which was nice for how cold it got while we were there! The store had a good variety of items for purchase if you forgot something and the staff was friendly. Only downside was I was unaware that the bed came without sheets or linens, but overall it was a very nice and clean campground!
Feb 10, 2021
Nice park and easy to get to the Grand CAnyon
Feb 09, 2021
The stars are the personnel at this camp. The bathrooms are divinely clean as the camp is. An hour drive to the Canyon. Verizon and ATT are 2 bars ar best as well as the KOA WiFi. Gas station right out front. The parking lot leaves my rig a mess, but it's solid. Definitely would stay here again.
Feb 09, 2021
This was a nice friendly clean spot. It was located perfectly for our trip. Really the only down side was the spotty WiFi.
Feb 09, 2021
Cabins are super clean but bathrooms were not. Bathroom wasn't cleaned in the 3 days we were there. Same stains on toilet were not pleasing. It wasn't busy only saw a few other customers in cabin bathroom area.
Feb 09, 2021
My rating is a 10, the place was spotless clean, also it have all the accessories to cook nothing else need just the food, thank you I will come back again
Feb 09, 2021
I would like to start with saying the place is beautiful. We had a deluxe cabin and while it was pretty- the layout was a bit awkward, things didn't Work, and in the living room there was a large dining table. No place comfortable to sit. When I wake up in the morning I don't want to sit on a Cold hard seat. I saw couches in the pictures and that was why I rented it. The bed was pretty comfy.
Feb 07, 2021
Worse rv park I've stayed at to date. The most frustrating thing was the office being open for only 2 hours a day. My son wanted to rent a bike and they wouldn't even allow us to that when the park had literally only 5 campers. There was litter from previous occupants that nobody picked up. The dog park was too small for dogs to run. All dirt sites which turned to mud. Just a terrible park.
Feb 01, 2021
Had a mother/daughter weekend and celebrated my birthday too. King bed was so comfy. The place was very clean and tidy with all the amenities that I needed or could need.
Feb 01, 2021
Great time as always staff friendly and helpful
Feb 01, 2021
We had a wonderful stay in Deluxe Cabin #1. The cabin was warm and clean. We were able to open the door and let the kids play in the snow without having to trek through a hotel lobby first. This was our first time staying at a KOA and will definitely be back.
Feb 01, 2021
Very helpful, clean and friendly staff
Jan 30, 2021
We came to see the Grand Canyon and got caught in the blizzard 2021. Our cabin stayed warm and cozy, kids had fun playing in the snow and when our car got stuck on the road in a snow bank our host were gracious in trying their best to help us back on the road. We plan on coming back during season to enjoy Williams, AZ uncovered free of snow. It was a beautiful winter stay.
Jan 28, 2021
When making reservations I asked if there was dirt bike riding/ quad riding on site or if therewere trails I was told yes there were Guess what???? no riding in the park, no trails really let down tried to kill time in the game room, 1 old game a pool table no sticks or balls, and a wood jenga game, a tiny play ground made for 5 and under. My kids were so bored.
Jan 25, 2021
It was great, my family enjoyed our stay at your cabin, it was warm and cozy. The surprise every morning there was fresh snow on the ground. Great location.
Jan 24, 2021
The light and heater is inadequate for the space. the WIFI is terrible unless one stands next to the office. The cabin and bathrooms were clean and the location is good.
Jan 24, 2021
Love this place normally get the cheeper on room cabin decided to go with the bigger one glad I brought my space heater cause the ones that were given barely work! And there was cold air coming in the whole time!! Still will come back just know not to get cabin k2 next time
Jan 19, 2021
Our stay was not covid friendly. The first bathroom entered had a disgusting poop stain on the toilet. The showers were dirty and the mattresses were cardboard. The heater stopped working in the middle of the night and we woke up freezing. The only good part about this stay was that we got a full refund.
Jan 19, 2021
Very friendly & helpful staff!
Feb 27, 2021
Even during the slow season this place was great for a stopover while seeing the Grand Canyon! The cabin we stayed in was perfect for my family! I recommend staying here any time of the year.
- SirJ CO on Google
Feb 26, 2021
The cabin was clean and very much fun.
- Drea Lovely on Google
Feb 17, 2021
Loved this place very nice and clean
- Yolanda Deleon on Google