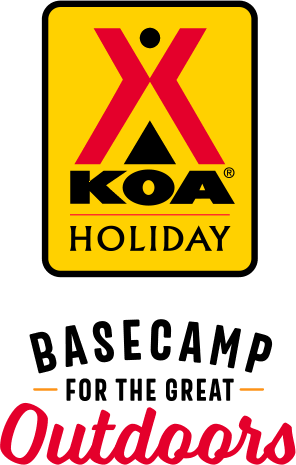 KOA Holiday Campgrounds
Whether you're exploring the local area or hanging out at the campground, KOA Holidays are an ideal place to relax and play. There's plenty to do, with amenities and services to make your stay memorable. Plus, you'll enjoy the outdoor experience with upgraded RV Sites with KOA Patio® and Deluxe Cabins with full baths for camping in comfort. Bring your family, bring your friends, or bring the whole group – there's plenty of ways to stay and explore.
KOA Holidays Feature:
RV Sites with a KOA Patio®
Deluxe Cabins with full baths
Premium Tent Sites
Group meeting facilities
Directions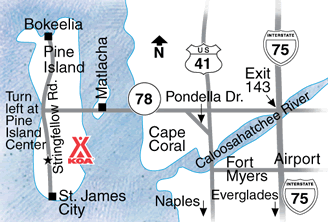 I-75 or Route 41 turn west Route 78. Turn left at Stringfellow Road.
Get Google Directions
Sep 13, 2021
��
Aug 07, 2021
It was very nice and we had fun and will try it again in the future
Jul 25, 2021
Loved the light at each site that we could use at night if needed. Not too bright...not too dim. Bathrooms were very clean. The staff was always friendly and polite. They gave good advice on what to see in the island.
Jul 21, 2021
The people working there are very friendly and helpful!
May 27, 2021
Got in some good Gulf coast fishing, a little blackjack in Immokalee, and some quality time with good friends grilling out and chowing down!
May 09, 2021
Excellent camp ground
Apr 29, 2021
The staff was wonderful we wound up staying longer and the staff accommodated our request without hesitation. Great people working here
Apr 12, 2021
Very Clean, Loved the stay!
Apr 01, 2021
I had a great time at Pine Island KOA. The reason that I can only give an 8 is simple: Only 4 tent sites.
Mar 16, 2021
Great spot. Everyone is nice. Beautiful park. Thank you for being so accommodating! But of a drive to anything but well worth it.
Mar 10, 2021
This review has been removed by KOA due to profanity.
Mar 01, 2021
We had a very pleasant stay. Staff was vey accommodating. Ladies bathhouse was very clean. Pool was crowded but the hot tub was great. Our campsite was by the swamp so we could smell it and we needed closer garbage.
Mar 01, 2021
The people who work there are very helpful and friendly. They even delivered our fire wood!
Feb 21, 2021
The campground was perfect. The staff was warm and welcoming. The facilities were clean and very well maintained. The nights were quiet! We were very happy choosing this KOA.
Feb 20, 2021
We are from a busy city, so the absolute best part, was having absolutely no noises, sirens, trains, airports...we will be back for sure.
Feb 18, 2021
Tent site little small but worked well 3 lakes no fishing ?
Feb 18, 2021
We spend two great days there and really enjoyed the camping and the area surrounding it. The place was wonderful and very clean. Everything was well maintained and the staff really nice.
Feb 08, 2021
Everything perfect
Feb 02, 2021
Friendly staff, amazing bathrooms and facilities.
Jan 25, 2021
Like all KOAs, it's RV-oriented. About average for KOAs (I've been in a number of others), it treats tent campers as very second-class citizens - small, unseparated sites in a buggy area (some KOAs are better for tenters.). Extremely far from the pool, and no parking offered near the pool. The wifi doesn't reach that far, and even at the back clubhouse it's spotty.
Jan 24, 2021
One night tent site. Great hot tub and pool area.
Jan 06, 2021
Tent area is not isolated enough from the RVs. Too close to the stinking water... but great amenities!
Jan 04, 2021
We were in a tent near a very smelly stagnant water source. There were millions of little gnats that bit us all over. The pool closed too early at 7:00pm. There is no beach on that island like we had hoped there would be. There is really nothing to do in that area. Could not find coffee in the morning. We were pretty disappointed.
Dec 16, 2020
Great place to relax and do some fishing!
Nov 30, 2020
Extremely buggy! Must fix this!
Nov 30, 2020
Guided to wrong spot by host, store only open to 4p, tent sites were small & on top of each other (our table was <6' from our neighbors), by a mangrove swamp, horrible bugs at site (even for FL - worse than Everglades just prior), 60 min drive to beach, more trailer park w/ permanent residents than campground. Cleaning sink near tent sites was great. Cleanest bathrooms & laundry ever!
Oct 10, 2020
It was nice. Bathrooms were very clean. The place was very safe. But $50 a night for a tent site was way too expensive. Especially since the amenities were not freely available due to COVID. It was a $25 a night site. Especially since we were in the off season.
Apr 03, 2020
Super friendly staff, bathrooms/showers were immaculate. Was a bad time to vacation but the camp was great.
Mar 22, 2020
Our stay was awesome! Great location! Close to everything! Plenty of bath houses and very clean. We will definitely be staying there again!
Mar 19, 2020
Lots of amenities for tent campers! There was a kitchenette with a sink, hot water and microwave as well as a bathroom all about 100 feet from our site. The showers were very clean and had a roomy stall with a door. Lots of laundry units available. Our campsite was clean and quiet with both a fire ring and charcoal grill set up. The neighbors were all very friendly as well as all the staff.
Mar 17, 2020
There were too many noisy and drunk partiers near our site, and they didn't respect quiet hours, so we had a terrible sleep!
Mar 10, 2020
Clean, safe, and well maintained campground. I will return .
Mar 02, 2020
As usual - great!
Feb 19, 2020
The restrooms were very clean.